Brief News International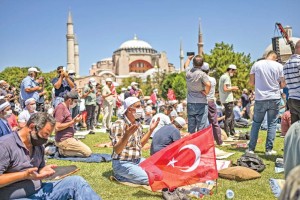 Muslims perform first Friday prayer at Hagia Sophia mosque in 86 years
A fortnight ago a Turkish court ruled that the 1934 decree converting the historic site into a museum was not legal, paving the way for its restoration as a mosque.
(24 July 2020)  The restoration ceremony and prayer is being attended by Turkish President Recep Tayyip Erdogan, as well as politicians from the Justice and Development party and other Turkish political groups. Leaders and dignitaries from countries, such as Azerbaijan and Qatar, will also be present for the opening ceremony.
The prayer starts with Islamic rites, such as the takbir and salavat, which are invocations of God's greatness and salutations upon the Prophet Muhammad.
As of mid-Friday morning, congregants were arriving in the area for the opening holding prayer rugs in their hands, as verses from the Quran were read out over loud speakers.
A limited number of worshippers were allowed into the building to ensure adequate social distancing measures were in place.
Many joined the prayer from public spaces nearby and from the rooftops of nearby buildings.
Court ruling : Hagia Sophia's restoration as a mosque comes a fortnight after a Turkish court ruled that a 1934 government decree converting the structure into a museum was not legal, paving the way for it to become a house of worship once again.
Judges decided that as the Hagia Sophia was owned by the Fatih Sultan Mehmet Han Foundation, the government did not have the right to change its designation regarding its use, which for centuries prior had been as a mosque.
The decision was widely welcomed in Turkey, including opposition parties, and by Turkish citizens, and Muslims further afield.
Entry fees waived: Turkish officials have repeatedly made clear that like all mosques in the country, the building will be open to visitors, who will no longer have to pay entry fees to visit the site.
Ibrahim Kalin, Turkey's presidential spokesperson, said: "All of our major mosques such as the Blue Mosque, Fatih and Suleymaniye Mosques, are open to both visitors and worshippers."
Despite alarmist rhetoric coming from some quarters of the media and foreign leaders, Christian iconography inside the mosque will be preserved as they had been by Muslims for centuries prior to its conversion to a museum, the Turkish official added.
The Hagia Sophia was turned into a mosque in 1453 after the conquest of Istanbul, then known as Constantinople, by the Ottoman ruler, Sultan Mehmet II.(Source: TRT World News)
***********************************************************************************
Taliban car bomb attack on Afghan intelligence compound kills 11
(Kabul : 14 July 2020) Taliban fighters clashed with security forces following a car bomb blast at a government compound in northern Afghanistan, killing 11 people and wounding dozens more, officials have said. The attack claimed by the Taliban group on Monday took place at a government facility in Samangan province's capital Aybak, close to an office of the National Directorate of Security (NDS), the main intelligence agency.
The attack ended after four gunmen died following clashes with Afghan security forces, he added.
Officials said the 11 people killed were security personnel. The province's health director, Khalil Musadeq, said 43 civilians, including children, and members of the security forces had been wounded in the attack, with the number expected to rise.(Source: Al Jazeera)
***********************************************************************************
Deadly air strike in Herat Civilians among 45 killed
22 July 2020: Air raids by Afghan security forces against Taliban fighters.  Ali Ahmad Faqir Yar, governor of Adraskan district in the western Afghan province of Herat. It was unclear how many of the remaining 37 were civilians and how many were members of the Taliban.
Qari Mohammad Yousuf Ahmadi, a Taliban spokesman, said in a statement two air raids in Herat killed eight civilians and wounded 12. Two local officials confirmed there had been two rounds of air raids. "Such attacks would compel recently freed prisoners who wish to live normal lives to take up arms once again against the enemy," said Ahmadi.             (Source: Al Jazeera News)
***********************************************************************************
Pentagon says Taliban maintains Al Qaeda ties, jeopardising US-Taliban deal
By : MURAT SOFUOGLU
A recent US Department of Defense report indicates that the Taliban continues to hold relations with Al Qaeda, forcing the Trump administration to reconsider its deal with the powerful armed Afghan movement. The Pentagon has released a crucial report ahead of the American withdrawal from Afghanistan under the US-Taliban deal, saying that the armed group still maintains its contacts with Al Qaeda.
The report appears to be a slap in the face for the Trump administration, which is keen on pulling American troops out from the war-torn Central Asian country before the critical US presidential elections in November. For Trump, the exit will be proof to American voters that he has fulfilled one of his campaign promises to end the endless wars.
According to the US-Taliban deal, the Afghan group will stop targeting US and Western-led coalition troops, promising to give no support to groups like Al Qaeda.
"AQIS (Al-Qaeda in the Indian Subcontinent) routinely supports and works with low-level Taliban members in its efforts to undermine the Afghan government, and maintains an enduring interest in attacking US forces and Western targets in the region," said the strongly-worded Pentagon report, which has been prepared for the US Congress.
"Despite recent progress in the peace process, AQIS maintains close ties to the Taliban in Afghanistan, likely for protection and training," the report stated.
In recent months, there have been some tensions between the Trump administration and the US military over several issues, ranging from the response to the Floyd protests, to the Syrian policy and the Taliban deal. (Source: TRT WORLD)
***********************************************************************************
US aircraft carriers return to South China Sea amid rising tensions
HANOI: For the second time in two weeks, the United States has deployed two aircraft carriers to the South China Sea, the US Navy said on Friday (Jul 17), as China and the United States accuse each other of stoking tensions in the region.
The USS Nimitz and USS Ronald Reagan carried out operations and military exercises in the waterway between Jul 4 and Jul 6, and returned to the region on Friday, according to a US Navy statement.
"Nimitz and Reagan Carrier Strike Groups are operating in the South China Sea, wherever international law allows, to reinforce our commitment to a free and open Indo-Pacific, a rules based international order, and to our allies and partners in the region," Rear Admiral Jim Kirk, commander of the Nimitz, said in the statement.
The presence of the carriers was not in response to political or world events, the statement added, but relations between Washington and Beijing are currently strained over everything from the new coronavirus to trade to Hong Kong.
Heated rhetoric has been on the rise in the region, where Brunei, Malaysia, the Philippines, Taiwan and Vietnam challenge China's claim to about 90 per cent of the sea.
China held military drills in the sea earlier this month, drawing strong condemnation from both Vietnam and the Philippines, at the same time as the two carriers first crossed the waterway for what the US Navy said were pre-planned exercises.
The US Navy says its carriers have long carried out exercises in the Western Pacific, including in the South China Sea, which extends for some 1,500km. At one point recently, the United States had three carriers in the region.
About US$3 trillion of trade passes through the South China Sea each year. The United States accuses China of trying to intimidate Asian neighbours who might want to exploit its extensive oil and gas reserves.(Source: Reuters)
***********************************************************************************
Tensions soar between nuclear powers as US orders China consulate shut
China slammed the US move, which came one day after the unveiling of a US indictment targeting two Chinese nationals for allegedly hacking hundreds of companies worldwide and seeking to steal virus vaccine research.
US-Chinese relations, already tense over the coronavirus pandemic and Beijing's crackdown in Hong Kong, have deteriorated once again as Washington ordered the closure of the Chinese consulate in Houston. The US decision to close China's consulate is the latest in a string of disputes that have taken the relationship between the world's two biggest economies to its lowest point in decades.
Here are the main points of contention between Beijing and Washington:
Covid-19 : US President Donald Trump has accused China of a lack of transparency about the coronavirus, which first emerged in the Chinese city of Wuhan late last year. He regularly refers to it as the "China virus".
Trump said Chinese officials "ignored their reporting obligations" to the World Health Organization about the virus  that has killed hundreds of thousands of people globally  and pressured the UN agency to "mislead the world".
Trade : The Trump administration began increasing tariffs on imports from China, its largest trading partner, in 2018 as part of an ambitious plan to force Beijing to curb subsidies on state manufacturing and tough demands on US companies in China.
South China Sea : The US has hardened its position in recent weeks on the South China Sea, where it has accused China of attempting to build a "maritime empire" in the potentially energy-rich waters.
Brunei, Malaysia, the Philippines, Taiwan and Vietnam challenge China's claim to about 90 percent of the sea. A July 13 statement by US Secretary of State Mike Pompeo was the first time the US had called China's claims unlawful and accused Beijing of a "campaign of bullying".
Hong Kong : China and the US have clashed over anti-Beijing protests in Hong Kong, most recently Beijing's imposition of new security legislation on the former British colony, which returned to Chinese rule in 1997. Trump this month signed an executive order to end preferential economic treatment for Hong Kong, allowing him to impose sanctions and visa restrictions on Chinese officials and financial institutions involved in enacting the law.
Huawei: Chinese tech firm Huawei was added to the US Commerce Department's "entity list" last year due to national security concerns, amid accusations from Washington that it violated US sanctions on Iran and can spy on customers, allegations Huawei has denied. The listing greatly reduced its access to vital parts and supplies, like chips, from US suppliers.
Huawei says Washington wants to frustrate its growth because no US company offers the same technology at a competitive price.
The United States has been successfully pushing countries around the world to drop Huawei.
North Korea: China is at odds with the US over North Korea even though they both want the country to give up its nuclear weapons. Washington has accused China of breaching UN sanctions on North Korea, assertions Beijing has denied. China wants to lift some sanctions, but the US disagrees.    (Source: TRT News)
***********************************************************************************
Strike capability, other military options on table after Japan's Aegis U-Turn
By Tim Kelly
TOKYO (Reuters) – Japan's decision to scrap two Aegis Ashore ballistic missile defence systems means it must find other ways to defend a 3,000-kilometre archipelago along Asia's eastern edge. Some policy makers want Japan to acquire the capability to attack enemy missiles before they are launched.
'IMPOSSIBLE' PROBLEM
In a surprise decision, defence minister Taro Kono recently halted the 2025 deployment of Aegis Ashore because booster rockets used to accelerate SM-3 Block IIA interceptor missiles might fall on communities in northern Akita and southern Yamaguchi prefectures. That problem, according to military experts, has been known since Japan picked Aegis Ashore in 2018. The interceptor was developed for use at sea, where debris would fall harmlessly.
"From the beginning, the Japanese government's story was impossible. I was a missile shooter, I knew how difficult it would be to control the fall of burned-out boosters," former Maritime Self Defense Force admiral Yoji Koda, who commanded Japan's naval fleet from 2007 to 2008, told Reuters.
The expense of Aegis Ashore project also affected Kono's decision.
Japan's Aegis Ashore contracts are worth around $1.7 billion, with more than $100 million already spent. Over 30 years the defence ministry estimated the budget at around $4 billion, not including missile tests that sources last year said could cost at least $500 million.
ALTERNATIVES
For now, Japan will rely on destroyers with older Aegis radars that guide less-powerful SM-3 interceptors, which can hit enemy missiles in space and can be upgraded to tackle other threats. Japan also has PAC-3 Patriot missile batteries, which can shoot at plunging warheads in their last seconds before impact. Japan is increasing the range and accuracy of its Patriots and by next year will have eight Aegis destroyers. Crewing ships with about 300 sailors each, however, strains naval resources as the country struggles to find recruits.
"Having two or three Aegis ships in the Sea of Japan is a waste of assets. I think Aegis Ashore is a good option," said Noboru Yamaguchi, a Sasakawa Peace Foundation adviser and former Ground Self Defense Force general.
Japan could add another layer of defence, such as the U.S. Terminal High Altitude Area Defense (THAAD) missiles, which aims at warheads between the capabilities of SM-3s and Patriots. Their mobile launchers are easier to deploy than fixed Aegis sites, but could still face opposition from residents because several missile batteries, which use powerful radars, would be needed to cover Japan's big cities.
STRIKE OPTION
Japan's National Security Council, led by Prime Minister Shinzo Abe, will this summer consider whether to buy weapons for attacking missile sites before a launch. A council made up senior ruling Liberal Democratic Party lawmakers, including four former defence ministers, will also weigh the idea. Itsunori Onodera, who approved the Aegis Ashore purchase when he was defence chief, is leading the discussion. Such an option is attractive because it is easier to hit missiles sitting on launch pads than to attack them in flight.
Onodera argues that attacking missile sites is the modern equivalent of downing enemy bombers, putting it in line with Japan's war-renouncing constitution, which allows for self defence. In 2017 Onodera approved the purchase of air-launched cruise missiles with a range of up to 1,000 kilometres that can be fired from F-35 stealth fighters or F-15 attack jets, making them able to strike targets in North Korea from the Sea of Japan.
SNAGS
Those cruise missiles are not effective without satellites or other means of providing precise targeting information, and of telling whether an attack is imminent. Japan has launched surveillance satellites on its H-2A rocket, most recently in one in February, but those are not designed for strike-targeting.
If Japan musters a first-strike capability, it could face opposition from China, Russia and even South Korea.
That may not stop Japan, but resistance from the United States could. Under their military alliance, Japan provides a defensive shield that protects U.S. forces. Past U.S. administrations have opposed an independent Japanese strike capability. Constitutional considerations could also curtail the scope of strikes. Japan's U.S.-authored constitution renounces its right to wage war. Any first-strike doctrine would have to be carefully defined before it is even considered by the NCS, Kono said in Tokyo last month.         (Source: (Al Jazeera)
************************************************************************************
Iran drops India from Chabahar rail project, cites funding delay
By : Suhasini Haidar
The development comes as China finalises a massive 25-year, $400 billion strategic partnership deal with Iran, which could cloud India's plans.
Four years after India and Iran signed an agreement to construct a rail line from Chabahar port to Zahedan, along the border with Afghanistan, the Iranian government has decided to proceed with the construction on its own, citing delays from the Indian side in funding and starting the project.
Last week, Iranian Transport and Urban Development Minister Mohammad Eslami inaugurated the track-laying process for the 628 km Chabahar-Zahedan line, which will be extended to Zaranj across the border in Afghanistan. Officials told The Hindu that the entire project would be completed by March 2022, and that Iranian Railways will proceed without India's assistance, using approximately $400 million from the Iranian National Development Fund.
The development comes as China finalises a massive 25-year, $400 billion strategic partnership deal with Iran, which could cloud India's plans.
Trilateral agreement
The railway project, which was being discussed between the Iranian Railways and the state-owned Indian Railways Construction Ltd (IRCON), was meant to be part of India's commitment to the trilateral agreement between India, Iran and Afghanistan to build an alternate trade route to Afghanistan and Central Asia.
In May 2016, during Prime Minister Narendra Modi's visit to Tehran to sign the Chabahar agreement with Iranian President Rouhani and Afghanistan President Ghani, IRCON had signed an MoU with the Iranian Rail Ministry.
The MoU was to construct the Chabahar-Zahedan railway as "part of transit and transportation corridor in trilateral agreement between India, Iran and Afghanistan". IRCON had promised to provide all services, superstructure work and financing for the project (around $1.6 billion).
However, despite several site visits by IRCON engineers, and preparations by Iranian railways, India never began the work, ostensibly due to worries that these could attract U.S. sanctions. The U.S. had provided a sanctions waiver for the Chabahar port and the rail line to Zahedan, but it has been difficult to find equipment suppliers and partners due to worries they could be targeted by the U.S., said officials. India has already "zeroed out" its oil imports from Iran due to U.S. sanctions.
The Ministry of External Affairs and IRCON declined to comment on the issue.
However, when asked if the MoU with IRCON had been cancelled, now that the project has been started without it, an official said India could still join at a "later date."
25-year Strategic Partnership
Meanwhile, complicating matters further, Iran and China are close to finalising a 25-year Strategic Partnership which will include Chinese involvement in Chabahar's duty free zone, an oil refinery nearby, and possibly a larger role in Chabahar port as well.
According to leaked versions of the 18-page "Comprehensive Plan for Cooperation between Iran and China", being finalised by officials in Tehran and Beijing, the cooperation will extend from investments in infrastructure, manufacturing and upgrading energy and transport facilities, to refurbishing ports, refineries and other installations, and will commit Iranian oil and gas supplies to China during that period.
Iranian officials denied a report that also suggested Chabahar port, where India took, will be leased to China. However, Iran proposed a tie-up between the Chinese-run Pakistani port at Gwadar and Chabahar last year, and has offered interests to China in the Bandar-e-Jask port 350km away from Chabahar, as well as in the Chabahar duty free zone.
Each of those possibilities should be watched closely by New Delhi, said former Ambassador to Iran, K.C. Singh. "[The Iran-China deal] impinges on India's "strategic ties" with Iran and the use of Chabahar port. Jask lies to west of Chabahar & right before Straits of Hormuz. China would thus extends its control along the Pakistan-Iran coast," he cautioned.
(Source: The Hindus)
************************************************************************************
Pentagon Report Says Turkey Sent Almost 4,000 Fighters to Libya
(July 18, 2020)  The U.S. military says Turkey sent between 3,500 and 3,800 paid Syrian fighters to Libya during the first three months of 2020 to support the internationally recognized Government of National Accord (GNA) in its war against the Libyan National Army (LNA) led by Khalifa Haftar.
The Defense Department's report, seen by the Associated Press on July 17, was the U.S. military's first to detail the Turkish deployments that helped change the course of the war in Libya. The report comes as the conflict in oil-rich Libya has escalated into a full blown regional proxy war fueled by foreign powers that pump arms and mercenaries into the country.
The report claims that Russian influence is increasing in Libya, as Moscow supported hundreds of mercenaries to fight alongside the LNA in a bid to take control of the capital, Tripoli, in the west of the country. LNA forces have since retreated to central Libya following defeat by Turkish-backed forces fighting on behalf of the GNA. The quarterly report issued by the Pentagon's internal watchdog was published Thursday 16th July 2020, and says that Turkey paid and offered citizenship to thousands of mercenaries fighting alongside Tripoli-based militias.
The U.S. military report also said that the U.S. military found no evidence to suggest the mercenaries were affiliated with the Islamic State extremist group or al-Qaida.
Financial rewards are the most prominent motivations behind heading to Libya, not ideological or political considerations, according to the report. The report covered only the first quarter of the year, until the end of March, two months before Turkish-backed forces aligned with the GNA took control of the city of Tarhuna and Al-Watiyah base. The latest report said that the Turkish deployments likely increased in late May. It cites the U.S. Africa Command as saying that 300 Turkish-supported Syrian rebels landed in Libya in early April.
Turkey also deployed an "unknown number" of Turkish soldiers during the first months of the year, the inspector general adds.
Turkey is staking its hopes for greater leverage in the eastern Mediterranean on the U.N.-supported government in Tripoli, based on an agreement it signed with the GNA in December 2019.
The report claimed that Russia and the Syrian government agreed to send 300 to 400 former opposition rebels from the southwest village of Quneitra to Libya in exchange for a $1,000 per month salary and clemency from Syrian President Bashar Assad.
On Thursday 16 July, Egyptian President Abdel Fattah el-Sisi hosted dozens of tribal leaders loyal to Haftar in Cairo, where he repeated that Egypt will "not stand idly by in the face of moves that pose a direct threat to security."
On Friday, Turkish President Recep Tayyip Erdogan hit back, criticizing Egyptian and Emirati support for Haftar. The National Oil Corporation also warned that international powers were engaging the country toward an escalation likely to extend to the oil and gas facilities.          (Source: Libya Review)
************************************************************************************
Turkey successfully tests its first homegrown anti-ship cruise missile
(5 Jul, 2020 ) Turkey's domestically built anti-ship cruise missile has passed its final test, hitting a target some 200km away, the country's defense industry has said. It's expected to be adopted by the military shortly. Footage of the ATMACA missile trials has been shared on Twitter by the head of Turkey's Defense Industries, Ismail Demir. The short video shows the missile being launched from a test ground ashore and scoring a hit on a mock target.
"ATMACA flew a long distance this time. It successfully hit a target over 200km away and is ready to enter the weapons inventory," Demir wrote.
The video also shows the process of designing the missile, which has been in development at missile producer Roketsan since the late 2000s. It can be fitted into various types of vessel, including patrol boats, corvettes, and frigates, Roketsan has said, describing it as a modern, long-range, and high-precision weapon. It's expected to be adopted by the Turkish military by the end of the year, replacing its ageing US-made Harpoon missiles. (Source: Russian 'RT' News)
***********************************************************************************
Turkish defence minister, military chief visit Libya
Turkish organisation donates 100,000 masks to Maryland
(4 July 2020) Defence Minister Hulusi Akar has reiterated Turkey's support for Libyan people to ensure they live "comfortably, happier and more confidently."
Turkish Defence Minister Hulusi Akar and Chief of General Staff Yasar Guler have visited Libya on Friday to review the activities carried out under a memorandum of understanding between the two countries. A military ceremony was held for the duo upon their arrival at the Mitiga International Airport in the capital Tripoli.
Following the ceremony, Akar and Guler went to the Defence Security Cooperation and Training Assistance Advisory Command, which was created within the scope of the memorandum of understanding (MoU) between Turkey and Libya. The two met with Turkish and Libyan soldiers, including Osama al Juwaili, the commander of the Operation Peace Storm. Akar reiterated Turkey's support for Libyan people to ensure they live "comfortably, happier and more confidently."
"I want you to know that we are with you today and tomorrow, and will do whatever it requires for our Libyan brothers under the instructions of our president," Akar said.
***********************************************************************************
GNA fighters head for front as battle for Sirte looms
The Government of National Accord says it will recapture city of Sirte, a gateway to Libya's main oil terminals.
Libya's internationally-recognised Government of National Accord (GNA) on Saturday moved fighters closer to Sirte, a gateway to Libya's main oil terminals that the GNA says it plans to recapture from the eastern-based self-styled Libyan National Army (LNA). Witnesses and GNA military commanders said a column of about 200 vehicles moved eastwards from Misrata along the Mediterranean coast towards the town of Tawergha, about a third of the way to Sirte.
The GNA recently recaptured most of the territory held by the LNA in northwest Libya, ending eastern-based renegade military commander Khalifa Haftar's 14-month campaign to take the capital, Tripoli, before the new front line solidified between Misrata and Sirte.
Backed by Turkey, the GNA has said it will recapture Sirte and an LNA airbase at Jufra.
But Egypt, which backs the LNA alongside the United Arab Emirates (UAE) and Russia, has threatened to send troops into Libya if the GNA and Turkish forces try to seize Sirte.
The United States has said Moscow has sent warplanes to Jufra via Syria to act in support of Russian mercenaries who are fighting alongside the LNA. Moscow and the LNA both deny this.
The LNA has itself sent fighters and weapons to bolster its defence of Sirte, already badly battered from earlier phases of warfare and chaos since the 2011 NATO-backed uprising which led to the overthrow of longtime ruler Muammar Gaddafi.
(Source: Al Jazeera News Agency)
***********************************************************************************
Prominent Iraqi analyst shot dead in Baghdad
Hisham al-Hashemi was a well-connected security analyst who appeared regularly on Iraqi television and whose expertise was sought out by government officials, journalists and researchers.
Gunmen in Baghdad shot dead a well-known former government adviser and political analyst near his home late on Monday 6th July,  in a rare high-profile killing in the Iraqi capital, government officials, police sources and medics said. The government officials described the killing of Hisham al-Hashemi, as a targeted killing but did not point the finger at any particular group.
It comes at a time of rising tension between the new government of Prime Minister Mustafa al-Kadhimi and powerful Iran-backed militias and political parties who oppose him and accuse him of siding with the United States. Police sources said two gunmen on a motorbike carried out the killing, with one shooting him outside his house in the Zayouna district in eastern Baghdad.
(Source: TRT World News)
***********************************************************************************
Indian envoy failed to meet Hasina despite requests
By: Kallol Bhattacherjee | 25 July, 2020
A prominent newspaper of Bangladesh has said Prime Minister Sheikh Hasina did not meet India's High Commissioner despite repeated requests for a meeting in the last four months.
Bhorer Kagoj, a prominent daily, has reported that all Indian projects have slowed down since the re-election of Prime Minister Hasina in 2019 with Chinese infrastructure projects receiving more support from Dhaka.
"Despite India's concern, Bangladesh has given the contract of building an airport terminal in Sylhet to a Chinese company. Indian High Commissioner Riva Ganguly Das tried for four months to get an appointment with the Prime Minister of Bangladesh but did not get it. Bangladesh has not even sent a note of appreciation to India in response to Indian assistance for the COVID-19 pandemic", said the newspaper's editor Shyamal Dutta in an article on the recent tilt of Dhaka towards Pakistan and China.
Beijing Urban Construction Group (BUCG) has received the contract for building a new terminal in MAG Osmania Airport of Sylhet that borders India's northeastern region and is, therefore, considered a sensitive area for New Delhi.
A diplomatic source from the Bangladesh High Commission here has confirmed that the Indian envoy had sought an appointment with Ms Hasina but it did not materialise. However, neither India's High Commission in Dhaka nor the Ministry of External Affairs(MEA) responded to questions from The Hindu. A diplomat from the Indian mission said Ms Ganguly Das has gone out of Dhaka on a tour.(Source: The Hindu)
***********************************************************************************
An Abduction Led to India's Move to Shelter Afghan Sikhs, Hindus?
The govt has identified over 700 Sikhs & Hindus in Afghanistan & is trying to bring them to India before 15 August.
By :  ADITYA RAJ KAUL
Following a host of terror attacks against minorities in Afghanistan, the Ministry of Home Affairs in India has decided to provide shelter to Afghan Sikhs and Hindus facing persecution in the neighbouring country, top sources in the government told this author.
"Ministry of Home Affairs has given its approval for providing a long term visa to Afghan Sikhs and Hindus which we usually give to persecuted minorities from the region," said a top official from the Government of India.
"To begin with, over 700 such individuals have been identified and the required formalities are underway to bring them to India before 15 August."
A top government official
In a ghastly terror attack in Kabul's Hari Rai Sahib Gurudwara in Shortchanged Bazar, over 25 Sikh men, women and children were brutally killed on 25 March 2020. The innocent civilians were killed when they were holding special prayers to fight the coronavirus pandemic across the globe.
Abduction of Sikh Man Led to MHA'S Decision?
Ever since the carnage, over 600 applications made by members of the Sikh community have been pending before the Indian Embassy in Kabul, which in turn, had been waiting for an approval from the Government of India. While the community has sought shelter in the Gurudwara of Kabul ever since the killings, it has been a struggle to survive within the four walls as fear psychoses continues. Indian government sources indicate that the delay in processing the request for an asylum for Hindu and Sikh minorities of Afghanistan was due to the coronavirus pandemic.
However, many believe that the trigger has been the abduction of Afghan Sikh Nidan Singh Sachdeva by Pakistan's ISI and Taliban-linked land mafia near Chamkani of Paktia province in Afghanistan. Intelligence sources reveal that Afghanistan's primary intelligence agency National Directorate of Security (NDS) and India's external intelligence agency Research & Analysis Wing (R&AW) immediately swung into action. It was suspected that the local land mafia which wanted to grab the Gurudwara land abducted him and handed him over to the Haqqani Network.
************************************************************************************
Kashmiri Pandit body demands restoration of Article 370
Shuja-ul-Haq : Srinagar  (July 27, 2020)
An organisation of migrant Kashmiri Pandits has asked the government of India to restore the statehood and special status for Jammu and Kashmir. The organisation called Reconciliation, Relief and Rehabilitation has demanded that Article 370 be reinstated in Jammu and Kashmir ahead of the completion of a year of its abrogation by the government of India on August 5. The abrogation removed the state's special status and bifurcated it into two Union Territories- Jammu & Kashmir and Ladakh.
"We demand immediate restoration of statehood and special status to Jammu and Kashmir. The Indian Constitution ensures the right to equality that extends to individuals, communities, religions, regions, and all social and political institutions. The right to equality ensures non-discrimination on the basis of religion, caste, region, or any other social and political sub-categories. Never before a state has been downgraded. This is not done in a democracy. One can't have a military solution to a political situation and can't go to war with their own people," said Satish Mahaldar, chairman of migrant Kashmiri Pandits' organisation called Reconciliation, Relief, and Rehabilitation in a statement on Monday.
The group has made an appeal to the Prime Minister, Home Minister and the government saying, "The people of Jammu and Kashmir were your own people, love them. As a good gesture, confer special status to Jammu and Kashmir. The representatives /parliamentarians are for the people, by the people and they need to understand the aspiration and the wishes of the people".
The statement added that the special provisions should be made to safeguard the interest and aspirations of the backward regions, to protect the cultural and economic interests of the people, safeguard the minorities and deal with the disturbed law and order in some parts of the state. The group has also pointed out that J&K wasn't the only state with special status with other states too enjoying special category status. (Source: India Today)
************************************************************************************
Border Security Force Without Full-Time Boss for More Than Three Months
Praveen Swami : News18 | 28 July 2020
No decision has been made on selecting a new full-time Director-General for the Border Security Force, which has been without a full-time chief for more than three months, government sources have told News18. The BSF is responsible for guarding India's 6,380 kilometre borders with Pakistan and Bangladesh, and also has a significant role in counter-Maoist operations.
Surjeet Singh Deswal, the Director-General of the Indo-Tibetan Border Policecharged with guarding India's high-altitude frontiers with Chinahas held additional charge of the BSF since March, even as he plays a critical role in the still-unfolding crisis in Ladakh.
"An organisation like the BSF, given the critical functions it performs on the sensitive border with Pakistan, ought not to be left without a Director-General for any length of time," said N Ramachandran Pillai, president of the Indian Police Foundation and former Director-General of Police. "It will have damaging impact on morale and operational readiness."
The Border Security Force's last Director-General, former Research and Analysis Wing officer Vivek Johri, left the organisation in March after just seven months in office to become Director-General of the Madhya Pradesh Police.
The final authority to appoint a Director-General for the BSF rests with the Appointments Committee of the Cabinet, chaired by Prime Minister Narendra Modi, and with Home Minister Amit Shah as one of its members.
The process of picking a new chief for the BSF, government sources said, has been delayed because of the pressures placed on the Prime Minister and Home Minister due to their role in managing the coronavirus pandemic, as well as the border crisis with China.
Key Director General of Police-level positions, including those of the Special Secretary in charge of internal security at the Ministry of Home Affairs and one at the National Human Rights Commission, have also remained unfilled because of pressures on decision-makers, a senior government official said.
Extended delays in the appointment of BSF chiefs, though rare, are not unprecedented. Following the retirement of former Director-General PR Jaishree in February 2014, the organisation remained without a chief until the appointment of Pal Anjali Ramsajeevan in January, 2015.
In that case, government sources said the delay was caused by the transition from the United Progressive Alliance to the National Democratic Alliance government, which took office in June, 2014.
"Leaving an organisation like the BSF without a dedicated Director-General has a particularly damaging impact on long-term planning," Pillai said. "An acting Director-General and his subordinate officers can address routine administrative decisions, but will not be able to act on issues critical to the long-term development and growth of the BSF".
The BSF, with over 250,000 personnel, is responsible for guarding the border, and it includes air and naval wings, as well as special forces units.
************************************************************************************
How deceptive appearances can be in diplomacy!
UK policy about Hong Kong
How deceptive appearances can be in diplomacy! After making some noise about Hong Kong and a couple of cosmetic moves to 'punish' Beijing, this was how British Foreign Secretary Dominic Raab spoke on 20/7 at the House of Commons reg UK-China relations:
"Thank you Mr Speaker. With your permission, Mr Speaker, I would like to make a statement updating the House on the latest developments with respect to China and in particular Hong Kong.
"As I told the House on the 1st of July, the UK wants a positive relationship with China. China has undergone an extraordinary transformation in recent decades. Grounded in one of the world's ancient cultures, not only is China the world's second largest economy, it has a huge base in tech and science.
"The UK government recognized China's remarkable success in raising millions of its own people out of poverty. China is also the world's biggest investor in renewable technology, so it will be an essential global partner when it comes to tackling global climate change, and the Chinese people travel, study and work all over the world, making an extraordinary contribution.
"So, Mr Speaker, let me be really clear about this. We want to work with China. There is enormous scope for positive, constructive, engagement. There are wide-ranging opportunities, from increasing trade, to cooperation in tackling climate change as I've said, in particular with a view to the COP 26 summit next year which the UK will of course be hosting."
***********************************************************************************
Ethiopia's Abiy hails 'historic' start of disputed dam filling
Addis Ababa (22 July, 2020) Ethiopian Prime Minister Abiy Ahmed has hailed the "historic" early filling of the massive dam on the Blue Nile River that has stoked tensions with downstream countries Egypt and Sudan.
Addis Ababa had long said it planned to begin filling the dam's reservoir this month, in the middle of its rainy season, drawing objections from Cairo and Khartoum who wanted to first reach a trilateral agreement on how the dam would be operated.
Ethiopia's announcement that it had hit its first-year target for filling the dam came as the three countries were participating in talks overseen by the African Union (AU) to try to resolve the dispute.
"The completion of the first round of filling is a historic moment that showcases Ethiopians' commitment to the renaissance of our country," Abiy, the 2019 Nobel Peace laureate, said in a statement read on state television. "The fact that we reached this milestone by our own efforts when no one else believed in our capabilities to accomplish such initiatives makes the moment even more historic. "We conducted the filling of the dam without causing harm to anyone," said Abiy.
(Source: Al Jazeera News)
***********************************************************************************
Over 160 killed in Ethiopia protests after pop star shot dead
ADDIS ABABA (5 July 2020) Pop star Hachalu, a member of the Oromo ethnic group, Ethiopia's largest, was shot dead by unknown attackers in Addis Ababa on Monday night, fuelling ethnic tensions. At least 166 people have died during violent demonstrations that roiled Ethiopia in the days following the murder of popular singer Hachalu Hundessa, police said.
Pop star and activist Hachalu, a member of the Oromo ethnic group, Ethiopia's largest, was shot dead by unknown attackers in Addis Ababa on Monday night, fuelling ethnic tensions threatening the country's democratic transition. "In the aftermath of Hachalu's death, 145 civilians and 11 security forces have lost their lives in the unrest in the region," said Girma Gelam, deputy police commissioner of Oromia region, in a statement on the state-affiliated Fana Broadcasting Corporate.
(Source: TRT WORLDS)
************************************************************************************
W.H.O.  warns coronavirus crisis may worsen – Live Updates
'Too many countries are headed in the wrong direction' as global cases near 13 million, WHO director warns.
by Ted Regencia, Virginia Pietromarchi & Mersiha Gadzo
The pandemic could potentially get far worse if all nations do not adhere to basic healthcare precautions, the World Health Organization (WHO) has warned. The pandemic has caused "an education emergency" with 9.7 million children at risk of never returning to school, according to a report released by human rights group Save the Children .
One in three South Korean patients seriously ill with COVID-19 showed an improvement in their condition after being given the antiviral drug remdesivir, health authorities have said. More than 12.98 million people around the world have been diagnosed with COVID-19 and more than 570,000 have died, according to a tally by the Johns Hopkins University. More than 7.1 million patients have recovered.(Source: Al Jazeera News)
***********************************************************************************
Syria: Assad's Baath party wins majority in parliamentary polls
Syrian President Bashar al-Assad's party and its allies have won an expected majority of seats in the war-torn country's parliamentary election, denounced as "theatrical" by the exiled opposition. Party of President Bashar al-Assad and allies win 177 seats in 250-member Parliament in vote denounced by opposition. Turnout stood at 33 percent, down from 57 percent in 2016, according to commission head Samer Zamreeq. Millions of people displaced by Syria's long-running war were not eligible to cast ballots in the poll, which took place amid deepening economic woes.
"Simply put, these are illegitimate elections. The regime chose the candidates, even the independent ones, and they elected them," Yahya al-Aridi, a member of the opposition committee at UN peace talks in Geneva, was quoted as saying by the 'DPA news agency'.
"The people in Syria did not have the freedom to vote … this was a theatre play by the regime."       (Source: Al Jazeera News)
***********************************************************************************
Alien hunter claims UFO was captured on Google Maps hovering over New Zealand beach (POLL)
UFO hunters believe they finally have proof that Earth has been visited by alien crafts after a peculiar pattern was spotted hovering over a beach in New Zealand on Google Maps' street view.
The supposed unidentified flying object appears to be suspended in the air over St Kilda beach on New Zealand's South Island in the Google 360-degree image. The photo was uploaded by a user named David Newstead all the way back in 2014, but it shot to prominence this week after self-proclaimed alien-hunting expert Scott Waring posted a video about it on Friday.
"The UFO looks like a fat disc, thicker in the upper and lower middle. The object is metallic in color and has no wings and nothing to indicate that it might be a balloon, drone, plane or anything," Waring breathlessly claimed on his ET Data Base blog.
The ufologist added that the object was in "extraordinary focus" and appeared to be warping the air around it "as if its propulsion system is altering the air temperature or static."
Remarkably, Waring's ardent followers proposed even more outlandish explanations for the unusual occurrence. Not buying that it could have a straightforward explanation, such as being an unusual drone, a camera glitch or even mischief-making by the uploader, some of the commenters believed it was potentially proof that humanity is living in a simulation.
Others speculated about how the UFO was powered and what was driving it, while one commenter hailed it as "phenomenal." "I wonder how fast this thing was traveling  faster than the eye could catch or was it hovering and cloaked to the human eye? I just don't know, but the mystery is exciting," Waring added.
Waring has made a host of other "discoveries" in Google Maps and in a range of other sources, including NASA images. Despite his enthusiasm, experts say these UFO "sightings" can usually be explained by a trick of the mind known as pareidolia. This is the tendency for humans to see recognizable shapes or patterns where they do not exist.(Source: RT NEWS)