Brief News International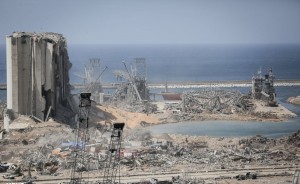 Beirut explosion death toll rises to 200 as 6,000 wounded
On the afternoon of Tuesday  4 August 2020, two explosions occurred at the port of the city of Beirut, the capital of Lebanon. The second explosion was extremely powerful, and caused at least 200 deaths, 6,000 injuries, US$1015 billion in property damage, and left an estimated 300,000 people homeless. The event was linked to about 2,750 tonnes (3,030 short tons; 2,710 long tons) of ammonium nitrate  equivalent to around 1.2 kilotons of TNT (5.0 TJ)  which had been confiscated by the Lebanese government from the abandoned ship MV Rhosus and then stored in the port without proper safety measures for six years.
The explosion was detected by the United States Geological Survey as a seismic event of magnitude 3.3; was felt in Turkey, Syria, Israel, and parts of Europe; and was heard in Cyprus more than 250 km (160 mi) away. It is considered to be one of the most powerful non-nuclear explosions in history.
The Lebanese government declared a two-week state of emergency in response to the disaster. In its aftermath, protests erupted across Lebanon against the government for their failure to prevent the explosions, joining a larger series of protests that have been taking place in the country since 2019.
On 10 August 2020, Prime Minister Hassan Diab and the Lebanese cabinet resigned due to mounting political pressure that was exacerbated by the event.
The government-owned Port of Beirut serves as the main maritime entry point into Lebanon and a vital piece of infrastructure for the importation of scarce goods. The port included 4 basins, 16 quays, 12 warehouses, a large container terminal, and a grain silo that served as a strategic reserve of wheat for the country. The Beirut Naval Base is a part of the port.
Beirut collective losses after blast may reach $15bn: governor
Explosion must be independently investigated: Amnesty International
"Amnesty International also calls on the international community to urgently increase humanitarian aid to Lebanon at a time when the country was already struggling with the severe economic crisis, as well as the COVID-19 pandemic."
Hezbollah denies storing weapons at Beirut port depot
BEIRUT (Reuters) – Hezbollah's leader on Friday 7th August, denied accusations that his Iran-backed movement has arms warehoused at Beirut port, calling for an investigation into the biggest explosion to hit the Lebanese capital. In a televised speech, Sayyed Hassan Nasrallah called Tuesday's explosion "an exceptional event" that required unity and calm. The heavily armed Shi'ite Hezbollah would make its political position clear after the dust settles, he added.
Nasrallah called for a fair investigation to reveal the truth and strict accountability for anyone responsible without any political cover. Otherwise, "that means there is no state."
He said if political parties trusted the Lebanese military as they say, they should let it investigate the blast, without mentioning an international probe which others have called for.                        (Source: Reuters)
***************************************************************************************
Christchurch mosque shooter sentenced to life without parole
(Thu. 27 August  2020) The harshest criminal punishment ever applied in New Zealand life behind bars for the man behind the Christchurch mosque massacres  has offered justice but leaves a long and painful road to healing for survivors and loved ones of those killed in the attack.
Brenton Tarrant, a 29-year-old self-proclaimed white supremacist, will die in jail under a life sentence without parole that he was handed on Thursday 27 Aug. 2020.
He killed 51 Muslim worshippers with high powered guns during Friday prayers at two Christchurch mosques in March 2019.
"Finally justice has been served," said Hina Amir, on the phone from her living room a few suburbs away from the street in front of Al Noor mosque where her and husband Amir Daud survived a hail of Tarrant's bullets in their car.
'Inhuman'
Judge Cameron Mander said Tarrant's crimes were so wicked that a lifetime in jail could not begin to atone for them. He said they had caused enormous loss and hurt and stemmed from a warped and malignant ideology.
"Your actions were inhuman," Mander said. "You deliberately killed a 3-year-old infant as he clung to the leg of his father."
The March 15th 2019, attacks targeting people praying at the Al Noor and Linwood mosques shocked New Zealand and prompted new laws banning the deadliest types of semi-automatic weapons. They also prompted global changes to social media protocols after the gunman live-streamed his attack on Facebook.
During the four-day sentencing hearing, 90 survivors and family members recounted the horror of the attacks and the trauma they continue to feel.
***************************************************************************************
Afghan council frees Taliban prisoners to set up peace talks
By RAHIM FAIEZ and KATHY GANNON
KABUL, Afghanistan (AP)  A traditional Afghan council concluded Sunday with hundreds of delegates agreeing to free 400 Taliban members, paving the way for an early start to negotiations between Afghanistan's warring sides.
The declaration calls for an immediate start to negotiations and a cease-fire. The move looks to bring the United States a little closer to bringing home its troops and ending its longest military engagement.
No date has been set for the release, but negotiations between Kabul's political leadership and the Taliban are expected to begin as early as next week, and will most likely be held in the Mideast state of Qatar, where the Taliban maintain a political office.
Taliban political spokesman Suhail Shaheen said the decision "was a good step, a positive step." He said negotiations could start within one week of their prisoners being freed.
As for a cease-fire, Shaheen said the Taliban were committed to the deal it struck with the U.S., and according to that deal "the cease-fire will be one of the items to be discussed during the intra-Afghan negotiations."
The U.S.-Taliban deal in February called for the government to free 5,000 prisoners and for the Taliban to free 1,000 government and military personnel in its custody as a goodwill gesture ahead of the start of negotiations.
Kabul balked at the release, but eventually freed all but the last 400. President Ghani said he was not authorized to free these because of the seriousness of their crimes, and asked for the council to decide instead. He did not detail what the 400 were accused of.                 'Source: AP News'
***************************************************************************************
With the support of India Afghanistan create Military Militia- Hizbe Islami
Hezb-e-Islami leader says with the support of India, Afghanistan intends to create a militia group.
In a Friday prayer sermon, Hekmatyar stated, that the Afghan government is taking stands against the process and is taking steps that is dangerous for Afghanistan's consequences.
He added, India opposes the peace process in relation to Pakistan and wants to form a Militia group with the Afghan government.
The Hezb-e-Islami leader also said that efforts are ongoing in the Northern parts of Afghanistan for the formation of the Militia group, he added the Afghan government is creating obstacles in regards to the peace process, but "Taliban agreement with the United States will be implemented" he added.
This comes as national peace council Director Abdullah Abdullah previously announced the start of the Intra-Afghan talks in Qatar for the coming week.
***************************************************************************************
Three years on, Rohingya trapped in camps as they await justice
Confined to tents, Rohingya hold silent protest on genocide anniversary
(August 25, 2017) An August 2017 military operation, that triggered genocide charges at the UN's top court, has driven 750,000 Rohingya out of Myanmar's Rakhine state into neighbouring Bangladesh, to join 200,000 who fled earlier.
Nearly a million Rohingya refugees stuck in Bangladesh are marking three years since their escape from Myanmar in a day-long "silent protest" inside their flimsy, leaky huts.
Three years later and with no work or decent education for their children, there is little prospect of a return to the country, where members of the mostly Muslim minority have long been treated as inferior intruders.
Tuesday's protest is being held inside tiny tents due to coronavirus restructions on the squalid camp in Bangladesh.
Protest ban
Myanmar's military "killed more than 10,000 of our people. They carried out mass murders and rapes and drove our people from their home", Mohibullah, a Rohingya leader in the camps, said.
For the second anniversary last year, Mohibullah led a rally of about 200,000 protesters at Kutupalong, the largest of the network of camps in southeast Bangladesh, where 600,000 people live in cramped and unsanitary conditions.
But the Bangladeshi authorities, increasingly impatient with the Rohingya and who a year ago cut internet access in the camps, have banned gatherings because of the coronavirus pandemic. Bangladesh is expected to lift internet restrictions.
The Rohingya will mark "Genocide Remembrance Day" with silence and prayers in their rickety homes all day, Mohibullah said.
"There will be no rallies, no work, no prayers at mosques, no NGO or aid activities, no schools, no madrasas and no food distribution," he added.
Myanmar bars Rohingya Muslim candidate from election
Rights groups have criticised the move, saying it is part of the larger discrimination against the Rohingya minority Muslims in the country. A Rohingya Muslim has been barred from standing in Myanmar's upcoming election in a decision decried by rights groups as discriminatory and a symptom of the "ongoing genocide" against the persecuted minority.
Three Rohingya-led parties had hoped to field at least a dozen candidates in November's vote, according to regional watchdog Fortify Rights.
But Abdul Rasheed, 58, a member of the Democracy and Human Rights Party, said that his candidacy was rejected by the district election commission in Rakhine state capital Sittwe.
'Not in line with law'
The commission said this was because his parents were not Myanmar citizens when he was born, Rasheed said  even though he had proof his parents and grandparents were granted citizenship in 1957, four years before his birth.
"This is not in line with the law," he said, adding he would appeal the decision.
"The Rohingya are being degraded so we cannot compete."      (Source: TRT NEWS)
***************************************************************************************
Israel, US successfully test Arrow-2 ballistic missile defense system
Defense Minister Benny Gantz: We will always be a step ahead of our enemies and protect Israel's skies against any threat.
By  Lilach Shoval , Reuters and ILH Staff |  08-13-2020 07:43
Israel successfully tested its Arrow-2 ballistic missile interceptor on Wednesday, the US Missile Defense Agency said.
"The Arrow-2 interceptor successfully performed its planned trajectory and destroyed the target," the Pentagon agency said in a statement.
During the test, the Arrow intercepted an Israeli Sparrow-class medium-range target missile.
The Arrow-2 and a newer generation system, the Arrow-3, serve as the top tier of an integrated Israeli shield built up with US backing to withstand various potential missile salvoes.
In July 2019, the Arrow-3 passed a series of live interception tests over Alaska.
"MDA remains committed to assisting the government of Israel as it upgrades its national missile defense capability against current and emerging threats," said the agency's director, Vice Admiral Jon Hill.
The test was conducted at a test range in central Israel and over the Mediterranean Sea, MDA said.
Defense Minister Benny Gantz, who was appraised of the successful test, said: "Israel is facing challenges near and our technological commandos, spearheaded by the [Defense Ministry's] Directorate of Defense Research and Development, Israel Aerospace Industries, and other defense companies, ensure we will always be a step ahead of our enemies and protect Israel's skies against any threat. The joint test with the US is an expression of the friendship and partnership between the countries and United States' deep commitment to the security of the citizens of Israel. We will continue working together to enhance our defense capabilities  in the air, sea, on land, and the cybernetic sphere."
(Source: Israel Hayom)
***************************************************************************************
Turkey finds energy in Black Sea as Erdogan promises 'good news'
Turkish President Recep Tayyip Erdogan says the 320 billion cubic meters of natural gas reserves is expected to be ready for public consumption by 2023.
by : Cagan Koc, Selcan Hacaoglu and Asli Kandemir  Bloomberg
(Friday 21st Agu. 2020) Turkey has discovered energy in the Black Sea, most likely natural gas, two people with direct knowledge of the matter said, but gave no indication of the size and depth of the find, nor how difficult it will be to extract.
The two spoke after President Recep Tayyip Erdogan promised to deliver Turks "good news", that would usher in a new era for the nation. He has also vowed to pursue energy exploration in contested Mediterranean waters that has triggered rows with the European Union. The president's office declined to comment.
The lira extended gains against the dollar after the news and was trading 1.2% stronger late Wednesday local time. The benchmark Borsa Istanbul 100 Index also rose 3% after Erdogan spoke, while shares of refiner Turkiye Petrol Rafinerileri AS, or Tupras, and petrochemical manufacturer Petkim Petrokimya Holding AS jumped 7.6% and 9.9% respectively.
Energy Minister Fatih Donmez said last month that the drilling ship Fatih had started exploration in the so-called Tuna-1 zone, off the Turkish town of Eregli.
"There have been gas discoveries in the Black Sea before but of a limited scale," Timothy Ash, a strategist at BlueBay Asset Management LLP in London, said on Twitter. "Given its $35-50 billion annual energy import bill, Turkey needs something big to be a game changer."
Tuna-1, some 150 kilometers from Turkey's coast, is close to an area where maritime borders of Bulgaria and Romania converge and not far from Romania's Neptun block, the largest gas find in the Black Sea in decades discovered eight years ago by Petrom and Exxon. The Fatih has been carrying out drilling operations in Tuna-1 area since around mid-July according to a Turkish Navy website.
"Turkey's struggle from the eastern Mediterranean to Libya is not about its rights but its future," he said Wednesday, as the Turkish Navy said it started back to back exercises in the northwest of Cyprus through Aug. 28.
(Updates with start of Turkish drilling operations in Black Sea in seventh paragraph, Turkey starting navy exercises northwest of Cyprus in the last paragraph.)
-With assistance from Tugce Ozsoy,Ercan Ersoy, Firat Kozok, Richard Bravo, Vanessa Dezem and Emma Ross-Thomas.
SOURCE: BLOOMBERG
***************************************************************************************
Top Muslim Brotherhood leader dies in Cairo prison
Essam el-Erian had complained of medical negligence in detention after being sentenced to several life sentences.
A senior leader of the outlawed Muslim Brotherhood movement has died of a heart attack in the notorious Tora Prison in Cairo, Egyptian security sources have said. Essam el-Erian, who was sentenced to several life sentences following the military coup against Egypt's first democratically elected president Mohamed Morsi, died at the age of 66.
El-Erian had been moved to a prison hospital after suffering a heart attack and died during treatment, two prison sources told Reuters news agency.
He was arrested after then-defence minister Abdel Fattah el-Sisi overthrew the late president Morsi in July 2013. He was later sentenced to several life sentences for being part of demonstrations against the decision to overthrow Morsi, who also died in prison.    'Source: Al Jazeera'
***************************************************************************************
UN Security Council rejects US demand to extend Iran arms embargo
The embargo on conventional arms is due to expire in mid-October, as agreed under the 2015 nuclear deal among Iran, Russia, China, Germany, Britain, France and the United States. The United Nations Security Council has rejected a US resolution to extend an Iranian arms embargo in a move with repercussions for the Iran nuclear deal.
"The Security Council's failure to act decisively in defense of international peace and security is inexcusable," US Secretary of State Mike Pompeo said  in a statement ahead of the council announcing the results of the vote.
The US has become increasingly isolated over Iran at the Security Council since President Donald Trump pulled it out of the Iranian nuclear deal in May 2018. The vote in the 15-member council was two in favour, two against and 11 abstentions, leaving it far short of the minimum nine "yes" votes required for adoption. Russia and China strongly opposed the resolution but didn't need to use their vetoes.
The embargo on conventional arms is due to expire on October 18 under the terms of a resolution that blessed the Iran nuclear deal, signed in July 2015 and officially known as the Joint Comprehensive Plan of Action (JCPOA). Under the deal, negotiated by then US president Barack Obama, Iran committed to curtailing its nuclear activities for sanctions relief and other benefits.
Since Trump pulled out and slapped unilateral sanctions on Iran under a campaign of "maximum pressure," Tehran has since taken small but escalating steps away from compliance with the nuclear accord as it presses for sanctions relief. European allies of the United States  who, along with Russia and China, signed the deal with Iran  have voiced support for extending the conventional arms embargo but their priority is to preserve the JCPOA.    'Source TRTworld News'
***************************************************************************************
US has no right to demand restoration of sanctions: Itan's FM
Iran's FM says US lost the right to make demands when it withdrew from nuclear deal between Iran and major world powers.
In a letter to the UN Security Council (UNSC), Mohammad Javad Zarif said the US lost the right to make demands in 2018 when it withdrew from the landmark nuclear deal between Iran and major world powers.
Zarif also said the unilateral pullout by Washington violated a UN resolution that required signatories to avoid any damage to the deal.
***************************************************************************************
US seizes four Iranian fuel tankers bound to Venezuela
The US Justice Department  confirmed it had seized the fuel cargo aboard four tankers sent by Iran to crisis-wracked Venezuela, tying the shipments to Tehran's Revolutionary Guards and stepping up the pressure on its foe.
"With the assistance of foreign partners, this seized property is now in US custody," the Justice Department said, putting the total at more than one million barrels of petroleum and calling it the largest-ever seizure of fuel shipments from Iran.
US military officials said  that incident took place in the Gulf of Oman, with Iran using a helicopter and two ships to take over the vessel, a Liberian-flagged oil and chemicals tanker, for several hours. The US has accused Iranian businessman Mahmoud Madanipour, who allegedly had links to the Revolutionary Guards, of arranging oil shipments for Venezuela using offshore front companies and ship-to-ship transfers to get around sanctions on Iran.       'Source: TRT WORD'
***************************************************************************************
No diplomatic ties with Israel without Palestinian peace: Saudi Arabia
Saudi Arabia has said it will not follow the United Arab Emirates in establishing diplomatic ties with Israel until the Jewish state has signed an internationally recognised peace accord with the Palestinians.
The UAE last week became the first Gulf state to normalise relations with Israel, in a US-brokered accord that raised the prospect of similar deals with other Arab states including Saudi Arabia.
But after days of conspicuous silence and in the face of US pressure to announce a similar deal, Saudi Arabia's Foreign Minister Prince Faisal bin Farhan ruled out the possibility until the Palestinian issue is resolved.
"Peace must be achieved with the Palestinians" on the basis of international agreements as a pre-condition for any normalisation of relations, Prince Faisal told reporters during a visit to Berlin.     'Source: TRT World  News'
***************************************************************************************
China, US militaries in crunch talks to avoid conflicts in Taiwan and South China Sea
By : Robert Delaney | South China Morning Post
China's Defence Minister Wei Fenghe and his US counterpart Mark Esper warned each other in a phone call about escalating risks over Taiwan and the South China Sea, in the highest-level US-China talks since state leader Yang Jiechi met  US Secretary of State Mike Pompeo in Hawaii in mid-June.
Esper "expressed concerns about [the Chinese military's] destabilizing activity in the vicinity of Taiwan and the South China Sea, and called on [China] to honour international obligations" as well as share more of its data on Covid-19, Pentagon spokesman Jonathan Hoffman told reporters in Washington.
"There are obligations that the Chinese government is under responsibility for with regard to the [World Health Organisation] agreements, so they have a need to provide samples to provide data," Hoffman said. "That didn't happen and we expect them to to continue to improve their information sharing in regard of that."
The US defence secretary also "affirmed the principles and importance of constructive, stable and result-oriented defence relationship between the United States" and the People's Liberation Army, Hoffman said, adding that the call lasted about 90 minutes.
The conversation took place amid growing concerns about the possibility of a hot war between the two powers  especially over the South China Sea. The US sent 67 large reconnaissance planes to the contested region in July, a sharp increase on the previous two months, according to the Beijing-based South China Sea Strategic Situation Probing Initiative.
Meanwhile, China's state news agency Xinhua confirmed that Taiwan and the South China Sea were on the agenda, and that Wei also warned Esper against "dangerous moves" that would escalate bilateral tensions.
Wei also laid out for Esper the Chinese government's position on Washington's "stigmatisation" of China, according to Xinhua, which said that the US side requested the call. 'Source: South China Morning Post'
***************************************************************************************
Major Chinese Tank, Infantry Build-Up In South Pangong As Standoff Intensifies
By dominating the heights, Indian infantry forces are in a position to engage Chinese armour and troop formations with anti-tank guided missiles, rockets and other weapons.
Written by Vishnu Som Updated: September 04, 2020 | NDTV
New Delhi: There has been a major force build-up of Chinese tanks and infantry forces in the South Pangong region of Eastern Ladakh after the Indian Army seized the initiative and gained control of several key heights in the area on August 30. Given the range of their guns, Chinese artillery would be located in 'depth' positions, more than twenty kilometres away from the Line of Actual Control.
Source have indicated to NDTV that the presence of additional tank forces has been detected not too far from Chinese positions in Moldo in South Pangong. However, the movement of Chinese heavy weaponry continues to be well sighted by the Indian Army "which dominates the heights from Thakung to beyond Mukpari." This includes control of both shoulders of the crucial Spanggur Gap, a high-altitude pass that spans more than two kilometres in width through which tanks can operate.
The Indian Army has reinforced its own tank formations in the area, and deployed additional forces to shore up the heights that it holds along the disputed Line of Actual Control in the region.
By dominating the heights, Indian infantry forces are in a position to engage Chinese armour and troop formations with anti-tank guided missiles, rockets and other weapons. India also operates missile-armed T-90 heavy main battle tanks in addition to upgraded T-72M1 tanks in high-altitude areas in Eastern Ladakh.
NDTV has learned that despite the over-all domination of Indian forces in the region, the Chinese Army continue to hold positions on Black-Top and Helmet, two features on the Chinese side of the Line of Actual Control. Multiple sources have told NDTV that both positions are within the range of Indian soldiers who occupy near-by heights and hold ground at the base of these features. In other words, any lengthy maintenance and replenishment of these Chinese posts would be challenging.
There has been heavy air activity as well along the Line of Actual Control with the Chinese Air Force stepping up its fighter deployment from both the Ngari-Gunsa and Hotan air bases in Tibet. The bulk of the Chinese fighter-flying has been done by home-built versions of the Sukhoi 30 fighter which also happens to be the mainstay of the Indian Air Force.
The situation along the LAC  is "slightly tense", Army chief General Manoj Mukund Naravane said this morning, adding that "we have undertaken some precautionary deployments for our own safety and security". "In view of the situation, we have undertaken some precautionary deployments for our own safety and security. These deployments, we undertook along the LAC," Army chief General Manoj Mukund Naravane said today, referring to the de facto border with China.
"We are sure that the problem can be resolved fully through talks," the Army chief added.
Both the IAF and the Chinese Air Force have deployed electronic warning and support aircraft in the region. It is unclear if the Chinese are performing round-the-clock fighter sweeps in the region.
The Indian Air Force, which is heavily deployed at multiple air bases across North India would respond to Chinese air activity by flying its own combat-sorties across the Line of Actual Control.
It is also unclear if combat aircraft of either sides have made aggressive attempts to lock their fire-control radars on each other, a prelude to firing air to air missiles. The Chief of Air Staff, Air Chief Marshal RKS Bhadauria visited Indian Air Force bases in the Northeast.
***************************************************************************************
Global data security initiative launched by China amid standoff with US
The initiative urges countries to oppose mass surveillance against other states and calls on tech companies not to install backdoors in their products and services to illegally obtain users' data.
China announces an initiative to establish global standards on data security, saying it wants to promote multilateralism in the area at a time when "individual countries" are "bullying" others and "hunting" companies.
The announcement, by State Councillor Wang Yi, comes a month after the US said it was purging "untrusted" Chinese apps under a program dubbed "Clean Network".
China's initiative calls for technology firms to prevent the creation of so-called backdoors in their products and services that could allow data to be obtained illegally, as well as for participants to respect the sovereignty, jurisdiction and data management rights of other countries.
It also calls for participants to not engage in large-scale surveillance of other countries or illegally acquire information of foreign citizens through information technology.
It did not detail the nature of the initiative or say whether any other country had joined.
"Naked bullying"
"Global data security rules that reflect the wishes of all countries and respect the interests of all parties should be reached on the basis of universal participation by all parties," Wang said.
"Some individual countries are aggressively pursuing unilateralism, throwing dirty water on other countries under the pretext of 'cleanliness', and conducting global hunts on leading companies of other countries under the pretext of security. This is naked bullying and should be opposed and rejected."
China tightly controls and censors its own cyberspace through the popularly dubbed Great Firewall, which has for years restricted access to firms such as US majors Twitter Inc , Facebook Inc and Google owner Alphabet Inc .
The administration of US President Donald Trump has taken aim at Chinese giants such as Huawei Technologies Co Ltd , Tencent Holdings Ltd and TikTok owner ByteDance, citing concerns over national security and the collection of personal data, which the companies have rejected.
It has blocked US exports to Huawei and plans to ban TikTok in the United States this month unless ByteDance sells TikTok's US operations.                 (Source: TRT  WorldNews)
***************************************************************************************
If Pakistan tries to take advantage of India-China border row,
it could suffer 'heavy losses': Gen Bipin Rawat
Chief of Defence Staff Gen Bipin Rawat said that Pakistan has been engaged in a proxy war against India and infiltrates terrorists into Jammu and Kashmir.
New Delhi: As India is engaged in a bitter border standoff with China in eastern Ladakh sector, Chief of Defence Staff Gen Bipin Rawat warned Pakistan against any "misadventure" in the western sector, saying Islamabad could suffer "heavy losses".
While warning Pakistan against trying to take advantage of India's border row with China, CDS Rawat said that New Delhi is well-prepared and a strategy is in place if Islamabad tries to create trouble in the western front.
He made the comments while attending the US-India Strategic Partnership Forum via video conference.
"If any threat develops around our northern borders, Pakistan could take advantage of that and create some trouble for us," General Rawat said while attending the interactive session at the US-India Strategic Partnership Forum.
"Therefore, we have taken adequate precaution to ensure that any such misadventure by Pakistan is sorted and they are not able to succeed in their mission. In fact, they may suffer heavy losses should they attempt any misadventure," Gen Rawat said.
The CDS yet again asserted that Pakistan has been engaged in a proxy war against India and infiltrates terrorists into Jammu and Kashmir.
"The proxy war unleashed by Pakistan blocked India's efforts at regional integration besides fomenting terrorism against India and exploiting our diverse faultlines," he said.
Commenting on China's military and economic cooperation with Pakistan in Pakistan-occupied Kashmir, Gen Rawat said it requires high levels of "preparations" by India.
"At the same time it poses the threat of coordinated action along the northern and western fronts which we have to consider in our defence planning," the CDS asserted.
His comments come in the backdrop of the months-long India-China border standoff in eastern Ladakh. Tensions between the two Asian giants flared in eastern Ladakh after China unsuccessfully attempted to occupy Indian territory in the Southern Bank of Pangong lake on the intervening night of August 29-30.
However, the alert Indian Army preempted the People's Liberation Army's move and thwarted the attempt.
The Indian forces have occupied a number of strategic heights on the southern bank of Pangong Tso and bolstered its presence in Finger 2 and Finger 3 areas.
Since May 2020, China has been continuously tried to change the status quo in many areas in eastern Ladakh, triggering a strong response from the Indian forces.
***************************************************************************************
China celebrates virus victory as world still suffers  latest updates
China's leaders hold a triumphant ceremony to celebrate beating the coronavirus as billions of people around the world still suffer the fallout from the pandemic.
The upbeat mood in Beijing comes as concerns grow about a resurgence of the pandemic across Europe, with France tightening restrictions, cases in Britain spiking and schools resuming around the region in recent days.
But in China the virus has been all but banished through a combination of lockdowns and travel restrictions earlier in the year that have officials touting the nation as a virus success story.
Philippines reports 3,281 new virus cases
The Philippines records 3,281 new infections and 26 additional deaths.
In a bulletin, the country's health ministry said total confirmed cases have reached 241,987 while deaths have increased to 3,916.
***************************************************************************************
Plane skids off runway and breaks apart in India, Killed 18
(Fri, 7 August 2020) Rajiv Jain, a spokesman for the Civil Aviation Ministry, said no fire was reported on the Boeing 737 aircraft after it landed and broke into two pieces.
At least 18, including two pilots, were killed and more than 120 hospitalised after an Air India Express plane crashlanded in India's Kerala state, but rescuers say the death toll would have been much higher if the aircraft had caught fire.
Indian authorities have practised for years for a jet overshooting the "table-top" runway at Kozhikode airport, but still local resident Fazal Puthiyakath was not prepared for the "blood and death" of the real thing.
The 32-year-old businessman and his neighbours were first on the scene after an Air India Express plane crashed over the runway of the Calicut International Airport in heavy rain near the southern city of Kozhikode.
***************************************************************************************
DNA Tests Confirm Kabul Gurdwara Attacker was One-Time Kerala Resident
Praveen Swami | News18  |  15 August 2020
Tests conducted by the Central Forensic Sciences Laboratory in New Delhi have concluded that the men responsible for the March 25 suicide bombing in Kabul included one-time Kerala resident Muhammad Muhsin, government sources have told News18. The tests were submitted to the National Investigation Agency earlier this week.
Blood samples from Muhsin's mother Maimoona Abdulla, collected by the NIA, were matched with tissue collected from the suicide-bomber's remains by Afghan authorities, the sources said.
An NIA spokesperson said the agency had no comment to offer as the investigation was ongoing.
Born in 1991 in the small town of Trikarpur, near Kasargode, Muhsin is believed to have been part of a group of Indian terrorists in Afghanistan, led by one-time Kashmir jihad commander Aijaz Ahanger. Photographs released on Islamic State-linked social media channels had proclaimed Muhsin had carried out the Gurdwara attack, which claimed 27 lives.
Following his school education, Muhsin left Kerala to work at a small hotel run by relatives in Kuala Lumpur, Malaysia. He later obtained a job in Dubai, the United Arab Emirates, where he lived until 2018, before leaving for Afghanistan to join Ahanger's group. Few details, though, have so far emerged on what led him to join the group.
NIA investigators registered a case against the Kabul Gurdwara attack in April, the first using a landmark new law giving the organisation jurisdiction to investigate crimes outside India.
The core of the Indian jihadist group in Afghanistan was formed by 26 Kerala residents  some of them children  who left for Afghanistan in 2016, led by neo-fundamentalist cult leader Abdul Rashid Abdullah.
Ijas Kallukettiya Purayil, a one-time dentist from Kerala's Kasargod who was among that group, is believed to be among the suicide attackers killed when his jihadist unit stormed a prison in Afghanistan's Jalalabad earlier this month. Twenty-nine people were reported to have been killed in the attack, aimed at freeing jihadists from the prison on Eid.
Purayil's wife, Rafilla Purayil, and has been held in Kabul's Badam Bagh prison along with their five-year-old son, Ayaan, is currently part of a group of nine Indian women held in Kabul's Badam Bagh jail, the wives and widows of the Kerala jihadists.
Purayil's younger brother, Shiyas Purayil, is thought to have been killed in a United States military drone strike in Nangarhar along with his wife Ajmala Purayil.
The jihadist brothers' cousin, Ashfaq Purayil, who once ran a hotel in Mumbai, is also thought to have survived the bomb strikes. Ashfaq Purayil's wife, Shamsiya Purayil, and their four-year-old daughter Ayesha are also among those held in Badam Bagh prison.
Afghanistan's intelligence service, the National Directorate for Security, arrested the group's military commander, Aijaz Ahanger, in raids conducted in Kandahar earlier this year. NDS sources have told News18 that while Ahanger's group claimed affiliation to the Islamic State, it was in fact controlled by the Haqqani Network  a constituent of the Taliban, with close links to Pakistan's Inter-Services Intelligence Directorate.
The jihad commander's Budgam-born wife, Rukhsana Dar, is among the Indian jihadists' wives held in Badam Bagh prison, along with her daughters Sabira and Tooba.
***************************************************************************************
Armed fighters take hundreds hostage in Nigeria's Borno state
20 soldiers, 40 civilians killed in attacks Nigeria's Borno state
Armed fighters have taken hundreds of hostages in a northeast Nigerian town where residents had only just returned after fleeing their homes, residents and militia sources said. The Islamic State West Africa Province (ISWAP) group, a splinter group of Boko Haram, overran the town of Kukawa in Borno state late on Tuesday, the sources told the AFP news agency. They seized residents who had returned to the town in a government operation on August 2, after spending nearly two years in displacement camps, said Babakura Kolo, head of a local militia.
"The terrorists attacked the town in 22 trucks around 4:00 pm (16:00 GMT) yesterday and engaged soldiers guarding the town in a fierce battle," he said. Kukawa's residents had returned to their homes just 16 days earlier under military escort, on the orders of the Borno state authorities.                            'Source: Al Jazeera News Agency'
***************************************************************************************
California fires torch more land than 5 New York Cities.
Fire-ravaged northern California largely spared new onslaught of lightning
Adrees Latif | 25-8-2020
MIDDLETOWN, Calif. (Reuters) – Thunderstorms rumbled over northern California again on Monday, but the fire-ravaged region around San Francisco Bay was largely spared from a new onslaught of incendiary lightning strikes like those that sparked hundreds of blazes last week.
Firefighting crews already stretched to their limits had braced for another potentially catastrophic spate of dry lightning on Sunday and Monday, as forecasters for the National Weather Service predicted.
But rather than the thousands of lightning strikes that were feared, the region saw a few hundred, while cloudy skies, cooler temperatures and rising humidity provided a welcome respite that helped fire crews consolidate some gains they made over the weekend.
Still, the squall of monster-sized wildfires – including the second- and third-largest on record in California – remained far from under control, with some 240,000 people under evacuation orders or warnings across the state.
***************************************************************************************
US-led coalition troops leave Iraq's Taji base
(24 Aug. 2020) The pullout comes amid rising attacks by Iranian-backed militias on bases housing US troops and diplomats in Iraq. United States-led international coalition troops have withdrawn from Iraq's Taji military base and handed it over to Iraqi security forces, the coalition has said. The base, 20 kilometres (12 miles) north of Baghdad, had been the site of frequent rocket attacks by Iran-backed militias targeting US-led troops in recent months.
"The movement of coalition military personnel is part of a long-range plan coordinated with the government of Iraq," the coalition said in a statement on Sunday, adding that Camp Taji has historically held up to 2,000 coalition members, most of whom have departed this summer.
Remaining coalition troops will depart in the coming days after finalising the handing over of equipment to Iraqi security forces, it added. This was the eighth transfer of a coalition portion of an Iraqi base back to Iraqi forces, it said.
Major General Tahsin al Khafaji, a spokesman for the joint operations of the Iraqi army, said the troop withdrawal comes under an agreed timetable to hand over other military bases across Iraq.
Trump makes good on his promise
The withdrawal came days after US President Donald Trump redoubled his promise to withdraw the few US troops still in the country. The United States has had about 5,000 troops stationed in the country and coalition allies a further 2,500. Iraq's parliament had voted this year for the departure of foreign troops from Iraq and US and other coalition troops have been leaving as part of a drawdown. The vote came after a US air strike on Baghdad airport killed Iranian general Qassem Soleimani and Iraqi militia leader Abu Mahdi al Muhandis.                 'Source: TRT World News'
***************************************************************************************
75 years after Hiroshima and Nagasaki, a nuclear threat returns
The International Red Cross Red Crescent Movement urges all nations to end the nuclear era.
Seventy-five years ago, on the morning of 6 August 1945, a B-29 warplane released a terrifying new weapon on Hiroshima.
The nuclear bomb wiped out the city, instantly killing an estimated 70,000 people and leaving tens of thousands more suffering horrific injuries. Three days later, on 9 August, a second nuclear bomb devastated the city of Nagasaki, immediately killing 39,000 people.
By 1950, an estimated 340,000 people had died because of the bombs' effects, including from illnesses caused by exposure to ionizing radiation. The International Committee of the Red Cross (ICRC) and the Japanese Red Cross Society witnessed the unimaginable suffering and devastation, as medical and humanitarian personnel attempted, in near-impossible conditions, to assist the dying and injured.
The 75th anniversary of the bombings of Hiroshima and Nagasaki comes even as the risk of use of nuclear weapons has risen to levels not seen since the end of the Cold War. Military incidents involving nuclear states and their allies have increased in frequency, and nuclear-armed states have made explicit threats to use nuclear weapons.
Additionally, agreements to eliminate existing arsenals are being abandoned as new nuclear weapons are being developed, putting the world on the dangerous path of a new nuclear arms race. These developments add urgency to the international community's efforts to prohibit and eliminate these unacceptable weapons. The indisputable evidence of their catastrophic impact makes it extremely doubtful that their use could ever comply with international humanitarian law.
"The horror of a nuclear detonation may feel like distant history. But today the risk of nuclear weapons being used again is high. Treaties to reduce nuclear arsenals and risks of proliferation are being abandoned, new types of nuclear weapons are being produced, and serious threats are being made. That's an arms race, and it's frightening. We must push all states to ban nuclear weapons and push nuclear weapons states to negotiate, in good faith, steps towards their elimination," said Peter Maurer, president of the International Committee of the Red Cross (ICRC).
"The international community would not be able to help all those in need after a nuclear blast. Widespread radiation sickness, a decline in food production, and the tremendous scale of destruction and contamination would make any meaningful humanitarian response insufficient. No nation is prepared to deal with a nuclear confrontation," said Francesco Rocca, president of the International Federation of Red Cross and Red Crescent Societies (IFRC).
Proving the wide support for a nuclear-free world, 122 states in July 2017 adopted the Treaty on the Prohibition of Nuclear Weapons (TPNW). The treaty will become legally binding for countries that ratify it after 50 do so; to date 40 have. The treaty prohibits the development, testing, production, stockpiling, stationing, transfer, use and threat of use of nuclear weapons. For nuclear-armed states that join the treaty, it provides for a time-bound framework for the verified elimination of their nuclear weapons programme. Maurer and Rocca commended the states that have already joined the TPNW and encouraged all others to follow suit, ensuring the events of 1945 never occur again. The two leaders said it was crucial that the TPNW becomes a new norm of international humanitarian law.
"Not since the end of the Cold War has it been more urgent to call attention to catastrophic consequences and fundamental inhumanity of nuclear weapons. We must signal in a clear and unambiguous manner that their use, under any circumstances, would be unacceptable in humanitarian, moral and legal terms," said Rocca. There are over 14,000 nuclear bombs in the world, thousands of which are ready to be launched in an instant. The power of many of those warheads is tens of times greater than the weapons dropped on Nagasaki and Hiroshima.
"Weapons with catastrophic humanitarian consequences cannot credibly be viewed as instruments of security," said Maurer.(INTERNATIONAL COMMITTEE OF THE RED CROSS)
***************************************************************************************
Children among 45 dead in 2020's worst Mediterranean boat tragedy
(20 August, 2020) At least 45 people including five children died earlier this week in the worst shipwreck reported so far this year off Libya's coast, according to the United Nations. In a joint statement released on Wednesday, the International Organization for Migration (IOM) and the UN's refugee agency (UNHCR) said 37 survivors from Monday's shipwreck reported that at least 45 others had died when the engine of the vessel they were aboard exploded off the coast of Zwara.
The two agencies said the survivors, mostly from Senegal, Mali, Chad and Ghana, were rescued by local fishermen and later detained upon disembarkation. Following the tragic incident in the Mediterranean, the UNHCR and the IOM urgently called for a review of countries' approach in their rescue efforts.
"There remains an absence of any dedicated, EU-led search and rescue programme," Federico Soda, head of the IOM's mission in Libya, said on Twitter.
"We fear that without an urgent increase in SaR capacity, there is a risk of more disasters," he added, referring to the search and rescue activities by the coastguards of countries in the Mediterranean.
***************************************************************************************