Brief News International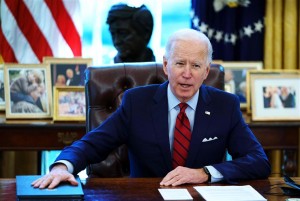 Joe Biden sworn in as 46th US president
Joe Biden hailed the resilience of US democracy and appealed for unity in a polarised nation as he was sworn in as the 46th president, completing a tumultuous transfer of power that was marred by the deadly attack on the Capitol. In his inaugural address on Wednesday 20 January afternoon, Mr Biden did not mention Donald Trump by name, but said the foundations of the country's political system had been tested by his predecessor's refusal to concede defeat. "We have learned again that democracy is precious, democracy is fragile and, at this hour my friends, democracy has prevailed," Mr Biden said. In a 20-minute address delivered in a conversational tone, he called on Americans to come together to tackle the pandemic and economic downturn during what he described as a "winter of peril and significant possibilities". "My whole soul is in this: bringing America together," Mr Biden said, in a clear break from the divisiveness of Mr Trump, adding that "politics doesn't have to be a raging fire". "We must end this uncivil war that pits red versus blue, rural versus urban, conservative versus liberal," he said.
Mr Biden's oath of office was administered by Supreme Court Chief Justice John Roberts in the presence of congressional leaders from both parties and former presidents including Barack Obama, Bill Clinton and George W Bush  but not Mr Trump, who refused to participate and flew to Florida.  The ceremony, which was heavily guarded by 25,000 troops, took place on the steps of the US Capitol ahead of Mr Biden's inaugural address just two weeks after the seat of American democracy was attacked by pro-Trump rioters, leaving five people dead. At 78 years old, Mr Biden is the oldest incoming US president  and he will be joined in governing the country by Kamala Harris, the former senator from California, who will serve as the first female, first black and first Asian-American vice-president. She was sworn in by Supreme Court justice Sonia Sotomayor, after Lady Gaga sang the National Anthem and before a performance by Jennifer Lopez. Mr Biden also called for Americans and US lawmakers to rally around his sweeping agenda of economic and social relief in the midst of the pandemic. The incoming president has called for large-scale government spending and some tax increases to stimulate the recovery and redress entrenched economic and racial inequalities. "It's time for boldness, for there is so much to do," he said. "Together, we shall write an American story of hope, not fear, of unity, not division, of light, not darkness," he said at the end of his address. "A story of decency and dignity, love and healing, greatness and goodness."
Mr Biden also vowed to "repair our alliances and engage with the world once again" after the tensions under Mr Trump. He promised that the US would "lead, not merely by the example of our power, but by the power of our example".
(Source: Financial Times)
*********************************************
Biden signs orders to end 'Muslim ban', rejoin climate deal, WHO
Just hours into his presidency, Joe Biden signs string of executive actions reversing key Trump administration policies.
(21 Jan 2021) United States President Joe Biden has signed a string of executive orders, memorandums and directives that will reverse some of his predecessor Donald Trump's most divisive policies, including rescinding the so-called "Muslim ban", rejoining the Paris climate accord, and ending the process to withdraw from the World Health Organization (WHO).
Just hours after his inauguration at the US Capitol on Wednesday, Biden signed 15 executive actions that his team earlier said aimed to "reverse the gravest damages of the Trump administration".
Biden told reporters in the Oval Office that there was "no time to waste".
"Some of the executive actions I'm going to be signing today are going to help change the course of the COVID crisis, we're going to combat climate change in a way that we haven't done so far and advance racial equity and support other underserved communities," he said, as reported by the Reuters news agency.
He has also announced that the US would remain a member of the WHO, and that Dr Anthony Fauci, the director of the National Institute of Allergy and Infectious Diseases, would attend the ongoing WHO Executive Board meeting at the head of the US delegation.
**************************************************************
Biden administration freezes giant UAE jet package, Saudi arms for review
(27-01-2021)US State Department spokesperson says the administration is "temporarily pausing the implementation" of a number of defense sales "to allow incoming leadership an opportunity to review."
US President Joe Biden's administration has temporarily frozen for review a massive package of F-35 jets to the United Arab Emirates and arms to Saudi Arabia.
The nearly week-old administration has already signaled it plans to end support for the Saudi-led, UAE-backed offensive in Yemen, which is facing a humanitarian catastrophe.
A State Department spokesperson said on Wednesday the administration is "temporarily pausing the implementation" of a number of defense sales "to allow incoming leadership an opportunity to review."
"This is a routine administrative action typical to most any transition, and demonstrates the administration's commitment to transparency and good governance," the spokesperson said.
The move is also aimed at "ensuring US arms sales meet our strategic objectives of building stronger, interoperable and more capable security partners."
Controversial deals
The most high-profile sale is a $23 billion package of top-of-the-line F-35 jets to the United Arab Emirates.
Former president Donald Trump's administration agreed to the sale  the first of the stealth-capable planes to an Arab nation  after the United Arab Emirates agreed to recognise Israel.
A potential halt to the sale could raise questions about whether the United Arab Emirates will continue its normalisation with Israel, which Trump saw as a key foreign policy achievement.
Congressional critics have expressed disapproval with such sales, including a major deal with Saudi Arabia, that then-Secretary of State Mike Pompeo pushed through after bypassing lawmakers by declaring an emergency required it.
The package to the United Arab Emirates also included unarmed drones, while the United States has been preparing major sales of munitions to Saudi Arabia.
The critics have alleged the weapons could be used to prosecute Saudi Arabia's war in Yemen, which is the home of one of the world's worst humanitarian crises.
Less than a month after the November 10 UAE sale was announced, an effort to block the deal fell short in the Senate, which failed to halt it.
Senators argued the sale of the defence equipment had unfolded too quickly and with too many questions.
The administration has billed it as a way to deter Iran, but UAE would have become the first Arab nation  and only the second country in the Middle East, after Israel  to possess the stealth warplanes.
Trump had explicitly backed arms sales on commercial grounds, saying that the Saudis were creating US jobs by buying from US manufacturers.
Secretary of State Antony Blinken said during his confirmation hearing that the Saudi offensive against Yemen's Houthi rebels, who are backed by Iran, has contributed to the dire humanitarian situation in Yemen.     (TRT WORLD NEWS)
*****************************************************
Large fire destroys Rohingya refugee camp in Bangladesh
Authorities are investigating the cause of the blaze and have shifted the Rohingya, who were living in more than 400 tents, to another location. Although there were some minor injuries, no deaths were reported.
At least 400 tents have been destroyed after a devastating fire broke out in a Rohingya refugee camp in Bangladesh's southern district of Cox's Bazar.
"We have primarily assessed that more than 400 tents have been damaged," Bangladesh Refugee Relief and Repatriation Commissioner Mahbub Alam Talukdar told Anadolu Agency early on Thursday.
"We have shifted the Rohingya victims to another place and are providing them with food and other services," Talukdar added.
He also assured that the damaged tents would be replaced within the shortest possible time.
No deaths have been reported, he said, adding some refugees were slightly injured.
"We are investigating to determine the cause of the fire," Cox's Bazar Fire Service official Mohammad Abdullah told Anadolu Agency.
Meanwhile, some unverified sources in the camp said more than 500 tents had been damaged and dozens of Rohingya refugees injured. In May last year, another big fire damaged more than 400 tents at the Kutupalang refugee camp in Cox's Bazar.
Several minor fire incidents have also been reported at Rohingya refugee camps in the past year.(Source: AA)
*************************************************************************
Two Afghan female judges shot dead in Kabul ambush
(17-01-2021) Gunmen have shot dead two Afghan women judges working for the Supreme Court during an early morning ambush in the country's capital, officials said, as a wave of assassinations continues to rattle the nation.
Sunday's attack on the judges happened as they were travelling to their office in a court vehicle, said Ahmad Fahim Qaweem, a spokesman for the court. There are more than 200 female judges working for the country's top court, the spokesman added.
"They were judges working for the Supreme Court," said Jamshid Rasuli, spokesman for the attorney general's office.
No group or person immediately claimed responsibility for the attack.
The latest attack comes just two days after the Pentagon announced it had cut troop levels in Afghanistan to 2,500, their lowest numbers during the nearly two decades of war.(Source: TRT World  NEWS)
**********************************************************
Biden signals a tougher line with the Taliban
By Dan De Luce (Jan. 30, 2021)
WASHINGTON  President Joe Biden is signaling a tougher line with the Taliban than his predecessor, with top officials warning that a planned U.S. troop withdrawal from Afghanistan in May could be delayed if the insurgents fail to live up to their promises.
A flurry of statements and comments from the White House, State Department and Pentagon this week left no doubt that the Biden administration had a skeptical view of a shaky peace process launched by former President Donald Trump and the Taliban's willingness to sever ties with Al Qaeda and other extremists.
The administration, which said it was carrying out a review of the situation in Afghanistan, faces a series of difficult choices that will force officials to weigh the risk of a Taliban takeover. Any delay in a U.S. troop pull-out could trigger an escalation of violence and prompt the Taliban to abandon peace negotiations with its adversaries in the Kabul government, former U.S. officials and military officers say.
Biden's national security adviser, Jake Sullivan, said on Friday that the administration is "taking a hard look at the extent to which the Taliban are in fact complying" with provisions of a U.S.-Taliban deal signed last year.
The February 2020 agreement called for the withdrawal of U.S.-led troops by May 2021 in return for the Taliban breaking with terrorist groups, sharply reducing violence and entering into peace negotiations with the Afghan government.
Pentagon Press Secretary John Kirby said on Thursday the Taliban were failing to abide by their pledges under the deal, which was supposed to open the door to a peace settlement between the insurgents and the U.S.-backed Kabul government.
"Without them meeting their commitments to renounce terrorism and to stop the violent attacks against the Afghan National Security Forces, it's very hard to see a specific way forward for the negotiated settlement," said Kirby. "But we're still committed to that."
In another break with the former administration, Biden's team also has made a point of underscoring the importance of human rights and women's rights in Afghanistan. The Taliban, known for their draconian rule and repression of Afghan women during their reign from 1996-2001, made no pledges on the status of women in their agreement with the United States.
In his call with Afghan President Ashraf Ghani, Biden's top diplomat, Antony Blinken, said any peace settlement needed to preserve "the progress made over the last 20 years with regard to human rights, civil liberties, and the role of women in Afghan society."
The shift in tone was welcomed by the Afghan government, which had complained it was shut out of the negotiations between Washington and the Taliban. President Ashraf Ghani said on Friday he was heartened by the new team's approach and what he called its "early, focused, systematic attention."
Although the Biden administration indicated it was prepared to put the brakes on withdrawal plans if necessary, it has chosen to retain Trump's peace envoy to Afghanistan, Zalmay Khalilzad, at least for the time being.
Khalilzad, the architect of the U.S.-Taliban agreement, has strained relations with the Ghani government. But President Ghani suggested Khalilzad would be working for a new U.S. president, with a more coordinated, predictable approach.
Biden, however, has only limited leverage over the Taliban after Trump withdrew the bulk of American troops in his last year in office. It would have been easier to push the Taliban for results if the U.S. could have linked incremental reduction in troops to concessions from the insurgents, the former official said.
Postponing a U.S. withdrawal indefinitely could risk derailing the entire peace process, and the Taliban could revert to an all-out war footing, resuming attacks on U.S. forces, former officials said.
"The options they're facing obviously are very tough," said the former official.
There are now roughly 2,500 U.S. troops in Afghanistan, and more than 7,000 NATO-led forces on the ground. A year ago, there were 12,000 U.S. troops deployed to the country, a number that had dropped to about 8,600 in July.
(Source: CNBC News)
*****************************************************************
Indonesian plane crashes after take-off with 62 aboard
(9-1-2021) A Sriwijaya Air plane has crashed into the sea minutes after taking off from Indonesia's capital Jakarta on a domestic flight with 62 people on board. Flight tracking data showed the Sriwijaya Air Boeing 737-500 plunged into a steep dive about four minutes after it left Soekarno-Hatta international airport on Saturday 9 January. Sixty-two passengers and crew were on board, including 10 children, the nation's transport minister, Budi Karya Sumadi, told reporters.  riwijaya Air flight SJ182 was bound for Pontianak on Indonesia's section of Borneo island, about 90 minutes flying time over the Java Sea.(Source: TRT WORLD NEWS)
**************************************************************
Indonesia  Earthquake : death toll from quake rises to 73
(17-1-2021) Rescuers retrieve more bodies from rubble of homes and buildings toppled by 6.2 magnitude earthquake, as military clears roads in hardest-hit city of Mamuju and Majene district on Sulawesi island.
At least 73 people have been killed after an earthquake struck Indonesia's West Sulawesi province on Friday, the disaster mitigation agency (BNPB) has said, the latest in a string of disasters to hit the Southeast Asian country. More than 820 people were injured and over 27,800 left their homes after the 6.2 magnitude quake, BNPB spokesman Raditya Jati said. Some sought refuge in the mountains, while others went to cramped evacuation centres, witnesses said.
Police and military officers have been deployed to crackdown on looting in several parts of the region, Jati added.
An emergency response status, intended to help rescue efforts, has also been put in place for two weeks, he said.
Dwikorita Karnawati, the head of Indonesia's meteorological, climatology, and geophysical agency (BMKG), has said that another quake in the region could potentially trigger a tsunami.
Earlier, Indonesian rescuers retrieved more bodies from the rubble of homes and buildings toppled by the 6.2 magnitude earthquake, while military engineers managed to reopen ruptured roads to clear access for relief goods.
More heavy equipment reached the hardest-hit city of Mamuju and the neighboring district of Majene on Sulawesi island, where the quake hit Friday night, said Jati.
Power supply and phone communications also began to improve.
The quake's epicentre was 36 kilometres south of Mamuju and it had a relatively shallow depth of 18 kilometres. (Source: TRT World  NEWS)
*****************************************************************
IRAN: The Great Prophet 15 military exercise Iran tests 'bomber drones' and ballistic missiles on targets at sea
16 Jan. 2021 Tehran (AFP)
Iran's Revolutionary Guards test-fired ballistic missiles against targets in the Indian Ocean as they wrapped up a two-day exercise, their official website reported. The missiles of "various classes" targeted "the enemy's battleships and destroyed them from 1,800 kilometres (1,125 miles) away," according to the Sepahnews website.
The missiles were fired from central Iran with the targets located in the "northern Indian Ocean," the Guards said. A video released by state television showed two missiles being launched and targets being hit at sea.
Iran's armed forces chief of staff Major General Mohammad Bagheri was present on the second day of the drill, alongside Guards chief Major General Hossein Salami and aerospace commander Brigadier General Amirali Hajizadeh.
Using "long-range missiles for maritime targets indicates that if the enemies … show any ill will towards our national interests, maritime trade routes or territory, they will be targeted and destroyed by our missiles," Sepahnews quoted Bagheri as saying.
"We do not intend to carry out any attack," he said, adding that the exercise showed Iran's readiness to defend itself "with all its strength" against any aggressor.
Dubbed Great Prophet 15, the exercise also featured a drone attack on a missile defence system followed by the launch of a barrage of "new generation" surface-to-surface ballistic missiles. It was Iran's third military exercise in less than two weeks after a naval exercise in the Gulf of Oman on Wednesday and Thursday, and an army drone drill on January 5-6.
Top IRGC commander: We can hit moving targets in the ocean from the heart of our land
(January 17, 2021) Speaking at the final stage of The Great Prophet 15 military drill on Saturday, Salami said, "One of our most important goals in defense policies and strategies is to reach the ability to hit enemy weaponry, including aircraft carriers and warships, using long-range ballistic missiles. It is usual to hit moving targets in the sea by low-speed cruise missiles, but using long-range missiles is a great defense breakthrough for us because we can hit moving targets in the ocean from the heart of our land," according to the Tasnim news agency.
Armed Forces Chief of Staff Major General Mohammad Hossein Bagheri, Major General Salami, IRGC Aerospace Commander Brigadier General Amir Ali Hajizadeh, and a number of top brass were present during the last stage of the drill.
***********************************************************
Iran's Revolutionary Guards unveil underground missile base in Gulf – state media(8-1-2021)
DUBAI (Reuters) – Iran's elite Revolutionary Guards unveiled an underground missile base at an undisclosed Gulf location on Friday, Iranian state media reported, at a time of heightened tension between Tehran and the United States. "The base is one of several bases housing the Guards' Navy's strategic missiles," the state media quoted the head of the Guards, Major General Hossein Salami, as saying.
Last year, the Guards said Iran had built underground "missile cities" along the Gulf coastline, warning of a "nightmare for Iran's enemies".
"These missiles have ranges of hundreds of kilometres, enjoy pinpoint accuracy and huge destructive power, and can overcome the enemy's electronic warfare equipment," Salami said.
He said the base was "one of several bases housing the Navy's strategic missiles".
There have been periodic confrontations in the Gulf in recent years between the Guards and the U.S. military, which has accused the Guards' navy of sending fast attack boats to harass U.S. warships as they pass the Strait of Hormuz.
Tensions have been high between Tehran and Washington since 2018, when President Donald Trump exited the 2015 nuclear deal between Iran and six world powers which limits the Islamic Republic's nuclear programme and reimposed sanctions that have crippled the country's economy.
***************************************************************
US will protect the Gulf by Iron Dome missile system
After multiple attempts at procuring the Israeli missile defense system, Saudi Arabia and other Gulf countries may benefit from the Iron Dome battery by way of its United States ally.
The United States will soon begin deploying the Israeli-manufactured Iron Dome missile defence system in its bases within Gulf States for the first time, according to an Israeli newspaper.
This comes years after reports initially denied that Saudi Arabia was interested in procuring the Israeli defence system as early as January 2018, to shore up its defenses against the Houthi rebels in Yemen. At the time, regional experts said that Saudi Arabia and Israel shared a common security threat from Iran and their proxies.
In September 2018, a Saudi newspaper reported that Riyadh had signed an agreement to purchase an Iron Dome battery from Israel with the US acting as a mediator. The Israeli defence ministry quickly denied any deal had been signed but did not deny that the Saudis had asked to purchase the system.
Normalization
In light of the ongoing and recent normalisation accords between Israel and the United Arab Emirates and Bahrain, and two large US arms deals, the situation seems between Israel and the Gulf seems to have changed deeply.
Three weeks ago, Israel delivered its second Iron Dome battery developed by Rafael Advanced Defence Systems to the US Department of Defense in fulfillment of a deal for two Iron Dome batteries signed between the US and Israel in August 2019, reports Haaretz.
"I am certain that the system will help the US army defend American soldiers against ballistic and aerial threats," said Israeli Defence Minister Benny Gantz at the time of ceremony for delivering the second battery.
Myth of the patriot
The US-Israel deal was not without its controversy. Given that the US is already the owner of cutting-edge missile defence systems for its forces – also widely used by most of its NATO allies – the decision to acquire the Iron Dome System to "fill a short-term need" was found deeply questionable.
More critically, a Congressional investigation found that the Patriot missile's "combat performance" was often wildly exaggerated. Documented footage of Houthi missile attacks during March 2018 shows a different reality to the Saudi claim of intercepting seven ballistic missiles
Instead, the footage reveals that the Patriot missile system "failed catastrophically", while at least one Patriot interceptor reversed direction and exploded in Riyadh.
Haaretz reports that Israeli officials do not wish to reveal where the Iron Dome batteries will be deployed, but shared that the US had its consent to place them in the Gulf.
Renewed bids
The Haaretz report sheds light on what happened after Saudi Arabia's initial denied bid for the Iron Dome system. A year after their first bid, Saudi Arabia and other Gulf countries allegedly sought to procure the Iron Dome system a second time in September 2019, according to defence officials speaking to Haaretz.
The newspaper denied any role played by in the recent spate of normalization agreements between the Gulf and Israel in providing the Iron Dome Systems to the Gulf, albeit via US proxy.
Instead, Israeli-US partnership on the Iron Dome is set to surge ahead, no longer contained to fulfilling a "short-term need". Rafael Advanced Defense Systems, the Iron Dome's manufacturer is set to open a production line with defence giant Raytheon Technologies Corp to produce more Iron Dome batteries for the US military and other countries.
Rafael Advanced Defense Systems Ltd. , the Israeli company that developed the system with partners, will open a production line in the US with Massachusetts-based defense contractor Raytheon Technologies Corp. (Source: TRT World)
**********************************************************************
Israel: Military revising operational plans for Iran attack
(27 Jan 2021) Israel's military is refreshing its operational plans against Iran and any US return to the 2015 nuclear accord with Tehran would be "wrong", a top general warned.
Israeli Lieutenant-General Amir Kohavi made the remarks on Tuesday in an address to Tel Aviv University's Institute for National Security Studies.
"A return to the 2015 nuclear agreement, or even if it is a similar accord with several improvements, is bad and wrong from an operational and strategic point of view," Kohavi said.
The comments were an apparent signal to US President Joe Biden to tread cautiously in any diplomatic engagement with Iran.
Such remarks by Israel's military chief of staff on American policy-making are rare and likely would have been pre-approved by the Israeli government.
Biden's predecessor, Donald Trump, abandoned the nuclear agreement in 2018  a move welcomed by Israeli Prime Minister Benjamin Netanyahu, who criticised the sanctions relief it offered and warned of the likelihood of Iranian nuclear arms development after its expiration.
Secretary of State Antony Blinken said last week the United States was "a long way" from deciding whether to rejoin the nuclear deal with Iran and it would need to see what Tehran actually did to resume complying with the historic pact.
'On the table'
Since Washington pulled out of the deal, Iran has gradually breached its key limits, building up its stockpile of low enriched uranium, enriching uranium to higher levels of purity, and installing centrifuges in ways barred by the accord.
Kohavi said those actions by Iran, which denies it is seeking atomic arms, showed it could ultimately decide to push forward rapidly towards building a nuclear weapon.
"In light of this fundamental analysis, I have instructed the Israel Defense Forces to prepare a number of operational plans, in addition to those already in place," Kohavi said.
"It will be up to the political leadership, of course, to decide on implementation, but these plans need to be on the table."
Netanyahu had threatened possible Israeli strikes against Iran in the run-up to the accord. But a senior Israeli officer, who spoke to reporters in 2015 on condition of anonymity, underscored differences in Israel over the issue by saying a deal had potential security benefits. (SOURCE : AL JAZEERA AND NEWS AGENCIES)
****************************************************************
Israel announces 800 new illegal settler homes in occupied West Bank
(11 Jan 2021) A announcement comes just days before the January 20 inauguration of Joe Bide who, unlike Donald Trump, has been critical of Israeli settlement policies in the past.
"The prime minister ordered the advancement of construction of hundreds of homes in Judea and Samaria," the statement issued by Netanyahu's office said, using the Biblical names for the occupied West Bank.
Monday's statement said the 800 units would be built in the settlements of Beit El, Tal Menashe, Rehelim, Shavei Shomron, Barkan, Karnei Shomron and Givat Zeev, but gave no starting date for construction.
Under international law, settlements are considered illegal.
Palestinian officials and much of the international community view them as the main obstacle to a viable two-state solution.
Illegal settlements since 1967 war
Palestinians have condemned Israeli settlement activity, on lands captured and annexed in the 1967 Middle East war, as an obstacle to the creation of a state they seek to create in the occupied West Bank and Gaza.
Most countries regard the settlements that Israel has built on occupied land as illegal.
Israel cites historical, political and biblical links to the West Bank and over 440,000 illegal Israeli settlers live there, among three million Palestinians.(Source:Al Jazeera News Agency)
**********************************************************
US assures two-state solution for Israel-Palestine at UN
The Biden administration will undo some Trump era actions, but says no substitute for 'Israeli-Palestinian peace'.
United States President Joe Biden's Middle East policy "will be to support a mutually agreed, two-state solution, in which Israel lives in peace and security, alongside a viable Palestinian state", acting US Ambassador to the United Nations Richard Mills has told the UN Security Council.
"The President's view continues to be that a two-state solution is the only path forward," White House press secretary Jen Psaki added.
Mills said the Biden administration intends to restore Palestinian aid and take steps to reopen diplomatic missions closed by the Trump administration and will continue to urge other countries to normalise ties with Israel.
"In order to advance these objectives the Biden administration will restore credible US engagement with Palestinians as well as Israelis," Mills said.
"This will involve renewing US relations with the Palestinian leadership and Palestinian people," he said.
"President Biden has been clear that he intends to restore US assistance programs that support economic development programs and humanitarian aid to the Palestinian people, and to take steps to reopen diplomatic relations that were closed by the last US administration," Mills added.
He added the administration recognises that is "not a substitute for Israeli-Palestinian peace".
The announcement is the beginning of what is expected to be a reset from the policies of former President Donald Trump's administration, which offered vast support to Israel and Prime Minister Benjamin Netanyahu, often at the expense of Palestinian rights.
Biden is expected to take a more middle of the road approach to the conflict akin to previous Democratic administrations.
Trump and Israel
While the Trump administration has been widely hailed in the US for the normalisation agreements between Israel, the United Arab Emirates, Bahrain and Sudan, the rights of Palestinians had been largely ignored since Trump took office in 2017.
Trump moved the US embassy to Jerusalem, in a move denounced by Palestinian leaders, who want occupied East Jerusalem as the capital of a future state.
He also cut off $360m annual funding to UNRWA, the United Nations agency providing support for Palestinian refugees; reduced other aid to the Palestinians and shuttered the Palestine Liberation Organization (PLO) office in Washington, DC.
In 2019, Trump went against international consensus and recognised Israel's claim to Jerusalem as its "eternal and undivided capital" and its decades-long occupation of the Syrian Golan Heights. The administration also supported Israeli settlements in the occupied Palestinian territories that are considered illegal under international law.
In 2020, the Trump administration released its long-promised "Middle East plan", which critics said amounted to "apartheid" of the Palestinian people.
Domestically, Trump signed an executive order aimed at silencing supporters of the Boycott, Divestment and Sanctions (BDS) movement on US college campuses.
(SOURCE : AL JAZEERA AND NEWS AGENCIES)
******************************************************
Twin suicide bombings rock central Baghdad, at least 32 dead
By SAMYA KULLAB and QASSIM ABDUL-ZAHRAJanuary 22, 2021
BAGHDAD (AP)  Twin suicide bombings ripped through a busy market in the Iraqi capital on Thursday 21 January, killed more than 32 people and left 110 wounded, officials said in what was the first massive bombing in years, harkening back to darker days of rampant militant attacks. The rare suicide bombing hit the Bab al-Sharqi commercial area in central Baghdad amid heightened political tensions over planned early elections and a severe economic crisis. Blood was splattered on the pavement of the busy market amid piles of clothes and shoes as survivors took stock of the disarray in the aftermath.
Daesh claims responsibility for twin suicide blasts in Baghdad.(Source:APNEWS)
***********************************************************
Angry farmers storm India's Red Fort in massive tractor rally
Thousands of farmers protesting against new farm laws breach barricades to enter historic Red Fort complex in New Delhi and hoist flags after clashing with police, as India celebrates Republic Day.
(26 Jan. 202) New Delhi, India  Tens of thousands of Indian farmers have stormed the Mughal-era Red Fort complex in the national capital to demand the repeal of new farm laws, with the protest turning violent and resulting in at least one death.
A "tractor rally" called by the protesting farmers in New Delhi on Tuesday saw them clashing with police who fired tear gas and launched a baton-charge as the protesters broke barricades to march to the heart of the city amid Republic Day celebrations.
For two months now, the farmers had been camping on the outskirts of New Delhi, asking Prime Minister Narendra Modi's government to withdraw the contentious laws passed in September last year.
Defying elaborate security arrangements in place for the Republic Day military parade, the protesters entered the Red Fort, where the predominantly Sikh farmers also installed a religious flag.
It is at the Red Fort that the Indian tricolour is hoisted on August 15 every year by India's prime minister to mark the country's independence from the British rule in 1947.
At least one farmer, who remains unidentified, has died during the protest and farmers have refused to hand over the body to the police. The cause of death is not clear yet
The massive protests have also forced the shutting down of several metro stations, while internet services were suspended in many areas of the capital and its adjoining areas.
'We will win or die'
Tens of thousands of protesting farmers have driven long lines of tractors into India's capital, breaking through police barricades, defying tear gas, and storming the historic Red Fort as the nation celebrated Republic Day.
They waved farm union and religious flags from the ramparts of the fort on Tuesday, where prime ministers annually hoist the national flag to mark the country's independence.
Thousands more farmers marched on foot or rode on horseback while shouting slogans against Prime Minister Narendra Modi. At some places, they were showered with flower petals by residents who recorded the unprecedented rally on their phones.
Police said one protester died after his tractor overturned, but farmers said he was shot. Protesters laid his body on the road after draping it in an Indian flag and sat around it. TV channels showed several bloodied protesters.
Leaders of the farmers said more than 10,000 tractors joined the protest.
Many student groups also came out in support of the farmers.
******************************************************************
Dutch activist: Modi's election victory based on 'celebrating 40 killed soldiers'
News Desk : January 23, 2021
Indian State-sponsored terrorism in Pulwama attack has been fully exposed after disclosure of 500-page chat of Republic TV anchor that revealed celebration over the incident that killed 40 security personnel, a Dutch human rights activist has said.
"This victory of election of Indian prime minister Narendra Modi is actually celebration of killing of your own soldiers and shows that classified information has been shared by State authority beforehand with nationalist news anchors like Arnab Goswami," said Ms Melina, an international human rights activities from Netherlands.
Melina said Indian soldiers became the victim of Modi, who used them for personal gains during his election campaign.
She urged the international community to join her in exposing the cruelties of Narenda Modi in his "so-called democracy".
"These revelations leave no question that the Indian government has dramatized the Pulwama attack by killing of 40 of its own soldiers," she said. She said these developments had left everyone in an utter surprise that how human lives could be sacrificed for personal electoral victory. Melina said what Narendra Modi did in Pulwama was not the first time as he also did the same in Indian Gujarat in 2002.
She said it testified wrong intentions of staging military adventurism, adding these heinous crimes committed by the Indian government led by Modi were to kill its own people to win an election. "The heinous crimes by Indian government led by Modi is a wakeup call for international community to raise its voice against the crime committed by BJP government for his election campaign," she said. She warned the world community that fueling a war between two nuclear rivals in Asia could be very dangerous for rest of the world.
******************************************************************
Arunachal intrusions a big cause for worry
Wednesday, 27 January 2021 | Ashok K Mehta (Major General Retd
The Chinese troops have been intruding with impunity into India's territory across the undefined LAC and unrecognized McMahon Line
The ninth round of military commanders' dialogue last week  after an unusually long gap of nearly three months  confirmed the stalemate in east Ladakh, though a new commander who has never served on the India front, Gen Zhang Xudong, was appointed last month replacing the hawkish Gen Zhao Zongqi. That tensions remain high was apparent from the wounding brawl last week between the People's Liberation Army (PLA) and the Indian Army in Sikkim. The latest intrusion in Arunachal Pradesh's Subansiri district was exposed last week by TV channels, not revealed by the Government, causing a flutter in the Opposition's ranks but for the Narendra Modi Government it was water off the duck's back. China is salami slicing territory along the borders in Bhutan, Nepal and India with impunity. Its most brazen successes in land grab are in east Ladakh where the nine-month-long standoff has entered the winter freeze.
Chushul councillor Kinchon Stanzin told a newspaper on January 11 that China holds military positions on the Indian side of the Line of Actual Control (LAC), their tents and bunkers have crept closer to Chushul village and the Chinese have been nibbling territory since 2018. This is not the first Ladakhi complaint about China's creep tactics. The same paper reported on January 25 that the Chinese are using Indian roads for trespass into Ladakh. Last November, China established Pangda village two km inside Bhutan's border close to Doklam in Chumbi valley, breaching its sovereignty, but India, though bound by a treaty with Bhutan, chose to ignore it unlike confronting the PLA at Doklam in 2017.
The latest five-km-deep infringement in Arunachal Pradesh  a full blown cluster of 120 houses with 2,000 people  went unchallenged for nearly a year. Even if in disputed territory, it is flagrant violation of the existing protocols and should have been resisted by the Kolkata-based Eastern Command. But not a word was uttered until it was detected by the US-based Planet Lab satellite imagery.
Former ally Shiv Sena has questioned the Centre on the latest intrusions in Arunachal and elsewhere, especially the land lost to China since the BJP Government came to power, and the plans to recover it. The Congress said it hopes the Government will not again give a clean chit to China. Surprisingly, the Government merely "took note of the construction along the border" and ramped up its infrastructure development projects, adding that "the area is disputed and under Chinese possession since 1959". But it does not entitle China to alter the status quo, converting a disputed area into permanent settlement in violation of border protocols. It was vital and necessary for the Government to resist the year-long construction activity and take up the case with Beijing instead of its leaders stating uncharitably that the areas were gifted to China by Nehru. Why then has Home Minister Amit Shah pledged to retake Aksai Chin, which is under Chinese possession and was lost during Nehru's time? A parliamentary resolution requiring the Government to retake all land lost to China was displayed in Udhampur's Northern Command till the mid-eighties!
China has issued a strong rebuttal saying the construction of a village across the LAC in Arunachal Pradesh is beyond reproach because it had never recognised Arunachal, adding: "China's position on Zangnan (south Tibet) is clear. Our development and construction activities within our own territory are normal." Global Times has said the border has not yet been demarcated. The Indian Military Operations Directorate records show that China had attacked an Assam Rifles post in 1959 (LongJu incident) at the intrusion site. Developing the border areas is part of Xi Jinping's plan to populate the disputed borders to legitimise claims to additional territory.
Vast stretches of the LAC in Arunachal are inaccessible while they are within easy reach of China. Chief Minister Pema Khandu has been pushing for an 1100-km highway along the LAC with what he says is the India-Tibet border. This road, when built, will allow troops to switch quickly astride the LAC but it will be a geological challenge for the Border Roads Organisation (BRO).
Besides the multiple intrusions in east Ladakh under the Northern Command's watch, two intrusions in Eastern Command over the same period are worrying. There are around 24 contested/disputed areas along the McMahon Line/LAC over which surveillance and military vigil has to be tightened. Intrusions took place in Kargil when patrolling and aerial surveillance over the unheld areas ceased. The Chinese have been intruding across the undefined LAC and unrecognised McMahon Line. This coercion has to be countered effectively.
Xi's aggressive land grab in disputed territory has become political football in India instead of it being addressed in strategic unison. The Government has to stop blaming Nehru and the Congress for their myopic China policy: Instead, take the blame for creating more rhetoric than usable defence capacity to deter Xi's aggression. Let there be in the Budget Session what was disallowed in the Monsoon Session  an honest debate on Chinese perfidy instead of Rajnath Singh's strategic soliloquy, "will not compromise territorial integrity" and "a befitting reply", without naming China after losing territory.
(The writer, a retired Major General, was Commander, IPKF South, Sri Lanka, and founder member of the Defence Planning Staff, currently the Integrated Defence Staff. The views expressed are personal.)
***************************************************************
10th Anniversary of ARAB SPRING
By: Syed Komail Raza Haider
On December 17, 2010, the police took away the cart of a young street fruit seller name Muhammad Bouazizi and said he didn't have the permit, but Bouazizi said the officers wanted a bribe, he complains to local officials but he was not entertained, Bouazizi was the only one to  support his family, therefore he found no other option and set himself on fire in front of a government building in southern Tunisia, This let the protesters who was suffering from same frustration to come on the streets and force the president out of the office after ruling for 23 years, the decision of young street fruit seller to kill himself give rise to people's anger over declining living standards, police violence, and government corruption across the country. President Zain ul Aabideen bin Ali promised reforms and investments in left-back areas of the country but the demonstrators didn't buy the argument, later security forces started a crackdown on the protestors, which cause the boom in the movement. On January 2011, more than 20 years of dictatorial rule came to an end when bin Ali escaped to Saudi Arabia. The demanding work for ensuring a democratic future was still to be done. To start they needed a new constitution and so with many challenging interests that weren't going to be easy debates between various players ranging from leftist to Islamists, the transitional process took more than three years and finally agreeing on a new constitution in January 2014. Many Tunisians understandably still remember the feeling of unity in the run-up to Bin Ali being overthrown. Tunisians believe their young democracy survived and that led many observers to describe the country's revolution in Arab spring's only success story. People in the Middle East and North Africa were very much inspired by Tunisia and demanded a change in their country, they started to held governments accountable for their deeds happening from the decades. On January 25, 2011, Egypt was on top of the headlines around the world, it was impossible to look away from Egypt, several thousands of Egyptians came out on the streets as they were fed up with the government ruling for decades because of corruption, mismanagement and human right abuses, the man they held responsible was President Hosni Mubarak. Just after 18 days of protests Mubarak stepdown and handed the power to the military and they promised a democratic transition but 9 months later, pro-democracy activists were up against the (SCAF) Supreme council of armed forces. On 19th November a small protest took place on street near Tahrir Square. It started with the sit-in of the families of protesters killed earlier in the year, Egyptian security forces used violence to disperse the crowd, heavily armed security forces killed about 40 protesters during 5 days. People turned their anger against the military that never happened before. Egypt's first democratic parliamentary elections were only weeks away, there
were divides between the protestors some wanted to cast their vote on the day of the election and some wanted the election to be canceled as they had nothing to trust on political transition as there was very much control of SCAF. After the elections ended, newly elected civilian government came into power and Muhammad Morsi came as President of Egypt but it didn't last long as in Mid 2013 a military coup led by defense minister Abdel Fattah el-Sisi disposed of Morsi from the presidency.
Other countries such as Libya, Yemen, and Syria also felt the heat of the Arab Spring. On February 2011, Muammar Gaddafi in Libya was captured and killed after 42 years remaining in power, this caused a civil war because after the death of Gaddafi a power war was ignited.When it comes to Yemen, President Ali Abdullah Saleh was taken down after remaining in power for 33 years, but since then the country has been into a divide and fight between Houthis and military collation of other Arab countries has created humanitarian disaster and it continues. Whereas in Syria the peaceful protest started which turned into the worst conflicts, Bashar al Assad's government group and foreign power all fighting for control in Syria, some other countries such as Bahrain also started to feel the heat of Arab Spring but with the help of its neighbour somehow country managed to settle down the protest. To conclude, the only country that came out to be better of this Arab Spring was Tunisia, the
democracy grew and they got their new constitution, Media are considered free, the commission which was formed to investigate rights abuses and corruption started to deliver.
*************************************************************************
Turkey launches indigenous frigate  'Istanbul (F-515)'  in show of navy power
President Recep Tayyip Erdogan says Turkey will launch five major projects in the coming five years that will take its navy to a "very strong" position.
Speaking at a launch ceremony for the frigate and welding ceremony of the third ship under Pakistan MILGEM corvette project on Saturday, Erdogan said the country is among the 10 countries that can design, build, and maintain its own warship.
"Turkey meets needs of friendly and allied countries as well as itself in terms of land and sea vehicles," Erdogan said, adding Ankara can overcome challenges and embargoes posed by global suppliers through its own strength.  Erdogan said the military, economic, and diplomatic strength is an obligation, not a choice for Turkey.
Turkish firms in world top 100 list
Seven Turkish companies, including two new entries, have made it to the list of the world's top 100 defence firms as ranked by Defense News.  The US-based publication, which focuses on politics and the business of the military, uses data from analysts and companies' annual reports to assess their defence revenues in order to rank the world's most prestigious defence firms.
This year, the number of Turkish companies on the top 100 list rose to seven from five.
ASELSAN, Turkey's largest defence firm, ranks 48, rising to the top 50 from the 52nd spot last year. The company entered the list in 2006 at 93rd. The company's annual turnover rose by 21 percent to $2.172 billion. ASELSAN's experience in military defence systems includes imaging technologies and electro-optics as well as product solutions based on research and development. (Source: TRTWorld and agencies)
*************************************************************************
North Korea demonstrates new missile in military parade
(14-01-2021) Pyongyang did not appear to put on show any of its ICBMs, unlike at its previous parade in October, when it revealed a huge new ICBM on an 11-axle vehicle that analysts said was the largest road-mobile, liquid-fuelled missile in the world. Nuclear-armed North Korea has unveiled a new submarine-launched ballistic missile at a military parade in Pyongyang, in a show of strength days before Joe Biden's inauguration as US president.
The display on Thursday night came after the five-yearly congress of the ruling Workers' Party, where leader Kim Jong-Un decried the US as his country's "foremost principal enemy".
"The world's most powerful weapon, submarine-launch ballistic missile, entered the square one after another, powerfully demonstrating the might of the revolutionary armed forces," the official KCNA news agency said.
Pictures showed at least four of the SLBMs with black-and-white cones being driven past flag-waving crowds in Kim Il Sung Square, and Park Won-gon of Handong Global University in the South described them as "the North's ultimate nuclear weapon".
The North has shown off earlier, smaller SLBMs before, and broadcast footage of a test launch, but it was not clear whether that missile was fired from a submarine or an underwater platform. (Source:  TRT World NEWS)
******************************************************************
Doomsday Clock Moves Ever Closer to Midnight IT IS NOW 100 SECONDS TO MIDNIGHT
By Gayle Spinazze | January 23, 2020
Doomsday Clock Now Closer to Midnight Than Ever in Its History; Bulletin of the Atomic Scientists Cite Worsening Nuclear Threat, Lack of Climate Action & Rise of "Cyber-Enabled Disinformation Campaigns" in Moving Clock Hand; Bulletin Joined by The Elders in Announcement Today.
WASHINGTON, D.C.  January 23, 2020  The iconic Doomsday Clock symbolizing the gravest perils facing humankind is now closer to midnight than at any point since its creation in 1947. To underscore the need for action, the time on the Doomsday Clock is now being expressed in seconds, rather than minutes: Today, the Bulletin of the Atomic Scientists' Science and Security Board in consultation with the Bulletin's Board of Sponsors, which includes 13 Nobel Laureates, moved the Doomsday Clock from two minutes to midnight to 100 seconds to midnight.
As the statement issued today by the Bulletin of the Atomic Scientists explains: "Humanity continues to face two simultaneous existential dangersnuclear war and climate changethat are compounded by a threat multiplier, cyber-enabled information warfare, that undercuts society's ability to respond. The international security situation is dire, not just because these threats exist, but because world leaders have allowed the international political infrastructure for managing them to erode."
The Doomsday Clock has now moved closer to midnight in three of the last four years. While the Doomsday Clock did not move in 2019, its minute hand was set forward in 2018 by 30 seconds, to two minutes before midnight. The Clock was adjusted in 2017 to two and a half minutes to midnight from its previous setting of three minutes to midnight.
Rachel Bronson, president and CEO, Bulletin of the Atomic Scientists, said: "It is 100 seconds to midnight. We are now expressing how close the world is to catastrophe in seconds  not hours, or even minutes. It is the closest to Doomsday we have ever been in the history of the Doomsday Clock. We now face a true emergency  an absolutely unacceptable state of world affairs that has eliminated any margin for error or further delay."
Former California Governor Jerry Brown, executive chair, Bulletin of the Atomic Scientists, said: "Dangerous rivalry and hostility among the superpowers increases the likelihood of nuclear blunder. Climate change just compounds the crisis. If there's ever a time to wake up, it's now."
For the first time, experts from the Bulletin of the Atomic Scientists were joined in making the Doomsday Clock change by members of The Elders. Founded by Nelson Mandela in 2007, The Elders are independent global leaders working together for peace and human rights.
Former UN Secretary-General Ban Ki-moon, deputy chair, The Elders; and former South Korean Foreign Minister, said: "We share a common concern over the failure of the multilateral system to address the existential threats we face. From the US withdrawal from the Paris Agreement and the Iran Nuclear Deal, to deadlock at nuclear disarmament talks and division at the UN Security Council  our mechanisms for collaboration are being undermined when we need them most."
Former President of Ireland Mary Robinson, chair, The Elders, and former UN High Commissioner for Human Rights, said: "We ask world leaders to join us in 2020 as we work to pull humanity back from the brink. The Doomsday Clock now stands at 100 seconds to midnight, the most dangerous situation that humanity has ever faced. Now is the time to come together  to unite and to act."
The Doomsday Clock statement highlights three worsening factors:
Nuclear weapons. "In the nuclear realm, national leaders have ended or undermined several major arms control treaties and negotiations during the last year, creating an environment conducive to a renewed nuclear arms race, to the proliferation of nuclear weapons, and to lowered barriers to nuclear war. Political conflicts regarding nuclear programs in Iran and North Korea remain unresolved and are, if anything, worsening. US-Russia cooperation on arms control and disarmament is all but nonexistent."
Climate change. "Public awareness of the climate crisis grew over the course of 2019, largely because of mass protests by young people around the world. Just the same, governmental action on climate change still falls far short of meeting the challenge at hand. At UN climate meetings last year, national delegates made fine speeches but put forward few concrete plans to further limit the carbon dioxide emissions that are disrupting Earth's climate. This limited political response came during a year when the effects of manmade climate change were manifested by one of the warmest years on record, extensive wildfires, and quicker-than-expected melting of glacial ice."
Cyber-based disinformation. "Continued corruption of the information ecosphere on which democracy and public decision making depend has heightened the nuclear and climate threats. In the last year, many governments used cyber-enabled disinformation campaigns to sow distrust in institutions and among nations, undermining domestic and international efforts to foster peace and protect the planet."
At the same time, the Doomsday Clock statement also identifies possible action steps to turn back the hands of the Clock.
US and Russian leaders can return to the negotiating table to: reinstate the INF Treaty or take other action to restrain an unnecessary arms race in medium-range missiles; extend the limits of New START beyond 2021; seek further reductions in nuclear arms; discuss a lowering of the alert status of the nuclear arsenals of both countries; limit nuclear modernization programs that threaten to create a new nuclear arms race; and start talks on cyber warfare, missile defenses, the militarization of space, hypersonic technology, and the elimination of battlefield nuclear weapons.
The countries of the world should publicly rededicate themselves to the temperature goal of the Paris climate agreement, which is restricting warming "well below" 2 degrees Celsius higher than the preindustrial level. That goal is consistent with consensus views on climate science, and, notwithstanding the inadequate climate action to date, it may well remain within reach if major changes in the worldwide energy system and land use are undertaken promptly. If that goal is to be attained, industrialized countries will need to curb emissions rapidly, going beyond their initial, inadequate pledges and supporting developing countries so they can leapfrog the entrenched, fossil fuel-intensive patterns previously pursued by industrialized countries.
The United States and other signatories of the Iran nuclear deal can work together to restrain nuclear proliferation in the Middle East. Iran is poised to violate key thresholds of the deal.
The international community should begin multilateral discussions aimed at establishing norms of behavior, both domestic and international, that discourage and penalize the misuse of science. Science provides the world's searchlight in times of fog and confusion. Furthermore, focused attention is needed to prevent information technology from undermining public trust in political institutions, in the media, and in the existence of objective reality itself. Cyber-enabled information warfare is a threat to the common good. Deception campaigns and leaders intent on blurring the line between fact and politically motivated fantasyare a profound threat to effective democracies, reducing their ability to address nuclear weapons, climate change, and other existential dangers.
December 2020 marks the 75th anniversary of the first edition of the Bulletin of the Atomic Scientists, initially a six-page, black-and-white bulletin and later a magazine, created in anticipation that the atom bomb would be "only the first of many dangerous presents from the Pandora's Box of modern science." 'Bulletin of the atomic scientists 75 years and couting' (Source: The Bulleting.org)