Brief News International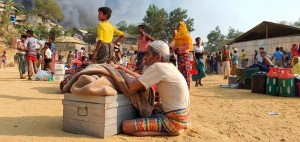 Massive Fire in Cox's Bazar Damages Rohingya Refugee Camp So far confirmed 15 people dead, 560 injured, 400 are still missing
By:  Lisa Schlein| March 23, 2021
GENEVA, SWITZERLAND – Aid agencies are rushing emergency assistance to tens of thousands of victims of a deadly blaze that broke out in Cox's Bazar, Bangladesh, destroying thousands of houses sheltering Rohingya refugees.
U.N. refugee representative in Bangladesh Johannes van der Klaauw calls the scale of the fire catastrophic. He said he has never before seen anything as massive and devastating. He said teams are on the ground dealing with the huge rescue and relief effort that is underway.
"We have so far confirmed 15 people dead, 560 injured, 400 are still missing and at least 10,000 shelters have been destroyed. That means at least 45,000 people are being displaced and for whom we seek now provisional shelter," he said.
Van der Klaauw said he expects the number of casualties to rise. He said the majority of refugees are women and children. They also are the most vulnerable. He said it is urgent to find places for them to stay where they will be safe and protected.
Cox's Bazar is the world's largest refugee camp. It houses nearly 900,000 Rohingya refugees who fled violence and persecution in Myanmar in August 2017. More than half of this population is children.
The International Organization for Migration, along with the UNHCR, is coordinating the relief operation. IOM spokeswoman Angela Wells said the fire, which has since subsided, consumed essential facilities, including the camp's largest health center. She said the cause of the blaze is still unknown.
"IOM teams and partners worked through the night to respond to the most immediate needs of those who fled the scene. Rohingya volunteers on the ground were the first responders, helping people to safety, supporting fire response efforts and working to support relief efforts. In the immediate aftermath, government response services, including the fire brigade, army and humanitarian agencies rushed to the area to put out the fire," she said.
The World Food Program reports it immediately provided emergency rations of high-energy biscuits to the survivors, and it will provide 60,000 hot meals Tuesday to affected families.
'Sourrce:  Voice of America (VOA)
=================================================================
Quad Leaders' Joint Statement: "The Spirit of the Quad"
STATEMENTS AND RELEASES
(MARCH 12, 2021)
We have convened to reaffirm our commitment to quadrilateral cooperation between Australia, India, Japan, and the United States. We bring diverse perspectives and are united in a shared vision for the free and open Indo-Pacific. We strive for a region that is free, open, inclusive, healthy, anchored by democratic values, and unconstrained by coercion. We recall that ourjoint efforts toward this positive vision arose out of an international tragedy, the tsunami of 2004. Today, the global devastation wrought by COVID-19, the threat of climate change, and security challenges facing the region summon us with renewed purpose. On this historic occasion of March 12, 2021, the first-ever leader-level summit of the Quad, we pledge to strengthen our cooperation on the defining challenges of our time.
Together, we commit to promoting a free, open rules-based order, rooted in international law to advance security and prosperity and counter threats to both in the Indo-Pacific and beyond. We support the rule of law, freedom of navigation and overflight, peaceful resolution of disputes, democratic values, and territorial integrity. We commit to work together and with a range of partners. We reaffirm our strong support for ASEAN's unity and centrality as well as the ASEAN Outlook on the Indo-Pacific. Full of potential, the Quad looks forward to the future; it seeks to uphold peace and prosperity and strengthen democratic resilience, based on universal values.
Our common goals require us to reckon with the most urgent of global challenges. Today, we pledge to respond to the economic and health impacts of COVID-19, combat climate change, and address shared challenges, including in cyber space, critical technologies, counterterrorism, quality infrastructure investment, and humanitarian-assistance and disaster-relief as well as maritime domains.
Building on the progress our countries have achieved on health security, we will join forces to expand safe, affordable, and effective vaccine production and equitable access, to speed economic recovery and benefit global health. With steadfast commitment to the health and safety of our own people, we also recognize that none of us can be safe as long as the pandemic continues to spread. We will, therefore, collaborate to strengthen equitable vaccine access for the Indo-Pacific, with close coordination with multilateral organizations including the World Health Organization and COVAX. We call for transparent and results-oriented reform at the World Health Organization. We are united in recognizing that climate change is a global priority and will work to strengthen the climate actions of all nations, including to keep a Paris-aligned temperature limit within reach. We look forward to a successful COP 26 in Glasgow. We will begin cooperation on the critical technologies of the future to ensure that innovation is consistent with a free, open, inclusive, and resilient Indo-Pacific. We will continue to prioritize the role of international law in the maritime domain, particularly as reflected in the United Nations Convention on the Law of the Sea (UNCLOS), and facilitate collaboration, including in maritime security, to meet challenges to the rules-based maritime order in the East and South China Seas. We reaffirm our commitment to the complete denuclearization of North Korea in accordance with United Nations Security Council resolutions, and also confirm the necessity of immediate resolution of the issue of Japanese abductees. As long-standing supporters of Myanmar and its people, we emphasize the urgent need to restore democracy and the priority of strengthening democratic resilience.
To advance these goals and others, we will redouble our commitment to Quad engagement. We will combine our nations' medical, scientific, financing, manufacturing and delivery, and development capabilities and establish a vaccine expert working group to implement our path-breaking commitment to safe and effective vaccine distribution; we will launch a critical- and emerging-technology working group to facilitate cooperation on international standards and innovative technologies of the future; and we will establish a climate working group to strengthen climate actions globally on mitigation, adaptation, resilience, technology, capacity-building, and climate finance. Our experts and senior officials will continue to meet regularly; our Foreign Ministers will converse often and meet at least once a year. At the leader level, we will hold an in-person summit by the end of 2021. The ambition of these engagements is fit to the moment; we are committed to leveraging our partnership to help the world's most dynamic region respond to historic crisis, so that it may be the free, open, accessible, diverse, and thriving Indo-Pacific we all seek. (Source: White House Govt. Briefing)
======================================================
Iran and China sign 25-year cooperation agreement With $400 Billion  Deal
DUBAI (Reuters) -China and Iran, both subject to U.S. sanctions, signed a 25-year cooperation agreement on Saturday to strengthen their long-standing economic and political alliance.
"Relations between the two countries have now reached the level of strategic partnership and China seeks to comprehensively improve relations with Iran," Chinese Foreign Minister Wang Yi was quoted by Iran's state media as telling his Iranian counterpart Mohammad Javad Zarif.
"Our relations with Iran will not be affected by the current situation, but will be permanent and strategic," Wang said ahead of the televised signing ceremony.
"Iran decides independently on its relations with other countries and is not like some countries that change their position with one phone call."
The accord brings Iran into China's Belt and Road Initiative, a multi-trillion-dollar infrastructure scheme intended to stretch from East Asia to Europe. The project aims to significantly expand China's economic and political influence, and has raised concerns in the United States.                  (Source:  The Reuters)
=================================================================
China, With $400 Billion Iran Deal, Could Deepen Influence in Mideast
The countries signed a sweeping pact on Saturday 27th March, 2021, that calls for heavy Chinese investments in Iran over 25 years in exchange for oil  a step that could ease Iran's international isolation.
By Farnaz Fassihi and Steven Lee Myers (Published March 27, 2021)
President Biden has offered to resume negotiations with Iran over the 2015 nuclear accord that his predecessor, President Donald J. Trump, abrogated three years after it was signed. American officials say both countries can take synchonized steps to bring Iran into compliance with the terms of the agreement while the United States gradually lifts sanctions.
Iran has refused to do so, and China has backed it up, demanding that the United States act first to revive the deal it broke by lifting unilateral sanctions that have suffocated the Iranian economy. China was one of five world powers that, along with the U.S., signed the 2015 nuclear agreement with Iran.
The foreign ministers of the two countries, Javad Zarif and Wang Yi, signed the agreement during a ceremony at the foreign ministry in Tehran on Saturday, according to Iran's semiofficial Fars News Agency. That capped a two-day visit by Mr. Wang that reflected China's growing ambition to play a larger role in a region that has been a strategic preoccupation of the United States for decades.
"China firmly supports Iran in safeguarding its state sovereignty and national dignity," Mr. Wang said in his meeting with President Hassan Rouhani, the Chinese foreign ministry reported. The United States, Mr. Wang said, should immediately rescind its sanctions on Iran and "remove its long arm of jurisdictional measures that have been aimed at China, among others."
Iran did not make the details of the agreement public before the signing, nor did the Chinese government give specifics. But experts said it was largely unchanged from an 18-page draft obtained last year by The New York Times.
That draft detailed $400 billion of Chinese investments to be made in dozens of fields, including banking, telecommunications, ports, railways, health care and information technology, over the next 25 years. In exchange, China would receive a regular  and, according to an Iranian official and an oil trader, heavily discounted  supply of Iranian oil.
The draft also called for deepening military cooperation, including joint training and exercises, joint research and weapons development and intelligence-sharing.
Supporters of the deal said that Iran had to be pragmatic and recognize China's growing economic prominence.
Iran, China sign huge 25-year strategic deal; could reduce US regional influence. The agreement, dubbed the Comprehensive Strategic Partnership, covers a variety of economic activity from oil and mining to promoting industrial activity in Iran, as well as transportation and agricultural collaborations, According to Time of Israel report.
(Source: The New York Times)
========================================================
China's military modernization poses Taiwan threat
(16 March 2021) China's accelerated military modernization poses a clear and growing threat to Taiwan, and US intervention might only risk intensifying pressure from Beijing, US defence officials say. Washington's top US military officer in Asia-Pacific Admiral Philip Davidson made waves last week by warning that Beijing could seek to invade Taiwan within six years.
And as Pentagon chief Lloyd Austin makes Asia the target of his first overseas trip, US defence officials have hammered home the threat they see posed by Beijing's rapid military build-up. "Preparing for Taiwan contingencies has been a focus in China's military modernization for some time," acting assistant secretary of defense for Indo-Pacific security affairs David Helvey told reporters as Austin headed to Tokyo.
"So as their capabilities are increasing, obviously we are paying very careful attention to the military balance in the Taiwan strait." Beijing's ambitions in the region are expected to top Defense Secretary Austin's agenda in talks with allies in Tokyo, Seoul and New Delhi. Beijing claims Taiwan and surrounding waters as its own territory, and last week Davidson warned the threat of invasion there was "manifest during this decade, in fact, in the next six years".
Beijing dismissed those claims, but a senior US defence official pointed to China's efforts to step up its naval capacity, despite the disruption of the coronavirus pandemic. "Just in 2020, in the midst of all the Covid-related stuff, China still commissioned 25 major new ships — and these were not tug boats or patrol boats," the official said, speaking on condition of anonymity.
"These were cruisers, and destroyers and frigates and amphibs and ballistic-missile submarines." Democratic and self-ruled Taiwan split from China at the end of a civil war in 1949 and exists under the constant threat of invasion by the mainland. Washington switched diplomatic recognition from Taiwan to China in 1979, but remains the island's most important unofficial ally and military backer.
'There is a balance'
The official said there are several "things that are not definitive but play into this issue of timing" in terms of the threat to Taiwan from Beijing. "The first one is the announcement late last year of 2027 as a new interim milestone for PLA (People's Liberation Army) modernization," he said, noting that it brought the previous timeline forward by eight years.
A  second senior US defence official told reporters  that Washington would take a measured approach to the issue. "There is a balance," he said. "We do not view a violent invasion of Taiwan as good for anybody." But, "militarily, we know that if we do too much, push too hard, China will use that optic and they'll do more against Taiwan".
==========================================================
Taiwan boosts South China Sea deployments, gets submarine nod
(17 Mar 2021) Taiwan's newly-appointed defence minister has told parliament the island had strengthened deployments in the disputed South China Sea and that the United States has approved the export of sensitive technology to equip Taiwan's new submarine fleet.
China, which claims democratic Taiwan as its own, has increased military activity near the island in recent months seeking to pressure Taipei to accept Beijing's sovereignty. Taiwan has pledged to defend itself.
Speaking in parliament, Defence Minister Chiu Kuo-cheng, who took up his post last month, said Taiwan had increased personnel and armaments stationed on Itu Aba, the main island Taiwan occupies in the South China Sea. Itu Aba, also known as Taiping Island, is the largest naturally occurring island in the Spratlys and is garrisoned by Taiwan's Coast Guard.
"They are capable of starting a war," Chiu told the parliament when asked by a legislator on whether China could attack Taiwan. "My goal is for us to be ready at all times."
SOURCE : REUTERS
=================================================================
Philippines: Chinese vessels 'swarming' area around disputed islands
(31-3-2021) Manila condemns Beijing's "unlawful presence" around contested Spratly Islands, saying more than 200 Chinese ships are scattered across there, while China says all vessels are fishing ships sheltering from bad weather. A fleet of Chinese ships that sparked a diplomatic row after parking at a reef off the Philippines for weeks are now scattered across the contested Spratly Islands, Manila said, condemning Beijing's "unlawful presence" in the area.
Philippines aerial and sea patrols last week the month of march recorded 44 of the Chinese-flagged boats still at the boomerang-shaped reef, said a task force charged with monitoring the disputed waters.
Around 210 vessels were now "swarming" other reefs and islands in the area, it said, expressing "deep concern over the continuing unlawful presence of the Chinese Maritime Militia".
Over two hundred ships were first spotted on March 7 at Whitsun Reef, around 320 kilometres west of Palawan Island in the South China Sea. Manila ordered Beijing to withdraw the ships, calling their presence an incursion into its sovereign territory.
China  which claims almost the entirety of the resource-rich sea  has claimed the vessels are fishing ships sheltering from bad weather. But Manila insists they are from Beijing's Maritime militia, frequently accused of conducting covert military operations in the area.
Nine-dash line
The Philippine military said it could not confirm if 92 vessels spotted at Chigua Reef and 84 at Gaven Reef were part of the original flotilla.
Beijing often invokes the so-called nine-dash line to justify its claims over most of the South China Sea and has ignored a 2016 international tribunal decision that declared this assertion as without basis. It has transformed reefs in the Spratly archipelago into islands, installing military facilities and equipment on them.
One of them is Mischief Reef  which the Philippines also claims  where the task force said four Chinese navy vessels were spotted during patrols.
Philippine military gets radio challenge
The Philippine military said its aircraft received a radio challenge during a surveillance mission, its spokesman said. Local media onboard the flight over Whitsun Reef this week reported the aircraft was told by the Chinese to leave so as "to avoid any move that may cause misunderstanding."
Several countries, including the United States, have expressed concern about the renewed tension in the region.
(Source: TRTWorld and agencies)
========================================================
Australia holds China's 'belligerence' at bay with missile investments
Political and military tensions continue to escalate across the Indo-Pacific region due to China's increasing regional clout and its economic expansion. The Australian government has revealed its plans to develop advanced missile technology, and other guided weapons systems, to confront China's rising military power in the Indo-Pacific region.  Canberra's move comes after Washington's recent sanctions on China over its inhumane treatment of the Uighurs, one of the country's largest minorities.
"It's an imperative we now proceed with the creation of a sovereign guided weapons capability as a priority," said Scott Morrison, the Australian prime minister, during a recent visit to Raytheon Australia.
Raytheon Australia is the Australian branch of Raytheon Technologies, the US-owned mega defence contractor. Experts like Steven Stashwick, an independent writer and researcher with a focus on East Asian security and maritime issues, thinks the main motivator for Australia's new approach is China.
"Australia's advanced weapons spending spree is motivated by increasing concern about China's belligerence," Stashwick wrote.
Canberra has deep pockets for its plans to develop military technology. Over the next 20 years, the country will spend A$100bn (US$71.2bn) on guided weapons. An additional A$270bn (US$ 205.5bn) will be spent on military hardware including submarines and frigates, which are crucial to ensure sea dominance across the Pacific, over the next decade.
While the Australian prime minister talked about a particular national need to have "the ability for self-reliance" to face all kinds of challenges "in a changing global environment", the main plan appears to be based on relying on the US to develop capability for "long-range strikes".
"I should also stress that is a capability that meshes together with our alliance partners as well, particularly the US," Morrison added.
Last year, Australia revealed that Canberra would be furthering its partnership with Washington in order to develop a generation of hypersonic cruise missiles that could move much faster than the speed of sound.
(Source: TRT NEWS)
========================================================
Turkey's drone path inspiring many others for a while
One of the most potent Turkish drones has been the TB2 drone, produced by Baykar, which can fly at an altitude of 24,000 feet for up to 24 hours. It has a range of up to 150 kilometres and can carry a payload of 120 pounds.  The drone has become a key military asset for cross-border and counterterrorism operations, proving successful against the PKK terror group in the southeastern parts of the country. With TB2 drones hovering above, PKK terrorists are unable to move in large groups as they did before Turkey became one of the leading drone powers of the world.
Since Turkey's homegrown Bayraktar drones have changed battleground equations in several conflicts, it was previously revealed that even Western countries like the UK were on their paths to emulate Turkey's drone program.
In January, reports emerged that the UK is planning to build a new armed drone program that will be modeled on Turkey's drone innovation.
In addition to Baykar, many other Turkish firms are active in the defence field through their cutting-edge military products, such as armed UAVs, remote control guns, missiles, and air defence systems. Turkey has conducted several successful operations in Syria, Libya, and some other regions with unmanned military vehicles. Five Turkish firms, Aselsan, TAI, STM, Roketsan, and BMC are ranked among the top 100 defence companies in the world.
Source: TRT World
=================================================================
UN says Covid-19 likely to become 'seasonal' disease 
Covid-19 appears likely to develop into a seasonal disease, the United Nations, cautioning though against relaxing pandemic-related measures simply based on meteorological factors. In its first report, an expert team tasked with trying to shed light on one of those mysteries by examining potential meteorological and air quality influences on the spread of Covid-19, found some indications the disease would develop into a seasonal menace.
The 16-member team set up by the UN' World Meteorological Organization pointed out that respiratory viral infections are often seasonal, "in particular the autumn-winter peak for influenza and cold-causing coronaviruses in temperate climates."
"This has fuelled expectations that, if it persists for many years, Covid-19 will prove to be a strongly seasonal disease," it said in a statement.
Modelling studies anticipate that transmission of SARS-CoV-2, the virus that causes Covid-19 disease, "may become seasonal over time."
Covid reinfection rare, more common over 65: study
Surviving Covid-19 protects most people against reinfection for at least six months, but elderly patients are more likely to be laid low by the virus a second time, researchers have reported.
An assessment of reinfection rates in Denmark last year showed that just over half a percent of people who tested positive for Covid during the first wave from March to May did so again during the second wave, from September to December.
Among these, the researchers found that initial infection with Covid-19 was likely to bestow 80 percent protection from reinfection among under-65s, but that dropped to just 47 percent in older people.
"We did not identify anything to indicate that protection against reinfection declines within six months of having Covid-19," said Daniela Michlmayr, a researcher at the Staten Serum Institute in Denmark and co-author of a study in The Lancet.
(Source: TRT World News)
=================================================================
Myanmar protesters hurl garbage onto streets as death toll passes 520+
Parts of Myanmar's Yangon turn into battle zone amid martial law
In a new tactic, protesters sought to step up a civil disobedience campaign by asking residents to throw garbage onto streets on key road intersections. "This garbage strike is a strike to oppose the junta," read a poster on social media.
The move comes in defiance of calls issued via loudspeakers in some neighbourhoods of Yangon on Monday urging residents to dispose of garbage properly.
International response
US suspends trade pact with Myanmar and UN chief Antonio Guterres is calling for a united global front to put pressure on the junta to end its atrocities. Guterres urged the Myanmar authorities to undertake a "serious democratic transition".
"It is absolutely unacceptable to see violence against people at such high levels, so many people killed," Guterres told a news conference.
"The United States strongly condemns the Burmese security forces' brutal violence against civilians," US Trade Representative Katherine Tai said, using Myanmar's former name of Burma.
France condemned the violence as "blind and deadly" and China added its voice to a chorus of international concern, calling for restraint from all sides.
The Kremlin said it was "very concerned" by growing civilian casualties, despite acknowledging it was building ties with the military authorities.
The US, Britain and the EU have all imposed sanctions in response to the coup and crackdown, but so far diplomatic pressure has not persuaded the generals to ease off.(Source: TRT WORLD News)
=================================================================
Saudi oil giant  Aramco's profits plunge nearly 45% amid pandemic
(21 Mar 2021) Saudi Arabian state oil giant Aramco has reported a 44.4 percent plunge in last year's net profit, as the coronavirus pandemic curbed global demand.
The effect of COVID-19 took a heavy toll on the company and its peers in 2020, but oil prices have rallied this year as economies recover from the downturn and after oil producers extended output cuts.
"Aramco achieved a net income of $49bn in 2020," the company said in a statement on Sunday, down from $88.2bn in 2019.
It said "revenues were impacted by lower crude oil prices and volumes sold, and weakened refining and chemicals margins".
Aramco CEO Amin Nasser described 2020 as "one of the most challenging years in recent history".
But compared with many of its loss-generating international peers, the company, which made its stock market debut in 2019, played up its "strong financial resilience" despite the challenges and said shareholders would still receive dividends totalling $75bn.
"We are pleased that there are signs of a recovery," Nasser told an earnings call. "China is also very close to pre-pandemic levels. So in Asia, East Asia in particular, there is strong pick-up in demand."
He said demand in Europe and the United States would improve with more deployment of vaccines against COVID-19. Global oil demand is expected to reach 99 million barrels per day by the end of this year, he added.
Crude prices have risen in recent weeks to more than $60 per barrel.
(Source: Al Jazeera News)
=================================================================
Taliban expect US withdrawal in May; vow to restore Islamic rule
(19 Mar 2021) The Taliban warned the United States  against defying a May 1 deadline for the withdrawal of US and NATO troops from Afghanistan, promising a "reaction" though failing to specify exactly what it would be. The Taliban issued their warning at a press conference in Moscow, the day after meeting with senior Afghan government negotiators and international observers to try to jump-start a stalled peace process to end Afghanistan's decades of war.
US President Joe Biden's administration says it is reviewing an agreement that the Taliban signed with the administration for former President Donald Trump. Biden told ABC in an interview  that the May 1 deadline "could happen, but it is tough", adding that if the deadline is extended it will be by "a lot longer".
"They should go," Suhail Shaheen, a member of the Taliban negotiation team, told reporters, warning that staying beyond May 1 would breach the deal.
"After that, it will be a kind of violation of the agreement. That violation would not be from our side … Their violation will have a reaction."
He did not elaborate on what form the "reaction" would take, but in keeping with the agreement they signed in February 2020, the Taliban have not attacked US or NATO forces, even as unclaimed bombings and targeted killings of Afghan security forces and civilians have spiked in recent months.
"We hope that this will not happen, that they withdraw and we focus on the settlement, peaceful settlement of the Afghan issue, in order to bring about a permanent and comprehensive ceasefire at the end of reaching a political roadmap [for] Afghanistan," Shaheen said.
=================================================================
Amnesty accuses Lebanese authorities of torturing detained Syrian refugees
Amnesty International has accused Lebanese authorities of "cruel and abusive" treatment of more than 20 Syrians in prison or during interrogation.
In a report called "I wish I would die", the rights group documents the cases of 26 Syrians, including four minors and two women, imprisoned between 2014 and 2021 on suspicion of terrorism-related charges. Sentences varied from a few months to several years, with at least six men still detained, Amnesty said.
"In all but one of the 26 cases documented by Amnesty International, refugees reported being tortured, either during interrogation or detention," it said in the report. The abuse was mostly at a military intelligence centre in east Lebanon's Ablah district, the General Security bureau in Beirut or at the defence ministry, it added.  Amnesty blamed in particular Lebanon's military intelligence bureau.
Discriminatory accusations?
"Detainees said they faced some of the same torture techniques routinely used in Syrian prisons," Amnesty said.
Authorities used "metal sticks, electric cables, and plastic pipes" to carry out beatings, Amnesty said, citing refugees. "Detainees also described being hung upside down or forced into stress positions for prolonged periods of time," it added.
The arrests, starting in 2014, came as violence across the border in Syria spilled over into Lebanon.
That year, the Daesh terror group and Al Qaeda's then-Syria affiliate, Al Nusra Front, kidnapped several Lebanese soldiers and police in a raid on the border town of Arsal.
The army and the powerful Shiite Hezbollah movement reacted with an operation targeting jihadist hideouts on the outskirts of the town. Amnesty acknowledged that "members of armed groups" must be held to account, but warned against flagrant violations committed against those arbitrarily detained.
Extreme poverty
At least 14 detainees said they had confessed to crimes they did not commit after being tortured or threatened, Amnesty added.
"Lebanese authorities' flagrant violation of Syrian refugees' right to due process has made a mockery of justice," said Amnesty researcher Marie Forestier.(Source: AFP)
=================================================================
The West, its regional allies supported terrorists to destroy Syria  (Former Indian diplomat)
(21 March، 2021) New Delhi, SANA-  Former Indian Diplomat, Ambassador M.K. Bhadrakumar has affirmed that the Western states, on top the US and its regional allies such as the regime of Turkish President Recep Tayyip Erdogan and some Gulf regimes have supported and financed terrorism over the past years with the aim to destroy Syria.
"The historic fact is represented in that Syria has been a stage for the subversion attempts by the American Central Intelligence Agency (CIA) since the establishment of the Agency in 1947," Bhadrakumar said in article published by an Indian website.
He added "There is a whole history of the "regime change" plots sponsored by the agency in Syria, ranging from coup attempts and assassination plots to military strikes, financing and training for anti-government organizations and groups."
Bhadrakumar noted that what was revealed by documents and media reports during the past years shows the sinister role that the United States and its intelligence have played in supplying, training and financing terrorists in Syria with hundreds of millions of dollars annually, in addition to what the Erdogan regime, the Saudi regime and the Sheikhs of Qatar have done in this context.
"The joint statement issued by the United States and its Western allies last week, ten years after the crisis in Syria, belongs to the realm of imagination … Because what we see in reality reveals that the hands of NATO countries, including Turkey and the US allies in the Gulf, are stained with the blood of the Syrians, as they bear responsibility for the tremendous destruction that befell Syria and fueling separatist tendencies that target its unity," Bhadrakumar said.
He considered that the United States "systematically destroyed the heart, soul and mind of Arabism represented in Syria and Iraq, and it targets Egypt with the aim of perpetuating Western hegemony over the Middle East."
=================================================================
Biden orders removal of missiles, forces around Persian Gulf to focus on China, Russia
NEW YORK, Apr 02 (APP): US President Joe Biden has ordered the Pentagon to start removing Patriot anti-missile systems, other military hardware and forces from the Persian Gulf region and could deploy them elsewhere to focus on "leading global competitors, including China and Russia," according to The Wall Street Journal.
The newspaper said in a report that the US has removed at least three Patriot antimissile batteries from the Gulf region, including one from Prince Sultan Air Base in Saudi Arabia, that had been put in place in recent years to help protect American forces.
"Some capabilities, including an aircraft carrier and surveillance systems, are being diverted from the Middle East to answer military needs elsewhere around the globe," it says, adding that other reductions are under consideration.
President Biden, it was pointed out, pledged after taking office that he would recalibrate the U.S.-Saudi relationship, taking several tough steps against the kingdom, including freezing the sale of offensive weapons that Riyadh has used in its six-year military intervention in Yemen.
But administration officials also cited in the report as saying they don't want to destroy the U.S.-Saudi relationship, and have said they would seek ways to help Riyadh defend against rocket and missile attacks from militant fighters.
The removal of Patriot batteries, the permanent aircraft-carrier presence and other military capabilities means that several thousand troops may leave the region over time, the report said.
As of late last year there were about 50,000 U.S. troops in the region, down from a high of about 90,000 at the height of tensions between the Trump administration and Iran about two years ago.
US officials are considering proposals to pull additional military equipment out of the region, including a Terminal High Altitude Area Defence, or THAAD anti-missile system, surveillance drones and antimissile batteries.
Part of the rationale for moving the equipment is that the Pentagon wants Saudi Arabia to assume more of the burden of defending its own territory, the report said.
Toward that goal, the Pentagon has assembled a 'tiger team' of officials to explore ways to help the kingdom protect its facilities and oil installations.
Options under discussion include sales of missile interceptors, expanded intelligence sharing and additional military training, the report said.
=================================================================
22 Indian soldiers killed 30 injured after ambush by Maoists
(Saturday 3 Apr. 2021) At least 22 Indian security personnel were killed and 30 injured in an ambush by Maoist rebels in the central Indian state of Chhattisgarh, the deadliest incident of its kind in four years.
Officials said that security personnel belonging to the Central Reserve Police Force's elite CoBRA unit, the District Reserve Guard, and the Special Task Force were attacked on Saturday in the tribal-dominated Chhattisgarh state during an anti-insurgency operation.
"We can confirm that 22 of Indian force members have been killed by Maoist fighters," said a senior government official in Raipur, the capital of mineral-rich Chhattisgarh.
They were killed in firing that in the border district of Sukma, 540km (340 miles) south of Raipur.
Om Prakash Pal, a senior police official in Raipur said combing operations to trace one missing security force member was being conducted.
The death toll was the worst for Indian security forces battling the far-left guerrillas since 2017.
On Saturday, senior police officer DM Awasthi said hundreds of police and paramilitary soldiers raided a hideout in Bijapur district after receiving intelligence that a large number of rebels had gathered there. At least five security personnel were killed in the incident.
Decades-old conflict
The Maoist rebels, inspired by Chinese revolutionary leader Mao Zedong, have been fighting the Indian government for more than 40 years, in a conflict that has killed tens of thousands of people. More than 10,000 have been killed since the year 2000, according to data from the South Asia Terrorism Portal.
The rebels claim to defend the rights of indigenous tribes and other marginalised groups, while the government calls them India's biggest internal security threat.
The Maoists, also known as Naxalites because their left-wing rebellion began in 1967 in the Naxalbari village of the eastern West Bengal state, have ambushed police, destroyed government offices and abducted officials.
They have also blown up train tracks, attacked prisons to free their comrades and stolen weapons from police and paramilitary warehouses to arm themselves.
Last month, a roadside bomb killed at least four policemen and wounded 14 in Narayanpur district of Chhattisgarh state as they were returning from an anti-Maoist operation.
SOURCE: NEWS AGENCIES
=================================================================
Islamic Zakat donations reached millions of refugees in 2020
Compared to four years ago, Zakat funds increased in record numbers last year, helping more than two million refugees across the world, according to UNHCR.
The latest Islamic Philanthropy report of the UNHCR has shown that Islamic Zakat donations in 2020 saw a big increase compared to previous years, amounting to $61.5 million, reaching more than two million displaced people across the world.
Compared to the period of 2016-2018, when Islamic donations had reached more than 34,000 people, last year, both Zakat and Sadaqah, along with Sadaqah Jariyah, which are other forms of religious donations, helped nearly 2.1 million people in total.
Zakat is a religious obligation, a kind of tax, as important as prayer, according to Islam. Muslims who meet essential financial criteria for their wealth need to donate 2.5 percent of their savings to charity as Zakat.
"Zakat donations increased by 12.5% in 2020 in comparison to 2019, triggering a much higher increase in the number of Zakat beneficiaries, which grew by 59% compared to 2019," said the report.
"Zakat donations covered approximately 20% of UNHCR's expenditure on Zakat compliant activities in 10 country operations during 2020," it read.
The UNHCR report pointed out that more than half of the world's refugees and IDPs originate in member countries of the Organization of Islamic Cooperation (OIC). There are nearly 80 million people forcibly displaced from their homes across the globe. Due to the pandemic, the lives of both refugees and IDPs have worsened, needing more outside help. While OIC countries have borne "the brunt" of unfolding political problems worldwide, the increase in Islamic donations have given hope to millions of homeless people, according to the UNHCR report.  "Yet while the number of people in need has increased due to the socio-economic repercussions of the pandemic, individuals and institutions have responded to the situation with incredible generosity, including towards UNHCR's Refugee Zakat Fund," the report read.
Where the Zakat went
Most Zakat donations went to the Rohingya people from Myanmar and Syria-origin refugees, as well as internally displaced people (IDPs) in Yemen and Iraq, according to the report.
Islamic Zakat Donations Beneficiaries in 2020
(1)  280.911 Individual 132.731 Families : Rohingya refuges in Bangladesh & India
(2)  328,654 individuals 56/664 families : Syrian refugees in Jordan, Lebanon & Egypt
(3)  7,497 individuals 1250 families : Afghani refugees in Pakistan
(4)  2,090 individuals 1161 families : Malian refugees in Mauritania
(5)  654,425 individuals 108571 families : IDPs in Yemen
(6)  33846 individuals 5641 families : Where most needed**
(7)  18409 individuals 4100 families : IDPs in Niger
(8)  7876 individuals 1313 famalies : IDPs in Iraq
(Source: UNHCR Islamic Philanthropy Annual Report)
================================================================
8 killed in string of shootings at THREE different spas across metro Atlanta, Georgia
(17 Mar, 2021) A series of shootings at three different spas in the Atlanta, Georgia area has left at least eight people dead and several others injured. A 21-year-old suspect was taken into custody following an intense manhunt.
Police responded to reports of a shooting at Young's Asian Massage near Acworth, Georgia  a suburb of Atlanta, finding five suffering from gunshot wounds when they arrived, Cherokee County Sheriff's spokesperson Howard Baker told local media. Two were pronounced dead at the scene, while two more victims succumbed to their injuries after being transported to a hospital for treatment. A 21-year-old man had been arrested in Crisp County, roughly 200 miles south of Acworth. (Source: RT News)
=================================================================
Colorado shooting: Gunman kills 10 at US supermarket
(23 Mar 2021) Investigators had just begun sorting through evidence and witness interviews and did not have details on a motive for the shooting, said Boulder County District Attorney Michael Dougherty, adding that because families were still being notified, most of the victims' names have not been released.
"This is a tragedy and a nightmare for Boulder County, and in response, we have cooperation and assistance from local, state and federal authorities," he added. Boulder Police chief Maris Herold later said officer Eric Talley, 51, who had arrived at the scene first, had been killed in the shooting.             (SOURCE: AL JAZEERA AND NEWS AGENCIES)
=================================================================
US vows to work with allies on North Korea denuclearisation
US Secretary of State Antony Blinken said on Tuesday 16th March, the United States would continue to work with allies towards the denuclearisation of North Korea, as he Defence Secretary Lloyd Austin make their first trip abroad to buttress Asian alliances amid growing assertiveness of China. Blinken made the remarks at a bilateral meeting with his Japanese counterpart Toshimitsu Motegi in Tokyo, saying that his visit was meant to reaffirm the US-Japan alliance, Blinken said.
He said democratic values were under threat in places like Myanmar and China.
Blinken and Austin's visit to Tokyo and Seoul is the first overseas trip by senior officials from President Joe Biden's administration and follows a virtual summit last week of the leaders of the United States, Japan, Australia and India  the so-called Quad alliance.
Earlier, North Korea warned the new US administration against "causing a stink" if it wants peace, North Korean state media reported on Tuesday as Blinken and Austin arrived in Japan.     (Source: Al Jazeera News Agency)
=================================================================
New Delhi world's most polluted capital for the third year: Study
(17 Mar 2021) New Delhi was the world's most polluted capital for the third straight year in 2020, according to IQAir, a Swiss group that measures air quality levels based on the concentration of lung-damaging airborne particles known as PM2.5.
India was home to 35 of the world's 50 most polluted cities, according to IQAir's 2020 World Air Quality Report, which gathered data for 106 countries. The findings were based on the country's annual average of particulate matter PM2.5, airborne particles with less than 2.5 microns in diameter. Prolonged exposure to PM2.5 can lead to deadly diseases, including cancer and cardiac problems.
In 2020, New Delhi's average annual concentration of PM2.5 in a cubic metre of air was 84.1, the study said, more than double the level of Beijing, which averaged 37.5 during the year, making it the 14th most polluted city in the world.
Air pollution caused an estimated 54,000 premature deaths in New Delhi in 2020, according to a recent study by Greenpeace Southeast Asia Analysis and IQAir. SOURCE : REUTERS
==============================================================
Gunmen kill at least 58 civilians in attack on Niger convoy
(16 Mar 2021) The attacks  occurred in the Tillabery region, which is near the border with Mali and Burkina Faso and has seen increasingly deadly attacks by armed groups active across the region with links to ISIL (ISIS) and al-Qaeda. The mass killings underscore the enormous security challenges facing Niger's new president, Mohamed Bazoum, who won the election in late February to succeed outgoing leader Mahamadou Issoufou. Attackers killed at least 100 civilians on January 2 in raids on two villages in Tillabery, one of the deadliest episodes in the country's recent history. Many of the attacks are concentrated where the borders of Niger, Mali and Burkina Faso meet, a zone that a 5,000-strong French task force has targeted heavily. Not only are armed groups active in the Tillaberi region, but the counterterrorism offensives against them have helped give rise to ethnic militias, analysts say.
Intercommunal tensions have been exacerbated as a result, particularly near the border between Mali and Niger, with fighting over scarce resources.           (SOURCE : NEWS AGENCIES)