Former Indian CM said Pakistan not weak, will not allow India to take AJK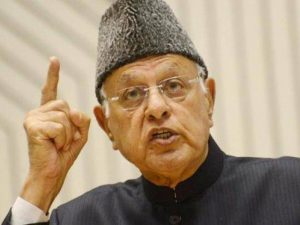 Kashmir's former chief minister Farooq Abdullah says whether India likes it or not, they will have to talk to Pakistan. Indian National Conference Chief Farooq Abdullah, last week, while addressing party workers in Uri area of north Kashmir's Baramulla district, said that "Pakistan administered Kashmir belongs to Pakistan", and yesterday he made a statement saying Pakistan is "not weak and not wearing bangles to allow India to take the part of (Azad) Jammu and Kashmir (AJK)", reported Economic Times.
Former chief minister of Indian-occupied Kashmir (IoK) further stated, "How long shall we keep saying that (AJK) is our part? It is not their father's share. That is Pakistan and this is India." He said 70 years have "passed but they (India) could not get it (AJK)".
"Today, they (India) claim it is our part. So take it (AJK), we are also saying please take it (from Pakistan). We will also see. They (Pakistan) are not weak and are not wearing bangles. They too have atom bomb. Before we think about war, we should think how we will live as humans," Abdullah said.
The Lok Sabha member from Srinagar stirred controversy in the past when he said Kashmir belongs to Pakistan and this fact "won't change even if the two countries fight wars against each other". "I tell them in plain terms not only the people of India, but also to the world that the part (of J-K) which is with Pakistan (AJK) belongs to Pakistan and this side to India. This won't change. Let them fight how many wars they want to. This won't change," he had said.
His comments drew the ire of the Bharat Jantaya Party (BJP) and a case was also filed against him in Bihar. "A case has been filed against me. That too by a Muslim. May God protect him? Look at his situation, he does not know Kashmir. He does not know our situation. They (Pakistan) drop a bomb, common people and soldiers die here (in Kashmir) and when a bomb is dropped from here, our people and soldiers also die there (AJK). Till when will this storm continue? Till when will the blood of innocents continue to flow," he told his party workers.
He also added that he hoped a day would come when people will move freely across the Line of Control (LoC). "A day will come when you will cross the Line of Control (LoC) in such a manner as if going from one house to another. Have belief on this that such a day will come and without that, there would be no peace in this country," he said. Reacting to Abdullah's comments, spokesperson for the Congress R P N Singh said that Jammu and Kashmir is an integral part of India "and will always remain so", he added, "We do not any certificate from any person on this," he said.
The NC president also said the time had come to start "reversing all central laws that were extended to the state after 1953 in continuation of the spirit of the state's unique political arrangement with the rest of the country". He said the "erosion of the state's autonomy is the genesis of the political problem in Jammu and Kashmir, and created a sense of disenchantment and disillusionment among people".
"The restoration of autonomy to J-K is non-negotiable," he asserted. He also was quick to point out to PM Modi that his Independence Day speech also underlined the importance of embracing the people of Kashmir. "Modi should now take concrete steps to engage with the people of Kashmir with full dignity and respect for their sentiments in a sustained effort to resolve the Kashmir issue."
'Courtesy India Today'.