Lady B visits Naran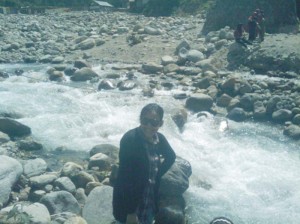 By Bismah Mirza
It has been ages since me and my friends were planning to go on a trip to view the beauty of Northern Areas. But may be wishing was not enough for the Law of Attraction to make it work for us.
Or maybe the Mother Nature was ensuring that everything fits in to place and we have all the things to our advantage.
After centuries (;-) I know I am exaggerating), of wishing, day dreaming the final motivation came when I and one of my friend were watching the movie, "Yeh Jiwani Hai Diwani"
OOooooHhhhh!!! What can I say other than "Kay bus ub toh hhadhh hogi" (Now it's the Limit), Ub toh jana must hai. But the question was jayen kaisay…..?
Maybe the intension was so stroonnngg that I don't know out of where on my Facebook page popped the School of Leadership's X venture "Leadership training program in Naran, Kaghan".
Basssssssssss phir kya tha boria bistra bandha and we were on the next plane to Islamabad.
Since we were full of energy and optimism, therefore numerous hilarious incident took place from Karachi to Islamabad airport but I will just skip them including the part where I lost my cell phone in the plane: D.
When we landed at Benazir Bhutto International, we were mesmerized with the beauty of Captal(the name I have given after seeing Isb airport). Though I have been to Islamabad before but this trip with my friends shall be a memorable one.
Being Karachities and being used to hustle bustle, chaos, peep peeps and billboards we admired the scenic beauty, the serenity of the city throughout our drive from airport to our rest house.
We had only one day in Islamabad and a lot to see therefore we started our day with a visit to Chai Khana, Gol Market: had its Zinger burger & Fries with Afghani chuttni and then shopping at Jinnah supermarket.  Loved the casual way we roamed the city streets with cell phones in our hands without the worry of it being snatched (Han likin who would want a 3310: p).
Haha jokes part but it seriously made me thinking ' Why We (Karachi) being a city of 20.12 million, which generates sixty eight (68%), of the country's revenue has been made a dumpster of bloodshed?
Is it deliberate? What can we achieve if Law and Order is restored?
Khair with these thoughts, heavy heart and with the realization that we have again forgotten to buy water and will have to drink that shady rest house's tap water, we left for our rest house. But thanks to our Islamabad friends, who insisted that if we are here so we should visit "Pir Suhawa esp Monal".
It was a splendid sight with a clear starry sky, from the top it seems that the entire Islamabad is bathed in gold and silver, with the cold breeze adding the chills. To some extend it reminded me of Kolachi but at an altitude. Thanks to our Isb friends:).
So next morning, when we woke up, it was time for XVenture. From there our journey began for Naran Kaghan. It is needless to say that the picturesque mountains and nature's beauty held us captive and like paindos, we kept gaping at every sight. It was just like in the song: "hum chalayeen toh hamray sang nazaray chalenHum Chale Tu Hamare Sung Sung –
It was near Abbotabad that we stopped for breakfast. I remember this dhabba particularly because of the attitudes of the attendants. Lol, yes seriously laugh out loud! But first things first, Firstly, we the 'so called' city sophisticates, hygiene conscious females were very conscious of using ladies room. Not to mention we were embarrassed like HELLLLLLL!!!!!!
After assuring and reassuring ourselves that we are confident, independent girls who can pass this ordeal with grace and poise, we entered the Ladies Room. Well the interior of the room was not bad at all. By the way I am not talking about the Rest Room but the ladies room, which was furnished with charpyes, pillows and pedestal fans. In fact by the standard it was quite impressive.
However, when we peeped into the real rest room the entire impression flushed down in to it. Hahahah! So after absorbing the shock when I and my friends were waiting for others, one of the creepy pathan  bhai entered with his thirty two teeth out. I don't what he had in mind maybe by their standards we were these Besharam shehar ki larkian (fast and furious females), with no regards to appropriateness or what or maybe he was hoping we would take his snap or something.
Lol whatever it was, but it surely was such an exotic sight that we burst out laughing hahahaha OMG. Toh is peh toh I can only say one thing: Dekha na tha Hamnay yeh sama.
Despite it was a very hilarious moment but it made me realize that no matter whom you are and what you have accomplished or whatever you think, in certain situations, "you are just a woman in a man's world".
At noon when we reached Balakot and had lunch at a restaurant by Kunar River side. It again was a breath taking sight, the calmness and serenity and the sound of river Kunar flowing, simply just makes you it's dewana.
Here we were supposed to collect a stone and compare it with each other's and look for differences once, and then had to repeat it, this time we had to look for similarities. It made many of us realize, ' that despite our obvious differences our similarities were deep rooted and in front of them, differences automatically faded and give us a distinct identit'.
This time when we resumed our journey, none of us were sleeping but everyone was excited to face the new challenges and sang songs and heard stories of Nawab of Bahawalpur.
Tired and exhausted when we reached our destination, we set up our tents and the rest I remember is ZzZzzzzzzzzzzzzzzzzzzzzzzzzzzz.
The next morning or shall I say the Adventure Day was tough, initially it was cold, difficult but thanks to Adventure Academy and the Sol team who not only made us do the warm up exercises but also prepared a delicious breakfast of boiled eggs, bun, mayo, jam, beans and etc 3. Just loved the Pahari chai.
The day started with the river crossing activity. We formed the human chain and crossed the seemingly impossible task esp when the ground is not smooth but flowing. Again that was just the belief and perception. When we tuned our minds in the other direction and adopted the motto of "Just Do It". It was just a piece of cake;).
It was when we achieved this milestone, the next one seem more exciting than scary it was crossing the river through a pulley. It was one hell of an experience, my heart was pounding in my ears, but maybe it was the rush of adrenaline that made me going, also the motivating words of the instructor. I clearly remember Malik sb, saying: " Beta darna nai, ek dafa to upar jana he hai" hahah. After that weeeeeeeeeeeee I was on the other side of the river.
When everyone was taking their turns, me and my friends sat on the rocks and listened to the nature, by the river side, surrounded by mountains, with a roof of clear light blue sky with cold water tickling our feet and the sun warming our backs and tanning us. But all we care was preserving this peace.
The quietness of the surroundings and the flow of the river made me conscious of my own self and own thoughts. Surprisingly, it made me realize I have a brain of my own and guess what I can hear it too: D. The dominating silence made me even think of my family members and also that our city lives are so busy and that we are so engrossed in it, that we have forgotten what it is to even "think and live". We are mere robots and we are happy about it. I don't think going to any spa can be so relaxing and de stressing.
It is surprising that we have a treasure of natural and scenic beauty and such warming people yet we are so oblivion to it, yet we complain and yet we whine.
Wow!
Nexxxtttt was the shaft walking. Uff what can I say other than that a picture is worth a thousand words so you can imagine what might have happened.
In my defense, I will say that firstly it wasn't easy to even sit on this shaft. It was really embarrassing with ten people putting wait so that it goes below your waist line and then you have to jump on it, sit and then balance. UFFFFFFFFF!!!!!!!!!! After numerous failed attempts, I managed to sit on it and then stand. Clappinnnggg.
The idea behind the activity was to trust your surroundings and then your instincts. So initially you will hold one person's hand and take one round then the reliance on that person will be less and on the second round it would be holding only the little finger. But what happened with me is evident from this picture. It was just minutes before the great fall. Haha! Waisay i did complete my three rounds. I guess this was the far most difficult, scary and hilarious exercise. In the entire process, I literally fractured my friend's hand (sorry).
Lastly came the rock climbing! I thoroughly enjoyed this activity. I remember that when I started climbing I started on the wrong side / path, but since it was a matter of Izzat (Honor), there was no turning back. I was breathing heavily, my lungs were out of breath, mouth was dry and it seemed that i took a scoop of salt. Half way through and I was panting. I had to reach the point within two minutes and my mind was all set to do that. I did reach but in two minutes and forty seconds. Yeahhhhhhhhh!!!!!
So this was the xventure or drama of our lives comprising three episodes. This xventure not only cleared our negative clogged minds, gave us reasons to strongly believe ourselves and this great Land, and more importantly made us realize who we are. What potential and treasures we possess and yet our blind towards it.