'Modiji, please don't try our patience'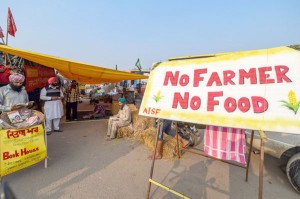 By Prasanna D Zore
'If we are terrorists and Pakistanis and Khalistanis, why did your home minister talk to our core committee leaders?'
Farmers demanding the repeal of the government's three farm laws have intensified their agitation by blocking the Delhi-Jaipur highway. Now into its 21ST day, the agitation, which was till now restricted to blocking Delhi's borders with Haryana and Uttar Pradesh, threatens to spread to other important national highways that lead to Delhi. Amra Ram, the former CPI-M MLA from Rajasthan, is the national vice-president of the All India Kisan Sabha, the largest peasant organisation in India.
"2015 main bhi unko mooh ki khani padi thi; ab 2020 main bhi Modjiji mooh ki khayenge (in 2015, the Modi government had to bow down and amend the Land Acquisition Bill to protect the interests of farmers, and in 2020 too he will meet the same fate)," Amra Ram, who is leading thousands of farmers from Rajasthan at the Sajapur border between Rajasthan and Haryana, tells Prasanna D Zore.
Why are farmers blocking the Delhi-Jaipur national highway? What purpose does it serve?
There was all kinds of rubbish being disseminated by the Modi government that only farmers from Haryana and Punjab are agitating against the three black farm laws which he forced down the farmers' throats. Now, almost 10,000 farmers from Rajasthan have begun marching towards Delhi in their tractors and trucks. On our way to Delhi, we are now being stopped by the (Manohar Lal) Khattar government (of Haryana) by putting up barricades all along.
After the panchayati raj elections got over in Rajasthan on December 11, the farmers from Rajasthan began their march towards Delhi on December 12 and on December 13 we were stopped at the Haryana border. We have now pitched our tents at the Rajasthan-Haryana border near Sajapur and will continue our agitation from here in a peaceful manner till the Khattar government relents and allows us to march towards Delhi.
If the Haryana government doesn't allow us to proceed, we will continue our protests at the same place in solidarity with all the farmers of India. We won't stop till this government doesn't withdraw the three black farm laws. The national highway will be our home till that time. Let the Modi government now know that farmers of Rajasthan too are with their farmer brothers and sisters across India.
The Modi government is in talks with various other farmer leaders who have pledged their support to the three farm laws. Are the farmers divided in their opposition to the three farm laws?
Who are these farmer leaders meeting the government? Are they the ones who are agitating out in the streets, braving the bitter cold and water cannons of the Modi government? Or are they government stooges, who prefer the government's air-conditioner treatment to water cannons in this cold? They (the government) did call us for talks on a number of occasions. But they just wanted to enact a drama over farmers' miseries.
We don't want any amendments. Stop that drama. We will not fall for such nonsense. We want total repeal of the three farm laws that are against the interests of farmers, small traders, people of India, but are in favour of industrialists like Ambani and Adani. No matter what, we don't want any amendments to these laws; we want total repeal. Let Modiji show us the farmers who went to him and pleaded with him to enact these laws.
Modiji has been steadfastly defaming our peaceful agitation by calling us Khalistanis, terrorists, Naxals, and supported and sponsored by China and Pakistan, sponsored by political parties opposed to him. The farmers have shown Modiji and his stooges that those who have gathered across India don't belong to just one religion, region, caste, class, or organisation. This is an agitation for the life and livelihood of India's farmers. Modiji, we don't need the kind of welfare of farmers that you have been forcing upon us. If we are terrorists and Pakistanis and Khalistanis, why did your home minister talk to our core committee leaders?
Isn't dialogue and discussion the only way to solve this logjam?
I agree. We have never closed this option. We also want to talk to the government. But we don't want Modiji's gift that he is forcing down our necks. He is using our name to shower fortunes on his friends like Ambani and Adani.
The prime minister in Mann Ki Baat has also reiterated how beneficial these three farm laws are for farmers…
Farmers don't want such benefits. Please spare us this largesse. Modiji has been prime minister of 140 crore Indians since the last six years and he has been very consistent with his Mann Ki Baat. Per woh mann ki baat kehte hai, sunte nahi hai (he only talks about what he feels but doesn't care to listen to what people want). Hamari bhi toh kabhi sunlo, Modiji (for once listen to what we farmers are saying too).
When farmers began this agitation 20 days ago by heading towards Delhi, Modiji's law and order machinery dug up the roads, rained cold water on them, welcomed them with tear gas shells. Since then, lakhs of farmers are sitting on the outskirts of Delhi protesting peacefully; 15 farmers have died in the bitter cold and Modiji seems to be least bothered about the fate of farmers.
If you don't want to hear farmers' Mann Ki Baat, at least open your eyes and see how the annadata (food provider) is braving the weather and your torture in a peaceful manner. Modiji is only bothered about Ambani's and Adani's Mann Ki Baat.
Let this government use any tricks with our agitation, let me assure Modiji that farmers won't back down until the three farm laws are repealed. 2015 main bhi unko mooh ki khani padi thi; ab 2020 main bhi Modjiji mooh ki khayenge (in 2015 the Modi government had to bow down and amend the Land Acquisition Bill to protect the interests of farmers and in 2020 too he will meet the same fate).
While the government is adamant about not repealing the three farm laws, the farmers too are adamant about their demand. How will this issue get resolved if both sides are not willing to concede?
Till now, the farmers are keeping quiet, but if this government continues to divide and suppress our agitation, then the farmers in India will close down the entire country. Be it the highways, railways, markets, we will shut down everything.
As a representative of farmers what is your message for the Modi government?
The people of India elected Modiji to serve them, not to sell them and their livelihoods to rich moneybags and corporates. The government has helicopters, but the farmers have their tractors and our tractors will win over your helicopters, tear gas and water cannons. Hum Modiji se yahi kehna chahte hai krupa karke kisano ke dhairya ki pariksha na le (Modiji, please don't try farmers' patience), 20 days in this bitter cold, away from home, are enough. Modiji, please do something. Let Modiji understand that till the three farm laws are withdrawn we will not stop our protests. We will keep intensifying it step-by-step.
When you say don't try farmers' patience, are you indirectly threatening the Modi government?
First, we will ensure that the protests intensify in the most peaceful manner. Just wait and watch. For now, we are doing sit-ins, undertaking fasts, stopping the loot by corporates at toll plazas where they loot the public by building roads on our land, with our money. Just wait and watch. We have been at it in the most peaceful manner since the last 20 days and let us assure the nation that we will continue our protests for as long as it takes in the most peaceful way.
The government has been using many tricks and traps — 'Pakistan/China-sponsored, Khalistanis / terrorists', etc – to provoke us. Let them say whatever they want and do; the farmers will not budge even an inch from their demand.