My views on reviews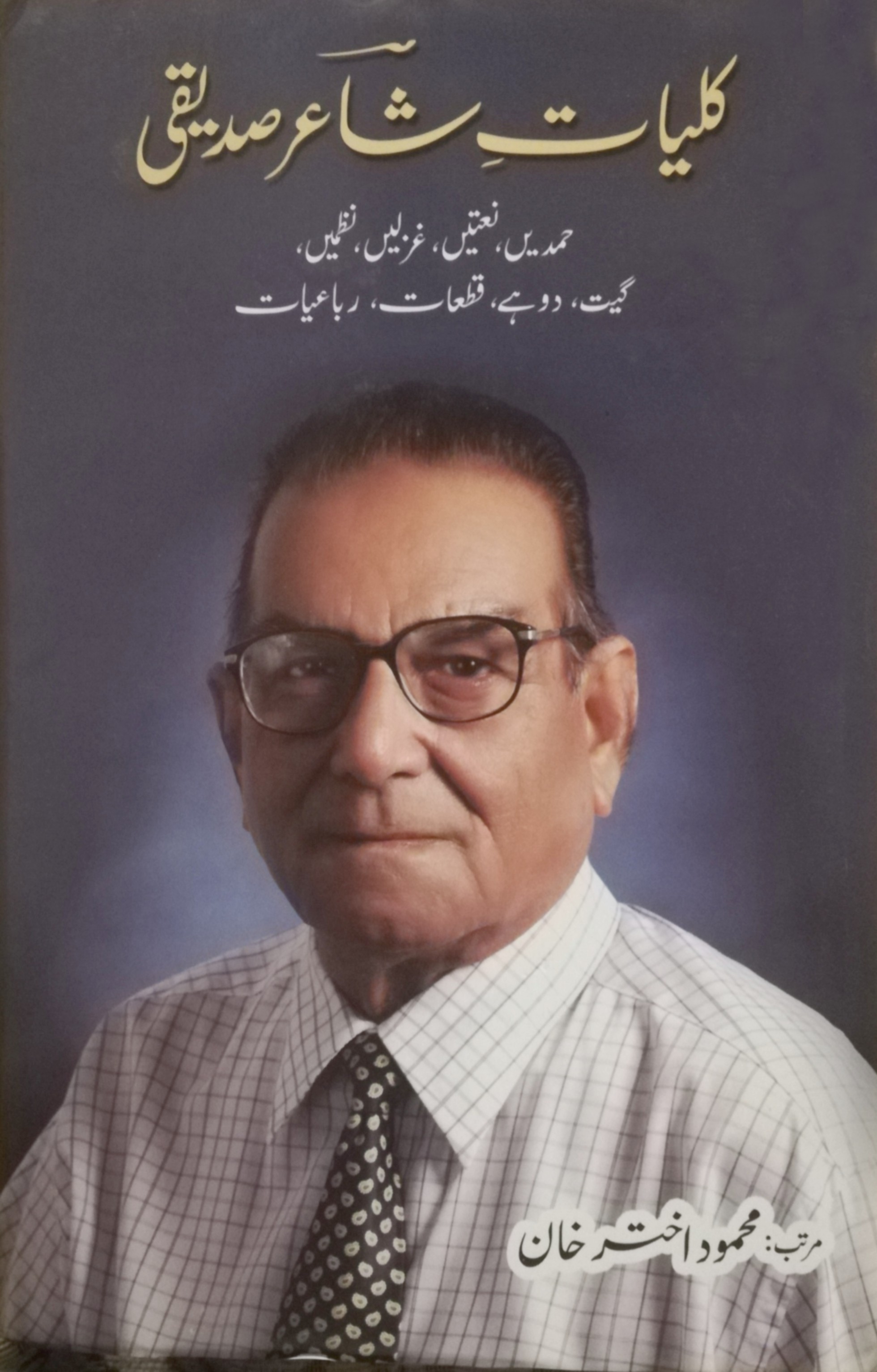 By Shafique Ahmed Shafique
TITLE OF BOOK: Kulliyat-e-Shair Siddiqi (Poetic anthology)
Author: Shair Siddiqi
Publisher: Rang-e-Adab Publications 5, Ketab Market, Urdu Bazar, Karachi
Pages: 800
Price: Rs 2000
Now-a-days the trend of publishing "Kulliyat" is getting popularity and poets are coming out with their whole assessments in the shape of "Kulliyat." In the past "Kulliyat" was published by publisher, friends and relatives after the death of concerned poet. "Kuliyat" means whole poetic works, nothing should be rested. It is not possible if the poet is alive and his creative work is going on. But at present when a poet is alive he is re-publishing his whole poetic works by himself under the title of Kulliyat."
According to new trend and tradition Shair Siddiqi has also republished his five poetic books such as "Aankhoon May Samunder", "Bujhtay Suraj Nay Kaha", "Jiger-e-Lakht Lakht","Paani Ka Mulk Pather Kay Log" and "Sunder Ban May Aag" recently under the name of "Kulliyat." It consists of his Hamds, Na'ats, Ghazals as well as several kinds' poetry.
Shair Siddiqi has long experience of film-cum-literary journalism too. He has also a book in prose to his credit. It published in 2018 under the title of "Meray Hamdam, Meray Dost". This book contains essays on different poets and writers. Shair Siddiqi whose family name is Abdur Razzaq born in February 1, 1933 in Calcutta. He tried his hand in various field of literature, journalism and film world. He was editor In-chief of Urdu film-cum-literary magazine "CHITRALY" as well as remained associated with monthly "Shama" Karachi as its assistant editor.
In spite of writing ghazals, geets, dohay, qata'at and different kinds of poetry, he has written many songs, dialogues and scripts for Pakistani and former East Pakistani films too. Shair Siddiqi has also worked for Pakistan Television Corporation (PTV) and written some occasional songs and geets.
His ghazals and geets have been sung by famous singers including Talat Mahmood, Malka-e-Tarannum Noor Jahan, Saleem Raza, Ahmed Rushdi, Mujeeb Alam, Mala, Roona Laila, Shahnaz Begum, Firdosi Begum, Jahan Aara Syed, Basheer Ahmed, Akhter Shadmani and others. Some of his ghazals and geets are still being broadcast by Radio Pakistan and PTV.
It may be mentioned here that the Media's attitude towards Shair Siddiqi is prejudicial, as they are relaying some of his songs, ghazals and geets without even mentioning his name. This not only piracy-like act but it is also an attempt of infringement of intellectual property laws. Shair Siddiqi himself and some of his friends (including myself) have criticised through articles published in the newspapers and periodicals about the arbitrary attitude of Radio Pakistan and TV, but to no avail, as the media continue to do so rather shamelessly.
The Kulliyat under review will probe that he is a poet of truth and reality. That is why he writes truth and never parted way from expressing grievances, pain and plights of masses. During mirroring social, political and cultural activities, he never lost his that very standard which represent the actual literary and artistic values. Shair Siddiqi in his five poetic collections has very smartly expressed his feelings about pain and plight of human beings the social injustices, cheatings, briberies, exploitations and various kinds of corruption practices which have grieved and disappointed the general people.
Shair Siddiqi is a senior penman has been writing poetry for more than 45 years and is an eye witness of atrocity and tyranny, against Urdu speaking Pakistanis by the extremist Bengalis and so-called Mukti-baheni. He represented and highlighted the acts of treason, hypocrisy, conspiracy, raping, looting and kidnapping which were happening freely by the extremist Bengalis traitor of Pakistan before and after the establishment of Bangladesh.
Muslim and Hindu Bengalis were revenging against Pakistan Government and Pak Army to target Urdu Speaking population of East Pakistan. His two books "Paani Ka Mulk Pather Kay Log" and "Sunder Ban May Aag" (which are included in the Kulliyat under discussion) are mirroring the fact in poetic art.
He has successfully created a niche of his own which is magnificent. You may see in this book that he has finely decorated his experiences meaningfully on the shelf of his stylish poetry.