News In Brief International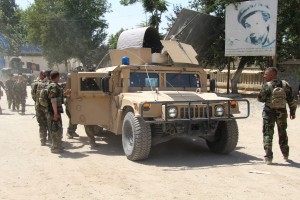 Taliban says has right to react if US troops stay in Afghanistan
By Taliban spokesman Suhail Shaheen
Taliban spokesman Suhail Shaheen has told Al Jazeera in an exclusive interview that the armed group has the "right to react" if the United States still keeps troops in Afghanistan after September 11, when the withdrawal is due to complete. US officials told The Associated Press news agency on Thursday that roughly 650 US soldiers were expected to remain in Afghanistan to provide security for diplomats after Washington pulled its forces out to end its 20-year military presence in the country.
Reacting to the report, Shaheen told Al Jazeera's Osama Bin Javaid in Doha that if the US did so, it would be in breach of an agreement aimed at ending the US's longest war that was struck between Washington and the Taliban in the Qatari capital in February 2020. "We have signed the Doha agreement and that was negotiated with the American side for 18 months. They have agreed and committed themselves that they will withdraw from Afghanistan all their military forces, advisers and contractors," Shaheen said.
"I think it is a clear violation of that agreement," he added. "If they stay here, then I think it is a kind of continuation of the occupation. They have violated and we fully have the right to react," Shaheen said. US President Joe Biden in mid-April announced plans to withdraw the US troops from Afghanistan by September 11, adding several months to the May 1 deadline reached in the agreement between the administration of his predecessor, Donald Trump, and the Taliban after talks that excluded the Afghan government.
*******************************************************
Top US general says security in Afghanistan deteriorating
Kathy Gannon, The Associated Press
The United States' top general in Afghanistan on Tuesday gave a sobering assessment of the country's deteriorating security situation as the US winds down its so-called "forever war".
General Austin Miller said the rapid loss of districts around the country to the Taliban  several with significant strategic value  is worrisome. He also cautioned that the militias deployed to help the beleaguered national security forces could lead the country into civil war.  Miller told a small group of reporters in the Afghan capital that for now, he has the weapons and the capability to aid Afghanistan's National Defense and Security Forces.
Only a political solution will bring peace to the war-tortured nation, he said.
"It is a political settlement that brings peace to Afghanistan. And it's not just the last 20 years. It's really the last 42 years," he said.
Miller was referring to not only the US war, but to Russia's 10-year occupation that ended in 1989. That conflict was followed by a brutal civil war fought by some of the same Afghan leaders deploying militias against the Taliban. The civil war gave rise to the Taliban, which took power in 1996. Miller refused to give any date or timeframe, referring only to the September timeline given by US President Joe Biden in April when he announced the final withdrawal of the remaining 3,500 American troops.
Biden met with Afghan leaders Ashraf Ghani and Abdullah Abdullah at the White House last week to demonstrate the continuing US commitment to Afghanistan.
"The partnership between Afghanistan and the United States is not ending," Biden said in an Oval Office meeting with Ghani and Abdullah.
Miller said there are multiple reasons for the collapse of districts, including the fatigue of the troops and their psychological defeat and military loss. But he said escalating violence risks the country falling into a deadly civil war.
"As we start talking about 'How does this all end?', the way it must end for the Afghan people is something that revolves around a political solution," said Miller.
"I've also said that if you don't reduce the violence, that political solution becomes more and more difficult."
Miller refused to say where the US and its NATO allies were in the withdrawal process. He said his time as the head of the US's military mission in Afghanistan was coming to an end, without giving a date. Miller wouldn't speculate on the legacy of the US's longest war, saying it will be for history to decide.(SOURCE: AP)
*****************************************************
US has failed in Afghanistan: US leaving behind a 'disaster' in Afghanistan
By KATHY GANNON | ASSOCIATED PRESS | JUN 20, 2021
KABUL, AFGHANISTAN  Afghanistan's former president said  the United States came to his country to fight extremism and bring stability to his war-tortured nation and is leaving nearly 20 years later having failed at both. In an interview with The Associated Press just weeks before the last U.S. and NATO troops leave Afghanistan, ending their 'forever war,' Hamid Karzai said extremism is at its "highest point" and the departing troops are leaving behind a disaster.
"The international community came here 20 years ago with this clear objective of fighting extremism and bringing stability … but extremism is at the highest point today. So they have failed," he said.
Their legacy is a war-ravaged nation in "total disgrace and disaster."
"We recognize as Afghans all our failures, but what about the bigger forces and powers who came here for exactly that purpose? Where are they leaving us now?" he asked and answered: "In total disgrace and disaster."
Still, Karzai, who had a conflicted relationship with the United States during his 13-year rule, wanted the troops to leave, saying Afghans were united behind an overwhelming desire for peace and needed now to take responsibility for their future.
"We will be better off without their military presence," he said. "I think we should defend our own country and look after our own lives. … Their presence (has given us) what we have now. … We don't want to continue with this misery and indignity that we are facing. It is better for Afghanistan that they leave."
Karzai's rule followed the overthrow of the Taliban in 2001 by a U.S.-led coalition that launched its invasion to hunt down and destroy the al-Qaida network and its leader, Osama bin Laden, blamed for the 9/11 attacks on America.
During Karzai's rule, women re-emerged, girls again attended school, a vibrant, young civil society emerged, new high-rises went up in the capital Kabul and roads and infrastructure were built. But his rule was also characterized by allegations of widespread corruption, a flourishing drug trade and in the final years relentless quarrels with Washington that continue even until today.
Karzai had a message for both sides in the conflict: "The two Afghan sides, none of them should be fighting. " While accusing both Pakistan, where the Taliban leadership is headquartered, and the United States of stoking the fighting, Karzai said it is up to Afghans to end decades of war.
"The only answer is Afghans getting together…. We must recognize that this is our country and we must stop killing each other." (Source: Chicago Tribune)
******************************************************
China tells its nationals to leave Afghanistan urgently as violence spirals
By : Sarah Zheng
Beijing has warned Chinese nationals to leave Afghanistan  as soon as possible, amid a rapid rise in violence in the country as the Taliban recaptures territories ahead of the complete withdrawal of US and Nato troops.
China's embassy in Afghanistan said that Chinese citizens and organisations needed to take extra precautions and strengthen their emergency preparedness as the situation deteriorated.
"This year, the conflicts in Afghanistan are constant, the terrorist attacks are frequent and the security situation is becoming more severe and complicated," the embassy said in a notice, urging Chinese citizens to "be more cautious" and to "urgently depart from the country through international commercial flights".
China has blamed  a surge of attacks on the abrupt withdrawal of troops from Afghanistan by the United States and the transatlantic security alliance after nearly two decades of their presence.
The growing violence has raised fears for Beijing that instability and terrorism could spill over into its borders, including into the neighbouring Xinjiang  region, where China has been accused of repression of Uygurs and other Muslim-majority ethnic minority groups.
It could also threaten Chinese development projects under Beijing's infrastructure investment strategy the Belt and Road Initiative .  Beijing indicated this month that it wanted to "substantially expand" its projects under the initiative, including in Afghanistan.
Wang said China supported talks between the Afghan government and Taliban negotiators, stressed that there should be an "orderly withdrawal" of US troops to prevent the resurgence of terrorist forces, and said the Beijing-led Shanghai Cooperation Organisation  could play a bigger role in the peace process. (Source: South China Morning Post)
***************************************************
China Warplanes Swarm Around Taiwan After G7, NATO Talk up Threat
BY JOHN FENG ON 6/15/21 AT 5:53 AM EDT
Over a dozen warplanes took off from China and triggered radar stations in Taiwan early Tuesday as military aircraft once again swarmed the island's air defense zone following more than a week of relative quiet.
Radio intercepts sent to Newsweek included at least 17 airborne warnings aimed at People's Liberation Army (PLA) warplanes. The warnings were broadcast by Republic of China Air Force (ROCAF) radio operators between 5:48 a.m. and 10:43 a.m. local time, but the precise number of intruding aircraft was initially unclear.
Reached by Newsweek, the office of Taiwan's Ministry of National Defense spokesperson declined to comment on these developments. The department later announced that it had detected 28 Chinese military planesa single-day record.
A radio log of activity in Taiwan's self-declared air defense identification zone (ADIZ) showed PLA aircraft were detected at altitudes between 5,000 and 7,800 meters (about 16,400 and 25,600 feet).
According to the transcript of correspondence on the aeronautical emergency frequency 121.5 MHz, at least one Chinese pilot responded to a ROCAF broadcast at 9:20 a.m., identifying himself as a member of the PLA Naval Air Force "conducting a routine mission."
Newsweek could not independently verify the accuracy of the exchange.
The large incursion into the southwest corner of Taiwan's ADIZ comes after 10 days of relative quiet, with just one PLA asset detected in the area since June 4a Y-8 anti-submarine warfare aircraft spotted on Monday 14 June, a public holiday in both China and Taiwan.
The Chinese military's return to "gray-zone" activity around Taiwan follows President Joe Biden's attendance of key summits with G7 and NATO allies, both of which resulted in firm rebukes of Beijing's actions across various sectors. Su Tzu-yun, an associate fellow at the Institute for National Defense and Security Research in Taipei, said the renewed warplane activity near Taiwan follows a period of "strategic adjustment" by Beijing.
"China feels that its Wolf Warrior diplomacy is facing many challenges, so Xi Jinping wants to promote a more credible, lovable and respectable image," Su told Newsweek.(Source: Newsweek)
**********************************************************
US Navy aircraft carrier USS Reagan enters South China Sea
(15 Jun 2021) A US aircraft carrier group led by the USS Ronald Reagan has entered the South China Sea as part of a routine mission, the US Navy said, at a time of rising tensions between Washington and Beijing, which claims most of the disputed waterway. The carrier is being accompanied by the guided-missile cruiser USS Shiloh and the guided-missile destroyer USS Halsey, the US Navy said.
China frequently objects to US military missions in the South China Sea, saying they do not help promote peace or stability, and the latest mission comes after China condemned the Group of Seven (G7) nations for a statement criticising Beijing over a range of issues.
"While in the South China Sea, the strike group is conducting maritime security operations, which include flight operations with fixed and rotary-wing aircraft, maritime strike exercises, and coordinated tactical training between surface and air units," the US Navy said.
"Carrier operations in the South China Sea are part of the US Navy's routine presence in the Indo-Pacific."
China has ramped up its military presence in the South China Sea in recent years, including building artificial islands and air bases, where it has installed missile systems and other equipment.
The South China Sea has become one of many flashpoints in the testy relationship between China and the US, with Washington rejecting what it calls unlawful territorial claims by Beijing in the resource-rich waters, which are also claimed by Taiwan, the Philippines, Vietnam, Brunei and Malaysia.
In a related development, the Philippine Secretary of Foreign Affairs Teodoro Locsin has said the country will extend a key military pact with the US, after months of negotiations between the two countries.(SOURCE: AFP, REUTERS)
*********************************************************
Israel swears in new government, ending Netanyahu's 12-year rule
(13 Jun 2021) Benjamin Netanyahu's 12-year tenure as Israeli prime minister has come to an end, as the country's parliament on Sunday approved a new coalition government led by right-wing nationalist Naftali Bennett.
Bennett, the head of an ultranationalist party that controls six seats in the 120-seat Knesset, was sworn in as prime minister after the parliament backed the new coalition government by a razor-thin margin of 60 votes to 59.
Bennett will lead an unlikely alliance of left-wing, centrist and right-wing parties, as well as a party that represents Palestinian citizens of Israel, who account for 21 percent of the country's population. The parties have little in common apart from a desire to unseat Netanyahu.
Under a rotational agreement, Bennett will serve as prime minister for two years, after which he will be replaced by centrist leader Yair Lapid, the chief architect of the new government.
They plan largely to avoid sweeping moves on issues such as policy towards Palestinians in the occupied territories while they focus on domestic reforms. But with little to no prospect of resuming any sort of fair peace negotiations, many Palestinians are unmoved by the change of administration, saying Bennett will likely pursue the same right-wing agenda as Netanyahu.
Al Jazeera's senior political analyst, Marwan Bishara, described the event as a "family feud", saying that there are no ideological differences between the old and new prime minister.
****************************************************
Hardliner Ebrahim Raisi elected Iran's new president
Conservative judiciary head Ebrahim Raisi will take office in early August, replacing moderate President Hassan Rouhani.
By Maziar Motamedi | (19 Jun 2021)
Tehran, Iran  Conservative judiciary head Ebrahim Raisi has been elected Iran's eighth president, the interior ministry has announced.
The ministry confirmed on Saturday that Raisi won 61.95 percent of the vote on a voter turnout of 48.8 percent  the lowest turnout for a presidential election since the 1979 revolution. Raisi got 28,933,004 votes. At 3,726,870 votes, void votes finished second in the race, also for the first time since the establishment of the Islamic Republic.
Former Revolutionary Guard commander Mohsen Rezaei finished third in Friday's election with 3,412,712 votes and was followed by moderate candidate Abdolnasswer Hemmati with 2,427,201 votes, and conservative Amir Hossein Ghazizadeh Hashemi with 999,718 votes.
"We didn't have any violation that would have a significant impact on the outcome of the election," Interior Minister Abdolreza Rahmani-Fazli said during a press conference. Raisi will take office in early August, replacing moderate President Hassan Rouhani who was not allowed by the constitution to run for a third consecutive term.
"I congratulate the people on their choice," said Rouhani.
Raisi's election marks a consolidation of power by the conservative and hardline camp, which already controls the parliament and will likely have a replacement for the judiciary as well. The Muslim scholar, who wears a black turban to signify he is a descendent of Islam's Prophet Muhammad, is also seen as the country's next supreme leader.
Raisi has become the first Iranian president to be sanctioned by the United States even before assuming office as he was designated in 2019. The US blacklisted him for his role in the mass execution of political prisoners in 1988, his involvement in the crackdown on the 2009 Green Movement protests, and "administration of oversight over the executions of individuals who were juveniles at the time of their crime".
'Rival to corruption' Raisi had promised to improve Iran's economy that is ailing under US sanctions and the coronavirus pandemic that has exacerbated decades-long infrastructural issues caused by local mismanagement.
'Rival to corruption' Raisi had promised to improve Iran's economy that is ailing under US sanctions and the coronavirus pandemic that has exacerbated decades-long infrastructural issues caused by local mismanagement.
Despite previously opposing Iran's 2015 nuclear deal with world powers, Raisi said during the presidential debates earlier this month that he will uphold the landmark accord as any other state commitment.
He did, however, point out that he will form a "strong" government to steer the agreement in the right direction.
********************************************
Russia to give Iran advanced satellite that could track IDF bases – report
By REUTERS, JERUSALEM POST STAFF   | JUNE 11, 2021 07:19
Russia is preparing to provide Iran with an advanced satellite that would enable it to track potential military targets across the Middle East, the Washington Post reported on Thursday.
The satellite is projected to have the ability to track long-range targets, including IDF bases, as well as oil refineries throughout the Persian Gulf and Iraqi bases for US troops.
The plan would deliver a Russian-made Kanopus-V satellite equipped with a high-resolution camera which could be launched from Russia within months, the Post said.
The report was published days before US President Joe Biden and Russian President Vladimir Putin meet in Geneva and as Iran and the United States are engaged in indirect talks on reviving a 2015 nuclear deal designed to put curbs on Iran's nuclear program in exchange for easing economic sanctions.
The satellite would allow "continuous monitoring of facilities ranging from Persian Gulf oil refineries and Israeli military bases to Iraqi barracks that house US troops," said the paper, which cited three unnamed sources – a current and a former US official and a senior Middle Eastern government official briefed on the sale.
While the Kanopus-V is marketed for civilian use, leaders of Iran's Islamic Revolutionary Guards Corps have made several trips to Russia since 2018 to help negotiate the agreement, the Post said.
Russian experts traveled to Iran this spring to help train crews who would operate the satellite from a newly built facility near Karaj west of Tehran, it added.
The satellite would feature Russian hardware, the Post said, "including a camera with a resolution of 1.2 meters  a significant improvement over Iran's current capabilities, though still far short of the quality achieved by US spy satellites."
The Revolutionary Guards said in April 2020 that they had successfully launched the country's first military satellite into orbit, prompting then-US Secretary of State Mike Pompeo to call for Tehran to be held accountable because he believed the action defied a UN Security Council resolution.
**************************************************************
US President challenges Iran:
You will never acquire nuclear weapon 'under my watch'!
By Anadolu | 29 June 2021
US President Joe Biden on Monday vowed to ensure Iran does not acquire a nuclear weapon while he remains in office.
"Iran will never get a nuclear weapon on my watch," the US president told reporters while hosting Israeli President Reuven Rivlin at the White House.
Biden said US support for Israel's security remains "ironclad," calling Washington's commitment to Israel's security "unwavering."
"My team and I are working closely with the Israeli government that took office earlier this month," Biden said, noting that he is "looking forward" to hosting Israel's new Prime Minister Naftali Bennett at the White House "very soon."
The US president further fully supported normalization agreements between Israel and several Muslim-majority nations brokered by his predecessor.
"The US fully supports normalization of relationships between Israel and Middle Eastern countries that you're making some headway on, and Africa as well. Beyond the important progress, we are really looking forward to building the wider bloc of peace and stability," added Biden.
Biden and Rivlin are expected to address a wide range of topics during their bilateral meeting, including Iran.
The meeting comes in the wake of Israel's 11-day offensive on the occupied Gaza Strip in May, during which Biden refrained from publicly criticizing Israel despite mounting pressure from some Democrats, particularly progressives.
The conflict resulted in 257 Palestinians, including 66 children, losing their lives in Gaza while 13 people were killed in Israel due to Palestinian rocket fire, including two children.
*******************************************************
NATO needs to confront China, But Russia remains 'most immediate threat', US official
NATO needs to confront the challenges posed by China, but Russia remains the "most immediate threat to the common security of the allies," Douglas D Jones, the US Chargé d'Affaires, told Euronews.
Leaders of the North Atlantic Treaty Organization (NATO) will physically meet in Brussels on Monday for a high-stakes summit where both Russia and China are set to feature prominently on the agenda.
US President Joe Biden intends to use his trip to Europe as an opportunity to assemble a coalition of like-minded democratic nations to stand up to the rising global power of Beijing. Biden sees China as America's most formidable adversary. "We're in a competition with China and other countries to win the 21st Century," he told the US Congress in April.
Speaking to Euronews days before the NATO summit, Douglas Jones, who currently represents the United States in the Atlantic organisation, echoed the president's views.
"We need to confront the challenges that are posed by China in the transatlantic security space, because where China is ever more present and where it does engage in coercive activities, that impacts our security," Jones said, adding that NATO sees China as a "new threat".
According to Jones, President Biden's key message to allies will focus on "recommitting the United States to NATO and expressing the iron-clad commitment of the United States to Article 5″.
NATO's Article 5 establishes the principle of collective defence: an attack against one ally is considered as an attack against all 30 allies. The provision, considered a fundamental pillar for the organisation, was first invoked after the 9/11 terrorist attacks in New York City.
***********************************************************
US air raids target Iran-backed militias on Iraq-Syria border
The bombardment comes at the direction of President Joe Biden, the second time he has ordered such strikes, raising concern that he's authorising unilateral attacks without taking Congress on board.
The Pentagon has announced that the US has bombed "facilities used by Iran-backed militia groups" on the Iraq-Syria border, which it said were authorised by President Joe Biden following ongoing attacks on American personnel.
This is the second time Biden has approved air strikes against an armed group since he took office earlier this year. The first such Biden-authorised bombing operation was carried out in February, also against the Iran-backed militias in Syria.
The targets  two in Syria, one in Iraq  were selected because "these facilities are utilised by Iran-backed militias that are engaged in unmanned aerial vehicle (UAV) attacks against US personnel and facilities in Iraq," Pentagon spokesperson John Kirby said.
Iraq's Hashd al Shaabi or Population Mobilisation Units (PMU) paramilitary alliance said  that the air strikes "resulted in the martyrdom of a group of heroic fighters" and threatened revenge.
"…We are fully ready… to respond and take revenge," said PMU.        (Sources:  AFP)
***********************************************************
Chinese Communist Party honours 'ordinary heroes' with centenary medal
Jun Mai in Beijing| 29 Jun, 2021
President Xi Jinping  presented 29 party members with a new medal on Tuesday 29 June, as part of China's celebrations to commemorate 100 years of the Communist Party.
Xi, who is also party chief, called on his fellow members to keep their spirits high while facing the challenges ahead. "The greater the cause, the greater the challenges are," he said after giving out the July 1 medals in Beijing's Great Hall of the People.
"All party members need to keep the spirit of daring to make sun and moon shine in new skies," he said, quoting a poem by Mao Zedong.
All recipients of the medals were party members at the frontline of key policy areas, although no senior leaders, five-star generals or prominent business heads were included. "The July 1 Medal recipients come from the people and are rooted in the people," said Xi, according to state news agency Xinhua.
Xi described the recipients as "ordinary heroes" and said their contributions were achievable and their spirits reachable by all.
Among the recipients were Ma Maojie, a civil war veteran, Wang Shumao, a maritime militiaman celebrated for defending China's territory in the South China Sea, and Chen Hongjun, a soldier who died last June in the border clash with India, as well as a few Korean war veterans.
Representatives from ethnic minority groups were also honoured, including a Uygur village chief who was praised for fighting separatism, and a woman Tibetan cadre credited for "leading the people to follow the party".
The only diplomat among the recipients was Liu Guijin, who was praised for spending his nearly 40-year career building ties with African countries. Qu Duyi, a former Moscow correspondent with Xinhua, was the only journalist on the list. She will turn 100 in November.
The awards ceremony was a curtain-raiser to the main celebrations on Thursday, when a larger gathering will take place in Beijing. Xi and other party leaders are expected to rally further domestic support as the country tackles external strategic headwinds which have not been seen in decades.       (Source: South China Morning Post)
******************************************************
Chinese Space Station a Looming Threat to US, Experts Say – Washington Free Beacon
Tiangong station could aid CCP's military, diplomatic ambitions
China will use its space station to advance its military technology and strengthen its influence in foreign countries, experts and lawmakers warn the Washington Free Beacon.
Three Chinese astronauts reached the Tiangong space station on June 17. The project ushers in an expansion of China's capabilities in space and a boost to its international prestige. The station is home to numerous "dual use" technologies that have military applications that could threaten the United States. As China's station eclipses the International Space Station in technological capabilities, developing countries may also be more enticed to collaborate with China's space program.
China has exploited numerous high-tech venturesincluded in its space programto increase surveillance, data sharing, and corporate espionage. Sarah Mineiro, a board member at the Vandenberg Coalition and adjunct senior fellow at the Center for a New American Security, told the Washington Free Beacon such technologies are cause for concern, and China's growing space capabilities challenge American power in the ultimate high ground.
"The Chinese do not have a firewall between national security, defense, intelligence in space and civil space," Mineiro said. "It's a widely recognized fact that space is increasingly vulnerable. The advantages we derive from spacespecifically the national security advantages we derive from spacehave long been threatened."
In 2018, the chief of the Chinese lunar exploration program compared the moon and Mars to contested islands in the South China Sea, which the Chinese military has long laid claim to. Experts warned the space station is a step in the larger Chinese plan to establish a foothold in Earth's orbit, and eventually on the moon. Rep. Mike Waltz (R., Fla.), a cofounder of the House Space Force Caucus, warned that impending budget constraints under the Biden administration and the growing strength of the Chinese space program could put America out of the game in coming years.
"The Chinese space program is on the rise, it's young, new, vibrant and ascendant. Our program is stagnant and in some cases declining," Waltz said. "I hope this administration will engage on the front end with these countries to help them understand what a devil's bargain it will be to cooperate with the Chinese on their space station."
*************************************************************
South Korea to establish $2.6B 'Iron Dome'-style defence system
South Korea has approved plans to pursue a $2.6-billion artillery interception system, similar to Israel's "Iron Dome", designed to protect against North Korea's arsenal of long-range guns and rockets, the defence acquisition agency said.
A large part of the area surrounding Seoul, the capital, is home to about half the population of 52 million, and lies within range of the neighbour's long-range guns and multiple rocket launchers.
Late last year the government's defence blueprint called for the development of a "Korean-style Iron Dome" that can defend Seoul and key facilities.
On Monday a committee presided over by Defence Minister Suh Wook approved the project, expected to be completed around 2035 at a cost of $2.6 billion, the Defence Acquisition Program Administration (DAPA) said in a statement.
"Through this project, it is expected that the ability to respond to the threat of enemy long-range artillery will be strengthened, as well as securing domestic technology and creating domestic jobs," it said.
The Ministry of National Defence has said while existing weapons such as the Patriot and THAAD missile defence systems are designed to target the North's increasingly capable short-range ballistic missiles, the new system aims to protect against long-range artillery and multiple rocket launchers.
Pyongyang does not comment on its military deployment, but experts believe most of North Korea's 13,600 guns and multiple rocket launchers are positioned near the border, about 40 km (25 miles) distant from Seoul. (Source: Reuters)
******************************************************
Fire rips through Rohingya camp in New Delhi, leaving hundreds homeless
By Zafar Aafaq | 13 Jun 2021
The blaze broke out at about 11:30pm on Saturday 12 June,  and quickly spread through the camp, reducing 55 ramshackle shelters to ashes in the Madanpur Khadar area in the capital city's south. No deaths or serious injuries have been reported in the fire  the second time the camp has been reduced to ashes since 2018.
The fire service department of the national capital said that it put 15 fire tenders into service and brought the blaze under control in about six hours. "We rushed to the spot quickly and started dousing the flames," Sandeep, an operator at the Delhi Fire Service, told Al Jazeera by telephone.
The fire tore through the camp, home to 55 families  filling the sky with plumes of smoke and flames as refugees scrambled to safety, crying for help.
Sufia Khatoon, 32, was asleep inside her hut along with her physically challenged mother and her child when the fire broke out. It started in an abandoned hut, she said.
"When we saw the fire, I held my mother's hand and lifted my child in my arms and ran away to safety outside the camp," Khatoon said. "We lost everything. The fire destroyed even the little cash that we had kept for our daily needs. We don't have a single [Indian] rupee to buy water."
She appealed to the government and relief groups for help with food and shelter.
Undocumented refugees
An estimated 40,000 Rohingya refugees, many believed to be undocumented, live in camps across Indian cities, including Jammu, Hyderabad and Nuh. The United Nations refugee agency has provided some of them with refugee cards, which helps them to access some basic services and is supposed to protect them from police action.
************************************************************
Anti-junta protesters in Myanmar show support for Rohingya
Anti-junta protesters have flooded Myanmar's social media with pictures of themselves wearing black in a show of solidarity for the Rohingya, a minority group that is among the most persecuted in the country.
Activists and civilians took to social media to post pictures of themselves wearing black and flashing a three-finger salute of resistance, in posts tagged "#Black4Rohingya".
Since the military ousted civilian leader Aung San Suu Kyi from power in a February 1 coup, an anti-junta movement demanding a return to democracy has grown to include fighting for ethnic minority rights.
The mostly Muslim Rohingya – long viewed as interlopers from Bangladesh by many in Myanmar – have for decades been denied citizenship, rights, access to services and freedom of movement.
"Justice must (be) served for each of you and each of us in Myanmar," said prominent rights activist Thinzar Shunlei Yi on Twitter.
Local media also showed a small protest in Myanmar's commercial hub Yangon, with black-clad demonstrators holding signs in Burmese that said they were "protesting for the oppressed Rohingya".
By afternoon, the #Black4Rohingya hashtag was trending on Twitter in Myanmar, with more than 180,000 mentions.
Sunday's show of support from the mostly Buddhist, ethnic Bamar-majority population is a far cry from previous years, when even using the term "Rohingya" was a lightning rod for controversy.
A recent announcement from the shadow "National Unity Government"  made up of ousted lawmakers working to topple the junta  has also extended an olive branch to the minority group, inviting them to "join hands… to participate in this Spring Revolution".
The NUG has been branded as "terrorists" by the military regime, while junta leader Min Aung Hlaing has dismissed the word "Rohingya" as "an imaginary term".
Source: AFP
*****************************************************
Myanmar violence escalates as civilians pick up arms
Violence in post-coup Myanmar has escalated as anti-junta "self-defence" forces step up to take on the military, a report said, warning of an "enormous" human cost if the regime uses its full power in subsequent crackdowns.
Myanmar has been in turmoil since the February coup that ousted Aung San Suu Kyi's government, with more than 880 killed in a junta crackdown on dissent, according to a monitoring group.
In some areas, locals – often using hunting rifles or weapons manufactured at makeshift jungle factories – have formed "defence forces" to fight back.
In response, the military has used helicopters and artillery, including against groups in northwestern Chin state and along the eastern border with Thailand.
"Faced with armed insurrection, the Tatmadaw [the Myanmar military] can be expected to unleash its military might against civilians," the International Crisis Group said.
An estimated 230,000 people have already been displaced by fighting and insecurity so far, the United Nations said. (Source: AFP)
************************************************************
Indian air force base in Kashmir hit by explosions
(27 Jun 2021) Indian officials have said they suspect explosive-laden drones were used to attack an air force base in Jammu city in Indian-administered Kashmir, calling it the first such incident of its kind in the country. Dilbagh Singh, the police director-general in the region officially called Jammu and Kashmir, told the private news channel New Delhi Television (NDTV) on Sunday that "drones with payload were used in [two] blasts." Singh called the attack an act of "terrorism".
India's air force tweeted that the attack caused minor damage to the roof of a building at the station, while another blast hit an open area.
"There was no damage to any equipment," it said.
They added that the blasts, which occurred barely 14km from the de facto border with Pakistan, have caused concern in security circles as they could mark the first time that drones have been used in an attack in India.
Singh told NDTV that a crude bomb was later found in another location.
He blamed the attacks on armed groups in Kashmir, who want the Himalayan region either to be independent or merged with neighbouring Pakistan. Both India and Pakistan claim the Muslim-majority region in its entirety but control only parts of it.
Armed rebellion: New Delhi has stationed more than half a million forces in the region  making it one of the most militarised zones in the world  as it tried to quell an armed rebellion that erupted in the late 1980s. (SOURCE: AL JAZEERA AND NEWS AGENCIES)
**********************************************************
India says two drones intercepted over Kashmir army base
India's military says it has thwarted a major threat when it intercepted two drones flying over an army base in Indian-administered Kashmir, a day after suspected explosives-laden drones were used to attack an airbase in the disputed region. The military said troops spotted two drones separately flying over Kaluchak military base early on Monday 28 June,  on the outskirts of Jammu city.
"Immediately, high alert was sounded and Quick Reaction Teams engaged them with firing," the military said in a statement. "Both the drones flew away."
Troops launched search operations in the area, the statement said, adding that they remained on high alert.
SOURCE: AP
***********************************************************
Gunmen storm villages, kill 53 people's  in Nigeria's Zamfara state
(12 Jun 2021) Armed assailants have killed 53 people in northwest Nigeria's Zamfara state, according to police and local residents, the latest violence to hit the restive region. Many motorcycle-riding gunmen known locally as bandits on Thursday through Friday raided the villages of Kadawa, Kwata, Maduba, Ganda Samu, Saulawa and Askawa in the Zurmi district, AFP news agency cited the sources as said.
The gang shot residents, attacked farmers in their fields and pursued others who fled to escape the assaults. The criminals have begun to focus on raiding schools and kidnapping students for ransom.
More than 850 students have been abducted since December but most have been released after ransom payments.
In a broadcast on Friday, Zamfara state Governor Bello Matawalle urged residents to defend themselves against "killer bandits".
Rising violent crime in the northwest has compounded the challenges faced by Nigeria in northern states, which are typically poorer than those in the south of Africa's most populous country of about 210 million.
A decade-old armed campaign in the northeast has killed more than 30,000 people and forced at least two million to flee their homes, creating one of the worst humanitarian crises in the world.
Nearly 700,000 people were internally displaced in northwest and northcentral Nigeria in February, including more than 124,000 in Zamfara alone, according to the UN's migration agency, IOM.
Humanitarian agencies also warn that the spiralling violence has led to increased sexual violence, as gunmen assault some of their kidnapped victims.(SOURCE: NEWS AGENCIES)
************************************************************
Over 30,000 Ethiopian children 'at high risk of death' in Tigray famine
UNICEF's statement comes day after UN warning that 2 million people are on brink of famine with hundreds of thousands of people already starving in the region. Tens of thousands of malnourished children at risk of dying in hard-to-reach areas of Ethiopia's conflict-wracked Tigray region, are now hit by famine, the United Nations has said.
"Without humanitarian access to scale up our response, an estimated 30,000-plus severely malnourished children in those highly inaccessible areas are at high risk of death," UNICEF spokesperson James Elder told reporters in Geneva.
His comments came after the UN  said some 350,000 people in Tigray were facing famine, while two million more people were just a step away from those extreme conditions.
"There is famine now in Tigray," UN humanitarian chief Mark Lowcock said, warning that "every expert you speak to will tell you this is going to get a lot worse."
Lowcock said fresh data showed the number of people classified as being in famine conditions was "higher than anywhere in the world at any moment since a quarter of a million Somalis lost their lives in 2011″.
The UN has said that more than 90 percent of the more than five million people in the Tigray region need emergency food aid, and has urgently appealed for more than $200 million to scale up its response.
Many leaders have warned of a major catastrophe.
The United States and the European Union on Thursday issued a plea for greater international efforts to tackle the emerging famine. International aid organisations have complained repeatedly that they are being denied access to the region by Ethiopian forces and troops from neighbouring Eritrea.          (Source: AFP)
*************************************************************
Military plane crashes in the Philippines, killing 50 people
(4 Jul 2021) All 96 passengers on board a Philippines Air Force transport plane that crashed on Sunday killing at least 50 people  on the plane and on the ground  have been accounted for, military chief Cirilito Sobejana said on Monday.
Sobejana said 49 soldiers were injured in the fiery crash, which happened when the C-130 Hercules transport plane missed the runway while trying to land on the southern island of Jolo where the military is fighting the Abu Sayyaf and other armed groups.
The Department of National Defence said on Sunday that three civilians on the ground were also killed while four were injured.
According to the military, the three pilots were among those who survived the crash but were in a serious condition.
Defence Secretary Delfin Lorenzana said he had ordered an investigation of the incident, which would begin after rescue and recovery operations had been completed. A military spokesman told Reuters news agency that the plane was in "tip top shape" and had 11,000 hours flying time before its next scheduled maintenance.
The plane was one of two ex-US Air Force aircraft handed over to the Philippines as part of military assistance this year.
Al Jazeera's Jamela Alindogan, reporting from Manila, said helicopters were deployed to transport the injured to a nearby hospital. She said the most seriously injured had been taken to Zamboanga City, an hour's flight away.
"The C-130 is one of the newly acquired planes by the Philippines air force. The area where the crash happened is home to one of the huge bases of the Philippines military," she added.
The plane was transporting soldiers, many of whom had just undergone basic training, from the southern Cagayan de Oro city for deployment in Sulu, officials said.
"They were supposed to join us in our fight against terrorism," Sulu military commander Major General William Gonzales said. Government forces have been battling the Abu Sayyaf, which is notorious for kidnappings for ransom, in the predominantly Muslim province of Sulu for decades.(Source: Al Jazeera News Agency)