Reception bids farewell to Kyrgyz Envoy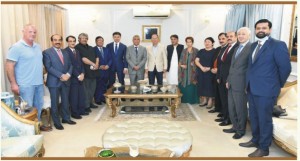 Thursday the 15th July, 2021
By Zafar Bakhtawari, Chairman Pakistan Central Asia Friendship Association from Islamabad
Islamabad : Tehreek Insaf Senator Chief Organiser Saifullah Khan Niazi has said that Kyrgyzstan is an important country for Pakistan and he would propose further steps to promote mutual cooperation with the Foreign Minister and he would raise his voice in every forum for the promotion of relations and mutual cooperation between the two countries. He made this remarks at a farewell dinner in honor of Kyrgyz Ambassador Erik Beishembiev hosted by Pakistan Central Asia Friendship Association, says a press release.
Kyrgyz Ambassador Erik Beishembiev said in his address that he has spent more than four years in Islamabad and that he is grateful for the hospitality and the best impression of the Pakistani people. He said that our region is rich in oil, gas, mineral and water resources and we also want to benefit from these resources for Pakistan and the region, so that the countries of the region benefit from each other's resources. He said that currently 10,000 Pakistani students are studying in Kyrgyzstan. Air links between the two countries will be restored in September this year and direct flights from Kyrgyzstan will come to Karachi, Lahore and Islamabad. He said that Pakistan and Kyrgyzstan would come closer by rail and road under China's BRI project. He said that a two hours journey is required for travel between Kyrgyzstan and Kashgar.
Chairman Pakistan Central Asia Friendship Association Zafar Bakhtawari has said that Pakistani Foreign Minister Shah Mehmood Qureshi is currently in Tajikistan to attend the Shanghai Cooperation Organization meeting of Foreign Ministers and Prime Minister Imran Khan is visiting Uzbekistan from July 15. This shows that Pakistan is working to establish peace in Afghanistan after the withdrawal of US troop's development and prosperity in the region. He said that these measures would help in connecting the region by road and rail and in promoting direct air connectivity.
He said that PM Imran Khan is Serious to bring peace in Afghanistan, the people of Pakistan and Central Asia who dreamed of promoting mutual cooperation after the collapse of the Soviet Union in 1991 and access to hot water to Karachi and Gwadar is still pending due to war in Afghanistan. He said that the path to peace and development in the region is being paved once again for which the leaders of Pakistan, Afghanistan and Central Asia have heavy responsibilities.
Ambassador of Turkmenistan and Dean of the Diplomatic Corps Ata Atadjan Movlamov said on the occasion that Central Asia And Pakistan has enormous potential for boosting the cooperation. He said that after the peace in Afghanistan, the gas pipeline and other development works would move forward rapidly. He said that Turkmenistan has the world's fourth largest gas reserves. He said that Pakistan and the countries of the region could benefit from it. He said that his country is serious about the completion of the TAPI. Kazakhstan's
Ambassador to Pakistan Yerzhan Kistafin, who recently took up his post in Islamabad. He said that the leadership of Kazakhstan has sent him to Pakistan on the agenda of further strengthen the relations with Pakistan. Soon a parliamentary delegation from Kazakhstan will visit Pakistan and explore the possibilities of advancing relations between the two countries.
He said that establishment of peace in Afghanistan would further enhance cooperation between Pakistan and Central Asia. He said that next year would mark the 30th anniversary of diplomatic relations between Pakistan and Kazakhstan.
In her address, MNA Farrukh Khan said that she would like to visit Kyrgyzstan with a delegation of women. In addition to Kyrgyzstan, contacts between Central Asian women will be enhanced. (Courtesy : The News International)