Subcontinent's leaders face the enemies within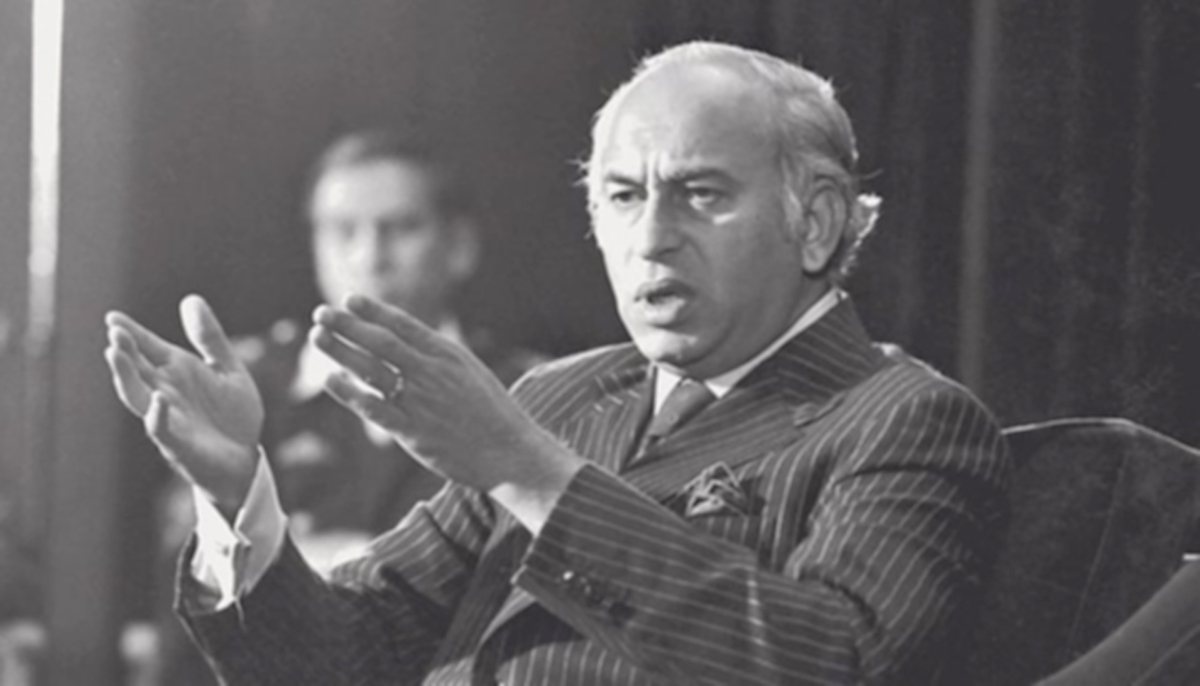 By Bernard Weinraub
Prime Minister Zulfikar Ali Bhutto of Pakistan rarely goes to bed before 2 or 3 in the morning, and sometimes he hardly sleeps at all. He prowls his official residence, reading documents, leafing through American news magazines, writing statements, abruptly phoning foreign diplomats about food imports or arms supplies or aid. Within the past few weeks, Mr. Bhutto has been particularly busy. He has stepped up his pleas to the United States to relax the ban on arms sales to coincide with the visit this week of Secretary of State Kissinger to India and Pakistan. Mr. Bhutto visited Baluchistan, the most troubled province in Pakistan, and announced that "organized" resistance by anti‐Government rebels had, ended.
He has expressed readiness to hold talks with India over the perennial Kashmir issue. At the same time he has been exultant over a quiet but significant breakthrough in Indo‐Pakistani relations: the resumption of telephone and postal links between the two nations after a break of nearly three years. Mr. Bhutto's activity he makes pronouncements and calls news conferences with the abandon of a New York City Mayoral candidate is a measure of the style and pace of Pakistani politics. After three years in power, and after taking over a divided and undisciplined nation, Mr. Bhutto has thrust Pakistan forward and sought to shape a new identity for the country of 70 million. The results are mixed.
Pakistan's internal problems are glaring. The nation, with an annual per capita income of about $110 and illiteracy that totals nearly 80 per cent, is impoverished and riven with despair. One out of every four babies dies before the age of five. Nevertheless, Pakistan's economic position seems surprisingly bright, compared with that of her neighbors. In flatiron is running at 25 per tent annually, but the Government subsidizes such essentials as wheat, flour, vegetable oil and sugar.
Pakistan says she needs to Import about a million tons of wheat, but this is because the current record crop of about 8 million tons was below expectations. Pakistan does not suffer froth the large‐scale food problems of India or Bangladesh. Even the oil price increase has been less damaging to Pakistan than to her neighbors: The cost of Pakistan's oil imports will reach $385‐million next year, but loans from two fellow Islamic nations, Iran and Saudi Arabia, will help.
Although the economy has proved surprisingly buoyant, Pakistan is weighted down by internal troubles. Rebellious tribesmen in Baluchistan resent Mr. Bhutto's efforts to gain firm central control in the state, which could be a potential source of oil. There are troubles along the Afghan border, persistent Pakistani fears of being swallowed up by India, and a consistent need by Pakistan to feed her own military machine.
Without American arms, Mr. Bhutto relies on China for weapons as well as support. The relationship is based on the mutual feat of Soviet involvement on the subcontinent and the anxiety, on Mr. Bhutto's part, that Moscow is stepping up its role in the area. As an independent magazine, Outlook, commented last spring in a discussion that dealt with the enduring angers on the subcontinent that trap India, Pakistan and Bangladesh: "It is a bizarre setting in which cupboards full of poverty ‐ stricken skeletons are rattling with the din of sophisticated and outdated armaments. Countries which cannot afford to provide two square meals a day to their teeming millions area wrapped up in visions of hegemony, spheres of 'peace' and their 'manifest destiny.'" The magazine, like several opposition newspapers, has since been banned.
Bhutto supporters assert that the 1971 Bangladesh war, when Pakistan lost her eastern wing, still affects the nation, Bhutto critics point out that several assassination attempts have been made on his key opponent, Khan Abdul Wali Khan, leader of the National Awami party, whose strongholds are Baluchistan and the Northwest Frontier province. Lesser opposition figures have been "bullied" and tough security police generally forbid large public gatherings. Defenders of Mr. Bhutto, however, and even some of his critics, maintain that the Prime Minister is adept and pragmatic, and his singular achievement remains Impressive: He has restored some self‐respect to a nation that was an object of scorn three years ago.
The pivotal figure
She has been called the Empress of India and the most powerful woman in the world. In New Delhi, she is known as "Mrs. G." or "Mataji," Big Mother. Whatever the title, Indira Gandhi remains the pivotal figure in the nation of 580 million, a woman who has plainly decided to move in new directions at home and abroad. To Prime Minister Gandhi, the changes are necessary because India's economy is in a shambles, food scarcities, are growing, the mood in the cities where inflation climbing annually at 30 per cent, seems bleak and uneasy.
India is hardly on the verge of revolution, but the nation does face a deepening crisis. To avert it, Mrs. Gandhi has reshuffled her Cabinet, cracked down on smugglers, sought to fragment her political opposition and in foreign affairs, seems bent on easing relations with the United States. Beyond these shifts, and intertwined with them, is a persistent and melancholy criticism that the idealism and adventure in democracy of the 1950's has turned cynical, that too many people are going hungry, that there are too many allegations of corruption and manipulation and police activities. Government allocations to maintain law and order have doubled in the past five years, and climbed by 52 times in the last 24 years, a figure termed "alarming" by a parliamentary committee.
"The nation is adrift," said one columnist. Jayaprakash Narayan, an ailing figure whose prominence dates to the time of Mahatma Gandhi, has abruptly emerged politically to frighten the Congress party. He said the other night that Jawaharlal Nehru "was one hundred times more democratic" than his daughter, Mrs. Gandhi, who has served as India's Prime Minister since 1966. Mrs. Gandhi's problems at home are immense. The nation needs anywhere from 5 to 10 million toils of food imports to avoid widespread starvation. The population is growing by 13 million each year, and per capita food consumption is steadily declining. Industrial growth is negligible, despite sizable assistance. Land reforms have failed. Shortages of water, seeds and fertilizer have throttled the "green revolution."
Mrs. Gandhi's critics place much of the blame for the nation's faltering policies on radical and unkept promises such as "Garibi Hatao," or "Abolish Poverty." "The appeal of the Garibi Hatao promise was based on the fact that it articulated the vast needs of society," Rajni Kothari, a prominent political scientist said. "The violence that is engulfing the country is the result of the Government's failure to even make a start in fulfilling that promise."
Perhaps the key criticism of Mrs. Gandhi is that the Government has twisted its priorities and has concentrated on the development of heavy industry despite, the fact that India is an agrarian nation: 80 per cent of the populace lives on farms. To critics, the symbol of India's distorted priorities was the nuclear blast on May 18. Indians insist that the blast was "for peaceful purposes" but the Government obviously weighed the propaganda and military impact of the surprise move. As the Economic and Political Weekly said recently: "Deaths from starvation are taking place. No famine is going to be declared. But officially the country will continue its 'progress.'
"This year it was the first nuclear implosion followed [the takeover of] Sikkim. Next year, perhaps, it will be an Indian version of the sputnik, and we will have arrived space. Once you have attained such heights, people and their need for food must indeed seem remote and trivial." The annual outlay for agriculture has dwindled. Last year, for example, it was about $1.03‐billion. This year it amounts to $850‐million. In fairness to Mrs. Gandhi, who remains an aloof and chilly figure, the task of dealing with India's poverty is extraordinarily difficult. "I think that the only reason I'm able to survive this with equanamity is that I'm just myself, regardless of the situation in the country," she has said. "I know the condition of the people. There's nothing I can see that I don't know about already. It's not that you don't feel it butit's like a nurse and illness. You see it in perspective."
To Mrs. Gandhi's numerous critics, however, the recent steps taken by the Prime Minister are cynical gestures to cope with India's emergency. Yes, critics say, Mrs. Gandhi has finally reshuffled her Cabinet and placed Jagjivan Ram, a tough and powerful figure, in the key post of Food Minister, a position that has too often been held by inept figures. But the Cabinet, the critics add, consists of merely the same old faces in new jobs.
Even critics have welcomed the crackdown on smugglers, whose illicit trade threatened to damage the economy. But there is resentment that the pay‐offs by the smugglers, and the alleged involvement of government officials, is ignored. Moreover, the seizure of the smugglers under emergency measures coupled with the increased use of such laws to arbitrarily arrest strikers, students and terrorist suspects as well as the dismissal of an anti ‐ Government newspaper editor, B. G. Verghese, have spurred debate about the quality of India's democracy. The nation remains an open, free‐wheeling society, with a lively press, but recent events have left Indian intellectuals uneasy.
In recent months, Mrs. Gandhi has managed her foreign policy with some success. Relations with Pakistan, always fragile, are still so but India's friendship with Iran has deepened, with the recent visit here of Shah Mohammed Riza Pahlevi, Now Secretary of State Kissinger's visit is expected to lift relations between Washington and New Delhi whose friendship soured during the 1971 Bangladesh war when the United States sided with Pakistan over India.
"It's a question of Kissinger and Mrs. Gandhi meeting again and, hopefully, hitting it off after three years," said one American source here. "If they do, that's fine, and if they don't, well. …"
Source: The New York Times.