Summarized News & Articles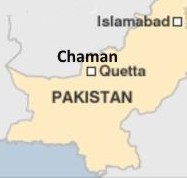 22 killed in Quetta, Chaman bomb hits on Hazaras
Hazaras protest against the killing; ask govt for provision of better protection
QUETTA: (APRIL 12, 2019) Twenty-two people were martyred and around 58 injured in two separate IED blasts in the Balochistan province, apparently targeting the Shia Hazara ethnic minority, ripped through Quetta's Hazarganji Sabzi Mandi Friday morning. Eight Hazara community members, an FC official and two children were among the dead. Body parts littered the scene and injured people screamed for help as black smoke cloaked the market after the explosion. Buildings located nearby were also damaged in the blast.
DIG Quetta Abdul Razzaq Cheema told reporters that the blast, which took place at around 7:35am, was caused by an improvised explosive device (IED) hidden among vegetables. Speaking at a press conference, Home Minister Mir Ziaullah Langau said initial investigation suggested it was a suicide bombing, insisting that it did not target any particular community.
Shortly after the bombing, the Hazara community youths rallied in Quetta, demanding more security from the authorities and the arrest of those behind the attacks. Qadir Nayil, a Hazara community leader, asked the government for provision of better protection. "Once again our people were the target and once again we will have to bury our dear ones," he said. "We demand more security from the government and all those involved in the act of terrorism should be found and punished," he added.
Qari Hussain Force, an affiliate of Tehreek-e-Taliban Pakistan (TTP) later claimed responsibility for the attack in which 10kg explosive material was used.
———————————————————————-
14 people offloaded from buses, shot dead in Balochistan
QUETTA: (18 Apr 2019) At least 14 people were killed in an ambush on several buses travelling between Karachi and Gwadar in the remote Ormara area of Balochistan province. Media reports claim 9 Pakistan Navy men among those gunned down after being identified through IDs.
According to reports, the unidentified assailants intercepted the buses in Buzi Top area on the Coastal Highway around midnight and offloaded 16 of the three dozens people, after checking their identity cards. The attack took place as the bus was traveling on the Makran coastal highway between the port city of Karachi and the Gwadar port in the southwest, local official Jehangir Dashti told The Associated Press. Dashti said the passengers targeted in the attack were killed after the assailants checked their identity cards but he could not confirm if all the slain were Punjabis.
"They identified non-Baloch by checking their identity cards and employee cards," said Buledi. "They took them to the nearby mountains and shot them dead after tying their hands."
"Dozens of gunmen" were involved in the attack and fled the scene afterward, Dashti said. "In this tragic incident, 14 passengers were forced off the bus, they were lined up in a nearby open area and killed by the terrorists," he said. The Pakistani Navy said its sailors and officers who were travelling to work were also among the slain men. One was a member of the country's coast guard. Security forces from the nearby town of Buzi Top were dispatched and had reached the area, about 600 kilometers (375 miles) from the provincial capital, Quetta, he added.
BRAS TAKES CREDIT:
The Baloch Raaji Aajoi Sangar (BRAS), an alliance of armed ethnic Baloch separatist groups, claimed responsibility for the attack in an emailed statement released. The Baloch Raji Ajoi Sangar (BRAS), an alliance of three Balochi separatist organisations, including the Baloch Liberation Army, Balochistan Liberation Front and Baloch Republican Guard.
———————————————————————-
'Terrorists killed in Peshawar operation belonged to TTP'
PESHAWAR: (16 April) Five terrorists killed in an anti-terrorism operation in Peshawar's Hayatabad area belonged to the Tehreek-e-Taliban Pakistan (TTP), police sources said . The operation, which concluded after a 17-hour standoff with five terrorists killed and a policeman martyred, was conducted on an intelligence tip-off, police sources added. According to the sources, "The terrorists belonged to TTP and were involved in four major incidents, including attacks on a high court judge, an additional inspector-general of police and a FC vehicle."
"Imran Muhammad, a 20-year-old Afghan suicide bomber, was among those killed," they added. The police sources further said, "An explosive-laden motorcycle and suicide vests were found from the building where the terrorists had taken cover."
The suspects had taken cover in a residential building in Phase 7 of the Hayatabad locality, from where they attacked security forces. The building was demolished with explosives soon after the operation concluded.
———————————————————————-
No Pakistani soldier or citizen died in Balakot airstrike, Shushma Swaraj
Finally the truth under ground reality compulsions (ISPR)
Indian External Affairs Minister Sushma Swaraj has finally admitted that no Pakistani soldier or citizen was killed in the Indian airstrike in Balakot, contrary to previous Indian claims of up to 300 casualties. "We had told the international community that the armed forces were instructed not to harm any Pakistani citizen or its soldier during the strike," Indian media quoted Swaraj as saying . "Our Army did the same without harming any Pakistani citizen or soldier."
But the foreign minister's latest comments are in stark contrast to previous tall claims by Indian officials of destroying an alleged terrorist camp and killing up to 300 alleged terrorists in the February 26 airstrike on the Pakistani town, about 40 km (25 miles) from the Line of Control (LoC). Pakistan had rejected India's claims, saying the Pakistani Air Force's (PAF) timely response had forced Indian warplanes to return and only drop their "payload" on a largely empty hillside.
Finally the truth under ground reality compulsions. Hopefully, so will be about other false Indian claims ie surgical strike 2016, denial of shooting down of 2 IAF jets by PAF and claim about F16. Better late than never. (ISPR ) Maj. Gen. Ghafoor
———————————————————————-
US Rejected: Pak F-16 shot down during Feb 27 dogfight
The Indian Air Force asserted that it shot down an F-16 fighter jet of Pakistan during the February 27 dogfight, refuting a leading US news magazine report contradicting India's claim. Issuing a statement after the American magazine 'Foreign Policy' reported that a US count of the F-16s with Pakistan has found that none of these jets are missing, the IAF said, "during the aerial engagement, one MiG 21 Bison of the IAF shot down an F-16 in Nowshera sector."
IAF sources also said it has conclusive "circumstantial evidence" including wireless intercepts, signals and graphic captures from airborne warning and control system (AWACS) and electronic signatures to conclude that the F-16 jet was shot down during the aerial combat.
In its report, the US magazine said two senior US defense officials with direct knowledge of the situation told it that American personnel recently counted Islamabad's F-16s and found none of the planes missing. Pakistan has denied that it lost any F-16 jet during the aerial combat. Sources said electronic signals from the F-16 aircraft which was engaged by an Mig 21 Bison ended abruptly, confirming that it crashed after being hit. They said IAF's AWACS picked up signals of presence of an F-16 aircraft when Wing Commander Abhinandan Varthaman's MiG-21 Bison was engaging with the enemy jet. However, around eight seconds later, the F-16 went missing from the graphic screen of the AWACS, reflecting that the jet went down.
According to the magazine, Pakistan invited the US to physically count its F-16 planes after the incident as part of an end-user agreement signed when the foreign military sale was finalised. Some of the aircraft were not immediately available for inspection due to the conflict, so it took US personnel several weeks to account for all of the jets, one US official said.
———————————————————————-
Come see for yourself: Pakistan opens Balakot to international media
A group of international media journalists mostly India based and Ambassadors & Defence Attachés of various countries in Pakistan visited impact site of 26 February Indian air violation, near Jabba, Balakot.
A group of international media journalists mostly India based and Ambassadors & Defence Attachés of various countries in Pakistan visited impact site of 26 February Indian air violation, near Jabba, Balakot. DG ISPR briefed the group about details of the event negating repeated false Indian claims with ground realities. Visitors were shown bomb craters of denied Indian air strike attempt in barren open spaces with no loss to life or infrastructure. Group also visited nearby madrassa claimed by India for having been struck and killing scores of terrorists. Visitors freely interacted with student children and teachers and saw for themselves that madrassa stood on ground untouched with only innocent local children undergoing education. DG ISPR reiterated that India instead of pursuing false claims should accept the reality, stay a responsible state for peace in the region and especially to look inward to identify reasons for out of hand situation inside Indian Occupied Jammu & Kashmir.
Later, group visited APS Swat, a state of the art education facility with computer and science labs, Auditorium and sports stadium. This was established by Pakistan Army as a gift for resilient people of Swat in recognition of their contributions and sacrifices in defeating terrorism as terrorists had specially targeted educational institutions during the unrest.
Later the group also visited Sabaoon (morning light) de-radicalization Centre Malakand a rehabilitation facility for psychologically treating indoctrinated Juvenile and help them return to normal life and become useful citizens of society.
———————————————————————-
Pakistan Navy successfully tests indigenous missile in North Arabian sea
KARACHI(Tuesday Apr 23 2019) : In an impressive display of fire power, Pakistan Navy's Fast Attack Craft (Missile) carried out Live Weapon Firing in the North Arabian Sea, said an official statement. Vice Chief of the Naval Staff Vice Admiral Kaleem Shaukat witnessed the live firing onboard the Navy ship. The statement said that the indigenously developed cruise missile has anti-ship and land attack capability. The missile accurately hit its target on land, signifying the impressive capabilities of the indigenous missile system. "The successful Live Weapon Firing has once again demonstrated the credible fire power of Pakistan Navy and the impeccable level of indigenization in high-tech weaponry achieved by Pakistan's defense industry. This is a clear manifestation of the government's resolve to achieve self-reliance in this field," the press release said.
Speaking on this occasion, Vice Chief of the Naval Staff expressed his utmost satisfaction on the operational readiness of Pakistan Navy Fleet and commended the efforts of all those involved in achieving this significant milestone successfully. The naval vice chief emphasized the need to capitalize on indigenous defense capabilities. Vice Chief of the Naval Staff also reaffirmed the resolve of Pakistan Navy to ensure seaward defense and safeguard national maritime interests at all costs. He also appreciated the efforts made by the Navy engineers and researchers in making the project a success.
———————————————————————-
Book on fake Indian surgical strikes launched
'India's Surgical Strike Stratagem, Brinksmanship and Response' authored by Professor Dr. Zafar Nawaz Jaspal was launched at the School of Politics and International Relations (SPIR) Quaid-i-Azam University here on Tuesday. The panelists included Director General of the South Asian Strategic Stability Institute Dr. Maria Sultan and Air Commodore (R) Khalid Banuri and former head of the Arms Control and Disarmament Affairs at the Strategic Plans Division, while QAU Vice-Chancellor Professor Muhammad Ali was the chief guest on the occasion, where members of academia, dignitaries, and young scholars were in attendance.
Prof. Jaspal, an expert on global politics, nuclear proliferation, and national security, said he had conceived the book's idea after the first sham surgical strike of India in 2016. He said India's mantra of surgical strikes was very perilous since a surgical strike between two nuclear armed states was an unprecedented and rather a never occurred situation.
"This Indian mantra has catastrophic bearings for the region. I offer a fresh perspective (on the matter) that is not based on rhetoric but legal and international underpinnings," he said. The writer termed India's farcical surgical strikes phantom and said the current Modi government amidst domestic imperatives and growing turmoil on Kashmir was trying to distract the attention of the international community.
VC Prof Muhammad Ali praised the writer for coming up with an objective research account of an issue, which has been much propagated by Indian government and researchers alike. He complimented the book as a symbol of evolving strategic thought on the matters of regional security and ramification of the standoff between two nuclear arch-rivals. "India continues to plan the facade of fake strikes to divert the attention of the world community from Kashmir issue and atrocities being committed by its troops on innocent Kashmiris," he said.
Dr. Muhammad Ali also highlighted the importance of research and education for a vibrant and progressive society. He appreciated the SPIR for organising the book launch. Dr. Maria Sultan highlighted various facets of regional security and Indian hegemonic postures and Indian reliance on fake terrorists attack to divert the attention of the world away from Kashmir issue and also for vested political interests.
She appreciated the objective account by Prof Jaspal on the issue of alleged surgical strike. Khalid Banuri praised Prof Jaspal for his hard work and thoroughly researched account to off balance the Indian propaganda of so-called surgical strikes. SPIR Director Professor Nazir Hussain said Indian Army was notorious for orchestrating fake encounters and blaming Pakistan for conducting the phony attack.
He highlighted Indian hegemonic designs in the region and their ramification on regional security. He also shed light on the contributions of SPIR in the field of education and research.
———————————————————————-
Renowned Urdu writer and scholar Jamil Jalibi passes away
(Thursday 18 April 2019) Jalibi's literary works spread over numerous fields and span about 70 years, but his Tareekh-i-adab-i-Urdu, or the history of Urdu literature, in four volumes, is the kind of work that has eclipsed almost all other literary histories of Urdu and has made Jalibi a legendary figure in the history of Urdu literature.
His research on the earliest literary pieces of Urdu, especially the ones written in Deccan in the 15th and 16th century, has pushed back the history of Urdu literature by one-and-a-half century. His discovery of Urdu's first literary work, Masnavi Kudam Rao Padam Rao and some other classical works, such as Divan-i-Hasan Shauqi and Divan-i-Nusrati, have earned him the reputation as one of the most celebrated research scholars of Urdu. His other books include Janveristan (an Urdu translation of George Orwell's novel Animal Farm), Eliot Ke Mazameen (an Urdu translation of essays by T.S. Eliot), Pakistani Culture, Qadeem Urdu Ki Lughat, Arastu Se Eliot Tak, The Changing World of Islam, Tanqeed Aur Tajraba, Qaumi Angrezi Urdu Lughat, Adabi Tehqeeq and many others. He also edited Naya daur, a prestigious Urdu literary journal.
He was born in Aligarh on June 12, 1929, and came to Pakistan after partition in 1947. ( For his services he has been awarded Sitara-i-Imtiaz, Hilal-i-Imtiaz, Dawood Literary Award (four times), Baba-i-Urdu Award and Mohammad Tufail Award.)