Summarized News & Articles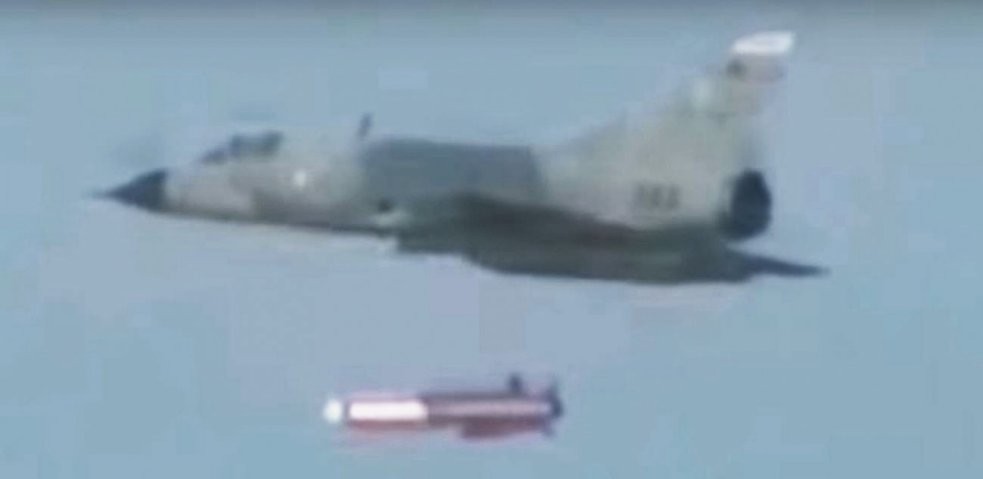 Pakistan Test Launches Ra'ad II Nuclear-Capable Air-Launched Cruise Missile
Pakistan test-launched a new variant of its Ra'ad II nuclear-capable air-launched cruise missile (ALCM) on Sunday, February 16, according to the Inter-Services Public Relations (ISPR), the media wing of the Pakistani military.
The new longer-range Ra'ad II "significantly enhances air delivered strategic standoff capability on land and at sea," ISPR said in a February 18 statement. "The weapon system is equipped with state of the art guidance and navigation systems ensuring engagement of targets with high precision."
A video of the launch released by ISPR shows the Ra'ad II being launched from a Pakistan Air Force (PAF) Mirage III fighter aircraft. ISPR referred to the new weapon system as "a major step towards complementing Pakistan's deterrence capability."
The Ra'ad II was first publicly revealed as a mock-up in 2017 during Pakistan's annual military parade in Islamabad.
The 4.85 meter-long Ra'ad-II had a stated range of 550-600 kilometers. It is capable of carrying both conventional and nuclear payloads.
The 350-kilometer variant of the Ra'ad cruise missile was first test-launched by the Pakistan Air Force in 2007. The development of the latest Ra'ad II variant may in part be influenced by India's air defense modernization efforts.
Pakistan's February 16 test launch comes after the U.S. Defense Security Cooperation Agency (DSCA) announced on 10 February that the U.S. Department of State had approved a potential $1.86 billion Foreign Military Sale (FMS) to India of an "Integrated Air Defense Weapon System (IADWS)."
**********************************************************************
Pakistan's continuous stay on FATF grey list a 'credit negative' for its banks
By Ali Ahmed on February 27, 2020
The announcement is credit negative for Pakistani banks because it raises questions about potential additional restrictions relating to banks' foreign-currency clearing service, says Moody. Banks' profitability risks being constrained as a result of increased compliance and operational costs, says Moody. Credit rating agency Moody, has termed Pakistan's continued presence on the Financial Action Task Force (FATF) grey list as 'credit negative' for the country banks.
"The announcement is credit negative for Pakistani banks because it raises questions about potential additional restrictions relating to banks' foreign-currency clearing services, as well as their foreign operations," said Moody's Credit Outlook.
"Banks' profitability risks being constrained as a result of increased compliance and operational costs," it said.
The intergovernmental body gave Pakistan until June 2020 to improve its anti-terrorism financing measures. "The FATF strongly urges Pakistan to swiftly complete its full action plan by June 2020," the global body said in a statement issued at the conclusion of plenary meeting in Paris.
Moody said that if Pakistan failed to implement the FATF Action Plan, international financial institutions could curtail their interactions with Pakistani banks and other financial companies, including terminating correspondent banking relationships.
"This in turn would further constrain banks' ability to generate business and result in higher compliance costs."
The agency highlighted that Pakistan's improving, 'but still-weak,' compliance with global anti-money-laundering and combating terrorist financing standards, both by Pakistani banks and the country's authorities, means that banks still risk losing access to foreign-currency clearing services, which is crucial for Pakistani banks because it allows them to process cross-border payments for clients.
"Clearing in US dollars is particularly important given Pakistan's high import and export economic activity, as well as the fact that a large proportion of international payments are made in this currency."
"That said, this risk has so far not crystallised in the jurisdictions that have been placed on the increased monitoring list," Moody added. (Courtesy Business Recorder)
**********************************************************************
Quetta bomb blast claims eight lives, injures 23
(18-2-2020) QUETTA: At least 10 people including two police officers were martyred and several others wounded in a suicide blast on Monday here, officials said. The suicide attack took place in Quetta, senior police official Abdul Razzaq Cheema said. The young suicide bomber was trying to enter a religious rally but police intercepted him at a security barrier.
"As police were searching him, he detonated his vest, resulting in the killing of eight people including two policemen, while injuring 23 others," Cheema said. The toll was confirmed by a local hospital spokesman Mohammad Waseem Baig. No group immediately claimed responsibility for the blast.
The attack came the same day UN Secretary-General Antonio Guterres — who is in Pakistan on a three-day visit — praised the nation's improved security situation.
Balochistan is key to the China-Pakistan Economic Corridor, part of Beijing's regional Belt and Road infrastructure initiative. The corridor seeks to connect China's western province of Xinjiang with Gwadar, giving Beijing access to the Arabian Sea.
(Source: The News International)
**********************************************************************
At least 19 dead, multiple injured as train collides with passenger bus near Rohri
ROHRI:( Friday 28 February 2020) A passenger train collided with a bus near Rohri, killing 19 people and injuring dozens on Friday, according to Commissioner Shafiq Mahesar. According to the Sukkur division commissioner, women and children had also died in the accident. The injured were shifted to Taluka Hospital Rohri and Civil Hospital Sukkur.
According to reports, the Pakistan Express train was on its way from Karachi to Rawalpindi when it hit a bus at a railway crossing.
Pakistan Railways says accident took place due to bus driver's negligence
Federal Minister for Railways Sheikh Rashid Ahmad expressed sorrow over the loss of lives in the accident. A spokesperson for the Pakistan Railways said that the accident seemed to have occurred due to the bus driver's negligence.
The spokesperson said that the accident occurred at an unmanned level crossing. He said that Pakistan Railways had previously written to provincial governments to man 2,470 unmanned level crossings.
"It is requested that drivers and pedestrians travel by the crossing very carefully," he said. The spokesperson confirmed that the federal government inspector of railways (FGIR) will hold an inquiry into the accident.
**********************************************************************
Security official confirms escape of Ehsanullah Ehsan
ISLAMABAD: A leading member of the banned Tehreek-e-Taliban Pakistan (TTP) has escaped custody more than two years after surrendering to authorities, a senior security official confirmed Sunday.The confirmation comes days after Ehsanullah Ehsan — the former spokesman for the TTP — released an audio message claiming he had escaped detention and was now in Turkey. A senior security source told AFP Ehsan was "one of our major assets in identifying and later tracking down militants".
The source was unable to confirm claims that Ehsan was in Turkey, or provide details of how he escaped. Ehsan was infamous for issuing chilling claims following TTP attacks and has been linked to some of the country´s most bloody attacks — including the bombing at a park in Lahore during Easter 2016, and the targeting of education activist and Nobel Peace Prize winner Malala Yousafzai.
Ehsan surrendered to authorities in 2017 and later gave high-profile interviews on Pakistani television, angering many in the country who believed he was being pampered by authorities after years of helping lead the bloody insurgency. Pakistani security officials argued, however, that he had supplied valuable intelligence in the fight against militants.
The news that former Tehreek-i-Taliban Pakistan (TTP) spokesman Ehsanullah Ehsan has escaped from the custody of Pakistan security agencies is true, Interior Minister Ijaz Shah confirmed on Monday 17 February 2020.
Responding to a question during an informal conversation with reporter s at the parliament in Islamabad, the minister said he had read reports of the former TTP leader having fled. When asked whether there was any truth to the reports, he replied: "The news is true, it's true." The minister added that the "state is aware" of his escape. He did not provide any details.
(Source: The News International)
**********************************************************************
Former Karachi mayor Naimatullah Khan passes away
Former Karachi Nazim and senior Jamaat-e-Islami leader and former Nazim of Karachi Naimatullah Khan passed away on Tuesday 25 February, after protracted illness in Karachi.
On August 28, 1947 Khan's family migrated from Shahjahan Pur to Karachi. After migrating to Pakistan Khan did his graduation from the Punjab University in Lahore and got his law degree from the University of Karachi.
"He was responsible for rebuilding and renovating Karachi.
"When Naimatullah became Karachi's mayor, he worked on uplifting of the city and gave a master plan for its development.
"Besides this, Naimatullah also initiated welfare and philanthropist activities in drought hit areas of Thar. He also established a hospital in the area," Siddiqui said, while adding that he also initiated public interest litigation "against encroachment of Karachi's parks and other prominent areas facing China-cutting."
He remained Nazim from 2001 to 2005. It was a highly challenging assignment for Khan due to the ambiguity in the newly introduced LG system, which both the traditional politicians and the bureaucrats were reluctant to accept. He is credited with initiating multiple development projects in the metropolis.
He was a lawyer by profession and also chaired the Alkhidmat Foundation. He graduated from Punjab University with a Masters in Journalism and law degree from Karachi University.
In the final years of his life, he had formed a think tank named Fikar Milli Trust. JI stalwart Prof Khursheed Ahmed, former KU vice chancellor Dr Jamil Jalibi, former Higher Education Commission chairman Dr Pareshan Khattak, former Punjab University VC Dr Muhammad Rafiq, former Balochistan governor Lt Gen (retd) Abdul Qadir Baloch and economist Dr Shahid Hasan Siddiqui were part of the think tank.
***********************************************
Famous Pashto singer, Mahjabeen Qazalbash passes away after protracted illness
PESHAWAR: Famous Pashto singer, Mahjabeen Qazalbash passes away after protracted illness in Lady Reading Hospital (LRH) here Wednesday 25 February. She was cardiac patient and was admitted in Intensive Care Unit of LRH two months back due to complications. Mahjabeen who was born in Peshawar sang hundreds of thousands famous Pashto songs during her 43 years long career.
Mahjabeen Qazalbash being a recipient of numerous awards, including President's Pride of Performance, remained quite active and would never miss out on cultural events except for a period during 80s when her husband, Amanullah Orakzai aka Aimal Khan, died and she devoted much of her time to upbringing and education of her own children.
Ms. Qazalbash had earned the title of Bulbul-i-Sarhad for her melodious voice. She enjoyed a large fan following owing to her velvety voice and talent as she sang tracks in Urdu, Punjabi, Seraiki, Hindko, Persian and Turkish in addition to Pashto. She also worked in Pashto plays but focused on her singing art.