SUMMARIZED NEWS & ARTICLES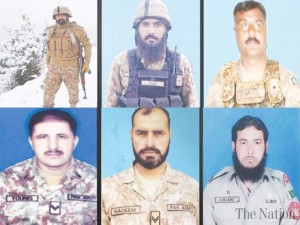 13 security personnel, 7 private guards martyred in two attacks in Ormara, North Waziristan
The attack on Thursday 15 Oct. 2020, was claimed by the Balochistan Liberation Front, a secessionist insurgent group that has operated in the region for decades.
According to two intelligence officials, seven employees of Pakistan's Oil and Gas Development Company were killed, along with eight members of Pakistan's Frontier Corps who were protecting the convoy. The attack took place in Ormara, not far from Gwadar Port, being developed by China, on the Arabian Sea. The port is a key component of Beijing's multi-billion dollar road-and-belt project linking Beijing to Central and South Asia.
In the first incident, Seven soldiers of Frontier Corps (FC) Balochistan and seven security guards were martyred in an 'encounter' with a "large number of terrorists" while escorting a convoy of state-run Oil & Gas Development Company Ltd (OGDCL) on the Makran Coastal Highway in Ormara, an Inter-Services Public Relations (ISPR) statement said. The convoy was on its way to Karachi from Gwadar when it came under attack.
According to the ISPR, security forces have cordoned off the entire area and a search was underway for the militants nvolved in the attack. No group has claimed responsibility for the attack.
IED attack in NW
In the second incident, six Pakistan Army personnel were martyred in a "terrorist" bomb attack near Razmak area of North Waziristan, the military's media wing said earlier in the day.
It said a convoy of security forces was attacked through an improvised explosive device (IED), resulting in the martyrdom of one officer and five soldiers.
'Encounters' between security forces and militants have frequently been taking place in North Waziristan. Security forces have killed several suspected hardcore terrorists in recent clashes.(Source: Dawn News)
******************************************************************************
Blast at Jamia Zuberia madressah in Peshawar's Dir Colony At least eight people were killed and more than 110 injured
(Tue. 27 Oct. 2020) Senior Superintendent of Police (Operations) Mansoor Aman confirmed the explosion, saying that initial reports suggest an improvised explosive device (IED) was used in the explosion. "Five kgs of explosives were used in the blast."
No group has claimed responsibility for the attack.
The LRH spokesperson said that seven dead bodies and 70 injured have been brought to the facility. He later said that another of the injured succumbed to his injuries, raising the death toll to eight. The United Nations Office in Pakistan said it was "appalled" by the attack. "We stand together in shock and grief after the heinous attack today on Jamia Zuberia madressah, Peshawar, where children take classes. We are appalled by this attack on children while they were in a place of prayer and learning," it said.
The blast occurred at the Speen Jamaat mosque, which also serves as a religious school for the local community in the city's Dir Colony area, at 8:30am local time (3:30 GMT) on Tuesday, a police official told Al Jazeera shortly after the blast.
"[Students] were reading the Quran here, that is when the explosion occurred," Peshawar police chief Muhammad Ali Khan told reporters near the scene.
******************************************************************************
Pakistan to remain on global terror financing 'grey' list
(23 Oct 2020) Pakistan will remain on a terrorism financing watch list until it completely implements a set of preventive guidelines, a global watchdog said, urging Islamabad to improve financial controls. The Financial Action Task Force (FATF), an inter-governmental body, praised Pakistan for progress on 21 of 27 recommendations but said the rest must also be implemented.
"The government of Pakistan has signaled its commitment to complete the rest of its action plan. But it is clear even though Pakistan has made progress, it needs to do more," FATF President Dr Marcus Pleyer said at the conclusion of a virtual meeting in Paris to discuss global financial systems including terror financing. "Pakistan cannot stop now. It needs to continue to carry out reforms, in particular to implement targeted financial sanctions and prosecute and sanction those financing terrorism."
The Asia Pacific Group, a regional affiliate of the watchdog, had recommended keeping Pakistan on the grey list because there were still risks of terrorism financing going undetected.
FATF – Important take Aways
Pakistan already knew about continuation of being on grey list
India, Afghanistan, Thailand voted against Pakistan.
China, Turkey, Malaysia, Australia supported Pakistan.
US satisfied wid Pak evaluation
UAE, KSA, Bangladesh abstained
We progressed from 5/27 to 21/27
Now, work on remaining 6 points and ensure compliance within 3 months so that Pakistan gets White-listed in Feb 2021(If our ebonies allow)
Also, at the same time, Pakistan should work to get India grey/black listed.
Pakistan should see that FATF takes action against India as:
India has 44 banks involved in money laundering including State Bank of India.
State sponsoring terrorism inside Pak (in Balochistan via agents like Kulbhushan Yadev, in KPK & Waziristan through terrorists infiltrated via Afghanistan)
India has training camps in Kerala and Karnataka who infiltrate into Pakistan and cause destabilization.
Atrocities against Kashmiris, Nagas, Mizos, Sikhs and terrorism against various separatist movements in India.
(SOURCE : NEWS AGENCIES)
******************************************************************************
KEEL LAYING OF MILGEM CLASS CORVETTE FOR PAKISTAN NAVY HELD AT KARACHI Karachi,
(25 Oct 20:) The keel laying ceremony of 2nd MILGEM Class Corvette for Pakistan Navy held at Karachi Shipyard and Engineering Works (KS&EW). Minister of National Defence of the Republic of Turkey, H.E Mr. Hulusi Akar, graced the occasion as Chief Guest. The ceremony was attended by Minister for Defence Production, Ms Zubaida Jalal and Chief of the Naval Staff, Admiral Muhammad Amjad Khan Niazi.
While addressing the ceremony, the honorable Chief Guest termed Keel laying of PN MILGEM Corvette as a historic event for Ministry of Defence Production, Pakistan Navy, KS&EW and M/s ASFAT of Turkey. He appreciated the commitment and dedication of M/s ASFAT (Turkish state owned Defence Firm) and KS&EW for construction of technologically advanced Corvette.
The Chief Guest underscored that Turkey appreciates and supports Pakistan's principle stance over Azerbaijan right of self-defence and Kashmir issue. Speaking on the occasion, Minister for Defence Production Ms.  Zubaida Jalal also appreciated the performance of Karachi Shipyard and underlined that indigenization is forefront of our policy. She underscored that it is convincing to see state of the art warship is being built in Pakistan.
The MILGEM Class Corvettes will be one of the most technologically advanced stealth surface platforms of Pakistan Navy Fleet. The vessel is equipped with state of the art weapons & modern sensors including surface to surface, surface to air missiles, anti submarine weapons and Command & Control system. Induction of these ship in Pakistan Navy would significantly add to the lethality of Pakistan Navy's capabilities and contribute in maintaining peace, security and balance of power in Indian Ocean Region.
The ceremony was attended by representatives of M/s ASFAT Turkey, Istanbul Naval Shipyard and officials from Government of Pakistan, Pakistan Navy and KS&EW.      (Director General Public Relations  Navy)
******************************************************************************
Pakistan: State-owned Radio Pakistan sacks 749 media workers
State-owned Radio Pakistan announced on October 20 the sacking of 749 contractual employees effective immediately. The International Federation of Journalists (IFJ) and its affiliate the Pakistan Federal Union of Journalists (PFUJ) condemn the outrageous mass lay-off and urge intervention by Pakistan's government to reverse the decision.
A memorandum issued by Pakistan Broadcasting Corporation (PBC) on October 20 terminated the service of 177 news staff, 531 program staff and 41 from NCAC radio station, and other web desk staff citing a 'budget deficit and no need of contractual human resource' as its defence. PBC management argue the organization faces a budget deficit of PKR. 942.887 million (approx USD 5.8million) during the 2020-21 fiscal year, which doesn't allow it to retain all contractual staff under present terms and condition. It follows a notice sent in July from PBC's director of programmes, Khalida Nuzhat, to all station heads instructing them to send names and details of all contract employees. The letter warned of strict disciplinary action if station heads failed to comply with the instruction.
The IFJ said:"This mass sacking from the national broadcaster is a disgrace in this time of pandemic and makes a mockery of Prime Minister Imran Khan's promise to create 10 million jobs in the country at this time. The IFJ strongly condemns the economic harassment of Radio Pakistan contractors and demands their immediate reinstatement and for the broadcaster to begin discussion with journalist unions."(Source: International Federation of Journalist 'IFJ')