SUMMARIZED NEWS & ARTICLES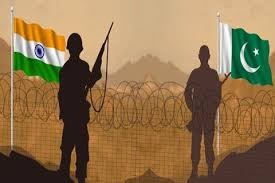 Pakistan, India Agree to Immediate Ceasefire, Restoring 2003 Truce South & Central Asia |  February 25, 2021
ISLAMABAD – Pakistan and India have agreed to immediately cease military hostilities in disputed Kashmir by restoring a 2003 truce to deescalate tensions between the nuclear-armed South Asian rivals.
The two nations said in a joint statement, their top military commanders spoke "over the established mechanism of hotline contact" and reviewed in a "free, frank and cordial atmosphere" the situation along the Line of Control that splits Kashmir between India and Pakistan.
"Both sides agreed for strict observance of all agreements, understandings and cease firing along the LOC and all other sectors, with effect from midnight 24/25 February 2021," according to the text of the statement issued by the Pakistan army.
India and Pakistan's militaries have agreed to stop firing along their disputed and de facto border in Kashmir, where such gunfire has been frequent in recent months, often killing or maiming people living in the area.
"In the interest of achieving mutually beneficial and sustainable peace along the borders, the two DGsMO agreed to address each other's core issues and concerns which have propensity to disturb peace and lead to violence," a rare joint statement said on Thursday, referring to the military operations heads of the two countries.
The nuclear-armed neighbours signed a ceasefire agreement along the Line of Control (LoC) – the de facto border in the Kashmir region – in 2003, but the truce has been fraying in recent years.
If implemented, the move would be a major step in defusing tensions in the highly militarised Himalayan region, which is divided between India and Pakistan and claimed by both in its entirety, and opens the possibility of a broader detente between the two nuclear-armed rivals.
Artillery, rockets and small arms fire have been regularly exchanged between troops on opposite sides of the border, killing hundreds since the original cease-fire was signed. Civilians are caught in the crossfire whenever violence erupts, with dozens killed every year.
It went on to say that in "the interest of achieving mutually beneficial and sustainable" peace, the two sides "agreed to address each other's core issues/concerns, which have propensity to disturb peace and lead to violence." It did not elaborate further.
The Indian and Pakistani military commanders in their conversation reiterated the need to utilize existing bilateral arrangements, including meetings between their border security officials, to resolve "any unforeseen situation or misunderstanding."
Communication between the two militaries through their so-called hotline contact came after months because of worsening relations between Pakistan and India.
"It's a good development and should have happened a long time ago," said Amit Baruah, Delhi resident editor at The Hindu newspaper.
"India and Pakistan may not see eye-to-eye, but contact is always good for the sake of the people living on either side of the Line of Control," Baruah told VOA.
US hails decision : The United States welcomed the decision and urged both sides to "keep building upon this progress."
"This is a positive step towards greater peace and stability in South Asia, which is in our shared interest and we encourage both countries to keep building upon this progress," White House press secretary Jen Psaki said at a news briefing.
*******************************************************************
Pakistan to stay on FATF 'grey list' despite 'significant progress'
By  Anas Mallick | February 25, 2021
Financial Action Task Force (FATF) has decided to keep Pakistan in the grey list till June 2021. Pakistan has implemented 24 out of the 27 points of the action plan.
"Pakistan has made progress across all action plan items and has largely addressed 24 of the 27 action items. As all action plan deadlines have expired, the FATF strongly urges Pakistan to swiftly complete its full action plan before June 2021," stated the FATF press release.
In its statement, the Ministry of Finance said it "reaffirms its commitment to continue strengthening the Anti Money Laundering (AML) and Combating the Financing of Terrorism (CFT) regime in line with the global standards."
The full script of the FATF's statement is provided below:
"Since June 2018, when Pakistan made a high-level political commitment to work with the FATF and APG to strengthen its AML/CFT regime and to address its strategic counter-terrorist financing-related deficiencies, Pakistan's continued political commitment has led to significant progress across a comprehensive CFT action plan, including by: demonstrating that law enforcement agencies are identifying and investigating the widest range of TF activity, demonstrating enforcement against TFS violations, and working to prevent the raising and moving of funds including by controlling facilities and services owned or controlled by designated persons and entities.
Pakistan should continue to work on implementing the three remaining items in its action plan to address its strategically important deficiencies, namely by: (1) demonstrating that TF investigations and prosecutions target persons and entities acting on behalf or at the direction of the designated persons or entities; (2) demonstrating that TF prosecutions result in effective, proportionate and dissuasive sanctions; and (3) demonstrating effective implementation of targeted financial sanctions against all 1267 and 1373 designated terrorists, specifically those acting for or on their behalf.
***********************************************************
Multinational Maritime Exercise AMAN-21
(Karachi, 14 Feb 2021)
Pakistan Navy Multinational Maritime Exercise AMAN-21 culminated in the North Arabian Sea with a graceful conduct of International Fleet Review (IFR) followed by spectacular forming up of AMAN Formation comprising Pakistan Navy and foreign warships. President Islamic Republic of Pakistan, Dr. Arif Alvi graced the occasion as Chief Guest.
Upon arrival on board Pakistan Navy Ship MOAWIN, the Honorable President was received by Chief of the Naval Staff Admiral Muhammad Amjad Khan Niazi. Federal Minister for Maritime Affairs, Federal Minister of Defence Production, Chief Minister Sindh, Chairman Joint Chiefs of Staff Committee, Chief of Army Staff and Chief of Air Staff were also present on the occasion. In addition, ambassadors, high commissioners, senior military officers, Defence & Naval Attaches from various countries also witnessed the event.
The Chief Guest observed various operational maneuvers and drills during the IFR. The Fleet Review also featured an impressive Fly Past by Pakistan Navy, Pakistan Air Force and participating foreign aircraft followed by Man and Cheership by participating ships. The Exercise culminated with the participating ships forming up in traditional `AMAN Formation' to signify unity and collective resolve. The President congratulated Pakistan Navy for successfully hosting AMAN-21 and reaffirming Pakistan's resolve for promoting peace and security in the region. The Chief Guest thanked the participating regional and extra-regional navies for displaying their commitment to collaborative maritime security despite COVID-19 pandemic. The President emphasized that AMAN-21 will pave the way to make the region more peaceful and secure with combined efforts by all stakeholders.
The Chief of the Naval Staff thanked the honorable President for gracing the International Fleet Review with his presence. The Naval Chief assured that Pakistan Navy will continue to play active role in enhancing regional maritime security individually and in collaboration with partner navies.
During Multinational Maritime Exercise AMAN 2021, up to 45 countries participated in the exercise with their Naval warships, aircraft, Special Operation Forces and a large number of observers. Director General Public Relations (Navy)
**************************************************************
Senate election:  PPP's Yousaf Raza Gillani defeats PTI's Hafeez Sheikh in major upset in Senate elections
(3 March 2021)
According to unofficial result,  Gilani bags 169 votes while Shaikh receives 164 ballots; seven votes rejected
In a major upset in the Senate election, Yousaf Raza Gilani, the joint candidate of opposition parties, has been elected senator from Islamabad, by defeating Abdul Hafeez Shaikh of the ruling party, according to unofficial results.
Yousaf Raza Gilani, a former prime minister who belongs to the PPP, enjoyed the support of the Pakistan Democratic Movement (PDM), an alliance cobbled together by a dozen opposition parties against the embattled government of Prime Minister Imran Khan.
The Gilani-Shaikh duel carried a huge symbolic value as the PDM had said in the run-up to the Senate elections that Gilani's victory would mean a vote of no-confidence against the prime minister, Imran Khan.
According to an unofficial tally, out of the total 341 votes, 340 were polled. Yousaf Gilani bagged 169 votes, while his rival Hafeez Shaikh received 164 votes. Seven votes were rejected.
'This is the victory of democracy'
Shortly after the announcement of his victory in the Senate election, Yousaf Raza Gilani held a press conference and said that he is thankful to the PPP chief Bilawal Bhutto Zardari as well as the PDM leadership, including PML-N's Nawaz Sharif, Shahbaz Sharif, Maulana Fazlur Rehman, Akhtar Mengal, Maryam Nawaz, and ANP leadership, among others.
'Huge upset for PM Imran Khan'
Analysing the latest development, Geo anchorperson Shahzeb Khanzada said that Gilani's win would be a "huge upset for Prime Minister Imran Khan" as he had personally campaigned for Shaikh.
Khanzada added that Gillani's victory could make the prime minister "even more upset with Shehryar Afridi, who wasted his vote when he signed the ballot papers," the report said.