SUMMARIZED NEWS & ARTICLES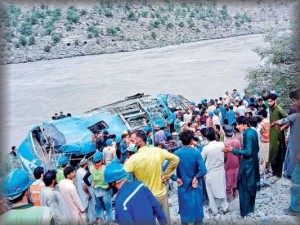 9 Chinese engineers among 13 killed in terrorist attack on bus in northwest Pakistan
BY : Tom Hussain | South China Morning Post | Wed. 14 July 2021
Thirteen people  including nine Chinese nationals, two personnel of the Frontier Constabulary and two locals  were killed and 28 others sustained injuries when a coach carrying them to an under-construction tunnel site of the 4,300-megawatt Dasu hydropower project fell into a ravine in the Upper Kohistan area after an explosion.
The bus was carrying around 40 Chinese engineers, surveyors and mechanical staff to the Dasu dam site in Khyber Pakhtunkhwa province, which is under construction.
A suicide bomber driving a vehicle packed with explosives was responsible for attack in northern Pakistan  that caused the deaths of nine Chinese dam workers.
Pakistani officials had earlier described the incident as being caused by a gas leak or a vehicle failure  with at least one Chinese expert expressing the latter view to Beijing-backed tabloid Global Times  although the country's information minister in a tweet said "confirmed traces of explosives" had been found.
In Husain's column, published on Friday, he wrote that two buses carrying Chinese engineers, surveyors and technicians to the construction site at the Dasu hydropower project were intercepted by the suicide bomber as soon as they left their residential ca mp at the nearby town of Barseen.
"As this convoy came onto the road that was open to traffic, another car manoeuvred itself between the convoy. This vehicle was laden with explosives," Husain wrote.
"The driver then rammed the car into the first bus and there was an explosion. However, the detonator malfunctioned and the explosives did not go off with full force. The driver of the second bus, on seeing the bus in front of him hit, tried to swerve but lost control and the bus plunged into the ravine, killing most people on board."
The joint investigation was announced after Chinese Foreign Minister Wang Yi condemned the blast and urged the Pakistani authorities to get to the bottom of the incident.
***********************************************************************
Former president Mamnoon Hussain passes away in Karachi at 80
Wed. 14 July, 2021| Former president of Pakistan and PML-N loyalist Mamnoon Hussain passed away in Karachi on Wednesday  14 July, after a prolonged illness. He was 80. Mamnoon Hussain served as the 12th President of Pakistan between September 2013 and September 2018. He was diagnosed with cancer in February last year and was under treatment at a private hospital in the city for some days where he breathed his last.
Former president and Pakistan Muslim League-Nawaz (PM-N) leader Mamnoon Hussain, was laid to rest on Thursday 15 July.
To attend the last rites of the Hussain, former prime minister Shahid Khaqan Abbasi, PML-N central leader Ahsan Iqbal and former Sindh governor Muhammad Zubair.
***********************************************************************
Bodies of Climber Muhammad Ali Sadpara, Snorri and Mohr found on K2
( July 2, 2021) The bodies of climbers Muhammad Ali Sadpara, Iceland's John Snorri and Chile's Juan Pablo Mohr were found on K2 on Monday 25 July, over five months after they went missing, Alpine Club of Pakistan Secretary Karrar Haideri said in a statement.
He said that it was "very difficult" to bring the bodies down from the mountain because of the high altitude, adding that the Army Aviation was helping in this regard.
Haideri said Snorri's body would be shifted to Iceland at the request of his wife, Lina. Mohr's sister and mother had also decided previously that his body would be brought back to Chile, the ACP secretary said.
Talking to Dawn.com, Mushtaq Mett, the base camp manager of Mashabrum Expeditions, Treks and Tours Pakistan and the Madison Mountaineering K2 Expedition 2021, said that around 11am today, the METT Nepalese Sherpa rope-fixing team found the first body 400 metres above Camp 4 which was Mohr's.
"The team found the second body when they were 300m away from the Bottleneck. They were able to identify it as Sadpara's. Another 100m away, they found Snorri's body."
He further said that Ali Sadpara's son, Sajid Sadpara, is currently at Camp 4 and will be guided by the rope-fixing team to his father's body tomorrow morning.
Sajid had earlier launched an expedition to retrieve the bodies of the three climbers. He was accompanied by Canadian filmmaker Elia Saikaly and Pasang Kaji Sherpa.
Ali Sadpara had gone missing along with his two climbing partners — Snorri and Mohr — while attempting to climb K2, the world's second-highest peak at 8,611 metres.
They were last seen on Feb 5 near the bottleneck on K2 as they attempted to reach the summit of the Savage Mountain. Sajid Sadpara, who was accompanying the three, had to abandon his summit bid after his oxygen regulator malfunctioned and he returned to camp 3.
(Source: Dawn News)