US offered $5bn to refrain from carrying out nuclear tests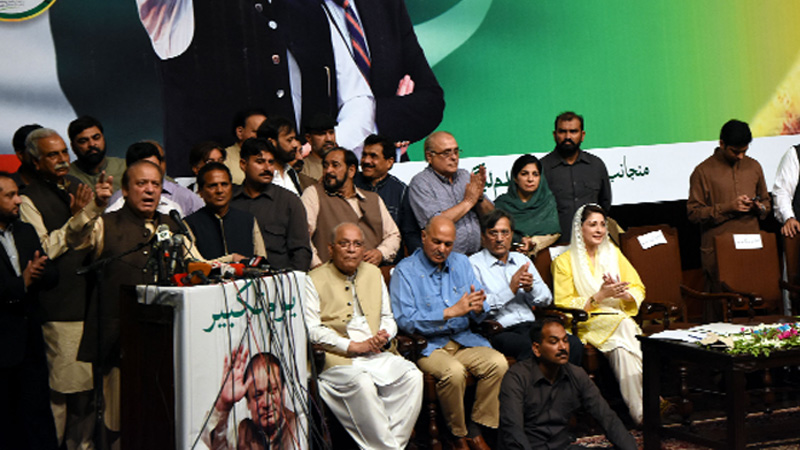 Former prime minister Nawaz Sharif Monday alleged that former US president Bill Clinton offered him $5 billion to refrain from carrying out nuclear tests in 1998. "British leaders and other international leaders also asked me not to proceed with the tests," claimed the former premier while addressing a ceremony held to commemorate 20th anniversary of nuclear tests of Pakistan.
"I would have accepted the money had I been a corrupt man," said Nawaz. The ousted prime minister went on to say: "Pakistan is an atomic power and no one can treat it with bad intentions." Referring to the Panama case investigation, the former prime minister said that he appeared before the court for the 75th time on Monday in relation to the case.
Separately, speaking to journalists outside the accountability court, the Pakistan Muslim League-Nawaz (PML-N) supremo remarked that the nation "neither accepts the plane hijacking case nor the current cases against him". He termed the plane hijacking case and National Accountability Bureau's references against him a 'joke'.
The thrice-elected premier had time and again remarked that he was implicated in a "false and fabricated case of plane hijacking" and confined to Attock jail in 1999. He added that his statements and stance would prove to be victorious. "Victory is the future of my statements. There is no other option than victory."
Reiterating his earlier claims, he said that Pakistan Muslim League-Nawaz was the only party, which worked for the people. "The performance of all others parties is next to nothing." "Please Imran Khan, tell us, which project have you completed? If there is any project on social sector and electricity then please tell us."
He continued: "We eliminated terrorism from country, built motor ways and made China-Pakistan Economic Corridor (CPEC) a reality. He said that the ruling PML-N government took efforts to restore peace in Karachi and curbed incidents of crime. "But we were not allowed to perform and could work till 2016."
Earlier in the day, chaos ensued at party's Youm-e-Takbeer event when a PML-N supporter was manhandled by PML-N's security team after he broke the security cordon to shake hand with Nawaz.
In a video clipping, the man can be seen moving towards Nawaz and extending his hand. The security personnel encircled the man and beat him up despite Maryam Nawaz and the PML-N supremo being visibly distraught at the reaction of the security officers.
Nawaz and senior party leader Saad Rafique later embraced the man. Maryam also denounced the behaviour of the security officers, stating: "Supporters have a special relationship with their leader."
May 28, dubbed as Youm-e-Takbeer, is celebrated every year to commemorate the historic day when the country conducted the nuclear tests in 1998 as a response, in self-defence, to the nuclear tests and accompanying hostile posturing by its neighbour India.
Courtesy Daily Times.
Note: This money was for country not for you. Mr. N S