Summarized News & Articles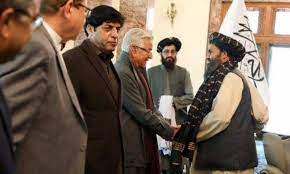 Visit of a High-Level Pakistan Delegation to Afghanistan
(22 February 2023) The delegation includes Inter-Services Intelligence Director General Lt Gen Nadeem Anjum and Pakistan's special envoy on Afghanistan Ambassador Muhammad Sadiq.
The delegation met senior leadership of the Interim Afghan government including Deputy Prime Minister Mullah Abdul Ghani Beradar Akhund, Defence Minister Mawlavi Mohammad Yaqoob Mujahid, Interior Minister Sirajuddin Haqqani and Foreign Minister Amir Khan Muttaqi.
Matters relating to the growing threat of terrorism in the region, particularly by TTP and ISKP came under discussion. The two sides agreed to collaborate to effectively address the threat of terrorism posed by various entities and organizations.
Both sides agreed to strengthen bilateral cooperation in various fields to further enhance the fraternal relations between the two countries.  The visit comes against the backdrop of a recent surge in Tehreek-e-Taliban Pakistan (TTP) sponsored terrorist attacks in Pakistan. Sources say Islamabad will persuade the Afghan interim government to live up to its commitment of not allowing Afghan soil to be used by the TTP and its affiliates. (Courtesy: Ministry Of foreign Affairs)
 ———–
The Visit and address Mr. Michael Kugelman CISSS
 The Center for International Strategic Studies Sindh (CISSS)
Amb. Qazi M. Khalilullah Presenting Souvenir To Mr. Michael Kugelman
On 20th February 2023, Director Wilson Center's South Asia Institute Michael Kugelman spoke at CISSS on Geopolitical Trends in South Asia.  HE focused on the impact of sharpening and rising geopolitical tensions among big powers on South Asia. In the context of the US efforts to counter China & China-India border tensions, Kugelman explained the rationale for growing defence partnership between Washington & New Delhi, inclusion of India in QUAD & Indo-Pacific Strategy. Kugelman agreed that India was incapable of playing the role of Net Security Provider in thhe region assigned to it by the US, considering that both Pakistan and China were nuclear-weapon states.Kugelman underlined that despite some hot borders in the region including India's tensions with China, LoC had remained calm since early 2021, due to ceasefire observed by Pakistan & India. He agreed that India lacked the ability to face a two-front situation. In response to questions about the Western silence on human rights abuses by India against its minorities and the people of occupied Kashmir, Kugelman observed that foreign policy decisions in key global capitals were made on the basis of realpolitik. Kugelman informed that for researchers from Pakistan, Wilson Center is offering fellowships for thought leaders under its Pakistan Initiative to work on Pakistan-US relations. He expressed interest in collaborating with CISSS through joint research projects.
———————————————-
8th Edition of Multinational Maritime Exercise Aman-23 Concludes
(10-14 February 2023)
KARACHI: While praising Pakistan Navy for successfully hosting Exercise AMAN-23 for promoting peace and security in the region, Prime Minister Shehbaz Sharif  emphasized that AMAN-23 would pave the way to make  the region more peaceful and secure with combined efforts by all stakeholders. He thanked the participating regional and extra-regional navies for displaying their commitment to collaborative maritime security and joining hands for peaceful co-existence. Of the 53 participating Navies, China, US, Italy, Japan, Indonesia, Malaysia and Sri Lanka, had deployed their frigates and helicopters. Besides five explosive ordnance teams, five teams of special operations groups and five marine teams. As many as 60 military observers and defence attaches from various countries also attended the mega event. Prime Minister Shehbaz Sharif arrived by a PN helicopter on board PNS Moawin in the northern Arabian Sea to witness the naval prowess. Prime Minister Shehbaz Sharif was joined on the PNS Moawin by the Chairman of the Joint Chiefs of Staff Committee Gen Sahir Shamshad, COAS General Asim Munir, Chief of the Air Staff Air Chief Marshal Zaheer Ahmad Baber, besides the Chief of Naval Staff Admiral Muhammad Amjad Khan Niazi and Federal Minister Rana Tanvir. On the occasion, Naval Chief Admiral Amjad Khan Niazi assured that Pakistan Navy will continue to play a dynamic role in enhancing regional maritime security individually and in collaboration with partner navies.