China and Russia have to protect Pakistan's interest if it participate the SCO Summit in India?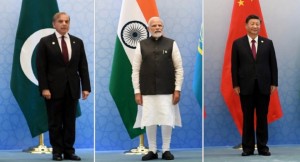 INTERACTION DESK
The world is in the process of change and the times are especially critical now. There is hardly any doubt that the world is in the duration of a huge transformation. At the heart of Eurasia, the SCO indicates the emergence of a parallel regional order that has the potential to transform many global norms in the future. Pakistan has to consider strategize its vision of engagement with SCO countries and maximize its interests in this influential Eurasian platform.
Many arch-rivals in the past and today as well have given a chance to peace by engaging in economic diplomacy. If someone ponders it is a reality that even India and China do not block their bilateral channels of communication when it comes to economy. Nonetheless, interaction of Pakistan and India at the platform of SCO is fruitful for both.
It was well thought in Pakistan that SCO could be a good plate form that will provide a good chance for bilateral talks and negotiation or developing neighborly relation with India and peace shall prevail in subcontinent but it was India which hinders all the windows of good relation on 5th August 2019 when it abolished the status of Kashmir and merged in to India. All Pakistani efforts to convince India reverse back the status of disputed land of Kashmir.
Now as the SCO summit has been fixed in Goa India, on February 14, India Today published a speech by the late prime minister of Pakistan, Benazir Bhutto, in which she appreciated how trade not conflict is vital to the region's growth. At this point of time, it is just possible that Pakistan needs to craft its narratives very smartly and strategize its vision of engagement at SCO for maximizing its interests.
If Pakistan accepts this invitation, giving to Foreign Minister of Pakistan Bilwal Bhutto Zardari.  It would be the first time in 12 years that a Pakistani delegation will land India. It has been said that if Pakistan, attend this Summit which will offer Pakistan opportunities. Otherwise, India will continue to portray Pakistan negatively, this invitation is an opportunity for Islamabad to at least control the optics and to test the waters for larger gains.
The SCO has arranged a good setting for Pakistan as has been said: the agenda is naturally dictated by China and Russia, and any unilateral attempts by India to paint Pakistan with the letter terrorism may become pointless. One can understand that global priorities have long been shifted to other global issues like great power competition between the United States and China, the international financial crunch, the environment and sustainable development, and far-right politics.
For now, these issues are outweighing the concern about terrorism in the global arena. Pakistan should keep its sensitiveness in check. Pakistan's National Security Policy (NSP) envisions peace internally and with its neighbors through economic relations and regional integration. One aspect of attending the SCO summit that it will fall in line with Pakistan's NSP, and perhaps in the larger picture of events, become a step toward loosening the gridlock that plagues the South Asian Association of Regional Cooperation (SAARC), which has not held a summit since 2014 due to India arrogance and its will of undermining Pakistan or trying to keep supremacy over Pakistan which is very sensitive on this point.
It is also a fact that the SCO is led by two Eurasian heavyweights, Russia and China, both crucial to the foreign policy of Pakistan. Therefore, Pakistani decision makers may have to put hawkishness to one side and plan a strong diplomatic case to present at the SCO, without the expectation of a thaw from the other side. Pakistan's current coalition government is facing off against the Pakistan Tehreek-e-Insaf under former Prime Minister Imran Khan, who has previously been seen at SCO summits in proximity with the Russian and Chinese presidents. If Pakistan's presence this year does not match the glitzy optics of previous summits, the coalition government could face much negative impact at home.
Whether or not Pakistan accepts this invitation will offer some indication as to the direction chosen by the new establishment. It is also imperative to understand that the country is run by a coalition government, meaning it speaks with different voices on multiple subjects.
Perhaps in this case, Prime Minister Shahbaz Sharif and the Pakistan Muslim League-Nawaz may want to take a backseat, and the Pakistan People's Party led by Foreign Minister Bhutto would want to take the lead on bold diplomatic gestures, and possibly grab the attention of the establishment. Anyhow, it is difficult to decide for any government but if China and Russia assures Pakistan that Pakistan's point of view and interest shall be protected, it is worth participation in the summit.