Energy crisis: A major contributor to many other calamities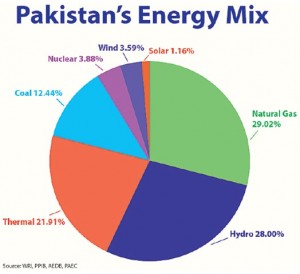 SYED SAMIULLAH
RABITA FORUM INTERNATIONAL (RFI)
Affordable and clean energy is a prerequisite for human development in today's world. No one can even think of advancement and a prosperous future in agriculture, business, communications, education, healthcare, and transportation without having reliable and abundant resources of energy. United Nations Department of Economics and Social Affairs (DESA) in 2015, adopted 17 Sustainable Development Goals (SDGs) with the aim to transform our world by improving human lives and protecting the environment, in which Goal 7 is about ensuring access to clean and affordable energy.
According to the DESA, the lack of access to clean and reliable energy hinders both economic and human development. The rise in energy costs, instability, removal of subsidies, limited availability of clean fuel, and budgetary burden on households have resulted in an increase in energy poverty in developing nations like Pakistan. Beside the fact that Pakistan has been blessed with abundant renewable energy resources, the country has still not been able to cope with the increasing energy demands effectively. Bad governance, circular debt, political instability, reliance on imported fossil fuels, and absurd energy policies are the major issues that need serious attention to be resolved.
Dinghong, Xu. et al. (2023), in their study "Analyzing the factors contribute to achieving sustainable development goals in Pakistan: A novel policy framework" identifies that in Pakistan, the energy crisis has been a major drag on the economy and a serious impediment to growth, with an estimated cost of 10% of the GDP over the past 5 years. Thousands of industries have shut down operations, affecting industrial production and the livelihoods of thousands of families. One other study, conducted by Hussain, S. et.al. (2023), shows that the indigenous fossil fuel reserves (oil and gas) of Pakistan are limited and are quickly decreasing.
While the discovery of new oil and gas sources, the exploitation of local coal deposits, and the harnessing of renewable energy are all moving at a glacial pace. Repercussions of the lethargic process could be observed in the country. Though in 2006 the Pakistani government for the first time announced its "Renewable Energy Policy" with the goal of increasing the penetration of renewable energy in the entire energy mix by establishing specific objectives. But unfortunately, those targets hadn't been achieved due to the lack of an effective planning paradigm. Currently, most renewable energy sources are untapped to their full potential, and only 24% of them are accounted for in the total energy mix.
What Pakistan needs today is a comprehensive policy and effective planning, which can take into account the optimal distribution of renewable energy resources, as well as better governance. Long-term energy security, cost reduction, and climate change mitigation may all be aided by this strategy. In addition, Pakistan needs to leverage the potential of its numerous renewable energy resources, such as solar, wind, hydro, and biomass, as appealing alternative sources of energy to make up a significant portion of its overall energy supply.
Otherwise, not only goal 7 but all other linking sustainable goals for instance health and well-being (goal 3), Industry, Innovation and Infrastructure (Goal 9), Sustainable cities and communities (Goal 11), climate action (goal 13) and Life below water (Goal 14) will be challenging to achieve. Addressing the energy problem on both operational and strategic levels is also a must because of its close link with the state's security. Till the day, many policy documents have been introduced such as a petroleum exploration policy, natural gas allocation, y conservation policy, power policy, the recently proposed alternative and renewable energy policy, and the national electric vehicle policy, but a single integrated energy policy document is still an inevitable requirement and management policy, a national energy conservation policy, power policy, the recently proposed alternative and renewable energy policy, and the national electric vehicle policy, but a single integrated energy policy document is still an inevitable requirement.
The five UN targets for accomplishing Goal 7 by 2030 must be considered in the national context when developing new policies. Three of the five aims are "outcome targets": access to modern energy, raising the national percentage of energy from renewable sources, and maximizing energy efficiency. The final two aims are however "means of attaining targets": extending access to sustainable power research, technology, and investments, and expanding and upgrading energy services.
With the aforementioned parameters, Pakistan would not only be able to improve international collaboration in order to create more open options for technological advancement in renewable energy and more investment in clean energy infrastructure, but her poor economy would also get the chance to thrive.