Summarized News & Articles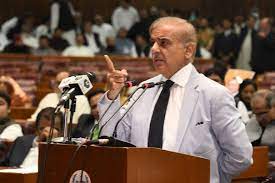 Shehbaz Sharif elected Pakistan's  23rd  Prime Minister
Sharif elected prime minister by parliament following the removal of Imran Khan in a no-confidence vote.
Mian Muhammad Shehbaz Sharif was the unanimous candidate of the parliamentary parties including PPP, PML-N, BAP, MQM-Pakistan, BNP-Mengal, ANP, MMAP and independent candidates in the 341-seat House (excluding a seat that fell vacant due to demise of MNA Khayal Zaman Orakzai) that had secured 174 votes in the no-confidence motion to knock out the PTI government.
Earlier, taking the floor, Shah Mahmood Qureshi announced to boycott the election to the leader of the house. He said the decision to this effect was taken in a party meeting chaired by Chairman Imran Khan. On behalf of the PTI members, he also announced resignations from the National Assembly.
No prime minister has ever completed a five-year term in office during the country's nearly 75-year history.
The parliamentary vote was held under tight security, with nearly all roads leading to the National Assembly sealed.
The Prime Minister New Policy measures
Minimum wage to be increased to Rs25,000 from April 1
10pc increase in pensions from April 1
Wheat flour to be made available at a reduced price under a Ramazan package
Shehbaz commits to making Pakistan a "paradise for investments"
High electricity prices will be addressed
Measures to be taken for the progress of smaller provinces, where the youth will be given technical education and laptops
Ties to be strengthened with China, Saudi Arabia, the UAE, UK and Iran
Good ties with India conditional on the "just" resolution of Kashmir dispute
Voice will be raised for Kashmiris, Palestinians and Afghanistan
Shehbaz expressed the resolve to improve the economy through hard work and national unity.
The newly elected prime minister announced that he would be making arrangements for an in-camera briefing of the Parliamentary Committee on National Security to discuss and determine the authenticity of a cable that the PTI claimed contained evidence of a foreign conspiracy to topple its government.
Benazir card to be reintroduced
PPP's  Raja Pervaiz Ashraf Elected as 22nd New Speaker Of Pakistan's National Assembly
The NA speaker's office fell vacant on April 9 when PTI's Asad Qaiser resigned, stating that he can not hold voting on the no-confidence against the then-prime minister Imran Khan, which he said, was a part of a "foreign conspiracy" against the PTI government.
 —————-
3 Chinese nationals among 4 killed in Karachi University suicide attack
Tuesday April 26, 2022
KARACHI: At least four people were killed, including three Chinese nationals, and four sustained injuries in a suicide attack on a van inside the University of Karachi near Confucius Institute. CTD confirmed that it was a suicide attack and a burqa-clad woman,  who could be seen in the CCTV footage of the incident, was responsible. The CTD, in a report, said that about three to four kilogrammes of explosives were used in the blast, adding that the explosives were made up of steel ball-bearings.  The blast took place at 1:52pm and after being informed, police and rescue officials rushed to the scene and shifted the injured to the nearby hospital. Sources said that the foreign teachers, onboard a van, were heading towards the department when the explosion occurred. Rangers personnel riding on two motorbikes were escorting the van. Police sources said that four Rangers personnel were injured in the explosion, adding that that the personnel were deployed for the security of the van.  Those killed in the explosion were identified as Confucius Institute's Director Huang Guiping, Ding Mupeng, Chen Sai and the van's driver Khalid.  PM Shahbaz assures Sindh CM of full cooperation He expressed deep sorrow over the loss of precious lives in the blast and received details about the incident. The prime minister assured the chief minister of complete cooperation to eradicate terrorism in the country. He vowed to eliminate the menace of terrorism from the country through joint efforts and unity Banned Majeed Brigade of Baloch Liberation Army accepts responsibility of today's suicide attack on Chinese in Karachi University. The mission was carried out by first female fidayee Shari Baloch alias Bramsh of the Brigade, claims Jeeyand Baloch, spokesperson for BLA.
(Courtesy: The News International)
——————————————————————————————————
79th Formation Commanders' Conference at GHQ  General Qamar Javed Bajwa, Chief of Army Staff (COAS) presided the conference.Rawalpindi – April 12, 2022 | No PR-35/2022-ISPR
79th Formation Commanders' Conference was held at GHQ. General Qamar Javed Bajwa, Chief of Army Staff (COAS) presided the conference. The conference was attended by Corps Commanders, Principal Staff Officers and all Formation Commanders of Pakistan Army.
Participants were briefed on professional matters, national security challenges and measures being undertaken to counter traditional and non-traditional threats. COAS expressed satisfaction over operational preparedness of formations and response mechanism to deal with emerging challenges. Forum paid rich tribute to the supreme sacrifices of officers and men to ensure security of borders and safety of masses.
The forum took note of the recent propaganda campaign by some quarters to malign Pakistan Army and create division between the institution and society. National Security of Pakistan is sacrosanct. Pakistan Army has always stood by the state institutions to guard it and always will, without any compromise. The forum expressed complete confidence in leadership's well considered stance to uphold the constitution and rule of law, at all cost. Pakistan Army is aware of its responsibilities and shall continue to defend territorial integrity and sovereignty of Pakistan against all internal and external threats under all circumstances, COAS concluded.
——————————————————————————————————
Pakistan conducted successful flight test of  Shaheen-III surface to surface ballistic missile
(9 April 2022) Pakistan has  conducted successful flight test of Shaheen-III surface to surface ballistic missile. The test flight was aimed at revalidating various design and technical parameters of the weapon system. (ISPR) "The test flight was aimed at re-validating various design and technical parameters of the weapon system," the Inter-Services Public Relations (ISPR) stated through its official Twitter account. The launch was witnessed by Lieutenant General Nadeem Zaki Manj, Director General Strategic Plans Division, Dr Raza Samar Chairman NESCOM, Lieutenant General Muhammad Ali Commander Army Strategic Force Command, senior officers from Strategic Plans Division, scientists and engineers of Strategic Organizations. Director General Strategic Plans Division, congratulated the scientists and engineers on achieving dynamic design and development capabilities and expressed his full confidence in Pakistan's Nuclear Deterrence Capability.President, Prime Minister of Pakistan, Chairman Joint Chief of Staff Committee and Services Chiefs congratulated the scientists and engineers on this achievement. Prime Minister Office:  Congratulations to Pakistan Army for the successful launch of Shaheen-III. We are proud to have a professional & globally competent armed forces defending the country. Salute to all the brave scientists & soldiers bending this great success. United we stand as one Pakistan.
——————————————————————————————————
Six sentenced to death for lynching Sri Lankan national
(18 Apr 2022) A court in Pakistan has sentenced six people to death after convicting them for their roles in last year's vigilante killing of a Sri Lankan factory manager accused by workers of committing blasphemy. The six men sentenced to death were convicted of murder of Priyantha Kumara Diyawadana in a case that outraged many Pakistanis. The Anti-Terrorism Court in Lahore, set up inside a high-security prison, also gave life sentences to nine people, five years' jail to one, and two-year sentences to 72, according to a statement from the public prosecutor. Eight of those sentenced were juveniles. Diyawadana was killed in December by workers at a sports equipment factory in Pakistan's eastern Sialkot district where he was a manager. Few issues are as galvanising in Pakistan as blasphemy, and even the slightest suggestion of an insult to Islam can supercharge protests and incite lynchings. "The prosecution team worked very hard to present its case to the court and to reach this judgement," Abdul Rauf Wattoo, the lead public prosecutor, told AFP news agency. "We are satisfied with the outcome." The special anti-terror court was established to speed up justice in high profile cases that can otherwise spend years being processed.(SOURCE: AL JAZEERA AND NEWS AGENCIES)
——————————————————————————————————
Mother of orphans, unwanted children, Bilquis Edhi dies
Friday, April 15, 2022
KARACHI: Bilquis Bano Edhi, who was known as the mother of thousands of orphans and unwanted children, passed away on Friday. She was 74. Edhi Foundation spokesperson Muhammad Bilal said she had been suffering from heart and lung issues. She had been admitted to a private hospital a few days ago, where she died of congestive heart failure. Bilquis was the wife of renowned philanthropist Abdul Sattar Edhi. They got married in April 1966. After her husband's death in 2016, she co-chaired the Edhi Foundation with her son Faisal. Born in Karachi in 1947, she was a nurse by profession. She was awarded the 1986 Ramon Magsaysay Award for her outstanding services for the well-being of unwanted children. She was also a recipient of the Lenin Peace Prize. Brief profile: Born in Indian Gujrat on August 14, 1947, Bilquis was a professional nurse and headed the Bilquis Edhi Foundation. She married Abdul Sattar Edhi in April 1966. She spent more than six decades of her life serving humanity in need. Her charity has saved over 42,000 unwanted babies so far by placing "jhoolas" [cradles] at the Edhi Homes and centres across the country. She leaves behind four children, Faisal, Kubra, Zeenat and Almas from her marriage with Abdul Sattar Edhi. In recognition of her services to humanity, she was awarded the Hilal-e-Imtiaz by Pakistan, the Lenin Peace Prize by Russia, as well as the Mother Teresa Memorial International Award for Social Justice in 2015. Bilquis Bano Edhi buried: Bilquis Bano Edhi buried in the port city's Mewa Shah graveyard Karachi  on Saturday, 16 April, after Zuhr prayers. Her funeral prayers were offered at the New Memon Masjid Kharadar shortly before her burial. Chief Minister Sindh Murad Ali Shah, Amir Jamaat-e-Islami Karachi Haiz Naeemur Rehman, and other political leaders were present at the funeral of the philanthropist.
——————————————————————————————————
86 attacks on press recorded in 2021-22
Dawn Report  Published May 1, 2022
KARACHI: At least 86 cases of attacks and violations against media and its practitioners, including journalists, took place in Pakistan over the course of one year  between May 2021 and April 2022. While the overall number of documented violations in the preceding year have gone down several notches, there is a continuing trend of targeting journalists working for digital media, according to the research and analysis report by Freedom Network, an award-winning Pakistan-based media rights watchdog that tracks violations against journalists and attacks on freedom of expression on an ongoing basis. The report, released to mark the World Press Freedom Day observed globally on May 3, reveals that the state actors continue to be the largest threat source for journalists in Pakistan in a period marked by a dramatic escalation of coercion by the former Imran Khan government resulting in violence, legal cases, abductions, detentions and threats. "As the digital media landscape is the new horizon over Pakistan, the government is more than anxious to crack down on online freedom and digital journalists are systematic target of harassment, abuses and legal threats. We must protect our borderless Internet freedom," Iqbal Khattak, the executive director of Freedom Network, said. The data shows that no place in the four provinces, Islamabad or even Gilgit-Baltistan and Azad Jammu and Kashmir is safe  attacks against journalists are taking place everywhere.