Summarized News & Articles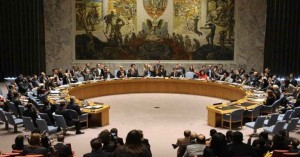 Pakistan defeats India's UNSC permanent membership bid
United States of America is supporting India for its permanent membership to UNSC but with a certain condition.
By News Desk     | 14 July 2022
Pakistan reached a new diplomatic breakthrough at the UN General Assembly by thwarting India's bid for a permanent seat in the UN Security Council (UNSC) as a member of group 4.
India's G-4 group, comprised of Brazil, India, Germany, and Japan, advocated for enlargement in the most powerful body of the United Nations, the Security Council. G-4 members assist one another's campaigns for permanent UNSC seats. All of these nations desire membership in the UN Security Council. In the absence of two-thirds approval from the UNGA, the accession of these countries into the UNSC is simply not possible, according to a senior Pakistani diplomatic source. Due to Pakistan's diplomatic efforts, the UN General Assembly has adopted a resolution on the question of equitable representation on an increase in the membership of the UN Security Council and other related matters, as well as the commitment of the heads of state and government representing the world's population to inject new life into discussions on reforms of the UN Security Council. Diplomatic sources characterized the approval of this resolution as an affirmation of Pakistan's position regarding the continuation of dialogue on UNSC expansion. Pakistan, as a member of the 'group of consensus,' urged to the UNGA that there should be more security council seats, but only for two to three years and not permanently, with two seats for Africa, two for Asia, and two for Latin America. UFC, sometimes known as the Coffee Club, at the United Nations is a diplomatic move in opposition to the probable extension of permanent seats on the United Nations Security Council. Pakistan is an active participant in Uniting for Consensus under the leadership of Italy (UFC). Italy, Pakistan, Columbia, Turkey, Spain, EU, Malta, Argentina, Mexico, South Korea, and San Marino make up the group. Pakistani diplomatic sources have made it clear to the world body that India and Japan cannot represent Pakistan in any capacity if they are granted permanent membership in the UN Security Council. According to Pakistani sources, Pakistan, as a member of the UFC, is eligible for UNSC membership as its largest contributor to UN peacekeeping, as recognized by the UNGA. Pakistan also persuaded the UN General Assembly that, according to the UN Charter, a country with the worst record for peace and security cannot be considered for permanent membership in the UN Security Council, and that India fits this description.
(Courtesy: Global Village Space)
——————————————————————————————————
Pakistan Will Not Default On Its Payments Says JP Morgan
B y ADMIN-AUGAF  | July 27, 2022 | in Business, Finance
New York July 27 2022: The PAKISTAN 5.625% December 2022 bond will likely get paid says JP Morgan in its special research report on Pakistan.
They think that short-dated bonds with attractive carry could play a part in an investor's portfolio, providing the opportunity to park high cash balances amid the multitude of global macro risks. As a base case authorities will maintain their external debt servicing ability through the end of this year, they think that the PAKISTAN 5.625% December 2022 sukuk bond will likely get paid. The bonds currently trading at 90 offer are also one of the lowest cash price EM sovereign USD bonds with a maturity less than one year (excluding credits such as Ukraine which recently requested a foreign-debt payment halt). They flagged in early June that the large sell-off in PAKISTAN was likely warranted and that valuations were still not that cheap considering similar commodity importing and large debt stock peers. (J.P. Morgan is a global leader in financial services)
——————————————————————————————————
China, Pakistan agree on third parties participation in CPEC: Zhao Lijian
(Pakistan Daily) July 26, 2022
China has reiterated its commitment to work with Pakistan to push forward all CPEC projects in a safe, smooth, and high-quality manner, to better benefit the two countries and their people.
The Chinese Foreign Ministry Spokesperson Zhao Lijian, during his regular briefing in Beijing, said China is ready to follow through on the important consensus reached by the leaders of the two countries in this regard. He said China and Pakistan have agreed on the participation of third parties in CPEC and exchanges among media and think tanks, including promoting cooperation schemes involving third parties in line with the existing consensus and extending CPEC projects to Afghanistan. Meanwhile, in a tweet, Pakistan's Ambassador to China Moin-ul-Haque said the third meeting of the CPEC Joint Working Group on International Cooperation placed emphasis on high-quality development of CPEC. He said as an open and inclusive platform, both sides welcomed interested third parties to benefit from avenues for mutually beneficial cooperation opened by CPEC.
——————————————————————————————————
Death toll from Balochistan floods rises to 136: Update(1-Aug-2022)
(August 01, 2022) Pakistan PM Shahbaz Sharif has visited flood-ravaged Balochistan province and assured the affected people of all possible help in their rescue and rehabilitation.
Balochistan province is the worst affected due to the heavy rains and flash floods and has recorded 136 deaths so far. Since mid-June, the monsoon rains have led to swollen rivers and damaged highways and bridges, disrupting traffic all across the country. According to a report released by the Provincial Disaster Management Authority, a total of 13,535 houses were collapsed or partially damaged due to the ongoing heavy rains and floods.
Six highways covering 640 kilometers have also been severely affected in the rains and flood.
Rains, floods wreak havoc in Balochistan
Roads linking Quetta to Ziarat, Chaman and Sibi had also been affected by rains, the authority said. Rains had damaged 13,535 houses in the province since June 1, out of which 10,129 were partially damaged and 3,406 were completely destroyed, According to the PDMA,
On Sunday 31 July, the situation had slightly improved in the province's Lasbela district, which has faced the worst flooding so far, a Dawn report said. Subsequently, traffic on the Quetta-Karachi highway was restored after almost a week. The highway was badly damaged after collapse of three bridges earlier this month. Meanwhile, a large number of flood victims blocked the RCD Highway, which connects Quetta and Karachi, in Ahmedwall to protest the attitude of the administration. The protesters shouted slogans demanding relief and rehabilitation assistance. They complained that no one from the district administration or public representatives visited their disaster-struck area.(Source: App/Dawn News)
——————————————————————————————————
At least 20 die, 30 missing after boat capsizes in Sadiqabad
(Reuters)  Monday 18 Jul, 2022
LAHORE: At least 20 people died, most of them women, and another 30 were missing after a boat carrying more than 100 people capsized in a river in central Pakistan, officials said. The overloaded boat was heading to a wedding when it capsized in the Indus river in the district of Sadiqabad, the government said in a statement. Nearly 90 people were rescued by divers, the statement said, adding that the passengers were mostly women and children.
——————————————————————————————————
Concerns as Pakistan glaciers melt
(14 Jul 2022) As dawn breaks over Javed Rahi's mountain village, a loud boom shatters the silence and a torrent of water comes cascading down from the melting glacier nearby, followed by a thick cloud of smoke. Rahi, a retired maths teacher, had been due to attend his nephew's wedding the day the flood rushed through the village of Hassanabad in Pakistan's Gilgit-Baltistan region. "I expected women and children to sing and dance … Instead, I heard them screaming in terror," the 67-year-old said. "It was like doomsday." The flood, which occurred as a heatwave gripped South Asia in May, swept away nine homes in the village and damaged half a dozen more. Pakistan is home to more than 7,000 glaciers, more than anywhere else on Earth outside the poles. But rising global temperatures linked to climate change are causing the glaciers to rapidly melt, creating thousands of glacial lakes. The country is experiencing earlier, hotter and more frequent heatwaves, with temperatures already hitting 50 degrees Celsius (122 Fahrenheit) this year.[Abdul Majeed/AFP]