Blood, injustice and anger burn the streets of north-east Delhi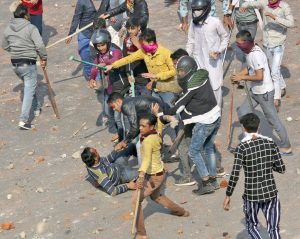 Death toll rises to 43 Wounded 250+
Violent unrest in India's capital has left
at least 43 people dead, with more than 250 injured. After days of intense
clashes between rival protesters over a citizenship law, the city has returned
to relative calm.
The UN, meanwhile, has called on all parties
to avoid further escalation. A spokesperson for UN Secretary-General Antonio
Guterres called for "maximum restraint" and for "violence to be avoided,"
noting that the UN chief was saddened by reports of lost lives.
The Delhi riots have grabbed headlines in
Pakistan, too. Pakistani PM Imran Khan responded to the news by blaming the
spike in violence on "the Nazi-inspired RSS ideology," referring to a
right-wing Hindu nationalist organization, Rashtriya Swayamsevak Sangh.
"Now 200 million Muslims in India are being targeted.
The world community must act now," Khan said, adding that any non-Muslim
minorities targeted in Pakistan would be dealt with "strictly."