Break the impasse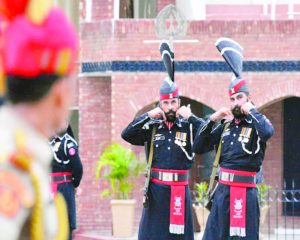 The international community is keen on an India-Pakistan dialogue. The Government must seize the window of opportunity at the grand opening of the Kartarpur Corridor
By Ashok K Mehta
Even as Prime Minister Narendra Modi was in Gujarat to commemorate
the 150th birth anniversary of Mahatma Gandhi, the Father of the Nation, (not
father of India as US President Trump called Modi in New York), the focus willy
nilly spilled over to Modi's grand conquest of the United Nations General
Assembly (UNGA) with his speech and earlier the historic Howdy Modi event
in Houston. The celebrations about Modi's diplomatic successes in making India
count were presented at a party rally in Ahmedabad with a large cut-out of Modi
and Trump in the background. Thanks to the BJP's unmatched skills in event and
media management, only the perceived positives registered abroad in the
aftermath of neutralising Article 370 and ordering the reorganisation of Jammu
and Kashmir Reorganisation Act, 2019, were highlighted.The Government's zealous
claim that the remaking of Jammu & Kashmir (J&K) was an "internal
matter" has not attracted popular endorsement that it expected.Rather, the
discreet diplomatic silence by the international community on the internal
matter of the Kashmir makeover has been construed as a positive. More than two
months after the seismic internal changes in J&K, some nations have
questioned their legality and many more, the human rights attending the
lockdown of the former State. India's "internal matter" has certainly been
internationalised. Not surprisingly, strategic allies, Pakistan and China, both
with contiguous borders with J&K, were the first to take pot-shots.
Beijing objected to making Ladakh a Union Territory as it
undermined its territorial sovereignty, calling the action "unacceptable". On
August 5, Union Home Minister Amit Shah had said in the Rajya Sabha that
J&K means Pakistan-Occupied Kashmir and Aksai Chin as determined by the
Constitution of India and J&K Constitution which has evaporated. China
cannot question the legality of the constitutional changes in Kashmir when it
has illegally constructed China-Pakistan Economic Corridor (CPEC) in
Gilgit-Baltistan and its human rights record in Xinjiang is appalling.
Despite Foreign Minister S Jaishankar's rapid clarification that
changes in the Indian Constitution had no implications for either the external
boundaries of India or the Line of Actual Control (LAC) and that "India is not
raising any additional territorial claims and will not affect ongoing border
talks", China announced last month that the 22nd round of border talks between
Special Representatives, which was to prepare for the next Wuhan-like summit,
stands postponed. China's permanent representative to the UN, Zhang Jun, said
that by changing status quo in J&K, India has caused tensions in the region
and challenged China's sovereign interests. Northern Army Commander Lt Gen
Ranbir Singh's visit to China was postponed. Due between October 11 and October
13, the Xi-Modi summit stood unconfirmed till the time of writing. The Chinese
are probably doing to India what the latter did to the former — not
confirming Modi's attendance in BRICS till the last minute in 2017 during
the Doklam standoff.
Pakistan and its leaders in cahoots with China have gone ballistic
with Prime Minister Imran Khan threatening the spectre of a nuclear war over
Kashmir. And with Trump offering five times to mediate on Kashmir if both
countries were willing, Kashmir is centrestage and was never a matter internal
to India. UN Secretary General Antonio Guetteres has remarked: "In order to
resolve the Kashmir dispute, talks between India and Pakistan are essential."
"Human rights must be respected in J&K," he stressed.
Turkey, Malaysia, the UK's Labour Party and the Organisation of
Islamic Cooperation (OIC) have all criticised India for unilaterally altering
status quo but all South Asian countries and Russia have endorsed India's stand
that J&K was its internal matter. But the real concern is over human rights
and freedom that most countries have echoed. The lockdown is on people's mind.
UK Foreign Secretary Dominic Rabb said, "The Kashmir dispute is a bilateral
issue between India and Pakistan; yet human rights concerns make it an international
issue." After the Trump-Modi bilateral on the sidelines of the UNGA, a State
Department readout asked India to take "rapid action to lift restrictions in
J&K, release detainees and start political dialogue to reduce tensions in
the region." On September 6, while the Indian Embassy in Washington said that
J&K was an internal matter, the US State Department advised respect for
human rights and lifting of lockdown. On October 22, the US House of
Representatives will discuss the human rights situation in Kashmir.
The focus is shifting from the constitutional changes in Kashmir
to issues of curtailment of fundamental rights of Kashmiris in the guise of
national security and protection of civilians. In the Supreme Court,
petitioners seeking lifting of lockdown and return to normalcy were informed by
the Government that restoring use of internet and cell phones would adversely
affect security as Pakistan would use them to peddle fake news. It also said
that cell phones came into use in India in 1995 but were allowed in J&K in
2005, implying "so where's the hurry."
Fingers crossed. So far there's been no spectacular terrorist
attack either in J&K or the rest of India. The Financial Action Task Force
(FATF) meet in October to determine the status of Pakistan may have acted as a
deterrent. The international community is keen on an India-Pakistan dialogue
that will lower tensions in the region. India will insist that Pakistan create
the appropriate climate free of terrorism for the resumption of talks that were
suspended in 2013 following the beheading of an Indian soldier on the Line of
Control (LoC) and followed by serial terrorist attacks in Kashmir. Pakistan's
Foreign Minister Shah Mehmood Qureshi has said that Pakistan will not engage
India in talks till the siege in Kashmir is lifted. Is this a new impasse?
According to the Simla Agreement, both Governments agreed to
discuss further modalities and arrangements for durable peace and normalisation
of relations, including a final settlement of J&K. The Lahore Agreement
echoed similar spirit and sentiments. The window of opportunity could be the
grand opening of the Kartarpur Corridor on the occasion of the 550th
anniversary of Guru Nanak in mid-November when President Ram Nath Kovind, Prime
Minister Modi and former Prime Minister Manmohan Singh are likely to attend.
New Delhi, at the very least, must start a conversation with Islamabad. By its
hasty actions to alter the constitutional status of J&K, sidestepping the
rule of law, democracy and federalism — demoting a State to a Union Territory,
a never done anywhere injunction — without the consent of Kashmiris is
unfortunate and tragic. Expecting Kashmiri acquiescence to this fate on the
pretext of development is living in a fool's paradise. Messers Modi and Shah
have re-hyphenated India and Pakistan over Kashmir, externalised what they
imagined was an internal matter and in one stroke, opened up two adversarial
fronts — bringing Pakistan and China still closer together.
The writer is a retired
Major General of the Indian Army and founder member of the Defence Planning
Staff, currently the revamped Integrated Defence Staff.