Brief New International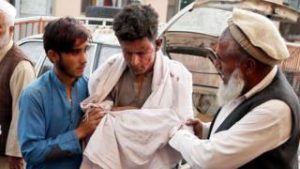 Bombing In
Afghanistan Kills 62 Worshipers
Militant forces set off an explosion that collapsed the eastern
Afghanistan Nangarhar province mosque's roof.
By RAHIM FAIEZ |
(Source:AP) KABUL, Afghanistan (AP) An explosion rocked a mosque in eastern
Afghanistan as dozens of people gathered for Friday prayers, causing the roof
to collapse and killing 62 wounded 36
others worshippers, provincial officials said. The attack underscored the
record-high number of civilians dying in the country's 18-year war. Attahullah
Khogyani, spokesman for the governor of Nangarhar Province, said "Both men and
children are among those killed and wounded in the attack," he said. No one
immediately claimed responsibility for the attack, but both the Taliban and the
Islamic State group are active in eastern Afghanistan, especially Nangarhar
province.
However, Zabihullah Mujahid, the Taliban's spokesman in a
statement condemned the attack in Nangarhar and called it a serious crime.
The spokesman for U.N. Secretary-General Antonio Guterres said
Guterres "strongly" condemned the attack and said those responsible must be
held accountable. Amnesty International's deputy South Asia director, Omar
Waraich, said the attack "demands the world's attention."
The violence comes a day after a United Nations report said that
Afghan civilians are dying in record numbers in the country's increasingly
brutal war, noting that more civilians died in July than in any previous
one-month period since the U.N. began keeping statistics. "Civilian casualties
at record-high levels clearly show the need for all parties concerned to pay
much more attention to protecting the civilian population, including through a
review of conduct during combat operations," said Tadamichi Yamamoto, the U.N.
secretary-general's special representative for Afghanistan. The report said
that pro-government forces caused 2,348 civilian casualties, including 1,149
killed and 1,199 wounded, a 26% increase from the same period in 2018. The
report said 2,563 civilians were killed and 5,676 were wounded in the first
nine months of this year. Insurgents were responsible for 62%. July to
September were the deadliest months so far this year.
—————————————————————————————————————–
Afghanistan
'frees' several Taliban prisoners
Kabul ( 7 Oct. 2019) Taliban officials said that several of the
armed group's members have been freed from Afghan jails, including former
shadow governors, the first move of its kind since a peace deal that seemed
imminent was declared "dead" and just days after a US envoy met top
Taliban leaders in the Pakistani capital. The officials also said the Taliban
has released three Indian engineers who were being held, though that has yet to
be confirmed by New Delhi or the Afghan government. The Taliban officials spoke
to AP news agency on condition of anonymity because they were not cleared by
their leadership to speak to the media. Shadow governors in northeastern Kunar
province and southwestern Nimroz province, Sheikh Abdul Rahim and Maulvi
Rashid, were among the Taliban freed, the officials said.
——————————————————————————————————————
Regional Al-Qaeda
Leader Killed In Afghanistan
Afghan officials have confirmed that a regional leader of the
Al-Qaeda terrorist organization was killed during a joint U.S.-Afghan raid in
southern Afghanistan last month. Asim Umar, who is the chief of Al-Qaeda on the
Indian Subcontinent (AQIS), was killed in a September 23 operation that
targeted a Taliban compound in the Musa Qala district of Helmand Province.
Afghanistan's National Directorate of Security said Umar was a Pakistani
citizen, although some reports say he had been born in India.
He "was #killed along with six other AQIS members, most of
them Pakistani", the NDS said on Twitter, adding that Umar had been
"embedded" with the Taliban. The raid was part of a protracted and
controversial overnight operation on September 22-23 for which the U.S.
military provided air support. Authorities said they would look into reports
that 40 civilians, including children, were killed in an air strike during the
operation. The NDS said that among the six other AQIS members killed in the
raid was a man identified as "Raihan," a courier for Al-Qaeda leader
Ayman al-Zawahiri.
(Courtesy AFP)
—————————————————————————————————————————-
Joint Statement
by Russia, China, the United States of America
And Pakistan on the Afghan Peace Process
(Moscow, October 25, 2019) The special representative of Russia,
China the United States of America held their foruth consultation on the Afghan
peace process in Moscow on October of four-party consultations. Respectful of
the sovereignty, independence, and territorial integrity of Afghanistan,
participants discussed ways to support the Afghan people's desire for a lasting
peace. To that end, participants:
1. Acknowledged the
widespread and sincere demand of the Afghan people for lasting peace and an end
to the war.
2. Reviewed the current
situation in Afghanistan and their joint efforts to reach sustainable
settlement in the country by political and diplomatic means.
3. Confirmed that a sustainable
peace can be achieved only thorough a negotiated political settlement.
4. Russia, China and
Pakistan expressed their support for the
earliest resumption of negotiation process and reaching an agreement between
the United States of America and the
Taliban movement, which will pave the way for launching intra-Afghan talks.
The Participants:
5. Committed to work with
the Islamic Republic of Afghanistan, both government leaders and others, and
the Taliban to reach a comprehensive and sustainable peace agreement that ends
the war for the benefit of all Afghans and that contributes to regional
stability and global security.
6. In order to create an
environment conductive for negotiations, urges all sides to immediately reduce
violence.
7. Stated their
expectations that all sides will observe a ceasefire for the duration of
intra-Afghan negotiations to enable participants to reach agreement on a
political roadmap for Afghanistan's future.
8. Called on the Afghan
government and the Taliban to release significant number of prisoners at the
start of intra-Afghan negotiations.
—————————————————————————————————————-
Dr. Mahathir
Mohamad defends Jammu and Kashmir remarks at UN
BY YISWAREE PALANSAMY | Tuesday, 08 Oct 2019
KUALA LUMPUR, Oct 8 Prime
Minister Tun Dr Mahathir Mohamad today defended his comments about the conflict
in Jammu and Kashmir, which were critical of India during the United Nations
General Assembly (UNGA) last month. Speaking to the press today, the Langkawi
MP said that his remarks were simply an extension of his private exchange with
Indian Prime Minister Narendra Modi, when the two met in Vladivostok, Russia.
He added that Malaysia is not taking sides in the conflict. "We
must know how to manage this problem. If we do not criticise, and (by the way),
our criticism does not side with anyone. "Just demanding that both parties
negotiate and not use violence. That has always been our policy. Do not use violence
and instead, negotiate, or go for arbitration or go to the court of law.
"This is what I raised to Modi, when I met him at Vladivostok, and
my speech is an extension of our stand, that we do not want to see violence
erupt. Instead, any dispute, conflict among nations must be settled via
negotiation, arbitration or court of law," he added.
Dr Mahathir acknowledged that his remarks could be viewed
negatively by the country criticised. When asked if he expected any
repercussions to Malaysia's trade with India, Dr Mahathir replied in the
negative.
"I have already spoken to Modi. If there are any unsatisfactory
feelings within Modi, he can contact me, but to date, no calls," he said when
asked if India has also expressed any displeasure with him. He was asked to comment on the possible
repercussions from the #BoycottMalaysia movement started by Twitter users in
India.
The hashtag began trending after Dr Mahathir spoke about the need
to resolve the Jammu and Kashmir conflict in his speech during the 74th UNGA.
Users of the hashtag have been urging Indian citizens not to travel to Malaysia
and complained about the government's interference in India's internal affairs.
—————————————————————————————————————
US still sees
held Kashmir as disputed, Congress panel told
Anwar Iqbal | October 23, 2019
WASHINGTON: US Assistant Secretary of State Alice G. Wells
informed a Congressional panel on Tuesday 22 Oct. that India's annexation of the occupied lands
has not changed America's position on held Kashmir, as it continues to consider
it a disputed territory.
"We consider the Line of Control (LoC) a de facto line separating
two parts of Kashmir," said Ms Wells. "We recognise de facto administrations on
both sides of LoC."
She was responding to a question from the panel's chairman,
Congressman Brad Sherman who asked her if India's Aug 5 decision to annex the
occupied territories had also affected the US position on held Kashmir and if
Washington now saw LoC as an international border. He also asked her if
Washington still saw held Kashmir as a disputed territory.
"We do not take position on the type of administration either by
India or Pakistan," said Ms Wells when Mr Sherman asked her if the US agreed
with India's decision to merge held Kashmir. In a written statement she shared
with the panel, Ms Well said that the security situation in India-held Kashmir
remained tense and clashes between youth and security forces were a regular
occurrence. Ms Wells informed the panel that Washington has closely monitored
the situation in Jammu and Kashmir following India's Aug 5 decision to abrogate
Article 370 of the Indian Constitution and create two new Union Territories:
Jammu and Kashmir, and Ladakh.
The United States supports India's desire to increase economic
development in Kashmir, but "remains concerned about the situation in the
Valley, where daily life for the nearly eight million residents has been
severely impacted since August 5."
The statement noted that conditions in Jammu and Ladakh had
improved, but "the Valley has not returned to normal".
The State Department has raised concerns with the Indian
government regarding the detentions of local residents and political leaders,
including three former Chief Ministers of Jammu and Kashmir, Ms Wells added.
"We have urged Indian authorities to respect human rights and
restore full access to services, including internet and mobile networks," she
said, noting that while post-paid mobile service has been restored in the
Valley, internet access remains intermittent. (Courtesy Dawn News)
——————————————————————————————————————-
Abu Bakr
al-Baghdadi death: US military says two men detained
(Sun. 27 October, 2019) President Donald Trump declared Sunday
morning that ISIS leader Abu Bakr al-Baghdadi was dead after a US military raid
in northwest Syria. "Abu Bakr al-Baghdadi is dead," Trump said at the
White House, calling the ISIS leader's removal "the top national security
priority of my administration."
The Joint Chiefs of Staff chairman said they were now "in a
secure facility". General Mark Milley also announced that Baghdadi's
remains had been disposed of and there were currently no plans to share footage
of his death.
Baghdadi killed himself during the raid, the US says.
"Baghdadi's remains were transported to a secure facility to
confirm his identity with forensic DNA testing, and the disposal of his remains
has been done and is complete and was handled appropriately," Gen Milley
told reporters.Gen Milley – the highest ranking member of the US military –
said photos and video were going through "a declassification process".
President Donald Trump had earlier suggested that some footage
from the raid might be released.
Baghdadi died from detonating a suicide vest after fleeing into a
tunnel while being chased by US military dogs, President Trump announced on
Sunday 27 Oct. 2019.
The Pentagon says no US personnel were killed in the raid but one
of the dogs pursuing Baghdadi was seriously injured. Gen Milley said the dog's
name was classified.
In response to a question about Mr Trump's contention that
Baghdadi had whimpered and cried before his death, Gen Milley said he was not
aware where the information came from but added: "I assume it was [from]
talking directly to unit members."
Gen Milley also said that US troops would continue to protect
oilfields from IS militants, though "at the end of the day, we will be
sending troops home". Mr Trump has
said the US should be able to take some of the oil, but critics say doing so
would violate the Geneva Convention's laws against pillaging natural resources.
The President said he watched the operation from the White House
Situation Room beginning at 5 p.m. The mission, he said, began shortly
thereafter and went on for about two hours. He was accompanied by Vice
President Mike Pence, National Security Adviser Robert O'Brien, Secretary of
Defense Mark Esper, Chairman of the Joint Chiefs of Staff U.S. Army General
Mark A. Milley, and Brig. Gen. Marcus Evans, Deputy Director for Special
Operations, according to Assistant to the President Dan Scavino.
CIA Director Gina Haspel did play a role in the operation on
Saturday 26 Oct., according to a source familiar with the matter. She would
have been monitoring from CIA headquarters and in touch with the Situation
Room, similar to how then-CIA Director Leon Panetta was positioned during the
Osama bin Laden operation.
————————————————————————————————————–
Turkey's military
operation in Norht-East Syria
(10 Oct. 2019) President Recep Tayyip Erdogan says the offensive
is aimed at removing Kurdish-led forces from the border area and creating a
"safe zone" so millions of Syrian refugees can be returned. The move
came after the United States announced it was withdrawing its troops from the
region, leaving the Syrian Democratic Forces (SDF), its main ally in the battle
against the Islamic State of Iraq and the Levant (ISIL or ISIS) armed group,
without US military support.
Heavy clashes between Turkish forces and the SDF are under way in
the Syrian border towns. The SDF, led by the Kurdish People's Protection Units
(YPG), has appealed to the US and its allies for a "no-fly zone" to
protect it from Turkish air attacks. Turkey considers the YPG a
"terrorist" group.
Syria: No talks with SDF
Thursday's on 10th Oct. 2019, evelopments came as a senior
official of the government of Syrian President Bashar al-Assad ruled out
Damascus holding any talks with the SDF, accusing the group of pursuing a
separatist agenda that gave Turkey a pretext to violate Syria's sovereignty.
Asked about whether the government should resume dialogue with the
Kurdish-led forces, Faisal Maqdad, the Syrian deputy foreign minister, said the
"armed groups had betrayed their country and committed crimes against
it".
"We won't accept any dialogue or talk with those who had
become hostages to foreign forces … There won't be any foothold for the
agents of Washington on Syrian territory," Maqdad told reporters in his
office in Damascus.
—————————————————————————————————————
Turkey, Russia
agree to set up Syria 'safe zone'
Russian & Syrian forces to deploy to northeastern Syria
outside Turkey operation zone
Putin-Erdogan agreement
The leaders of Turkey and Russia have agreed to set up an
Ankara-ruled "safe zone" in northeast Syria and run joint patrols
around the area, hours before a five-day truce between Turkish and Kurdish-led
forces ended in the region. Turkish President Recep Tayyip Erdogan and his Russian
counterpart, Vladimir Putin, held talks in Sochi regarding the security
situation in northeast Syria following the launch of Turkey's operation on
October 9 aimed at driving Kurdish-led fighters Ankara considers
"terrorists" from the border area.
After marathon talks, Erdogan said a deal had been reached with
Russia for the Kurdish fighters to move out of the region within 150 hours.
The two leaders agreed for Ankara to control a 32km-wide (20
miles) safe zone between the towns of Tal Abyad and Ras al-Ain, which covers
120km (75 miles) of the Turkish-Syrian border. The Turkish and Russian forces
will also run joint patrols 10km (six miles) to the east and west of the
"safe zone", according to the deal announced in Sochi.
The announcement came hours before the expiration of a United
States-brokered truce agreed last week which sought to allow the withdrawal of
the Kurdish-led Syrian Democratic Forces (SDF) from the border areas.
The ceasefire is due to end at 10pm local time (19:00 GMT) and the
government in Turkey repeatedly said that the offensive would restart right
away if the SDF did not withdraw from the region. (SOURCE: AL JAZEERA NEWS)
——————————————————————————————————————-
Trump lifts US
sanctions on Turkey, says ceasefire permanent
US president says Turkey has informed the United States that it
will make the ceasefire in Syria 'permanent'.
US President Donald Trump on Wednesday said that Turkey has said
it is stopping combat and making a ceasefire in northern Syria permanent,
prompting the United States to lift recent sanctions it had imposed on Turkish
imports in response to the violence.
"The sanctions will be lifted unless something happens that
we are not happy with," Trump said in a special address from the White
House where he also cast scepticism about the meaning of "permanent"
in "that part of the world".
Earlier this month, Trump halted negotiations on a $100bn trade
deal with Turkey, raised steel tariffs back up to 50 percent and imposed
sanctions on three senior Turkish officials and Turkey's defence and energy
ministries.
The president has been under fire for abruptly withdrawing US
troops from northern Syria, with many accusing him of abandoning Kurdish forces,
who had been one of the US's main allies in the fight against the Islamic State
of Iraq and the Levant (ISIS or ISIL).
Following the withdrawal, Turkey launched an offensive against Kurdish
forces in the region.
Last week, Turkey agreed to a five-day ceasefire to allow Kurdish
forces to withdraw from the region.
——————————————————————————————————————
Iraqi PM says US
troops do not have permission to stay in country
Adel Abdul Mahdi says Baghdad has taken 'all international legal
measures' in response to US soldiers' recent entry. Prime Minister Adel Abdul
Mahdi has said United States troops pulling out of northeast Syria do not have
permission to stay in Iraq, adding that his government is taking "all
international legal measures" in response to their recent entry. The Iraqi leader made the comments in a
statement reaffirming Baghdad's position shortly after meeting US Defense
Secretary Mark Esper, who arrived in the country on Wednesday in an unannounced
visit.
——————————————————————————————————————
Iraq protests:
Death toll nears 100
Death toll from mass protests across Iraq rises to 93, rights
group says, as political crisis deepens. Iraq has been rocked by days of
protests, as thousands of mostly young men have been demonstrating in different
parts of the country against corruption, unemployment and poor public services.
Security forces have responded using water cannon, tear gas, live rounds and
rubber bullets. Dozens of protesters have been killed and hundreds more
wounded. The death toll from mass protests in Baghdad and cities across
southern Iraq rose to 93 as the unrest entered its fifth day, parliament's
human rights commission said. Nearly 4,000 people have also been injured. It
was not immediately clear whether the latest deaths were from Friday's huge
protests or fresh demonstrations.
Despite the lifting of the government-imposed curfew, riot police
have blocked Baghdad's Tahrir Square, the focal point of protests, local news
agencies said. Shoppers trickled back onto the streets to buy vegetables and
other perishable goods the price of which had doubled since the protests began.
Municipal street cleaners set about clearing the detritus of the four days of
running clashes between protesters and security forces, which has seen breeze
blocks and burning tyres strewn across major thoroughfares. An onlooker who
ventured out, Abu Salah, 70, was not convinced the protests were over.
"If living conditions don't improve, the protesters will be
back," he told AFP.
——————————————————————————————————————
Either all Gulf
states safe 'or all deprived of it' Iranian FO
(10 Oct. 2019) Either all the Gulf countries enjoy security
"or they will all be deprived of it", Iranian Foreign Minister
Mohammad Javad Zarif has said in an opinion piece for Kuwait-based Al Rai
newspaper. "More than ever before, we believe that maintaining the
security of the region is a collective responsibility that falls on all
countries," wrote Zarif .
"The fate of the people of the region … is intertwined and
security cannot be fragmented and dismantled. Either everyone is safe or
everyone is deprived of it."
Saudi Arabia, which is locked in several proxy wars in the region
with arch-foe Iran, has blamed Tehran for attacks on Saudi oil plants on
September 14, a charge Iran denies. The kingdom has said it prefers that its
differences with Iran are resolved politically rather than militarily. Yemen's
Iran-aligned Houthi movement had claimed responsibility for the assault on
Saudi oil facilities, but Saudi Arabia rejected that claim. The United States
and Saudi Arabia have also blamed Iran for attacks against six oil tankers in
May and June, which Tehran also denied. In the opinion piece, Zarif warned that
"continued support" for Israel posed a great threat to the region,
noting that security depends on building confidence and independence for the
people of the region.
Israeli Foreign Minister Israel Katz said in a tweet that his
country was seeking a "non-aggression" agreements with the Gulf
state, hinting at further rapprochement with the former adversaries.
(SOURCE: AL JAZEERA AND NEWS AGENCIES)
—————————————————————————————————————-
King Salman
approves massive US military deployment for Saudi Arabia's 'defense'
(12 Oct, 2019) Saudi Arabia's king and crown prince have approved
the deployment of around 3,000 US troops and equipment to the kingdom, as
regional tensions rise and Washington and Riyadh face off against Tehran.
Saudi state news agency SPA announced the royal approval on
Saturday night, reporting that the deployment takes place in line with the
"historic relations and well-established partnership" between the two
countries.
It also comes at a time of escalating tensions with Iran. The
military bolstering was announced by the US on Friday as reports came in that
an Iranian oil tanker had been struck by two projectiles in the Red Sea.
Washington and Saudi Arabia have also accused Iran of a string of sabotage
attempts on its own on oil tankers, and blamed Tehran for a drone strike on two
Saudi oil facilities last month, albeit without providing proof.
Criticized for pulling American troops out of northern Syria yet
deploying several times more forces in Saudi Arabia, US President Donald Trump
has defended the deployment by declaring that the Saudi royal family have
"agreed to pay us for everything we're doing."
The SPA report on Saturday made no mention of a payment.
(RT NEWS)
——————————————————————————————————————–
Putin says Russia
has 'very friendly' relations with Saudi crown prince
DUBAI (Reuters) – President Vladimir Putin said Russia has
"very friendly personal
relations" with Saudi Crown Prince and de facto ruler Mohammed bin Salman.
Putin was speaking in an interview with Arab broadcasters, including
Saudi-owned Al Arabiya TV, ahead of his first visit to Saudi Arabia in over a
decade. He also said Russia was studying new investments in Saudi Arabia.
Russian company Sibur Holding was looking at building a petrochemical complex
in Saudi with investment worth more than $1 billion, Putin told Al Arabiya.
—————————————————————————————————————
Libya was
destroyed due to Western leaders'
lust to continue exploiting Africa's riches Gaddafi spokesman
(6 Oct, 2019 15:02) The 2011 NATO intervention in Libya, which
helped topple the government of Muammar Gaddafi, was done to put an end to his
attempts to stop foreign exploitation of the continent, the strongman's wartime
spokesman told RT.
The bombing campaign, which propped up rebel forces and ultimately
led to the summary execution of Gaddafi, was justified by reports of various
crimes of its government. Those were later proven to be completely false or
largely exaggerated, said Moussa Ibrahim, who served as Gaddafi's spokesman at
the time. In reality NATO bombed Libya not to stop Viagra-assisted mass rapes
of women by government loyalists. Gaddafi sought to break Western grip on
Africa and was disposed for that, he said.
Gaddafi's Libya had several initiatives which were detrimental to
Western goals in Africa, including creation of a new gold-backed currency, an
African central bank and a pan-African military force, Ibrahim told RT's Going
Underground program. So Libya was destroyed like many other nations had been.
"Look at Libya now. Killings, civil conflict, tribal war, murder,
terrorism, robbing of national wealth. What does it remind you of? Iraq, Syria,
Afghanistan, Yemen. It's the same story happening every time," stated Ibrahim.
Inflaming local divisions to weaken a targeted nation is a tactics
perfected over decades of colonialism and post-colonialism, he said.
"It's the management of crisis. What you do is you come to a
context of a country and you introduce chaos through war, internal conflict,
religious division, occupation whatever
means you have. And then keep the chaos going, you manage the crisis."
(Source:RT News)
——————————————————————————————————-
Moscow has done
its homework:
Russia will be
least affected if US exit from INF treaty brings back arms race
(13 Oct, 2019) RT News | A renewed arms race between the US and
Russia would be bad for the world but Moscow won't be dragged into excessive
military spending, as it has already developed next gen weapons of "unmatched"
capabilities, Vladimir Putin said.
The Russian president discussed Washington's unilateral withdrawal
from the Intermediate-Range Nuclear Forces (INF) Treaty at a joint interview
with RT Arabic, UAE-based Sky News Arabia and Saudi Arabia's Al-Arabiya
broadcasters.
I do understand the US concerns. While other countries are free to
enhance their defenses,
Russia and the US have tied
their own hands with this treaty.
However, Putin pointed out that "it was not worth ruining the
deal," which helped the US and Russia by precluding the fielding in Europe of
ground-based missiles with a range of between 500km and 5,500km, and which
remained the cornerstone of security on that continent since 1987. "I believe
there were other ways out of the situation," he added.
The New START Treaty, which came into effect in 1994 and limits
the number of strategic nuclear missile launchers possessed by the two
countries, is the final element that could "prevent us from falling back into a
full-scale arms race," Putin warned.
That deal expires in 2021 and, "to make sure it is extended, we
need to be working on it right now," he said.
But if an arms race couldn't ultimately be avoided, the President
assured interviewers that "Russia will be the least affected party because… we
already have the next generation of weapons, and these are unprecedented, with
unmatched capabilities. We have done our homework. We do not need to rush now
and can calmly think of what can be done next."
An arms race is a bad thing, and it will not be good for the
world. However,
we will not be dragged into exorbitant budget-spending games.
The reason for Russia obtaining those state-of-the-art weapons,
despite being only sixth globally in terms of military spending behind the US, China, Saudi Arabia, UK,
France and Japan, is "focused research on priority areas," he explained.
Putin himself announced a range of futuristic Russian weapons last
year and caused something of a frenzy in Western media. The headline toppers
were the Avangard hypersonic glider and the Burevestnik nuclear-powered cruise
missile, which are said to be able to bypass any existing missile defense
system.
————————————————————————————————————–
KILLER STORM
Typhoon Hagibis
Typhoon Hagibis
kills 48 and 186 injured as it batters Japan (Last Update)
(13 Oct.) According to Japanese public broadcaster NHK reported
that, Death toll rises to 48 as 110,000
rescuers join hunt for survivors after 140mph mega-storm devastates Japan.
Experts said it would take time to accurately assess the extent of damage, and
the casualty count has been growing daily. The storm made landfall just before
7 p.m. On Saturday 12 October, local time on the Izu Peninsula, southwest of
Tokyo. Japanese Prime Minister Shinzo Abe's office, "record-setting heavy
rains and windstorms have caused flooding and landslides."
More than 230,000 people were evacuated ahead of the storm, with
emergency orders issued for many cities around the greater Tokyo area. Around
27,000 Self-Defense Forces personnel are taking on rescue operations, the Prime
Minister's office said. Prime Minister Shinzo Abe said: "There are still many
residents who have yet to be accounted for. "Our people in uniform are working
day and night in search and rescue operations.
"Damage has been made in an extremely wide range of areas,
and more than 30,000 people are still being forced to remain in the state of
evacuation. "It is our urgent task to offer meticulous support to those who
have been affected."
Typhoon Hagibis, which means "speed" in the Philippine
language Tagalog, made landfall on Japan's main island of Honshu.
Groups of rescuers wearing goggles and snorkels searched for
survivors while making their way in waist-high water in Nagano, central Japan,
where the Chikuma River inundated swaths of land. The typhoon knocked out power
to half a million homes at its peak.
——————————————————————————————————–
The End of Accountable
Government Is Close at Hand
By Paul Craig Roberts
October 28, 2019 "Information Clearing House" – For
about 70 years the CIA has been undermining a free press. It began with
Operation Mockingbird, a Cold War operation against communism. The CIA recruited journalists into a
propaganda network. The CIA paid journalists to write fake stories or to
publish stories written by the CIA in order to control explanations that served
the agency's agendas. Student and cultural organizations and intellectual
magazines, such as Encounter, were suborned into the CIA's propaganda
network. Thanks to the German
journalist, Udo Ulfkotte, we know that every European journalist of any
significance is a CIA asset. In 1977
Carl Bernstein of Watergate fame wrote in Rolling Stone that the CIA "has
secretly bankrolled numerous foreign press services, periodicals and
newspapersboth English and foreign languagewhich provided excellent cover for
CIA operatives." Like most other people,
Western journalists were all too willing to sell out their integrity for
money. The few who were not were
blackmailed into submission.
The few honest journalists who remain have been forced out of the
"mainstream" or presstitute media onto Internet websites. Wikileaks is by far the best news
organization of our time. To bring this organization to heel Washington, using
its Swedish, British, and Ecuadoran vassals, has persecuted Wikileaks' founder,
Julian Assange, for years. The CIA's media vassals, including the New York
Times and The Guardian, both of which published the material leaked to
Wikileaks that is being used to destroy Assange, have joined wholeheartedly in
the persecution of the World's Best and Most Honest Journalist. Currently
Assange is being tortured, apparently to death, while bring held in solitary
confinement in a maximum security British prison awaiting his extradition to
the US on false charges. As the CIA
cannot be certain it has suborned all the federal judges, Washington is just as
happy if Assange dies in a British prison as there is no valid case against him
under current US law. Probably the
absence of a valid case doesn't matter as the rule of law in the US is very
difficult to find.
The lack of any valid case against Assange is the reason the
distinguished documentary film maker John Pilger describes Assange's
persecution as a Stalinist Show Trial.
What is astonishing about the CIA's destruction of Julian Assange
is the silence of American law schools and bar associations, the silence of
universities, the absence of student and labor union protests, the absence of
any protection of Assange's rights from courts as the last news organization
willing and capable of holding governments accountable for their crimes is
destroyed openly in full view of the law schools, intellectuals, bar
associations, courts, and print and TV media.
The CIA's control over explanations is as complete as the control
Big Brother has in George Orwell's dystopian novel, 1984. And this doesn't
bother the citizens of the US, UK, Australia, Canada, Sweden, Europe. Only a
few individuals speak out for Assange, and they, too, are demonized in
turn.
The Age of Tyranny has now descended upon the Western World.
—————————————————————————————————————-
Shame on Modi
Govt..
This has been most clumsily organised. Even in an age of crony
capitalism, it is incomprehensible why a broker should be hired to build
bridges over Kashmir's troubled waters. India never stooped so low. When we
have a Mission in Brussels, where was need to look for agents or dalals?
Especially, when PM was to have photo-op & entire official machinery in
attendance. Shows cowardly, sly behaviour. This sort of crassness simply
exposes that Indian diplomats were not in driving seat. We should show grit
(and sincerity of purpose) to invite foreign delegations but without hiring
brokers or pimps or whatever as frontmen. There are any number of GOI agencies
– ICCR, ICWA, or even XP / Public Diplomacy Division of MEA. Doubt if in the
final analysis even these MEPs would like being treated so brazenly like
bimbos.
(Courtesy 'Bhadrakumar Melkulangara')
————————————————————————————————————
India's finance
minister stands tough against US oil sanctions
India will continue to trade with Venezuelan and Russian firms,
Finance Minister Nirmala Sitharaman says. Nirmala Sitharaman told the Reuters
news agency in an interview.
The US in January imposed the toughest sanctions yet on
Venezuela's oil industry. The move has scared away some global customers, but
with few alternative suppliers of heavy oil, Indian refiner Reliance Industries
Ltd has been buying Venezuelan crude from Russian major Rosneft. The company is
set to resume direct oil loadings in the South American nation after a
four-month pause.
Sitharaman said the Indian government had expressed its view to
the US.
"In specific issues which are critical for India's strategic
interests, we have explained to the United States that India is a strategic
partner for the United States of America and you want a strategic partner to be
strong and not weakened," she said.
"We value the strong partnership with the USA, but we should
equally be allowed to be a strong economy."
The International Monetary Fund (IMF) earlier lowered its outlook
for Indian growth in 2019, citing weaker-than-expected domestic demand. The
US-China trade war will cut 2019 global growth to its slowest pace since the
2008/09 financial crisis, the IMF said. India's gross domestic product grew at
its weakest pace since 2013 between April and June, stoking expectations of
further stimulus. "Global headwinds … are getting stronger by the
day," Sitharaman said. Asked about further fiscal stimulus, she said:
"I have not closed the door" on that. New Delhi has been trying to
boost domestic growth through an infrastructure package and a new loan
programme organised with the banking sector that has doled out loans worth more
than 800 billion Indian rupees ($11.2bn), she said. (SOURCE: Al Jazeera)
————————————————————————————————
Manipur leaders
in London announce separation from India
LONDON: The representatives of State of Manipur's King Leishemba
Sanajaoba have announced separation from India, forming the Manipur State
Council.
At a press conference here, Chief Minister of Manipur State
Council Yamben Biren and Minister of External Affairs and Defence of Manipur
State Council Narengbam Samarjit announced before media that they were speaking
on behalf of the Maharaja of Manipur High Highness the Leishemba Sanajaoba to
formally launch the exiled government
the Manipur State Council. The exiled government will be based in
Central London.
They produced a document showing that His Highness the Maharaja of
Manipur had authorised them by the Order No. 12 of 2013 dated March 15, 2013 to
solve the political problems of the State of Manipur.
Both of them confirmed that they have already sought asylum in the
United Kingdom in September 2019, fleeing persecution and repression by the
Indian state as declaring independence in India would have led them to being
arrested and killed arbitrarily by the Indian security forces.
They said: "We believe that now is the right time to make public
the Independent Government of Manipur before the international community to
announce our independent status and to seek recognition.
We call on all the governments of the sovereign states of the
members of the United Nations for their recognition of the de jure and exile
government of the Manipur from today onwards. The three million Manipuri people
want recognition as one of the precious native nations. Our attempts to engage
with the Indian govt were met with hate and hostilities."
It was not possible for us to declare the independence of Manipur
while in India because we, the Councilors of the Manipur State Council, would
have faced arrest, torture and extra-judicial killings at the hands of the
Indian government."
They said that Narendra Modi's government is intolerant and
believes in physical annihilation of small nations and communities for the sake
of Hindutva supremacy and therefore it was not safe for them to continue
operating from India. They declared: "The Manipur State Council is His
Highness's Government, the Maharaja of Manipur Leishemba Sanajaoba who is the
Maharaja/King of Manipur. His Highness is the constitutional head of the State.
Manipur is a constitutional Monarchy ruled State and the sovereign of the King
of Manipur is Divine of God."
They said that Manipur is being ruled through draconian laws by
the Indian occupation government "under the Republic Constitution of India
including Arms Forces (Special Powers) Act 1958".
They said that thousands of people have been killed since the
occupation of Manipur. Nearly 4500 have been killed unlawfully in the last 10
years and more than 1500 are in prisons in illegal custody. The total loss of
life stands at around 15,000 in the last few decades; they said referring to a
BBC report which had unearthed the scale of unlawful killings and human rights
violations.
They said: "There are more than 1,528 cases of the extra-judicial
killing which are pending in the Supreme Court of India. The victims were
killed without trial of law. Indian army forces kill the people of Manipur with
impunity. The Manipuri human right activist Irom Charu Sharmila, known as the
'Iron Lady of Manipur', started protest fasting for 16 years against the
controversial Armed Forces (Special Powers) Act and human rights abuses. The
brave women of Manipur staged nude protests in front of the Indian Army centres
to condemn inhuman torture and killing of innocent people of Manipur." The
state of Manipur is a de jure government formed in Manipur under the Manipur
State Constitution Act 1947. It received independence from the British Raj on
14th August 1947.
They said that the sovereign State of Manipur was excluded from
India [Indian Empire] by the Order in Council by His Majesty on 27 December
1946 and the Indian government annexed Manipur State of India by violation of
the Act 1949.
They said they believed in obtaining our objectives through
peaceful and democratic means. There are many armed groups fighting the Indian
forces for the restoration of independence of Manipur from India, they said,
giving a long list of their demands including the rights of tribal people,
removal of Indian forces from their land and restoration of sovereignty.
—————————————————————————————————————
Ethiopian Prime
Minister Abiy Ahmed wins Nobel Peace Prize
By Gareth Davies | The
Telegraph
The Ethiopian Prime Minister Abiy Ahmed has won the Nobel Peace
Prize for ending 20-year conflict with Eritrea. He beat teenage climate change
activist Greta Thunberg, native Brazilian leader Raoni Metuktire and the New
Zealand Prime Minister Jacinda Ardern, who were tipped as potential winners.
Shortlists are not published, but all three were understood to be
in the running. Ethiopia and Eritrea, longtime foes who fought a border war
from 1998 to 2000, restored relations in July 2018 after years of hostility.
The prize, worth nine million Swedish crowns, or around $900,000,
will be presented in Oslo on Dec 10.
—————————————————————————————————————-
Lorry found with
39 bodies in southeast England
(23 Oct. 2019) Truck, which is said to have started its journey in
Bulgaria, apparently entered the UK at Holyhead, a North Wales port. Police on
Friday 25th October, addressed the issue
of the nationalities of the 39 people discovered inside a truck in Essex.
Police had said it believed the victims were Chinese nationals on Thursday, but
Vietnamese authorities in London and Hanoi have since then been alerted by
family members to the possibility that Vietnamese nationals were also inside
the truck.
"This is now a developing picture," said Pippa Mills, deputy chief
constable from Essex Police, when addressing the issue in a televised
statement. Police refused to comment further.
dentification process starts: Autopsies have started on some of
the victims as police work to identify them. Police have said the eight women
and 31 men inside the truck were Chinese. However, China contests the claims,
saying it is "not yet possible" to confirm the victims'
nationalities.
—————————————————————————————————————–
Perfectly
preserved 3,000yo MUMMIES found in newly-discovered Egyptian sarcophagi
(19 Oct, 2019)Egyptian archeologists have opened a number of
sealed coffins that they accidentally discovered earlier this week. Inside they
found mummies of men, women and children
all in excellent condition. Thirty sarcophagi were uncovered under a
mound behind the Asasif Necropolis on the west bank of the Nile River by local
scientists, who were conducting an unrelated excavation. One of the
archeologists noticed something in the sand, which later turned out to be the
face of an ancient coffin. Further digging revealed a whole cache of wooden
sarcophagi adorned with colorful paintings and inscriptions stacked on each
other in two layers.
"It is the first large human coffin cache ever discovered since
the end of the 19th century," Egypt's Antiquities Minister Khaled El-Enany said
as he attended the opening ceremony in Luxor.
Excavation team leader Mostafa Waziri said he was proud that the
discovery of the sarcophagi was made by "Egyptian hands," unlike many other
significant finds in the country that were made by foreign archeologists.
Inside the coffins there were mummies of male and female priests as well as
children, he said, adding that the burial dates dating back to the 10th century
BC under the rule of the 22nd Pharaonic dynasty.