Brief News International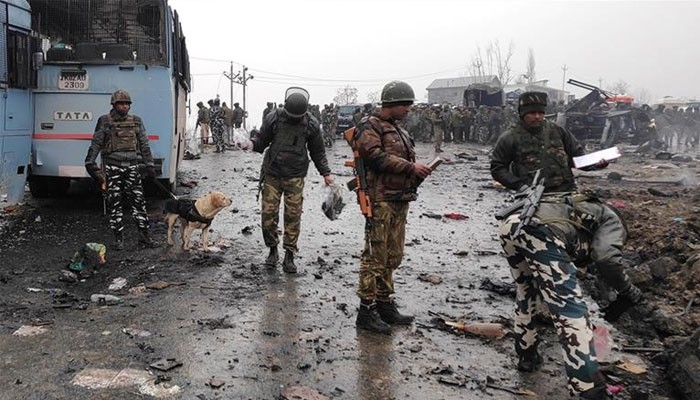 Suicide attack kills 42 of Indian security forces in Occupied Kashmir
SRINAGAR (14 Feb. 2019) : At least 42 Indian soldiers were killed and multiple were left injured after a bomb exploded at Indian-occupied Kashmir's Pulwama district. According to reports 42 personnel of the Central Reserve Police Force (CRPF) were killed while several others were lefty critically wounded and were moved to Indian army's 92 base hospital at Srinagar's Badami Bagh. The attack saw explosives packed inside a van rip through buses in a convoy of 78 vehicles carrying some 2,500 members of the paramilitary Central Reserve Police Force (CRPF).
Two blue buses carrying around 35 people each bore the brunt of the massive blast, heard miles away, around 20 kilometres (12 miles) from the city of Srinagar on the main highway to Jammu. Kashmir has been divided between India and Pakistan since independence. Rebels have been fighting for an independent Kashmir, or a merger with Pakistan, for 30 years.
Last year was the deadliest in a decade, with rights monitors saying almost 600 Kashmiri people died, most of them civilians. Thousands more have been maimed in recent years by pellet-firing shotguns used by Indian forces. As per reports by authorities the death toll is expected to increase. Senior police officer talking to AFP revealed: "An IED went off as a CRPF (Central Reserve Police Force) convoy passed by."
It was further revealed by CRPF spokesperson Sanjay Kumar that the explosives were attached inside a car that was driven into the convoy. "It was a powerful explosion. The explosive was car-borne," he stated.
PAKISTAN REJECTS INDIAN ALLEGATIONS
Pakistan strongly rejected insinuation by elements in the Indian government and media circles that seek to link the attack to the State of Pakistan without investigations. "The attack in Pulwama in the Indian Occupied Jammu & Kashmir is a matter of grave concern," the Ministry of Foreign Affairs stated in a press release. "We have always condemned heightened acts of violence in the Valley."
Kashmir suicide bomber radicalized after beating by troops, parents say
SRINAGAR (Reuters) – A suicide bomber who killed 42 paramilitary policemen in Indian-controlled Kashmir joined a militant group after having been beaten by troops three years ago, his parents told Reuters. Adil Ahmad Dar, 20, from the village of Lethipora in Indian Kashmir, rammed a car full of explosives into the convoy, escalating tension between the nuclear-armed neighbors, which both claim the rugged Himalayan region. A video released by the militant group after the attack showed his son, dressed in military fatigues and carrying an automatic rifle, detailing his plan to carry out the bombing. "He was beaten by Indian troops a few years back when he was returning from school," she said. "This led to anger in him against Indian troops."
Both parents said they were unaware of their son's plan to attack the convoy. Dar did not return home from his work as a laborer on March 19 last year, Fahmeeda added. "We searched for him for three months," she said.
Nine killed in Kashmir gun battle days after deadly attack
by Rifat Fareed | 18 Feb 2019
Srinagar, Indian-Occupied Kashmir – At least nine people, including three armed rebels, four Indian army soldiers and a police constable, have been killed in a gun battle in India-Occupied Kashmir. The gun battle in Pinglan village of Pulwama district comes days after 42 Indian security personnel were killed in a suicide blast – the worst such attack in 30 years of Kashmir conflict, which has raised fears of confrontation with archenemy Pakistan.
A senior Indian army official told Al Jazeera that the operation against the rebels was launched early following intelligence inputs about their presence in a house in Pinglan village. It ended in the evening. A police official told Al Jazeera that a deputy inspector general of police, Amit Kumar, was hit by a bullet in his leg. "An army brigadier was also wounded in the fighting" the official added.
Local residents in Pinglan village said that three houses and a cowshed were blown up by the armed forces and one of the house owners, Mushtaq Ahmad, 30, who ran a poultry shop in the village, was also killed. "His house was among the one which was blown up, he is survived by two children, aged four and three. He was dragged out of his house early in the morning by the army and killed. Another boy was also hit by a bullet in his leg," Ghulam Nabi, a resident, told Al Jazeera.
Indian born foreign journalist 'Ashok Swain' prediction
NEW DELHI India's Prime Minister Narendra Modi has warned Pakistan that it "is on a path to its own destruction".
On Thursday 14 Feb., a suicide bomber crashed an explosives-packed SUV into a Central Reserve Police Force bus in Pulwama district of held-Kashmir. The bus was transporting some 40 reservists in a convoy of 78 other vehicles. While New Delhi is blaming Islamabad for the deadly blast without any concrete evidence and thorough investigation, people from inside the South Asian country believe the politics on Pulwama attack looks more of a pre-election stunt by the incumbent Bharatiya Janata Party's leadership to boost its voters.
Ashok Swain, a professor of peace and conflict research at the Department of Peace and Conflict in Sweden, has said India shouldn't and must not get into Modi's manipulated pre-election war frenzy. "The desire for revenge makes people blind and leads to self-destructive actions. An armed confrontation, even if it fails to lead to nuclear holocaust, it will end India's democracy forever!" Swain posted on social media. The Indian-born academic, who has since now received multiple death threats by radical groups in India, had in December last year predicted a "major border confrontation" with Pakistan which would benefit PM Modi before the upcoming general elections.
"Mark my word In the next 5 months, Modi will smile more in public and will cry more in public. India should be also prepared for a major riot and/or a major border confrontation with Pakistan before the 2019 election," he had said in a tweet. Mr. Swain, following the Pulwama attack , took to Twitter to highlight that "Under Modi, not only terror attacks but also the death of Indian security forces has increased dramatically in Kashmir. The number of security persons killed in Kashmir 47 in 2014, 39 in 2015, 82 in 2016, 80 in 2017 and 91 in 2018".
India has lost Kashmir :  Confession of former BJP Senior Leader Yashwant Sinha
The intensity of anti-India protests in IOK has escalated to such levels, that an article in BBC questioned that "Is India losing Kashmir?" Washington Post also pointed that "Teen girls with stones are the new threat in India's Kashmir conflict". New York Times editorial "Cruelty and Cowardice in Kashmir" also has the same shade commenting on an incident on the current situation in the valley. The Atlantic observed that a new cycle of protests and violent crackdowns had begun in Kashmir, as have responses to those crackdowns leaving dozens dead and more injured. Former chief of R&AW A. S. Dulat felt that unarmed uprising has worsened under the current government in terms of atmospherics as due to alienation and the anger of youth, young Kashmiri minds have gone out of control. "There is a sense of hopelessness. They aren't afraid to die. Villagers, students and even girls are coming out on the streets. This has never happened in the past, "he said. An Indian journalist Santosh Bhartiya in an open letter to Indian Prime Minister Narendra Modi published on 'Rising Kashmir' claimed that although "the land of Kashmir is with us, the people of Kashmir are not with us." He had pointed out that on every tree, on every mobile tower, Pakistani flag swirls in Kashmir.
Calling New Delhi's policy towards Kashmir a 'bundle of confusion', former BJP senior leader Yashwant Sinha insisted that "India has lost people of the valley emotionally. "We have lost the people emotionally. You just have to visit the valley to realize that they have lost faith in us" Sinha acknowledged. He also candidly admitted that Modi and India believe in "doctrine of State" or brutality to suppress Kashmiri people.
UK rejects India's request to cancel Kashmir caucus
The United Kingdom categorically refused India's request to cancel an event highlighting human rights violations in occupied Kashmir. The event is scheduled to be held at the British Parliament. According to India Today, Indian Ministry of External Affairs spokesperson Raveesh Kumar said New Delhi had taken up the matter with the British government. "We have taken it up with the UK very strongly. We hope that they will understand our objections to the proposed conference and take appropriate action," said Kumar. "As a friendly country and as a strategic partner, we hope that the government of the United Kingdom will address our concerns which we have explained to them on the proposed conference."
Blaming Pakistan for 'duplicity', the Indian official said, on one hand, Islamabad talked about peace but it was "working together with forces which are pushing or fermenting anti-India sentiments".
The event is expected to be attended by Foreign Minister Shah Mehmood Qureshi, who is scheduled to travel to the British capital on those days. Thrashing the hopes of the Indian government, the British government asserted that it will not interfere in the matter. "The United Kingdom Members of the Parliament are independent of government," said the British High Commission spokesperson in New Delhi. "It is for the individual members to decide who they meet and for what purpose."
The meeting is being organised at the House of Commons by the All Party Parliamentary Group on Pakistan (APPG-Pakistan) that comprises MPs from the Conservative and Labour Party. It will be followed by an exhibition in London. The APPG-Pakistan's event aims to "highlight the centrality of Jammu and Kashmir dispute and the grave human rights violations against the Kashmiri people, by India, which are being widely condemned and need to be immediately stopped," said a Foreign Office press release.
Bangladesh proposes safe zone in Myanmar for Rohingya refugees
Bangladesh's Foreign Minister AK Abdul Momen has called on Russia, China and India to help the country tackle the Rohingya refugee crisis. In an interview with Anadolu news agency, Momen said his government has proposed to establish a safe zone in Rakhine state in Myanmarfrom where the refugees fled state persecution in late 2017. "If a safe zone is created under the vigilance of China, Russia and India along with the ASEAN states, Rohingya people will be encouraged to return to their own land," he said. ASEAN stands for Association of Southeast Asian Nations, a regional bloc of 10 countries in Asia.
Momen added that guaranteeing the refugees who return Myanmar's citizenship will be a precondition of the proposal, which he said has been appreciated by India.
He hoped other countries would follow suit. Since August 2017, more than 750,000 Rohingya refugees, mostly women and children, have fled Myanmar and crossed into Bangladesh after Myanmar forces launched a crackdown on the Muslim-majority Rohingya community.
The United Nations has also documented mass gang rapes, killings – including of infants and young children – brutal beatings and disappearances committed by Myanmar state forces.
Myanmar authorities treat Rohingya as unlawful citizens or illegal Bengalis based on a controversial 1982 Citizenship Law. Bangladesh and Myanmar signed a repatriation deal in November 2017 with a two-year time frame to return the Rohingya refugees to Myanmar. The repatriation has been postponed due to global concerns about the safety of Rohingya in their home country.
A refugee Name 'Momen' said the main goal is to "repatriate them to their country of origin with due dignity and safety", asking help from international actors. "There are 1.2 million Rohingya now staying in Bangladesh. Although we are not a rich country, we are one of the most densely populated countries in the world," Momen said, praising Prime Minister Sheikh Hasina for her "benevolence" in giving the refuge. He offered to send some refugees to friendly countries of Myanmar so that the living conditions of the refugees improve and together these states can put pressure on Myanmar to take back the refugees.
Genocide
The top diplomat termed Bangladesh's policy on Rohingya "a role model for humanity", calling their persecution "the biggest genocide since World War II". At least 43,000 Rohingya are missing and presumed dead, according to a March 2018 report (PDF) by the Association of Southeast Asian Nations Parliamentarians for Human Rights. A UN fact-finding mission last year said Myanmar military's campaign, which refugees say included mass killings and rape, was orchestrated with a "genocidal intent". Last month, Yanghee Lee, the UN special rapporteur on human rights in Myanmar, said the military chief should be prosecuted for "genocide".
40+ people killed in suicide attack on Revolutionary Guards in Iran's South
(13 Feb, 2019) A suicide attack in the Chanali area of Southeastern Iran has killed at least 41 personnel from Iran's elite revolutionary guards and civilians on Wednesday, according to FARS news agency. 10 Iranian guards were injured in the attack which reportedly targeted a bus carrying security forces. The attack happened on a road between the cities of Zahedan and Khash, close to the Pakistan border where militant groups and drug smugglers readily operate. The attack comes on the day a US-led conference takes place in Warsaw that included talks on what the Americans describe as Iran's malign influence across the Middle East.
Iran unveils, successfully tests new long-range cruise (Hoveyzeh) missile
2 Feb, 2019 | Tehran has showcased a new, long-range cruise missile, capable of covering over 1,350 kilometers. The munition has been already successfully tested, according to the country's military. The missile, dubbed Hoveyzeh, was shown to the general public for the very first time in Tehran on Saturday, amid celebrations of the 40th anniversary of the 1979 Islamic revolution. "This cruise missile needs a very short time for its preparedness and can fly at a low altitude," Defense Minister Brigadier General Amir Hatami said while unveiling the munition.
Aside from being revealed to the public at the presentation, a Hoveyzeh-type missile has already been successfully tested, flying some 1,200km (745 miles) and accurately hitting a dummy target, the minister said. The missile has a range of over 1,350 kilometers, the official revealed, yet the exact maximum range of the brand new munition remains a mystery.
Iran's unveils  cruise missile-equipped Fateh submarine
(17-2-2019) Iranian President Hassan Rouhani has unveiled a "state-of-the-art" domestically produced submarine, which the defence ministry said is capable of firing cruise missiles. Rouhani is in the southern province of Hormozgan on Sunday to introduce the latest addition of the naval fleet. Dubbed the Fateh, or Conqueror, it is the country's first semi-heavy submarine, according to Mehr news agency.
Mehr news reported that the 600-tonne submarine launched is equipped with torpedoes and naval mines, and can operate more than 200m below sea level for up to five weeks. Tasnim news agency added that the Fateh is also outfitted with a guided-missile system capable of launching submarine-launched cruise missiles and an advanced sonic radar system that can identify enemy vessels.
"The Fateh is entirely a homegrown submarine that is designed and developed by experts of the defence ministry and is equipped with the world's modern technologies," Brigadier General Amir Hatami, the defence minister, was quoted by Tasnim on Saturday as saying. The Fateh is the latest addition to Iran's fleet of submarines, which was first launched about 20 years ago.
Hossein Dalirian, a defence reporter for Tasnim news agency, noted in a social media post that the latest submarine is one of the most important projects Iran's military have undertaken in the last 40 years. Another Tehran-based security analyst, who asked not to be identified because of the sensitivity of the topic, noted that the submarine's vertical launching system.
Fifteen Egyptian troops killed or wounded in North Sinai: military
CAIRO (Reuters) – Fifteen Egyptian military personnel were killed or wounded in a clash on Saturday in North Sinai in which seven militants were also killed, the Egyptian military said. The breakdown of military casualties was not immediately clear. However, two security sources told Reuters that some of the injuries were serious. The Islamic State later claimed responsibility for the attack on its news agency AMAQ. It said it killed at least 15 Egyptian troops, revising an earlier figure of 20 killed south of the provincial capital of Arish after clashes with "various kinds of weapons."
Islamic State claims North Sinai attack, says 20 Egyptian troops killed.
At least 70 dead in Bangladesh building fire
Wed. 20 Feb. 2019: Building where blaze started housed a plastics warehouse, according to firefighters. The fire started in a four-storey building on Wednesday night and spread to nearby buildings in the Chawkbazar area of Old Dhaka, which dates back to the Mughal period more than 300 years ago. "So far, 70 bodies have been recovered. The number could rise further as the search is continuing," said Julfikar Rahman, a director of the Fire Service and Civil Defence.
About 200 firefighters fought for more than five hours to bring the blaze under control. They said the building where the fire began had housed a plastics warehouse and contained flammable material. 'Flames were everywhere' : Dhaka deputy police commissioner Ibrahim Khan said at least two cars and 10 cycle rickshaws were burnt in the fire. Hundreds of people rushed to the hospital looking for missing relatives. However, most of the bodies of the dead were charred beyond recognition.
From critic to convert: Former anti-Muslim Dutch politician embraces Islam Feb 5 , 2019 |
A former Dutch politician from Geert Wilders' right-wing Freedom Party (PVV) has announced his unexpected conversion to Islam. Joram Van Klaveren's 'Road to Mecca' moment occurred while researching a book critical of the faith.
Van Klaveren had been a staunch critic of Islam and was elected to Parliament in 2010, as part of the groundswell of support for Wilder's anti-Muslim rhetoric which saw the PVV become the third-largest party in the Netherlands. During his stint in politics, Van Klaveren became known for his inflammatory anti-Islam statements. He had previously called Islam "a lie," its holy book the Koran "poison" and the prophet Muhammad "a crook."
He quit the PVV in 2014 after disagreeing with Wilders asking supporters at a campaign rally if they wanted "fewer" or "more" Moroccans in the country (they answered "fewer!"). Van Klaveren failed to get re-elected in 2017 after setting up his own conservative party.
Without politicking to occupy his time, the firebrand turned towards writing a critical book on Islam. However, while in the middle of his research Van Klaveren had to reassess and rewrite the book, eventually converting to the faith in October and announcing the news.
"During that writing I encountered more and more things that shook my vision of Islam," he tolda Dutch radio program.
Beijing Accuses US of Illegally Crossing Its Sovereign Borders in S. China Sea
ASIA & PACIFIC | 11.02.2019| China protests and expresses dissatisfaction with US vessels entering the waters near the Spratly Islands, an archipelago in the South China Sea that Beijing continues to regard as its "indisputable sovereignty," without authorization, Chinese Foreign Ministry spokeswoman Hua Chunying said. "The actions of the US vessels constitute a brusque violation of China's sovereignty, undermine peace, security and order in the relevant waters.
The Chinese party expresses extreme dissatisfaction and a strong protest," Hua told a briefing. She stressed that China had "indisputable sovereignty" over the islands and respected the freedom of navigation in the South China Sea but would not tolerate the use of this freedom as pretext for undermining the country's sovereignty and security.
"We strongly call on the US party to immediately stop these provocative actions.
The Chinese party will take all necessary measures to resolutely defend its sovereignty and security as well as the stability in the South China Sea," the spokeswoman underlined. According to Beijing, two US Navy destroyers sailed near the Spratly Islands, which China calls Nansha Islands, earlier on Monday without permission from the Chinese government. Chinese vessels issued a warning for the warships and demanded that they immediately leave the area.
More Brexit embarrassment for May as parliament defeats her again
Elizabeth Piper, Kylie MacLellan, William James
LONDON (Reuters) – Prime Minister Theresa May suffered a defeat on her Brexit strategy that undermined her pledge to European Union leaders to get her divorce deal approved if they grant her concessions. In a show of muscle, hardline Brexit supporters in her Conservative Party decided to abstain, handing her an embarrassing, albeit symbolic, defeat as she tries to renegotiate her deal with the EU. While it will not deter May from trying to secure changes on the most contentious issue of the deal – the Irish "backstop" – the vote does show that her pro-Brexit lawmakers are a major obstacle to passing any agreement. May was absent from the House of Commons for the debate and the outcome of the vote, which deepened the sense of political crisis over Britain's departure, more than two years after voters opted to leave the bloc by a margin of 52 percent to 48.
NATO Has No Plans to Deploy New Ground-Based Systems With Nukes in EUl
Russia issued a mirror-like response to the US decision to suspend the INF Treaty in order to officially exit it in 6 months later. However, Moscow assured that it would not deploy weapons violating the historic accord even if developed them until such US-made weapons appear in Europe and other regions.
According to Deputy Secretary General of NATO, the alliance has no plans to deploy new ground-based systems with nuclear weapons in Europe even after the termination of the INF Treaty. The statement comes shortly after NATO chief Jens Stoltenberg stated that the alliance was preparing steps in case the Intermediate-Range Nuclear Forces (INF) Treaty ended, adding, however, that it doesn't want a new arms race.
On 1 February, Pompeo justified the US decision to suspend its obligations under the historic Cold War-era INF Treaty, triggering the six month withdrawal process, by yet again accusing Russia of violating the treaty. Moscow has strongly denied the claims.
A day later, Russian President Vladimir Putin announced that Moscow was suspending its obligations under the INF Treaty in a "mirror-like response" to Washington's move, however, emphasising that Moscow would not be dragged into a new arms race. In addition to this, Putin stated that the use of target rockets and the deployment of Mk 41 launchers in Europe since 2014 by the United States is a direct violation of the Intermediate-Range Nuclear Forces Treaty. Nevertheless, Moscow assured that it would not deploy weapons violating the Cold War-era treaty even if Russia developed them "until such US-made weapons appear in Europe and other regions."
Moscow and Washington have been repeatedly accusing each other of violating the NF Treaty, signed by the United States and the Soviet Union in 1987, which bans all ground-launched ballistic missiles with ranges between 500 and 5,500 kilometres (310 and 3,400 miles).
Putin to U.S.: I'm ready for another Cuban Missile-style crisis if you want one
Andrew Osborn (Reuter)
MOSCOW (Reuters) – President Vladimir Putin has said if the United States wanted one, and that his country currently has the edge when it comes to a first nuclear strike. The Cuban Missile Crisis erupted in 1962 when Moscow responded to a U.S. missile deployment in Turkey by sending ballistic missiles to Cuba, sparking a standoff that brought the world to the brink of nuclear war.
More than five decades on, tensions are rising again over Russian fears that the United States might deploy intermediate-range nuclear missiles in Europe, as a landmark Cold War-era arms-control treaty unravels. Putin's comments, made to Russian media late on Wednesday, follow his warning that Moscow will match any U.S. move to deploy new missiles closer to Russia by stationing its own missiles closer to the United States or by deploying faster missiles or both.
Putin fleshed out his warning in detail for the first time, saying Russia could deploy hypersonic missiles on ships and submarines which could lurk outside U.S. territorial waters if Washington now moved to deploy intermediate-range nuclear weapons in Europe. "(We're talking about) naval delivery vehicles: submarines or surface ships. And we can put them, given the speed and range (of our missiles)… in neutral waters. Plus they are not stationary, they move and they will have to find them," Putin said, according to a Kremlin transcript. "You work it out. Mach nine (the speed of the missiles) and over 1,000 km (their range)."
U.N. chief wants INF nuclear treaty saved, concrete steps in Hanoi
GENEVA (Reuters) – U.N. Secretary-General Antonio Guterres urged the United States and Russia on Monday FEBRUARY 25, 2019, to preserve the Intermediate-Range Nuclear Forces Treaty and to extend the New START Treaty before it expires in 2021.
To lose the INF would make the world a more insecure and unstable place, he told the Conference on Disarmament at the United Nations in Geneva. Washington announced on Feb. 1 that it will withdraw from the treaty in six months unless Moscow ends its alleged violations.
"We simply cannot afford to return to the unrestrained nuclear competition of the darkest days of the Cold War. I call on the parties to the INF Treaty to use the time remaining to engage in sincere dialogue on the various issues that have been raised. It is very important that this treaty is preserved."
He said New START was the only international legal instrument limiting the size of the world's two largest nuclear arsenals, and its inspection provisions benefited the entire world, noting that global stockpiles of nuclear weapons were one-sixth of what they had been in 1985.
"I urge Russia and the United States to use the time provided by an extension to the treaty to consider further reductions in their strategic nuclear arsenals. I dream of the day when these bilateral arrangements become multilateral."
He also said he hoped a U.S.-North Korean nuclear summit this week would produce real progress.
"At their summit in Hanoi later this week, I hope that the leaders of the Democratic People's Republic of Korea and the United States agree to concrete steps for sustainable, peaceful and complete and verifiable denuclearization of the Korean Peninsula". Reporting by Tom Miles; Editing by Kevin Liffey
Donald Trump demands Europe take hundreds of ISIL fighters
US president says Britain, France, Germany and other allies must prosecute more than 800 ISIL prisoners in custody. Europe must take in hundreds of ISIL fighters captured in Syria or else the United States may be forced to release them, US President Donald Trump warned. He made the comments in a series of tweets on Saturday demanding that Britain, France, Germany and other European allies put more than 800 detained cadres from Islamic State of Iraq and the Levant (ISIL, ISIS) with their citizenship on trial. The president issued the warning as a US-backed militia battles the last remaining ISIL combatants in a tiny sliver of territory in eastern Syria. "The caliphate is ready to fall. The alternative is not a good one in that we will be forced to release them," Trump said of the war prisoners.
Trump caused widespread concern among US allies in December when he suddenly announced the US would withdraw about 2,000 troops from Syria and that ISIL had already been defeated. Critics warned the armed group remains a threat and a pullout could lead to its resurgence, with US allies in the region not equipped to handle it alone.
'In Basra, people avoid doctors. They might find they've cancer'
by Marta Bellingreri & Alessio Mamo
Basra, Iraq – With its beautiful canals and centuries-old buildings, Basra was once renowned as the "Venice of the Middle East". But the southern Iraqi city is now facing one of the region's worst environmental crises, with its rivers turned into open-air dumping sites. In recent months, some 118,000 people have been hospitalised as a result of water-related illnesses, including high fever, nausea and diarrhoea, according to Choukri al-Hassan, an air and water pollution expert at the University of Basra. The situation has prompted thousands of young people and environmental activists to take to the streets to protest against the lack of drinkable water and the government's failure to fix the crisis. Formed by a confluence of the Tigris and the Euphrates rivers, Shatt al-Arab River runs through the centre of Basra. It is polluted with germs, chemicals and toxic algae, while its high levels of salinity – close to that of seawater – is believed to have reached its peak last year. "The water in Basra is so polluted that you can't even wash your face," al-Hassan said. "Fish, turtles and crabs die. The ecosystem is changing, it's a catastrophe."
Meet Rosie Gabrielle, a Canadian exploring Pakistan on her bike
By Entertainment Desk (Source Express Tribune) | A Canadian youngster by the name of Rosie Gabrielle has been exploring the world alone on her bike. Her journey has brought her to Pakistan, where she is currently enjoying local cuisine and hospitality, so much so that she has labelled it "amazing and safe country."
The motorcyclist, who quit her job two years ago to live her dream of riding solo, has been documenting her visit on her social media pages. Just a couple of days ago, Gabrielle took to Instagram to share her experiences here. "Everyone told me it was too dangerous to come to Pakistan as a single female, let alone ride a motorcycle across the country. Now 1,500kms into my tour, I can tell you firsthand what it's like to travel Pakistan as a solo female and what I've experienced so far," she began.
"Countless smiles and cheers of joy as I pass people and they realise it's a female riding. Numerous offers to stay in local homes wherever I stop. Families are always inviting me to stay with them. When I stop for chai or snacks at a store, most often someone will buy it for me, or the owner will not let me pay, saying I'm a guest in their country and they would love to gift this to me."
Gabrielle continued, "Food, food and more food! Wherever I go, I'm offered to eat wonderful home-cooked food or offered gifts of food from street vendors as I pass by. Everyone wants to say hello and ask where I'm from and are curious what I think about Pakistan."
According to the traveller, a lot of people have been teaching her about religion as well. "They want me to know that Islam is
[about]
peace and love and that I am accepted just the way I am. I've been gifted many things now by the people and families I stay with and been given the highest attention and hospitality, even if they don't have much to give. They make sure I'm happy," shared Gabrielle. "And they give with their whole hearts. So many beautiful connections and heartfelt moments… I have truly fallen in love with the people here. This is Pakistan. This is the country of peace and love. And this is my unedited experience so far, as a solo female traveling by motorcycle."
The Canadian added, "Pakistan has suffered greatly in past years due to the continuous negative image the media portrays. Since many years now, they aren't used to seeing tourists. So they're overjoyed to see a foreigner, not because I'm anyone special but because it gives them hope. Hope that Pakistan will once again be recognised for the beautiful country it is and the true heart of the people will be seen."
Gabrielle concluded her post saying, "People have labelled Pakistan as dangerous or said its people aren't good. And I've seen how that personally affects them here. It brings them to tears to have such accusations and it breaks my heart to know what is said and how they're treated abroad."