Brief News International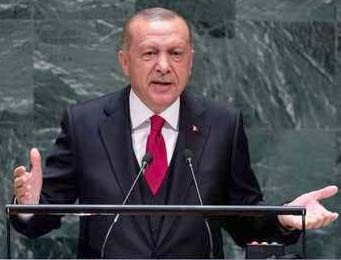 The stability and prosperity of South Asia cannot be separatedfrom the Kashmir issue: Turkish President Erdogan
Dr. Fai : (United Nations, New York. September 24, 2019.)
"The people of Kashmir were heartened by President Tayyip Erdogan's intervention during the 74th session of the United Nations General Assembly when he said, "The stability and prosperity of South Asia cannot be separated from the Kashmir issue." This is the most practical, viable and sensible statement put forth by the President of Turkey," said Dr. Ghulam Nabi Fai, Secretary General, 'World Kashmir Awareness Forum.'
President Erdogan reminded the world leaders "Despite the resolutions adopted by the United Nations Security Council, Kashmir is still besieged and 8 million people are still stuck in Kashmir," "They (Kashmiri people) cannot get out," of their houses.
Who will disagree with the vision of President Erdogan when he suggested to the world body? "In order for the Kashmiri people to look forward to a safe future with their Pakistani and Indian neighbours, it is imperative to solve this problem through dialogue on the basis of justice, and equality instead of conflict."
Fai suggested that the world powers have two choices before them. One is to continue confining themselves to warning both Pakistan and India against going to war with each other. This policy bases the no-war prospect in South Asia on a very precarious foundation. The prospect of a nuclear exchange in that vast Subcontinent cannot be dismissed in the event of hostilities breaking out between the two countries.
The second option is to play a more activist, mediatory role in regard to Kashmir as suggested by President Erdogan. This can take the shape of a multilateral dialogue or an appropriate use of the newly-developed procedures and mechanisms at the United Nations. The U.N. would supply the catalyst that is needed for a settlement. And UN should besides appointing a special envoy on Kashmir, a person of an international standing, like President Mary Robinson of Ireland; should persuade both India and Pakistan to initiate a peace process with which all parties are involved India, Pakistan, Kashmiri leadership and the United nations. (Dr. Fai is the Secretary general of the World Kashmir Awareness Forum.)
——————————————————–
Turkey's Erdogan refuses UN dinner over presence of Egypt's Sisi
(September 27, 2019) Turkish President Recep Tayyip Erdogan has rejected an offer to join a dinner with the US President Donald Trump upon seeing the Egyptian President Abdel Fattah Al-Sisi accompanying him, local Daily Hurriyet reported yesterday.
Erdogan was expected to join Trump for dinner at the same table after the opening of the United Nations (UN) General Assembly in New York. However, he was reported to have refused to sit at the table "after walking into the room and seeing Trump was joined by Sisi."
"President Erdogan left the room when he saw Sisi sitting at the same table with Trump," the local agency said on Twitter.
The dinner table was said to have also included UN Secretary-General António Guterres, German Chancellor Angela Merkel, and the Polish President Andrzej Duda. Erdogan has been an outspoken critic of Sisi's rule since he seized power from the country's first democratically-elected president, Mohamed Morsi, in a 2013 coup. He recently urged the UN to launch an official investigation into Morsi's recent death in prison.
——————————————————–
Israel calls on citizens not to travel to Egypt, Jordan and Turkey
Israel's Counter-Terrorism Bureau yesterday warned Israeli citizens against travelling to Turkey, Jordan and Egypt's Sinai Peninsula during the October Jewish holiday season. KAN reported that the national bureau had called on Israeli tourists not to travel to the neighbouring countries, "including Iran during the Jewish New Year holiday."
The warnings came "in anticipation of military operations against Israeli tourists by Iran or Hezbollah of Iran or Hezbollah."
Although there has been no official warning against travelling to Europe, the Israeli government recently warned its citizens to "stay vigilant" in any touristic and crowded places, cultural centres, and markets across Europe.
(Source: Middle East Monitor)
——————————————————–
Saudi oil facility attacks loud explosions erupted at Khurais oilfield and Abqaiq processing facility
Saturday's drone attacks severely disrupted global energy infrastructure and sent oil price soaring
At 3.31am and 3.42am on Saturday 21 Sep. 2019, loud explosions erupted at Khurais oilfield and Abqaiq processing facility, both owned by Saudi Aramco, the country's state-owned oil company, often described as the kingdom's crown jewel.
Abqaiq is the world's largest oil processing facility, where about two-thirds of the total Saudi supply is refined and cleaned of impurities such as sulphur and sand. "This is the heart of Saudi Arabia's oil infrastructure," said Homayoun Falakshahi, an oil and gas equity analyst at Kpler, a Paris-based energy data firm.
A facility of such importance was supposed to be insulated from the wider instability of the Middle East. "Because of its importance it is very well protected, under extremely high security measures," Falakshahi said.
The fact that it can be severely disrupted is a sign that the world's energy infrastructure is more vulnerable than previously believed, and considered a legitimate target.
The Khurais field and processing plant resumed 30% of production within 24 hours of the strike and will produce 1.2 million barrels a day by the end of September, Fahad Al Abdulkareem, general manager for Aramco's southern area oil operations, said at a briefing on Friday. Workers are there 24 hours a day to speed the repairs, but the site showed significant damage.
The Khurais field has a maximum output capacity of 1.45 million barrels a day and processes all of its oil on site, according to Al Abdulkareem. The assault affected four of its crude-stabilization units — 90-meter (300-foot) towers that reduce pressure and remove gas from the crude. One of the columns shown to reporters was a charred wreck, and at least one other was even more badly damaged, he said.
Aramco also showed reporters pipes that had been pierced by fragments from the missiles, causing them to spew oil, feeding the fires. Workers were busy replacing segments of piping and insulation at the facilities, and conducting tests on the damaged crude-stabilization columns.
The world's biggest crude exporter has vowed a swift restoration of output at Khurais and Abqaiq after the attack by drones and missiles disabled 5% of global supply. There's concern in the market about how long it will take the kingdom to fully restore lost production as it depletes inventories to meet supply commitments and operates without its usual buffer of spare capacity.
The pre-dawn attacks on Saturday knocked out more than half of crude output from the world's top exporter – five percent of the global oil supply – and cut output by 5.7 million barrels per day.
Yemen's Houthi rebels, who have been locked in a war with a Saudi-UAE-led coalition since 2015, claimed responsibility for the attacks, warning Saudi Arabia that their targets "will keep expanding".
But US Secretary of State Mike Pompeo swiftly accused Iran of being behind the assault, without providing any evidence. The claim was rejected by Tehran which said the allegations were meant to justify actions against it.
Iran FM Zarif rejects US accusations as 'distraction'
Iran dismissed US accusations over weekend attacks of Saudi Arabia's oil sites as a distraction from the realities in the Middle East, Iran's Students News Agency ISNA quoted Foreign Minister Mohammad Javad Zarif . "The United States should seek to look at the realities in the region, rather than simply using distractions. We feel that the US government is trying to somehow forget the realities in the region," Zarif said.
Irani Defence minister denies Iran played any role in attack
Iran's defence minister Brigadier General Amir Hatami said Tehran had no involvement in the attacks on the Aramco oil installations, according to the semi-official Tasnim news agency. "Rejecting comments about Iran's role in the operation, [Hatami] said the issue is very clear: There has been a conflict between two countries [Yemen and Saudi Arabia]." Tasnim said.
——————————————————–
Afghan president survives Taliban attack at election rally
(17-9-2019) Two separate suicide attacks in Afghanistan have killed at least 48 people and injured dozens others.
In Parwan province, north of the capital Kabul, an election rally where President Ashraf Ghani was due to speak was attacked, and 26 people died.
Another blast, near the US embassy in central Kabul, killed 22 people.
The Taliban said they were behind both attacks. The group has continued a concerted bombing campaign while at the same time taking part in peace talks. But US President Donald Trump described the negotiations with the Taliban as "dead" earlier this month.
The Taliban refuse to talk to the Afghan government and have vowed to disrupt the presidential election in the country on 28 September. In a statement, they said: "We already warned people not to attend election rallies, if they suffer any losses that is their own responsibility."
The Taliban, which have threatened to attack and disrupt the election later this month, said that suicide bombers had conducted both strikes.
——————————————————–
Trump says Osama Bin Laden's son was killed in US operation
(14 Sep, 2019) US Prsident Donald Trump has confirmed that the son of Osama Bin Laden, Hamza, was killed in a US "counterterrorism operation." The death of Bin Laden's possible successor was reported earlier this year.
"Hamza Bin Laden, the high-ranking Al-Qaeda member and son of Osama Bin Laden, was killed in a United States counterterrorism operation in the Afghanistan/Pakistan region," said a statement from Trump's office sent to journalists on Saturday.
The death of Hamza has deprived Al-Qaeda of his "important leadership skills and the symbolic connection to his father." Within Al-Qaeda, Bin Laden's son was "responsible for planning and dealing with various terrorist groups," it added.
Hamza Bin Laden's death in an airstrike was first reported late in July. Back then, Trump said that the man was "very threatening" to the US, but declined to provide any further details. With the official confirmation of Hamza's death, however, it still remains unclear when and where the US operation took place exactly.
Hamza made his last known public statement through an Al-Qaeda propaganda mouthpiece in 2018, threatening Saudi Arabia with terrorist attacks and calling for the Saudi monarchy to be overthrown. Son of the 9/11 attacks mastermind, born around 1989 in Jeddah, has long been wanted by the FBI, which offered up to $1 million for information on his whereabouts.
Human rights activists angry with Gates Foundation award to 'Butcher of Gujarat' Modi
Activists have started a petition calling for the Foundation to take back Modi's award because of his human rights record
New Delhi(8th September, 2019) Human rights activists, lawyers and politicians have stirred a controversy by opposing the announcement of the Bill & Melinda Gates Foundation award to Prime Minister Narendra Modi for the Swachh Bharat Abhiyan. They have labelled him the "butcher of Gujarat" and "Hitler of the East".
Union Minister of State in the Prime Minister's Office, Jitendra Singh, announced the award. An opinion piece in The Washington Post titled 'The Gates Foundation shouldn't give an award to Narendra Modi' accused the leader of the "Hindu nationalist party" for inciting violence against minorities and curtailing the freedom of expression.
The article, written by lawyers Suchitra Vijayan and Arjun Singh Sethi, said: "In light of Modi's record, including promoting repressive policies in the past month in Kashmir and the northeastern state of Assam, he should not be given the award.
"The Gates Foundation claims on its homepage that 'All lives have equal value'. Giving the award to Modi would betray that promise and everyone who has suffered under his rule."
——————————————————–
India will eventually take control of Pakistan Kashmir, Indian FM predicts
(17 Sep, 2019) India's foreign minister says he expects Pakistan-controlled Kashmir to one day become Indian territory, fanning the flames of an escalating territorial dispute between the two nuclear rivals. The region of Kashmir currently administered by Pakistan "is part of India and we expect one day that we will have physical jurisdiction over it," Foreign Minister Subrahmanyam Jaishankar told a news conference. He added that India faces a "unique challenge" from Pakistan, accusing Islamabad of "openly" using terrorism as part of its foreign policy. His inflammatory statements come a day after a chief minister in the Indian state of Gujarat warned Pakistan that New Delhi was ready to take back Kashmir in order to "reunite" India.
Islamabad "should be ready to lose Pakistani-occupied Kashmir," Gujarat Chief Minister Vijay Rupani was quoted as saying by local media, using the Indian term for the disputed territory.
——————————————————–
In 'last-minute' decision, Trump to now share stage with Modi in Houston gala
By NAYANIMA BASU | 15 September, 2019
New Delhi: US President Donald Trump will meet Prime Minister Narendra Modi at Houston in Texas on 22 September, during the very first leg of Modi's visit, sources have told ThePrint. Prime Minister Modi, who will be leaving for the US on 20 September, will not just address the Indian diaspora there as part of a mega event in Houston called 'Howdy! Modi' but will also call on top American CEOs of the energy sector in Texas. Trump is likely to attend even that with the Prime Minister, according to sources.
This comes as a "last-minute decision" by Trump as both leaders will be meeting again at the UN General Assembly meet later that week in New York, sources said. Apart from showing off to world that he has "got Trump's back" on Kashmir after the abrogation of Article 370, Modi will also be granting a platform to the US president to appeal to over 5,00,000 members of the Indian diaspora ahead of what is expected to be a tightly-contested US Presidential election in 2020, said another source.
India to look to end trade standoff
At the separate bilateral meeting in New York on 25 September, India is expected to hand over a "lucrative" trade deal to Washington in an effort to end the rising trade tensions between the two countries. Under the much-awaited trade package, India is expected to lower import duty on high-end automobiles, mobile phones and other high-end telecom products. New Delhi is also expected to relax norms that will allow easy entry of US agricultural products and medical devices into the Indian market. India has become a major importer of energy from America and it seeks to enhance that aspect of the relationship even further by allowing US energy firms to invest here. The Trump administration is so upset with India on the trade front that it has not convened a meeting of the annual US-India Trade Policy Forum since 2017. It was last held in Washington in October 2017.
Major defence deals in the offing
During the visit, Modi is also expected to give his nod for defence deals worth $10-12 billion with the US as India remains Washington's 'Major Defence Partner'. India has plans to buy multi-role helicopters, air missile systems, drones and more Apache attack helicopters from the US.
The latest deal being finalised by India under the foreign military sales programme of the US is the acquisition of 10 more Poseidon-8I long-range maritime patrol aircraft for over $3 billion. Earlier this month, eight Apache AH-64E (I) helicopters were inducted into the IAF at the Pathankot frontline airbase near the India-Pakistan border.
While the leaders may agree to these deals in-principle during Modi's trip, they will be signed during the upcoming 2+2 talks that will take place later this year when the defence and foreign ministers of both sides meet. Trump and Modi had last met in August on the sidelines of the G-7 meet in Biarritz, France, where India was able to silence America on its intentions to "mediate" the Kashmir dispute. New Delhi had then offered to expand trade and business ties that would help Trump to "Make America Great Again".
——————————————————–
India deploys warships to keep tabs on Pakistan's naval exercise
(Friday 27th Sep. 2019) India has "forward deployed" some warships, submarines, maritime patrol aircraft and fighter jets to keep track of a major naval exercise by Pakistan in the north Arabian Sea, which will include missile and rocket firings as well as combat manoeuvres over the next few days. Defence establishment sources on Wednesday said "close tabs" are being kept on the unfolding Pakistani exercise, with the Indian armed forces also being kept operationally ready "to prevent any misadventure". "There is a heightened threat perception about strikes, whether by state or non-state actors, after India revoked J&K's special status. Even if the Pakistani exercise is a regular one, intentions can change very quickly," said a source. Pakistan has issued a maritime alert for commercial shipping in the north Arabian Sea that it will be conducting "live" missile, rocket and gun firings between September 25 and 29. The entire exercise will be tracked, both in terms of "operational capabilities and any deviations from the routine", by "several assets" of the Indian Navy and IAF, said sources. The Navy is also using its Poseidon-8I patrol aircraft for long-range maritime reconnaissance over the exercise area."There are at least seven to eight Pakistani warships there," said a source. The Indian armed forces have been maintaining high operational readiness ever since the IAF conducted the air strikes against the Jaish-e-Mohammed training facility at Balakot in Pakistan on February 26. (Source: Times of India)
——————————————————–
India draws up USD 130 billion-worth modernization plan for armed forces
New Delhi: India has finalised a road map to spend USD 130 billion in the next five to seven years to modernise the armed forces and bolster their combat capabilities over rivals in the region, according to an official document and military sources. The plan includes procurement of a range of weapons, missiles, air defence systems, fighter jets, submarines and warships, drones, surveillance equipment and developing infrastructure for extensive use of artificial intelligence, official sources said.
While India's spending has remained relatively constant in the last 10-15 years compared to its GDP, China's has significantly ramped up defence budget during the period.
"The government will spend USD 130 billion for fleet modernisation in the next 5-7 years across all armed forces," the official document stated. Multiple military sources said the government's aim is to invest in capabilities so that the armed forces can effectively deal with any possible threat from either China or Pakistan.
Last month, Prime Minister Narendra Modi announced clearing a long-pending proposal to establish the post of chief of defence staff (CDS) for boosting coordination among the Army, the Indian Air Force and the Navy.
The sources said the CDS will play a key role in implementing the modernisation drive in the three forces. The sources said establishing India as a military power in the outer space will be another key aspect of the plan. The government's immediate priority is to fast-track pending proposals including procuring 2,600 infantry combat vehicles, 1,700 future ready combat vehicles for the Indian Army and paving way for supplying 110 multirole fighter aircraft to the Indian Air Force, they said.
"Infantry modernisation is a key focus area," said a source.
Sources said government is aware of China significantly ramping up its air and naval powers, adding the aim is to equip both the the Indian Air Force and the Indian Navy with capabilities on par with its adversaries. To bolster its operational capability, the Navy has already finalised a plan to have 200 ships, 500 aircraft and 24 attack submarines in the next 3-4 years. At present, the Navy has around 132 ships, 220 aircraft and 15 submarines.
The sources said the government is also determined to significantly enhance IAF's overall combat capabilities and a detailed plan is being finalised. The government is also working on a mega defence project to make the airspace over almost all its major cities, including Delhi and Mumbai, virtually impregnable, the sources said.
It is also inducting the first batch of its intercontinental ballistic missile system Agni V which is expected to significantly bolster the country's air defence system. The missile, with a strike range of 5,000 km, is capable of carrying a nuclear warhead. Very few countries, including the US, China, Russia, France and North Korea, have intercontinental ballistic missiles. In its missile armoury, India currently has Agni-1 with a 700 km range, Agni-2 with a 2,000-km range, Agni-3 and Agni-4 with 2,500 km to more than 3,500-km range. The sources said the government's focus will be to develop the domestic defence industry and key policy initiatives are expected to be rolled out for it in the next couple of months.
(Source: India Today)
——————————————————–
IAF gets its first Apache helicopters, army aviation stakes its claim
By Ajai Shukla | Business Standard, 03 Sept 19
Providing the Indian armed forces with a badly needed firepower boost, The Boeing Company formally handed over eight Apache AH-64E armed attack helicopters to the Indian Air Force (IAF) at Pathankot on Tuesday.
These are the first of 22 Apaches that will equip two IAF attack helicopter squadrons that have, so far, flown Russian-origin Mi-25 and Mi-35 attack helicopters. The first to fly the Apache will be Pathankot-based 125 Helicopter Unit, named "Gladiators". Next up for the Apache will be 104 Helicopter Unit, based in Suratgarh, Rajasthan.
Both these Apache units are scheduled to be fully equipped and operational by end-2020. "I am happy to note that the delivery schedule is on time with eight helicopters already being delivered," said IAF chief, Air Chief Marshal BS Dhanoa, at the handing-over ceremony in Pathankot.
The Apache, especially its latest, and most advanced, variant called the AH-64E, is widely respected as the world's most formidable attack helicopter. Sixteen countries have bought more than 2,000 Apaches since the initial variant entered service in the early 1980s. The United Progressive Alliance (UPA) government initiated the procurement of 22 Apaches, while the current government signed the $1.4 billion contract in September 2015.
The Apache is primarily designed to provide fire support to ground forces, including to infantrymen who can manpack only limited weaponry, especially in the mountains; and to mechanised units that have pinned down enemy tanks frontally, setting the stage for Apaches to fly in from the flanks, hidden by tree lines or sand dunes, and set enemy tanks ablaze with missiles and rockets.
—————————————————————
No Apple Store nearby? Computer hardware STOLEN from India's first indigenous aircraft carrier
Theft in INS Vikrant in Cochin shipyard triggers fears of security breach
(18 Sep, 2019) When it comes to computer heists, you might expect criminals to target their local electronics store. But in India, an enterprising thief (or group of crooks) managed to swipe hardware from… an aircraft carrier.
Police are currently probing the theft of a hard disk, random access memory (RAM) and processor from four computers recently installed in an Indigenous Aircraft Carrier (IAC). The warship, the first of its kind, is currently under construction at a shipyard in Kochi, India.
There are CCTV cameras outside the ship construction area, but none inside the ship which may make finding the culprits a difficult task, according to police officials who spoke to local media.
Authorities learned of the theft over the weekend, after initial trials of the ship's electronics failed. It was initially presumed that there were problems with the wiring, when in fact the vessel's computers had been rendered inoperable by the heist.
According to reports emanating from the CSL, four hard disks, random access memory cards and a processor were stolen after dismantling four computers which were installed in the ship. The shipyard authorities have no idea when the incident took place but it was noticed on Sunday. Officials said there were no camera inside the ship as the work was going on.
The Indian Navy has downplayed the incident, saying that the stolen hardware was of no military significance. Even if no military secrets were stolen, the theft could delay the carrier's completion. The warship is expected to enter service sometime between 2020 and 2022.
—————————————————————
Afghanistan's Presidential Election 28 September 2019
Afghanistan presidential vote shows low turnout after technical glitches & violence in wake of US-Taliban talks collapse
Preliminary results are not expected before October 17 and final results not until November 7. If no candidate gets 51 percent of the vote, a second round will be held between the two leading candidates
Population : 35 Million | Registered Voters: 9.6 Million
Voting Age : 18 Years | Security Personel: 72,000
Poll Officials: 110,000 | Polling Centers: 5,373
Polls close: Polls have closed in Afghanistan's presidential election, the fourth since the fall of the Taliban in 2001. Incumbent President Ashraf Ghani is seen as the frontrunner in the 14-man race, with Abdullah Abdullah, the country's chief executive, considered his main rival. Security forces are on high alert due to threats from the Taliban to attack polling stations.
Voter turnout was low in certain parts of Afghanistan amid lingering concerns over security threats and logistical challenges. "In the city of Jalalabad [the capital of Nangarhar provincial], the turnout was low in the morning, until at least 10am. In the districts there are also fewer people than in previous elections," Nabiullah Baz, a member of parliament from the district of Chapliyar, told Al Jazeera.
Voters complained that lists were incomplete or missing and biometric identification machines intended to reduce fraud were not working properly or people were not adequately trained on how to use them. "I couldn't vote because the voting sticker I have on my ID is not registered in the polling station I went to. This happened to so many different people. This sticker was put on my ID in Abdul Shukoor Reshad High School by the election commission themselves."
Voters across Afghanistan cast their ballots
Election extended by two hours : The Independent Election Commission extended voting by two hours, with polls now set to close at 5pm (12:30 GMT). "They were due to be closed by now but they happen to be open for further two hours – it does seem as though it is giving people in other parts of Afghanistan a chance to vote if they have not already voted."
No contact with hundreds of polling centres : Afghanistan's Independent Election Commission (IEC) said it had lost contact with 901 of the country's 5,373 polling centres. Habib-Ur-Rahman Nang, head of the IEC secretariat, said the commission was not able to communicate with polling centres in the provinces of Badakhshan, Takhar, Kunduz and Baghlan, where telecom services were not active, local media TOLO News reported. In addition, 464 polling centers in 17 provinces were closed, including 33 centres which lacked election materials, election commissioner Mawlana Mohammad Abdullah said.
'In and out very quickly': Mustafa Azizi a voter said he did not face any problems voting at a school at Chelsetoon, in west Kabul. "Everything was orderly, I was in and out very quickly," he said.
Problems reported with biometric devices : Dozens of people were turned away or had to wait for hours to vote at Kandahar's Sayeed Jamaluddin High School due to problems with two biometric devices, according to reports. Some 600 people were registered at this centre. Similar issues were reported in Kunar province.
Afghan president hails landmark polls : Ghani cast his ballot in Kabul, hailing the election as a sign of strengthening democracy in Afghanistan. "It is a moment of pride for me that a major part of the election expenses have been paid by the Afghan government," he said.
Security tops voters' concerns: In the lead-up to the vote, the precarious security situation and the struggling economy seemed to be dominating voters' concerns. "In Afghanistan, from the moment you wake up to when you put your head down to sleep, you are in danger," Kabul resident Farooq Saidzada said.
Blast at Kandahar polling station wounds 15 : At least 17 people were wounded when a bomb exploded outside a polling station in the southern city of Kandahar, a hospital official said, hours after the polls opened. Naimatullah, the head of a regional hospital who only has one name, told AFP news agency that "15 people – all men – were injured and were brought to the hospital". (Source: Al Jazeera)
—————————————————————
'Large increase in anti-Bosnian, anti-Muslim bigotry'
Serb and Croat politicians are increasingly using Islamophobic rhetoric with aim of dividing Bosnia, says new report.
Islamophobic rhetoric at the political level, which at its peak in the 1990s Bosnian War played a significant role in the massacre of thousands of Bosniak Muslims, is once again being used by Serbian and Croatian politicians – including those of Bosnian background – with dangerous aims, according to a new report. During the 1992 -1995 conflict, divisive and dehumanising language was used with the hope of splitting the country into "Greater Croatia" and "Greater Serbia".
According to the European Islamophobia Report 2018, which was published by the Ankara-based Foundation for Political, Economic and Social Research think tank on Friday, politicians and some sections of the media are today attempting to falsely present Bosnia as a "radical Muslim haven" in order to undermine the country – again with the aim of dividing it territorially. "In 2018, Milorad Dodik, the Bosnian Serb leader and newly elected Serb member of the Bosnia and Herzegovina presidency, dehumanised Bosniak Muslims by referring to adhan (call to prayer) as 'howling' on a show on public Serbian television," wrote Hikmet Karcic, a researcher at the Institute for Islamic Tradition of Bosniaks who authored the report's section on Bosnia and Herzegovina.
"In addition, the year 2018 saw a large increase in anti-Bosnian and anti-Muslim bigotry by the Bosnian Croat and Croatian political establishments and also by regional political actors. These actors continue to present Bosnia and Herzegovina as a failed state which is harbouring extremists and which needs to be territorially divided in order to secure peace and security."
Thirty-nine scholars and experts contributed to the EU-funded report, the fourth edition, which studies 34 countries. Abdussamed Podojak, 24, from Sarajevo told Al Jazeera that the rhetoric was being used to score political points.
"The consequences have already been deadly and can get even worse. "Because of all these [Islamophobic] statements and opinions [by politicians], I know a lot of people who don't feel safe to go to another part of our country, which is absurd … the rhetoric promoting Islamophobia is more than a catastrophe."
Since the end of the war, from 1996 to 2017, an estimated 13 Bosniak returnees were killed and 20 were injured in hate crimes in Republica Srpska, according to the report. None of these murders have seen anyone prosecuted.
Source: Al Jazeera)
—————————————————————
Yemen's Houthis claim 'Senior Saudi Officers' among captured or killed in major operation near Najran
(28 Sep, 2019) Houthis have launched a major operation against Saudi forces near the kingdom's southern region of Najran, capturing or killing a significant number of troops, their spokesman said. Riyadh has yet to confirm or deny the claim. In a televised address on Saturday, the group's spokesman said they'd inflicted heavy losses on the Saudi forces, capturing several high-ranking officers and a large cache of weaponry, including armored vehicles. He also claimed several hundreds of Saudi troops, including some high-ranking officers, have been killed or taken prisoner by the Houthis.
So far, no confirmation or denial of the major attack has been produced by Saudi Arabia.
The alleged casualties were inflicted on the Saudis during an operation dubbed 'Victory from Allah,' which was launched two days ago, the Houthis claimed. They added that three "enemy military brigades had fallen" in the attack that was conducted with the support of missile, drone and anti-aircraft units belonging to the group.
Footage has surfaced showing an entire caravan of supposedly captured vehicles, with shots ringing in the air and a man constantly shouting "Allahu Akbar." (Courtesy RT NEWS)
—————————————————————