Brief News International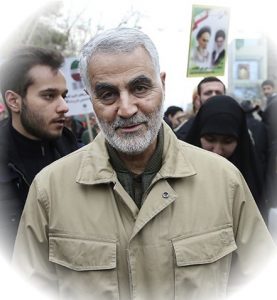 U.S. Strike
in Iraq Kills Qassim Suleimani, Commander of Iranian Forces
By Michael
Crowley, Falih Hassan and Eric Schmitt
| (Jan. 2, 2020
WEST PALM
BEACH, Fla. Iran's top security and
intelligence commander was killed early Friday in a drone strike at Baghdad
International Airport that was authorized by President Trump, American
officials said.
LIVE
UPDATES
The
commander, Maj. Gen. Qassim Suleimani, who led the powerful Quds Force of the
Islamic Revolutionary Guards Corps, was killed along with several officials
from Iraqi militias backed by Tehran when an American MQ-9 Reaper drone fired
missiles into a convoy that was leaving the airport.
General
Suleimani was the architect of nearly every significant operation by Iranian
intelligence and military forces over the past two decades, and his death was a
staggering blow for Iran at a time of sweeping geopolitical conflict. The
strike was also a serious escalation of Mr. Trump's growing confrontation with
Tehran, one that began with the death of an American contractor in Iraq in late
December.
************************************************************************
Iran fires
missiles at US targets in Iraq
Iranian
missiles hit two Iraqi bases hosting US troops amid rising tensions following
US killing of Iran's Soleimani. Iran has fired more than a dozen rockets at two
Iraqi military bases hosting US troops, the Pentagon confirmed.
The rockets
fired at the Ain al-Asad base in Anbar province and a base in Erbil early on
Wednesday came amid escalating tensions between Washington and Tehran following
the US killing of Iranian military commander Qassem Soleimani in Iraq
last week. Iran had pledged severe retaliation.
Iran
Missile Hits on U.S. Military Targets in Iraq Were Precise, Satellite Images
Show
(Reuters)
Iranian missiles damaged or destroyed seven buildings in the part of Ain
al-Asad air base in Iraq that houses U.S. Military personnel, satellite
photographs appear to show. Two images provided by commercial satellite company
Planet Labs Inc., and reviewed by Reuters, show five missile impact points in
that part of the base.
At least
three of the structures appear to be aircraft maintenance hangers. Some of the
buildings or structures have completely disappeared. Only parts of the others
remain.
U.S.
President Donald Trump said no Americans were harmed in the strikes, which
Iranian said it launched in retaliation for the killing last week in Iraq of an
Iranian general.
************************************************************************
34 US
troops injured in recent Iranian strike: Pentagon
(Source:
AFP) Nearly three dozen US troops
suffered traumatic brain injuries or concussion in this month's Iranian air
strike on a military base in Iraq, the Pentagon said on Friday 24 Jan,.
"Thirty-four total members have been diagnosed with concussions and TBI
(traumatic brain injury)," Pentagon spokesman Jonathan Hoffman told reporters.
President
Donald Trump had initially said that no Americans were injured in the strike on
the Ain al-Asad base in western Iraq on the night of January 7-8 although
authorities later reported that 11 troops were injured. Hoffman said that 17 of the victims had been
initially transferred to Germany to receive treatment, eight of whom arrived
back in the US.
The airbase
— one of the largest in Iraq, with 1,500 US troops making up the bulk of a
coalition presence directly adjacent to thousands of Iraqi forces — was
targeted in retaliation for the US killing of top Iranian general Qasem
Soleimani in a January 3 drone strike in Baghdad.
Democratic
lawmakers seized on the announcement to accuse Trump of lying about the strike.
************************************************************************
Ukrainian
Boeing 737-800 passenger plane crash in Iran
Iranian
military ADMITS it shot down Ukrainian
passenger plane by mistake
Under these
circumstances, the aircraft was accidentally shot down due to a human error.
(11 Jan,
2020) The Ukrainian passenger jet that
crashed after takeoff from Tehran was downed due to "human error"
after it flew too close to a military site and triggered a missile launch amid
a standoff with the US, the Iranian Army said.
On
Wednesday 8 Jan., the Iranian Army fired a volley of ballistic missiles at two
bases in Iraq that house American troops. It was a retaliation in response to a
US drone strike, which killed top Iranian military chief Qassem Soleimani at
Baghdad's airport.
For several
hours after the missile attacks, the army was detecting increased activity of
US warplanes around the country and received alerts of possible airstrikes on
"strategic sites" across Iran, the General Staff said.
Ukrainian
President Volodymyr Zelenskiy said, that Iran's acknowledgement that it shot
down a Ukrainian passenger plane was a step in the right direction but wanted
those responsible to be held to account.
The
Kiev-bound Ukraine International Airlines Flight 752, which took off from
Tehran's airport the same day, was approaching "an important military
site" of the Islamic Revolutionary Guard Corps (IRGC), while traveling at
the altitude of a "hostile flight," the statement noted.
The General
Staff said that a further investigation will determine all the causes of the
incident and those responsible would face consequences. All 176 people on board
the airliner were killed in the crash. Most of the victims were Iranian and
Canadian nationals.
************************************************************************
US Must
Leave Region: Ayatollah Seyyed Ali Khamenei
Leader of
the Islamic Revolution Ayatollah Seyyed Ali Khamenei stressed that military
action against the United States is not sufficient in reprisal for the
assassination of the top Iranian commander and the "corruptive
presence" of America in the region must end. Addressing a group of people
from the holy city of Qom, the Leader said, "Nations of the region and the
governments arising from those nations without a doubt will not accept the persistence
of America's corruptive presence," Leader.ir reported. He described last night's attack as a
"Slap" in the face of the US, stressing that Iran's ultimate revenge
involves American troops' complete withdrawal.
************************************************************************
'Not
leaving Iraq!' Pentagon clarifies 'poorly worded' US withdrawal plan sent by
'mistake'
(6 Jan,
2020) Confusion reigned at the Pentagon
after the publication of a letter about withdrawal from Iraq, with the top general
describing it as a "mistake" and the defense secretary saying there were no
plans for a US pullout.
"There's
been no decision to leave Iraq. Period," Secretary of Defense Mark Esper told
reporters at the Pentagon. He was referring to reports that the head of
Combined Joint Task Force Iraq, General William H. Seely III, informed the
Iraqi government of preparations to reposition the coalition forces "in due
deference to the sovereignty" of Iraq. Meanwhile, Chairman of the Joint Chiefs
of Staff General Mark Milley said that the letter Seely had sent was only a
draft and that releasing it was a "mistake." The Iraqi military confirmed
receiving it, however.
Esper would
neither confirm nor deny the letter's authenticity, though US Army public
relations officials said earlier it was real. Instead, he reiterated the
position staked out earlier by Secretary of State Mike Pompeo, that the Iraqi
people "want the US to stay," and cited the rise in attacks by Iranian "proxy
groups."
US
President Donald Trump likewise rejected the withdrawal, threatening Iraq with
sanctions and saying the US will not leave until the Iraqis "pay us back" for
an airbase that he said cost billions of dollars to build.
The Iraqi
parliament passed a resolution asking the government to disinvite all foreign
troops including the US-led coalition
against Islamic State (IS, formerly ISIS)
after last week's assassination of Iranian General Qassem Soleimani in a
US drone strike outside Baghdad International Airport. The resolution is non-binding, but reflects
the growing frustration in Baghdad with continued US operations in Iraq long
after the official defeat of IS was proclaimed.
************************************************************************
Sultan
Qaboos, Modern Oman's Founder, Dies
By Rory Jones and Isabel Coles | Jan. 10, 2020
Sultan
Qaboos, who ruled Oman for nearly five decades, is credited with transforming
the country from a backward, divided and unstable state on the tip of the
Arabian peninsula into a relatively modern and prosperous oil-driven economy.
An absolute monarch who stressed stability at home and neutrality abroad, his
passing leaves a cloud of uncertainty over the political direction of the
country, one of six in the Gulf Cooperation Council. The 79-year-old bachelor
sultan had no children and he hadn't publicly named an heir.
In a short
obituary from the country's state news agency, Oman said Sultan Qaboos died
Friday 10 January 2020 "after
establishing a comprehensive renaissance" over the fifty years since he became
monarch.
"This
renaissance resulted in a balanced foreign policy," the obituary said. It
didn't give a cause of death; the monarch has suffered from an undisclosed
illness for many years. The country will halt work in the public and private
sectors for three days and fly flags at half-mast for the next 40 days, the
obituary said.
Under
Sultan Qaboos, Oman navigated that tension by remaining neutral, avoiding some
of the more confrontational stances of its partners in the Gulf Cooperation
Council and upholding relations with both Iran and the Assad government in
Syria. Oman didn't join the Saudi and Emirati coalition fighting Iran-backed
Houthi rebels in neighboring Yemen, instead serving as a mediator for secret
talks between the two sides in 2018. It also served as the venue for secret
talks between Iran and the U.S. in 2013 that led to the 2015 nuclear accord.
"People saw talks with Iran as an attempt to have peace and stability in the
region," one Omani academic said.
Tehran and
Washington used Sultan Qaboos to relay messages following the 1979 Islamic
Revolution in Iran.
In October
2018, Sultan Qaboos hosted Israeli Prime Minister Benjamin Netanyahu in Muscat,
a rare visit by an Israeli leader to one of the Gulf states, which largely shun
diplomatic ties with Israel.
"The
question is to what extent is Omani foreign policy Qaboos?" said Michael
Stephens, Research Fellow for Middle East Studies at the London-based Royal
United Services Institute. "One of the things people want to know is whether they
[Oman] would continue a policy of nonalignment."
Sultan
Qaboos laid to rest: on Saturday 11 Jan.
2019, Sultan Qaboos was laid to rest at
the Royal Cemetery in Ghala. Thousands lined up on the roads from Bait Al
Barakha to Grand Mosque in Bausher to say a final goodbye to the dear leader on
journey to the final resting place.
************************************************************************
Devastating
earthquake in eastern Turkey
31 dead,
1547+ injured after Turkey 6.8 earthquake 'felt all the way to Tel Aviv'
More than
530 after shocks were felt in the region with nine above a 4.0-magnitude.
(24 Jan,
2020) A 6.8 earthquake in eastern Turkey has claimed at least 31 lives and
caused multiple buildings to collapse, trapping many under rubble. The quake
was centered in the province of Elazig and was felt as far away as Tel Aviv,
Israel. The quake struck near the town of Sivrice but was felt in other
neighboring countries, including Syria, Georgia, Lebanon and Armenia. Its depth
was measured at 10 kilometers by EMSC and it was violent enough to send people
running outdoors for safety, according to local media.
The initial
tremor was followed by a series of aftershocks, peaking at magnitudes of 5.4
and 5.1, according to Turkey's Disaster and Emergency Management Presidency.
Around 10 buildings have collapsed in Sivrice, according to local media. The
town has a population of around 4,000.
One video
posted to social media shows a news show in progress as studio fixtures begin
to shake violently. Other videos show people shouting and scrambling over
rubble from collapsed and partially collapsed buildings. The initial tremor was
followed by a series of aftershocks, peaking at magnitudes of 5.4 and 5.1,
according to Turkey's Disaster and Emergency Management Presidency. Around 10
buildings have collapsed in Sivrice, according to local media. The town has a
population of around 4,000. One video
posted to social media shows a news show in progress as studio fixtures begin
to shake violently. Other videos show people shouting and scrambling over
rubble from collapsed and partially collapsed buildings.
(Source: RT
NEWS)
************************************************************************
Turkey's
parliament approves military deployment to Libya
Erdogan is
eager to support UN-recognised gov't in Tripoli as it faces renewed threat from
military commander Haftar.
Turkey's
parliament has approved a bill to deploy troops to Libya in support of the
embattled United Nations-recognised Government of National Accord (GNA), paving
the way for increased military cooperation despite criticism from opposition
legislators. Parliament Speaker Mustafa Sentop said on Thursday that the
legislation passed with a 325-184 vote.
The
government has not revealed details about the possible Turkish deployment. The
motion allows the government to decide on the scope, amount and timing of any
mission. President Recep Tayyip Erdogan's ruling AK Party and its allies hold a
parliamentary majority. All important opposition parties in the assembly voted
against the bill.
Following
the announcement, US President Donald Trump warned Erdogan against any
"interference" in Libya in a telephone call. Trump "pointed out
that foreign interference is complicating the situation in Libya," White
House spokesman Hogan Gidley said in a statement.
************************************************************************
Full stream
ahead: Russia & Turkey launch TurkStream gas pipeline
(8 Jan,
2020) Russian President Vladimir Putin and his Turkish counterpart Recep Tayyip
Erdogan have launched the long-anticipated offshore pipeline TurkStream, that
will deliver Russian gas to Turkey and further to southern European states. The
930 km pipeline across the bottom of the Black Sea became operational, with the
two leaders attending a special opening ceremony. Serbia's President Aleksandar
Vucic and Bulgarian Prime Minister Boyko Borissovalso participated in the
event, as the leaders symbolically launched the project from the stage.
]************************************************************************
Trump
unveils his Middle East plan amid Palestinian rejections
Palestinians
reject Trump's Middle East proposal, calling it a 'conspiracy' that 'will not
pass'.
United
States President Donald Trump unveiled his long-delayed Middle East plan on
Tuesday 28 Jan. 2020 – a proposal Palestinian leaders called a
"conspiracy" that "will not pass".
"Today,
Israel has taken a giant step towards peace," Trump said as Israeli Prime
Minister Benjamin Netanyahu stood by his side.
"My vision presents a win-win solution for both sides," he
said, adding that Israeli leaders have said they will endorse the proposal.
Before the proposal was announced, Palestinians called it dead on arrival,
saying it was an attempt to "finish off" the Palestinian cause. Following Trump's announcement, Palestinian
President Mahmoud Abbas said "a thousand no's" to the plan.
Netanyahu
meanwhile said it was a "historic day" and thanked Trump for his
proposal. He said if Palestinians agree to the plan, Israel will be willing to
negotiate "right away".
'Dangerous
consequences'
Most
regional leaders slammed the plan, but others cautiously offered encouragement
for the Israelis and Palestinians to come to the negotiating table.
Jordan
warned against "annexation of Palestinian lands" with the kingdom's
foreign minister warning against the "dangerous consequences of unilateral
Israeli measures that aim to impose new realities on the ground".
Numan
Kurtulmus, deputy chairman of Turkey's ruling Justice and Development Party
(AK), also slammed Trump's statements on Jerusalem, saying: "No, Trump!
Jerusalem is the capital of the Palestinian state and the heart of the Islamic
world!"
Lebanon's
Hezbollah movement called the proposal a "deal of shame", adding that
it was a very dangerous step that would have negative consequences on the
region's future, according to Al Manar TV.
It also
said the proposal would not have happened without "complicity and
betrayal" of several Arab states.
The UN said
it was committed to helping Israelis and Palestinians broker peace on the basis
of UN resolutions, international law, bilateral agreements and the vision of
two states based on pre-1967 borders. One such UN resolution was adopted by the
Security Council a month before Trump took office in January 2017. The
resolution demanded an end to Israeli settlements, with 14 votes in favour and
one abstention by former US President Barack Obama's administration.
************************************************************************
Arab League
rejects Trump's Middle East plan
Arab
leaders say US initiative does not meet 'minimum rights and aspirations of
Palestinian people'.
(Fri ,31
Jan 2020) The Arab League has completely rejected US President Donald Trump's
Middle East plan during an emergency meeting in Egypt's capital, saying it
would not lead to a just peace deal. In a statement on Saturday, the pan-Arab
bloc said it "rejects the US-Israeli 'deal of the century' considering
that it does not meet the minimum rights and aspirations of Palestinian
people."
Arab states
also agreed "not to … cooperate with the US administration to implement
this plan," adding that Israel should not implement the initiative by
force. They insisted on a two-state solution that includes a Palestinian state
based on borders before the 1967 war, when Israel occupied the West Bank, Gaza
and East Jerusalem. They also called for East Jerusalem to be the capital of
the future Palestinian state. ( Source
: Al Jazeera News)
************************************************************************
Libya could
be the new Syria, Merkel warns
(DAVOS,
Switzerland) By Silvia Amaro | 24-1-2020
German Chancellor Angela Merkel has warned
business and political leaders that the ongoing conflict in Libya could have
similar ramifications to the war in Syria. Millions of people have fled Syria
over the last five years to escape war, with some of them choosing a new future
in the European Union. According to the UNHCR, in 2018, 6.7 million Syrians
fled the country. That swathe of refugees, alongside a flow of economic
migrants from other parts of the world, sparked division within the 28-member
bloc, particularly at the height of the inflow in 2015. Speaking at the World Economic Forum in
Davos, Merkel said the ongoing dispute in Libya could result in a similar
situation. "We have to be vigilant," she said. "And now if we
look at Libya we have to be very careful that the same doesn't happen there
again."
Libya has seen escalating violence since April, when General Khalifa Haftar
tried to take over the country's capital, Tripoli, from the U.N.-recognized
government, led by Fayez al-Sarraj. The UNHCR said earlier this month that
46,395 people have been registered as refugees and asylum seekers.
US confirms
jet crashed in Afghanistan but disputes
it was downed
Taliban
claim they shot down US air force E-11A plane over territory near Ghazni city
(Mon 27 Jan
2020) Michael Safi and Akhtar Mohammad Makoii
The US
military has confirmed that one of its aircraft crashed in eastern Afghanistan
but said there was "no indication the crash was caused by enemy fire". A
Taliban spokesman had claimed that the group shot the plane down over territory
they control near Ghazni city. The US Bombardier E-11A went down early on
Monday afternoon and was initially mistaken by Afghan authorities for a
passenger jet. But footage, purportedly from the wreckage site, soon emerged,
showing the US air force insignia on a charred fuselage.
"While the
cause of crash is under investigation, there are no indications the crash was
caused by enemy fire," a spokesman for the US military in Afghanistan tweeted.
"Taliban claims that additional aircraft have crashed are false."
A spokesman
for the Taliban, Zabihullah Mujahid, said in a statement posted online: "An American
invader aircraft has been shot down. Lots of officers have been killed." He
said high-ranking CIA officers had been onboard the plane, but the claim could
not be independently verified.
In separate
comments, Mujahid told the Guardian the purported shooting down of the plane
had "no impact" on the negotiations over the US withdrawal from Afghanistan.
"No agreement has been reached yet and Americans are continuing their attacks
too."
Tariq
Ghazniwal, a local journalist, said he saw two bodies, but others had counted a
total of five.
The E-11A
Battlefield Airborne Communications Node has been described by the US air force
as "Wifi in the Sky", a roving communications satellite to support missions in
remote areas without existing infrastructure. The Taliban have occasionally
been reported to have access to anti-aircraft weapons, including cases where
they fired Stinger missiles of the kind supplied to the rebels by the CIA
during the 1980s Russian occupation. In 2007, Taliban fighters are thought to
have used a shoulder-mounted surface-to-air missile to shoot down a Chinook
helicopter, killing all on board. (Source: The Guardian)
************************************************************************
US forces
block Russian convoy for fourth time in 8 days amid tension over Syrian oil
fields
Tensions
between U.S. and Russia military forces over gaining control over key oil
fields in northeastern Syria are intensifying, as American troops on Sunday 26
Jan., blocked a Russian convoy trying to
gain access to the oil fields for the fourth time in the last eight days. Ten armored vehicles carrying American
soldiers stopped Russian military vehicles west of Al-Hasakah province while
they were trying to reach the M4 highway to reach key oil fields in the
province.
Following
the incident, the Russian military sent a helicopter from the base in the town.
In response, the U.S. military sent two helicopters to the area, forcing the
Russian helicopter to land. The Russian military convoy then apparently turned
back and returned to their home base. The move came amid an ongoing dispute between
the U.S. and Russia over the Rumeylan oil field in northeast Al-Hasakah,
marking the fourth time such a standoff has reported in the last eight days.
Despite no significant conflict being reported, the incidents have
become a reminder of the high stakes in Syria, where U.S. military activity
aims to guard oil fields and prevent them from falling into the hands of other
actors, including Russia and extremist groups. The oil fields are concentrated
in the province of Deir el-Zour in eastern Syria, near the Iraqi border, and
Al-Hasakah in the northeast.
(Special Report)
************************************************************************
Pelosi
Statement on Three Years Since Trump Announced Muslim Travel Ban
JANUARY 27,
2020 | PRESS RELEASE | Nancy Pelosi
Speaker of The House
Washington,
D.C. Speaker Nancy Pelosi issued this
statement marking three years since President Trump signed orders instituting
the Muslim travel ban, making it more difficult for families, including
refugees, from seven predominantly Muslim countries to enter the United States
based on their religion or religious heritage:
"Three
years ago, in a stunning act of callousness and discrimination, President Trump
and his Administration issued an outrageous travel ban, targeting majority-Muslim
nations and undermining our values, our security and our Constitution.
"Today,
reports indicate that the Administration is once again preparing to expand its
dangerous travel ban, threatening key international relationships and
jeopardizing our ability to fight terrorism and extremism at home and abroad.
President Trump and his Administration's continued disdain for our nation's
national security and our founding ideals of liberty and justice dishonor our
proud immigrant heritage and the diversity that strengthens and enriches our
communities. Despite the Administration's hateful policies and dangerous
rhetoric, this fundamental truth remains: immigrants make America more
American.
"House
Democrats continue to stand opposed to President Trump's cruel, un-American
travel ban in all of its iterations. In the coming weeks, the House Judiciary
Committee will mark up and bring to the Floor the NO BAN Act to prohibit
religious discrimination in our immigration system and limit the President's ability
to impose such biased and bigoted restrictions. In his last address as
President, Ronald Reagan warned that 'If we ever close the door to new
Americans, our leadership in the world would soon be lost.' House Democrats are working tirelessly to
uphold our role as a global leader and a beacon of hope and opportunity for
countless people around the world."
(Source:
Speaker.Govt/Newsroom)
************************************************************************
China
discovers underwater spy drones in its waters
(By H I
Sutton) The secretive world of naval underwater surveys rarely breaks the
surface. Now recent events are briefly shining a light into the darkness. In
the Adriatic a Croatian fishing vessel caught one of the U.S. Navy's undersea
sensor systems last week. That mysterious object has largely been explained.
Meanwhile, China has held an award ceremony for fishermen who alerted
authorities after discovering similar devices in their nets.
The devices
may have been operating in international waters, but still in China's back yard
as they see it. We can infer that some of these devices may also belong to the
U.S. Navy. China has been holding the annual awards ceremonies since 2016. This
year 11 fishermen were rewarded for handing over unidentified underwater
vehicles which they had found.
The number
of devices was not reported, but in 2018 nine were handed over. The vehicles
themselves are not being displayed, but are reported to include ones of foreign
origin. By implication, this means that they are operated by other navies in or
near Chinese waters. If so, their role is likely to be intelligence gathering.
The
information they collect could include measuring the depth, noise, salinity and
currents. This seemingly mundane data could provide submariners with a tactical
advantage in future operations, making them better informed about local
conditions. Which is why navies invest so much in these activities. And why
they are often conducted discretely, or even covertly.
The Jan. 13
ceremony took place in Jiangsu province on China's eastern coast, facing the
East China Sea. These waters are of interest to South Korea and Japan, as well
as the U.S. Navy and potentially other global players. American submarines in
the region are based in Pearl Harbor and frequently visit ports in Guam, South
Korea and Japan.
Jiangsu
province is not the only area where China finds foreign underwater devices. The
scale of the incidents is hard to measure because most are not reported in the
media. There is patchy information on a few of these incidents however. In 2012
a fishing boat from Hainan Island discovered a torpedo-shaped drone in the
South China Sea.
That
titanium drone had satellite communications and cameras. It was reported as an
American device in Chinese media. Confusingly, photographs of it are now being
used to illustrate the latest award ceremonies. In December 2016 China seized
an underwater drone from the U.S. Navy oceanographic survey ship USNS Bowditch.
She is the
same class of ship as the one which lost the device off Croatia last week. The
innocent looking glider, painted high visibility yellow to aid recovery, was
termed a Littoral Battlespace Sensing-Glider (LBS-G). It was later handed back
to an American warship. Unmanned platforms are popular for intelligence
gathering because they do not endanger a crew if caught or lost.
China is
not alone facing unwanted attention in this way. North Korea has a large
torpedo-like intelligence gathering drone on display in the capital, Pyongyang.
That device is possibly a U.S. Navy submarine-launched drone.
************************************************************************
China now
world's second biggest weapons producer: researchers
(AFP :
January 27, 2020)
The opaque
Chinese arms industry has made the Asian nation the world's second largest
producer of munitions, a clear shift from a decade ago when China relied on
imports, researchers said in a new report.
The report
by the Stockholm International Peace Research Institute (SIPRI) suggests that
China's weapons production, which has previously been shrouded in mystery owing
to a lack of transparency, has grown as three of the world's top 10 arms
companies are Chinese.
"We can
with confidence say that China is the second largest arms producer in the
world, behind the US and ahead of Russia," Nan Tian, co-author of the report,
told AFP.
Here's how
hypersonic weapons are creating a three-way arms race between China, Russia and
the U.S. https://cnb.cx/2lmdtXD
The report
notes however that the lack of transparency remains an "important caveat" when
studying the Chinese arms industry.
The vast
majority of the estimated $70-$80 billion (63 to 72 billion euros) worth of
Chinese munitions sold every year are bought by the different branches of
China's People's Liberation Army (PLA).
"They no
longer need to rely on other countries for their weapons," Tian said.
Chinese
arms companies are also much more specialised than their international
counterparts.
Aviation
Industry Corporation of China (AVIC), the country's largest arms company, for
instance, mostly produces aircraft and avionics, while most large non-Chinese
producers cover a wide range of military products.
Reasonably
reliable estimates
SIPRI
researchers have previously struggled to obtain reliable data on the size of
the Chinese arms industry, since the producers are all state-owned entities.
"Everything is locked under the term national security," Tian said. In the
report the researchers have looked into four specific Chinese companies, all of
which rank among the world's top 20, and say that with an increase in the
available data on these companies "it is now possible to develop reasonably
reliable estimates of the scale of the Chinese arms industry."
Though
there are no official statistics on Chinese arms exports available, the report
notes that the Chinese arms "industry has developed to a point where there is
an increased demand for its weapons overseas," and estimates place China as the
world's fifth largest weapons exporter, SIPRI said.
In
particular Tian said that one of China's success stories as a weapons exporter
has been in the area of Unmanned Aerial Vehicles (UAV), commonly known as
drones, which have been used in conflicts in both Libya and Yemen.
More arms
exports increases the risk of weapons proliferation, but China's entry to the
world stage of weaponry sales is of special concern to the researchers since
Beijing has not signed on to many of the arms control regulations that exist,
including the Arms Trade Treaty approved by the UN General Assembly in 2013.
"There is
no binding system that can hold China and these exporters accountable," Tian
said.
************************************************************************
Limited
internet restored in Indian Occupied Kashmir, no access to social media
Nearly
six-month long shutdown, longest in a democracy, ends with India allowing 2G
access to 300 'whitelisted' sites.
(25-1-2020) Srinagar, Indian-Occupied
Kashmir: Indian authorities have ordered
the restoration of low-speed mobile internet in Indian-administered Kashmir,
but have allowed access to just 300 "whitelisted" websites. The order
to restore second-generation (2G) mobile internet and data services, issued
late on Friday 24 Jan. , ended the longest such outage in any democracy. It was
imposed nearly six months ago following the abrogation of the disputed region's
autonomy.
"Mobile
data services and internet access through fixed line shall be allowed through
the Union Territory of Jammu and Kashmir with some restrictions," said a
notification issued by the federal territory's home department.
The order
said internet access will remain limited to "only whitelisted sites"
and social media applications that allow "peer to peer communications and
Virtual Private Networks [VPN] applications" will remain banned. Internet
and phone services in Indian-administered Kashmir were snapped on August 5
after India stripped the Muslim-majority region of its limited autonomy by
scrapping Articles 370 and 35A of the country's constitution.
************************************************************************
RIL-Saudi
Aramco 15-bn deal unlikely to close by March 31: CFO V Srikanth
Press Trust
of India | Mumbai :
January 17, 2020
Mukesh
Ambani-led Reliance Industries is unlikely to close the deal for 20 per cent stake
in its oil to chemicals business to Saudi Aramco by March 31 this year,
according to a senior company official.
In August
last year, the company announced its plans to sell its 20 per cent stake in its
flagship chemicals and refining business to Saudi Aramco in a deal valued at
$15 billion. The deal, aimed at cutting its massive debt and secure an assured
supply of crude oil to its refineries, was expected to be closed by March 31,
2020. "…it will not be a deal which will get done by March 31. It's a
large transaction, large cross border transaction, a complex transaction and so
timeline is something we have to be realistic about," its joint chief
financial officer V Srikanth told reporters here.
He,
however, said that the deal is making good progress and that there is
engagement across teams. "If you are looking for guidelines, I am not the
guy to give the timelines because we are bond by confidentiality. I can't be
talking about timelines. We can only say we are progressing well," Srikanth
added. When asked if the companies would be signing the definitive agreements
by March 31, he said, "we are trying to do it, but we cannot comment on
timelines without engagement with them (Saudi Aramco)."
During the
company's annual general meeting in last August, Ambani had said that the Saudi
Aramco and BP deals, along with the plans of deleveraging of telecom arm Jio's
infrastructure assets will help Reliance become "a zero-net debt company
within the next 18 months, that is by March 31, 2021. On the company's debt
reduction plans, Srikanth said, "the intensity of capex has been coming
off quarter on quarter. From Rs 30,000 crore of capex in the first quarter, it
has reduced to Rs 19,000 crore in second to Rs 14,000 crore in the third. This
is in line with what we had already said that the projects are getting
completed, like the Jamnagar expansion, the Jio related capex is already done,
and so this is the way it is going to be.
"So we are earning more than what we are spending so its going to
translate in reduction in levels of debt. Our broader target is to be debt free
by FY2021," he added. The company's net debt levels have reduced from Rs
1.57 trillion in the second quarter of the fiscal to Rs 1.53 trillion in Q3
Fy2020.
************************************************************************
India's
indigenous missile defense capability is nowhere near strong
By Fang
Xiaozhi | 21:01:2020
India has
recently completed the development of its homemade ballistic missile defense
system and all the tests have been successful. The Indian Air Force and the
Defense Research and Development Organization (DRDO), the system developer, are
seeking the approval to install and activate this system near the capital city
of New Delhi, which is expected to take three or four years.
India has
been working to develop its own anti-missile system for a long time, and even
formed a cross-service committee to conduct comprehensive and elaborate
research on the technology, combat capability and cost of establishing a
missile defense network covering the whole country. It has developed a
"two-step" strategy, which means that theater/tactical ballistic missile
defense system that is of a low technological level will be deployed first,
which will then be upgraded gradually to the strategic defense system. The
successful development of homemade missile defense system marks a critical step
forward on India's way to achieving that goal, laying a solid foundation for it
to establish the Indian-style missile defense network and maintain its strategic
superiority in South Asia.
However,
missile defense system is a very complicated project that reflects a major
country's overall strength, and it requires a thorough and solid technical
foundation in terms of anti-missile early warning system, missile interception
system and command and control system, in all of which India has nothing much
to say for itself. Compared with Russia, the US, Israel and other countries
with strong anti-missile capabilities, India's technology is completely left
behind and its R&D has had too many twists and turns. Besides, it has
conducted too few tests, far from enough for it to fully understand the
technology.
Furthermore,
India has adopted the most conservative plan in all its anti-missile tests –
only intercepting a target whose launching spot, flying velocity and direction,
altitude or ballistic parameters are all known and there is no actively
maneuvering and changing trajectory. This testing approach of "hitting a fixed
target" doesn't comply with real combat situation, nor can it truly test the
anti-missile system's stability and reliability, so the testing results are
hardly reliable.
Besides,
India heavily relies on developed countries for ballistic missile defense
technology, and many parts of its homemade missile defense system use foreign
technologies, which has seriously restricted the system's combat capability.
Generally
speaking, although India has made considerable progress in the independent
R&D and deployment of ballistic missile defense system in recent years, it
is still faced with a string of difficulties, such as inadequate capital,
unsmooth R&D process, heavy reliance on other countries regarding key
technology, and incomplete system. New Delhi has a long way to go before it can
establish a truly effective ballistic missile defense system and fully exert
its real combat force.
(China
Military Online)
************************************************************************
Bangladesh
grants Rohingya refugee children access to education
By Kaamil
Ahmed (Source: The Guardian | Global Education)
Bangladesh
has confirmed it will lift restrictions on education for young Rohingya
refugees, easing bans in place since the existing camps were established 30
years ago. The government's move to allow schooling for children aged 11-13 has
been widely welcomed by activists and teachers.
"We don't
want a lost generation of Rohingya. We want them to have education. They will
follow Myanmar curricula," the country's foreign minister, AK Abdul Momen, told
. A statement put out by the UN on behalf of "the UN and humanitarian
community" praised the decision. "We believe this is a positive step and a
clear indication of the commitment by the government of Bangladesh to ensure
access to learning for Rohingya children and adolescents, as well as to equip
them with the right skills and capacities for their future and return to
Myanmar when the conditions allow," it read.
"In line
with the government's decision, the education sector for the humanitarian
response in Cox's Bazar now plans to pilot the introduction of the Myanmar
curriculum in the Rohingya refugee camps starting in April, initially targeting
10,000 Rohingya students in grades six to nine. The use of the Myanmar
curriculum will be expanded to other grades in a phased manner."
More than
700,000 ethnic Rohingya fled to Bangladesh in 2017 after Myanmar's military
carried out a series of operations that the UN described as having "genocidal
intent" against the minority, taking the total refugee population in Bangladesh
to almost a million. Activists have since been campaigning for access to
education, warning that almost half a million Rohingya children are at risk of
becoming a "lost generation".
Basic
schooling has been provided by aid groups to small children, but only nursery-style
learning.
Amnesty
International also applauded "an important and very positive commitment by the
Bangladeshi government".
Rohingya
celebrations have been accompanied by reminders that the limited progress being
proposed, which will offer "skills training" to youth over 14, should be
expanded to formal education and qualifications.
Rohingya
have been filling the education gap by establishing their own centres to teach
basic skills like English, maths and sciences, despite opposition from the
government.
*******************************
Three
killed as water tanker plane crashes while fighting Australia wildfires
The victims
were US residents, Australian authorities said, adding that they did not
immediately know why the C-130 Hercules air tanker crashed while carrying a
load of fire retardant. A Canadian-owned C-130 Hercules air tanker crashed
while fighting bushfires in Australia's alpine regions, killing all three of
its crew, authorities said. SOURCE: REUTERS NEWS AGENCY
************************************************************************
East Africa
locust outbreak sparks calls for international help
(25-1-2020) Billions of locusts swarming through East Africa could
prove disastrous for a region still reeling from drought and deadly floods, experts
have warned, amid increasing calls for international help. Dense clouds of the
ravenous insects, each of which consumes its own weight in food every day, have
spread from Ethiopia and Somalia into Kenya, in the region's worse infestation
in decades. The UN's Food and Agriculture Organization (FAO) estimated one
swarm in Kenya at around 2,400 square kilometres (about 930 square miles) – an
area almost the size of Moscow – meaning it could contain up to 200 billion
locusts. The locust invasion is the biggest in Ethiopia and Somalia in 25
years, and the biggest in Kenya in 70 years, according to the FAO.