Brief News International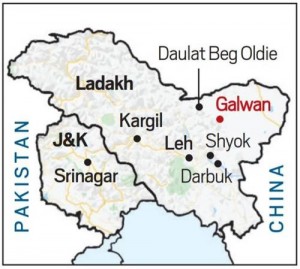 Faceoff in Galwan: CO of 16 Bihar among 20 Army men killed fighting back China
by Sushant Singh , Krishn Kaushik , Man Aman Singh Chhina | Chandigarh, New Delhi | June 17, 2020
In the worst flare-up on the Line of Actual Control in more than five decades, twenty Indian Army personnel, including the commanding officer of 16 Bihar, were killed Monday 15June, night in violent clashes with Chinese troops in the Galwan valley of Ladakh where disengagement of troops on either side was underway.
The Army said there were casualties on both sides. Beijing was silent on PLA losses.
This unprecedented and dangerous turn to the de-escalation efforts on the LAC set the lines working in the two capitals. On the ground, Division Commanders met to defuse the situation.
In New Delhi, Defence Minister Rajnath Singh, briefed by the Army and the military brass earlier in the day, went to the Prime Minister's residence for a late night meeting where they were said to have been joined by Home Minister Amit Shah, External Affairs Minister S Jaishankar and Finance Minister Nirmala Sitharaman.
"Indian and Chinese troops have disengaged at the Galwan area where they had earlier clashed on the night of 15/16 June 2020. 17 Indian troops who were critically injured in the line of duty at the standoff location and exposed to sub-zero temperatures in the high-altitude terrain have succumbed to their injuries, taking the total that were killed in action to 20. Indian Army is firmly committed to protect the territorial integrity and sovereignty of the nation," the Army said in the statement.
Army sources identified the officer killed in the line of duty as Colonel B Santosh Babu, CO of 16 Bihar.
(Source: The Indian Express)
*******************************************************************************
China mobilises thousands of troops, armoured vehicles near border with India
Soldiers and equipment transported from central province of Hubei to an unspecified location in northwest, according to state media
Footage of drill aired the same day top generals from the two sides held talks in a bid to defuse stand-off that began in early May
China has mobilised thousands of paratroopers, armoured vehicles and equipment in a military drill, saying they could be deployed "within hours" to the border with India in the Himalayas, where
tensions have again flared
The soldiers and armoured vehicles were transported from the central province of Hubei to an unspecified location in China's northwest plateau, thousands of kilometres away, in "just a few hours", according to state media reports over the weekend.
Footage of troops boarding civilian planes and trains in the "manoeuvre operation" was aired on state broadcaster CCTV on Saturday, the same day top generals from China and India
held talks in Moldo
On the Chinese side of the unmarked boundary known as the Line of Actual Control.
They were trying to defuse a stand-off that began in early May, with border troops engaging in fist fights and stone-throwing in the Galwan River valley between Ladakh, in Indian-administered Kashmir, and Chinese-administered Aksai Chin.
Major Colonel Mao Lei, head of a PLA Air Force brigade training department that led the operation in the northwest, said it had made "significant breakthroughs" in terms of the scale of mobilised troops and how they were transported.
"[Using civilian transport] substantially expanded our means of transporting forces and increased efficiency in manoeuvring an entire organisation of troops," Mao told CCTV.
The report did not give their location, but an article published in state tabloid Global Times directly linked the People's Liberation Army drill with the border tensions.
The latest flare-up in the long-running dispute has seen Chinese state media accuse India of "illegally constructing defence facilities across the border into Chinese territory in the Galwan Valley region". Indian media reports have meanwhile quoted military sources as saying that Chinese forces had entered Indian territory by 1km to 3km.
***********************************************************************************
Intel alerted about PLA movement in Ladakh in Feb-March
By Rahul Tripathi , Economic times 'ET' Bureau  | Jun 18, 2020
NEW DELHI: Indian intelligence agencies had flagged the movement of Chinese troops in the eastern sector of Ladakh first during February-March, officials in the know said. The alerts, they said, were general in nature but shared with multiple agencies for further verification.  This was followed by multiple alerts but with more specific caution in April on Chinese soldiers planning a blockade to cut off access to areas patrolled by Indian forces.
"Indian soldiers were critically injured and later succumbed to injuries due to sub-zero temperature in the high-altitude terrain. They were assaulted using iron rods, stones and batons wrapped in barbed wire," said an official familiar with the details.
Officials said they were trying to ascertain availability of any video footage of the incident which might help expose Chinese provocation.
Home minister Amit Shah said the bravery of the soldiers reflected "India's commitment towards her land". He said: "India will always remain indebted for their supreme sacrifice. The entire nation and the Modi government stands firmly with their families in this hour of grief."
When asked if there were any delays in acting on the intelligence alerts, officials said initial reports were not specific and the intent of Chinese deployment was not clear.
"The follow-up leads generated in April however confirmed the presence of PLA troops in the disputed regions following which India carried out mirror deployments by quickly rushing in troops from Leh, breaking all Covid-19 protocols," said one of them.
Besides reports of large-scale constructions on the Chinese side, Indian agencies are said to have picked up chatter and activities on movement of at least 3-4 battalions of PLA, said the officials.(Source: Economic times – India)
*********************************************************************
China releases 10 captured Indian soldiers; IAF chief visits bases in Leh, Srinagar
DECCAN CHRONICLE | DC CORRESPONDENT     (Jun 19, 2020)
New Delhi: China on Thursday 18 June, evening released 10 Indian soldiers, including four officers, who were captured during the skirmish in Ladakh's Galwan Valley on June 15. It took three days of hectic negotiations between Leh-based 3 Infantry Division commander Major General Abhijit Bapat and his Chinese army counterpart before the Chinese agreed to release the captured Indian soldiers. According to sources, on Wednesday, Chinese Major General had even shown the photographs of these captured soldiers to to assure the Indian side about their safety.
All 10 soldiers walked back on Thursday 18 June, evening and their medical check-up was done. They will be de-briefed about their stay in Chinese custody. Indian army had said that no Indian troops were missing in action in Galwan Valley.
**************************************************************************
India deploys T-90 tanks in Galwan Valley after China's aggressive posturing at LAC
(Jun 30, 2020)  Signalling that it is all for peaceful restoration of status quo ante in East Ladakh but is also prepared for the worst case scenario, the Indian Army has deployed six T-90 missile firing tanks and top-of-the-line shoulder fired anti-tank missile systems in the Galwan Valley sector. The senior military commanders from India and China are meeting at Chushul to work out the de-escalation and disengagement process on mutual terms.
The army's decision to deploy the T-90 Bishma tanks was taken after the Chinese People's Liberation Army (PLA) had beefed up its positions on the river bed with armoured personnel carriers and troop tents. The Indian Army is occupying the dominant heights in the sector within its side of the Line of Actual Control (LAC).
Infantry combat vehicles along with 155mm howitzers have been deployed all along 1597 km long LAC in East Ladakh with two tank regiments deployed in Chushul sector to repel any aggressive plans of the adversary through the Spanggur Gap. While Chinese PLA wants to make a deal on the LAC in this sector as part of withdrawal, the Indian Army is no mood to give an inch as the military aggression came from the Western Theatre Command of China with the intention of redefining the LAC.
According to military commanders, India is prepared for a long haul in this limited spectrum with capability of a full spectrum retaliation in case the red flag goes up. With the water temperature in the river already touching 10 below zero and the river bed temperatures more frosty than the dominant heights due to temperature inversion, it is only a matter of time when "General Winter" takes over the area and makes Chinese positions in Galwan Valley untenable.
While the PLA propaganda talks about introduction of troops trained in martial arts in the East Ladakh sector, fact is that the Chinese foot soldier is conscripted into the army for two years unlike the Indian hardy trooper who stays a minimum of 17 years. Since 1984, the Indian trooper has been trained in high altitude war to repel Pakistan Army from taking over Siachen glacier and has been sitting heights of over 15,000 feet in both Kargil as well as East Ladakh sector.
The general morale of the Indian military commanders and troops is very high with both Indian Air Force and Indian Navy deployed in highest state of alertness. Majority of Chinese PLA Air Force fighters are taking off from Hotan air base in Taklamakan desert, some 240 km from the LAC with surface to air missiles deployed to counter the Indian fighters. (Source: Hindustan Times)
**************************************************************************
India bans 59 mostly Chinese apps amid border dispute
Move comes after a deadly border clash between the two neighbours in a disputed Himalayan region earlier this month. India has banned 59, mostly Chinese, mobile phone applications in its strongest move yet targeting China in the online space just weeks after a border crisis erupted between the two countries. A statement by the Ministry of Information on Monday said the banned apps include TikTok, UC Browser WeChat and Bigo Live, as well as e-commerce platforms Club Factory and Shein, which are used on mobile and non-mobile devices connected to the internet.
The apps "are engaged in activities … prejudicial to sovereignty and integrity of India, defence of India, security of state and public order," it said, calling the ban "a targeted move to ensure safety and sovereignty of Indian cyberspace".
The statement said the move was taken after several complaints were received by the ministry alleging theft of users' data and violations of user privacy.
Following the order, Google and Apple will have to remove these apps from the Android and iOS stores.
HR Venkatesh, of Boom Factcheck, a New Delhi-based fact-checking website, told Al Jazeera the banned apps are huge in India – not just in terms of the number of users but also the cultural impact they have on people.
"Especially, with their popularity among people who are not urban Indians and people who are beginning to find their individuality and able to express themselves," he said.
********************************************************
China is eyeing high-tech 'surprise PEARL HARBOR' attack on US electric grid…using 'stolen' American technology, report claims
(20 Jun, 2020) Beijing might be plotting a first strike attack on the US, which would target the country's electric grid with a large electromagnetic pulse (EMP), sending it into a massive blackout, a new report warns. An analysis of the alleged Chinese attack plan was recently released by the EMP Task Force on Homeland and National Security  a non-government organization with a stated goal to bring together "citizens, engineers, field experts, and others" to reinforce the American power grid.
According to the report, penned by the group's executive director Peter Pry, China will not shy away from launching a nuclear first strike against the United States, despite claiming to be bound by 'No First Use' (NFU) policy. Pry dismissed these assurances as mere bluffing.
China's alleged nuclear 'No First Use' doctrine, like the USSR's during the Cold War, is almost certainly disinformation
The 'No First Use' policy simply "does not withstand the test of common sense," Pry argued, pointing out that China's early warning capabilities lag far behind both that of Russia and the US, slashing its chances for a proper tit-for-tat attack.
China first renounced the idea of using nuclear weapons unless attacked back in the 1960s, while the USSR followed suit in the early 1980s. The United States, in contrast, has refused to adopt a similar policy, insisting on its "right" to nuke its adversaries if a conflict breaks out.
According to the report, Beijing plans to hit the US with EMP weapons which would fry the country's electric grid, sending it into chaos and facilitating an all-out attack. The "Super-EMP" weaponry was developed in China "based on design information stolen from the US nuclear weapon labs," Pry alleged. The US, as well as the USSR, tested such devices back in the 1960s.
EMPs use low-yield nuclear warheads, designed specifically to maximise electromagnetic emissions rather than physical destructive power, but China classifies them as cyber weapons, the report claims.
"China's cyber-attacks … should be regarded as possible practice or preparation for Total Information Warfare  including nuclear HEMP attack
China has allegedly developed three methods of delivering EMP weapons to the US, the report states. The first is the most conventional one  using ballistic missiles and then detonating the warheads in the air to produce an EMP wave. The second would involve cutting-edge hypersonic missiles  which China is known to have successfully developed and tested.
The third method is rather futuristic, using space-based nukes  which is currently prohibited under international law. Pry, however, argued that what many now see an implausible doomsday scenario could one day become reality.
"If China is orbiting nuclear-armed satellites for HEMP surprise attack, this would be one of their deepest and best protected military secrets," the report states.
While Pry's analysis sounds alarms about China's alleged intent to weaponize space, it is the Trump administration and the Pentagon who have actively pushed to militarize the final frontier, declaring outer space a legitimate domain for combat and creating a brand new Space Force.
The report may come in handy for Washington, which has been busy at work blaming others  including Russia  for its own actions, insisting that American adversaries plan to send weaponry into space. Moscow has repeatedly called on the US to abandon its militarization of space, arguing that it will only further destabilize global security.  (Source: 'RT' Russian News )
China releases report on US military presence in Asia-Pacific, warns of increased conflict risk
By Liu Xuanzun  : Source:Global Times : 21 June  2020
China is set to release its 2020 research report on the US military presence in the Asia-Pacific region amid the US' recent increased military activities near China, including repeated trespassing into China's territorial waters in the South China Sea by warships this year. The possibility of a conflict could substantially increase, which must be managed and prevented, the report says.
To be published by China's National Institute for South China Sea Studies on Tuesday, the report details US security policy, military presence and deployment, recent military activities and security relations in the region. It focuses on the changes brought by the US' return to the Cold War-esque great-power competition to China-US military relations, and evaluates the positive role of China-US military relations in stabilizing bilateral relations in the new era, according to an abstract of the report the institute sent to the Global Times.
The report notes that since the Trump administration took office in early 2017, it identified "great-power competition," reminiscent of the Cold War, for the first time in a strategy document on national security, and its Indo-Pacific strategy took shape by the end of 2018, which is ultimately aimed at protecting US supremacy in global and regional affairs, covering not only security but also political and economic issues.
According to the report, the US has 375,000 enlisted members of its Indo-Pacific Command, including 60 percent of its Navy ships, 55 percent of its Army and two-thirds of its Marine Corps. In addition, with 85,000 forward-deployed soldiers and a large amount of high-tech and new weaponry, the US military has maintained its absolute supremacy in the Asia-Pacific over the years, while also keeping to seek new deployments, budgets and resources using China's and Russia's military development as excuses.
In 2020, the US took a series of measures to contain China, on topics including COVID-19, Hong Kong, Taiwan, high-tech and the military. Recently, US warships have repeatedly trespassed into Chinese territorial waters around the Xisha and Nansha islands, conducted operations in the South China Sea and crossed the Taiwan Straits. In a rare move, it has deployed three aircraft carriers to the region.
Chinese military experts told the Global Times that China has expelled the trespassing US warships and conducted exercises to boost its combat capability, showing its will and capability to safeguard its sovereignty and territorial integrity.
US' military operations could easily trigger accidents, which risks further escalations, the experts said.
Given their close connection with state-to-state relations and national security, there is no doubt that confrontation and even deteriorating military relations between China and the US would substantially increase the possibility of a conflict, or even a crisis in their bilateral relations, the report reads.
This is also not wished by other countries in the region, as they would be forced to choose sides between China and the US since any military conflict between the two countries will get them involved, the report said.
China has been actively and properly handling its military relationship with the US in accordance with the principles of non-conflict, non-confrontation, mutual respect and win-win cooperation, and the two countries need to focus on managing their differences and preventing conflicts, said the report.
The US, on the other hand, has forward-deployed a large number of its forces, strengthened and deepened its military alliances and conducted intensive provocative activities targeted at China, leaving China with no alternative but to increase its military budget and build up its military forces as appropriate to uphold its national security.
Both countries should keep communication channels open, implement the military confidence building and crisis prevention agreements and create conditions for communication and dialogues on nuclear security, cyberspace, outer space and artificial intelligence to manage their differences and prevent conflicts, the report suggests.
*******************************************************************
China plans to complete space station construction around 2022
Source:Xinhua : 2019/11/18
China plans to complete the construction of a space station and have it put into operation around 2022, said Zhou Jianping, the chief designer of China's manned space program, at a forum held in south China's Guangdong Province.
The space station is designed to weigh 100 tonnes and accommodate three astronauts, which could be enlarged if needed, according to Zhou.
"The main goal of the construction of the space station is to enable China to become a country independently mastering the technology for long-term manned flight in near-Earth space, and having the capability to carry out long-term manned scientific experiments in near-Earth space and comprehensive development and utilization of space resources," said Zhou at the 4th China Summit Forum on Human Factors Engineering, which was held at Sun Yat-sen University.
The space station will be built as China's main platform for space science research, with the purposes of mastering the technologies in constructing and operating large space facilities, the technologies that guarantee life and health of astronauts who often fly in orbit, and the construction of a national space lab, according to Zhou.
*******************************************************************
Exclusive: Trump aims to sidestep another arms pact to sell more U.S. drones
By : Mike Stone
WASHINGTON (Reuters) – The Trump administration plans to reinterpret a Cold War-era arms agreement between 34 nations with the goal of allowing U.S. defense contractors to sell more American-made drones to a wide array of nations, three defense industry executives and a U.S. official told Reuters.
The policy change, which has not been previously reported, could open up sales of armed U.S. drones to less stable governments such as Jordan and the United Arab Emirates that in the past have been forbidden from buying them under the 33-year-old Missile Technology Control Regime (MTCR), said the U.S. official, a former U.S. official and one of the executives. It could also undermine longstanding MTCR compliance from countries such as Russia, said the U.S. official, who has direct knowledge of the policy shift.
Reinterpreting the MTCR is part of a broader Trump administration effort to sell more weapons overseas. It has overhauled here a broad range of arms export regulations and removed the U.S. from international arms treaties including the Intermediate-Range Nuclear Forces Treaty and the Open Skies Treaty.
Sidestepping the accord would allow U.S. defense contractors General Atomics Aeronautical Systems Inc and Northrop Grumman Corp to break into new markets currently dominated by less sophisticated offerings from China and Israel, which do not participate in the MTCR.
Heidi Grant, the Pentagon's Director of Defense Technology Security Administration, declined to comment on the pending MTCR policy change but said the U.S. military is eager to see drone sales expanded to more countries. Such sales would bolster the militaries of allies and replace drones sales from other nations, she said. "If we are unable to meet this growing demand, we shoot ourselves in the foot," Grant told Reuters.
She said the drones would help allies fight terrorism, establish border control and generally help stop threats before they reach the United States. Grant declined to name specific nations the Pentagon believes should get more U.S.-made weapons.
The State Department, which makes final decisions on drone sales, declined to comment on the policy change. The White House also declined to comment.
U.S. agencies including the departments of Commerce, Energy, Justice and Homeland Security agreed to the change in May, and the State Department is expected to approve the first drone sales under the new interpretation as soon as this summer, said the U.S. official and industry executives. They said the administration has already notified Northrop Grumman and General Atomics, the two major U.S. drone makers, of its plans. The change is scheduled for a review by the White House National Security Council at its June 16 meeting, said one of the executives and a former U.S. official with knowledge of the internal policy discussions. The council is expected to support the policy change and discuss a possible White House announcement, they said.
The Trump administration is pressing ahead with its revamp of drone export policy under pressure from American manufacturers and despite objections from human rights advocates, who warn of the risk of fueling instability in hot spots including the Middle East and South Asia.
Expanded sales of armed drones could increase global conflicts, said Rachel Stohl, a weapons expert at the Stimson Center in Washington, a think tank focused on security issues that opposes weapons proliferation. "Once they leave U.S. control, we lose our ability to influence how and where they are used," she said.(Reuters)
******************************************************************
'We'll PLEASANTLY SURPRISE them':
Russia will be able to counter hypersonic weapons once other states develop them, Putin pledges
(14 Jun, 2020) Moscow knows other nations are hastily designing their own hypersonic weapons  but by the time they are acquired, the Russian military will have learned how to shield the country from them, President Vladimir Putin has said.
The likes of the US and China have their own projects to build missiles capable of travelling several times faster than the speed of sound.
Putin believes the world's leading defence powers will eventually succeed in developing the ultra-fast weaponry. However, the President explained to Russia-1 TV, on Sunday, that Russia won't be caught off-guard once that happens. At present, the country seems to be leading the field in this area.
"I think that we can pleasantly surprise our partners with the fact that when they get these weapons, we will have the means of combating them, with a high degree of probability," Putin forecast.
The US president just recently teased a new "super-duper" missile, which he claimed could travel 17 times faster than the speed of sound.
Russia appears to be the first nation in the world to have deployed a similar-class weapon  the Avangard glide vehicle  into service. Other munitions, like the Kinzhal (dagger) cruise missile and the Zircon anti-ship missile, are undergoing trials or said to be in the works now.
Apart from offensive weaponry, Russia has recently rolled out a radar station  which happens to be the latest addition to the Protivnik (adversary) family  designed to track over a thousand fast-moving targets, including those that are hypersonic.
Putin has stated before that the US is playing catch-up with Russia for the first time in history. He believes that obtaining hypersonic weapons was crucial to maintaining overall parity with the US, which has repeatedly tried to tilt the strategic balance in its favor. For example, building ballistic missile shields not only on American soil, but also overseas, most notably in Eastern Europe and the Asia-Pacific region.
However, most of these facilities are effectively obsolete now given hypersonic systems can easily pierce any existing defenses, President Putin said in March, adding, "it is essential not only for us, but also for global security."
Source: Russian RT NEWS 'RT'
*************************************************************************
U.N. sets up inquiry into racism after George Floyd death
By : Stephanie Nebehay
GENEVA (Reuters) – The U.N. Human Rights Council on Friday condemned discriminatory and violent policing after the death of George Floyd in Minneapolis last month and ordered a report on "systemic racism" against people of African descent.
The 47-member-state forum unanimously adopted a resolution brought by African countries. The mandate also asks U.N. High Commissioner for Human Rights Michelle Bachelet to examine government responses to peaceful protests, including alleged use of excessive force, and deliver findings in a year's time. Philonise Floyd, the brother of the Black man whose death under the knee of a white officer roused world protests against racial injustice, urged the forum on Wednesday to investigate U.S. police brutality and racial discrimination. Burkina Faso's Ambassador Dieudonné W. Désiré Sougouri presented the African resolution on Friday, urging its adoption by consensus.
"It is important to show Africa…the Human Rights Council has heard the plight of African and people of African descent calling for equal treatment and application of equal rights for all," he said. The Africa group had made numerous "concessions" in the negotiations with other countries, he added. Senegal's envoy Coly Seck, a former council president, welcomed the consensus, telling the talks: "Black Lives Matter".
The text was watered down during closed-door negotiations from an initial draft explicitly calling for a U.N. commission of inquiry on racism in the United States and elsewhere. "It is absurd that the final resolution passed by the United Nations strips mention of the United States, where police kill people, particularly Black people, at alarmingly higher rates compared to other developed countries," said Jamil Dakwar of the American Civil Liberties Union (ACLU), which led 600 activist groups in calling for the urgent debate.
"The United Nations needs to do its job  not get bullied out of doing it  and hold the United States accountable," he said in a statement.
The Trump administration, which quit the forum two years ago alleging bias against its ally Israel, made no immediate comment. U.S. Ambassador to the U.N. in Geneva Andrew Bremberg said on Wednesday that his country was "not above scrutiny" as it grappled with racial discrimination but was implementing police reforms after Floyd's killing. During the debate, Western delegations including Australia, Germany, Italy, Poland and the European Union said that the United States should not be singled out.
"This problem does not belong to any one country, it is a problem around the world," said Australian ambassador Sally Mansfield. Activists said that Australia had been particularly active in negotiations to take the spotlight off the United States.
Germany's ambassador Michael Ungern-Sternberg said: "We are convinced a report with a broader approach and less focus on one specific case would have been more appropriate".
Reporting by Stephanie Nebehay; Editing by Catherine Evans and Alex Richardson |  (Source: Reuters)
***********************************************************************
'LIVING HELL'   Chicago worse than Afghanistan
 Trump blasts high crime rate in 'Democrat-run' cities, says it's like living in HELL
(26 Jun, 2020) US President Donald Trump said that Democratic Party mayors and the Barack Obama administration have done "virtually nothing" to combat violent crime in major American cities like Detroit and Chicago.
"Chicago is an example, it's worse than Afghanistan, it's worse than… Honduras," Trump told Fox News anchor Sean Hannity.
We have cities that are worse, in some cases  far worse. Take a look at Detroit. Take a look at what's happening in Oakland. Take a look at what's happening in Baltimore… These cities, it's like living in hell.
Trump said that these cities are "Democrat-run," blaming the Democratic Party for doing "virtually nothing" to curb the high crime rate.
Though the annual murder rate has decreased in Chicago in recent years, it remains as one of America's most dangerous cities, along with Detroit and Baltimore. More than 100 people, including several children, were shot in Chicago just over the weekend, 15 of them fatally. On May 31, 18 people were killed in the city, making it the single most violent day in Chicago in six decades, local media reported. Trump also warned that he will intervene in Seattle, Washington, where activists set up a six-block 'autonomous' zone downtown, known as CHAZ/CHOP, barring police from entry. Several shootings took place at the area, leaving one man dead.
"If they don't do something with Seattle, we're going to do that. We're going to go in there," the president said.
The activist-run enclave in Seattle was established during a wave of anti-racism and police brutality protests triggered by the death of an unarmed black man, George Floyd, during a botched arrest attempt by a white police officer in Minneapolis, Minnesota, last month. Some protest rallies in major cities were followed by fierce riots and looting.
The deaths of Floyd and other African Americans in encounters with officers have led to a rise in anti-police sentiment across the country. Chicago's Democrat mayor Lori Lightfoot has been heavily critical of the President in recent weeks, accusing him of "playing to a base" after the George Floyd riots, the Chicago Sun Times reports. Police statistics from May this year show that while overall crime has fallen 20% compared to last year, murders have increased by around 60% while the number of shootings victims rose by 71%.
*****************************************************************
The Collapse of the United States Is No Longer Avoidable
Paul Craig Roberts
Within the last few days two commentators I respectThe Saker and Dmitry Orlovhave written that the United States is now undergoing systemic collapse.
My view, reflected in my articles published over the years, is that the United States ceased to exist decades ago.  It is only the foundational strength of the country put in place by great men, such as Thomas Jefferson, George Washington, and James Madison, that has kept the image alive of a functioning country. The house that sat on the foundation long ago washed away in the flood of anti-American propaganda from the self-hating white liberal elites who dominate education, media, and government. Today the statues of our great founders are themselves pulled down and desecrated by the ignorant products of American education.
Fifteen months ago, I posted a column, "Western Culture Has Died a Politially Correct Death"  https://www.paulcraigroberts.org/2019/03/30/western-culture-has-died-a-politically-correct-death/ .  Nothing could be more obvious today.  George Floyd, a felon, misogynist woman abuser who killed himself with an overdose of Fentanyl, has been elevated into a national hero. The police officer restraining him when he self-desructed is charged with murder.  Americans are so poorly educated that they do not know that a knee on the side of the neck does not obstruct breathing. Floyd couldn't breathe because the fatal dose of Fentanyl was killing him. You can get the facts of the effects of Fentanyl from this official source: https://www.drugabuse.gov/publications/drugfacts/fentanyl
Here is the medical examiner's report: https://www.scribd.com/document/464269559/George-Floyd-Autopsy-FULL-REPORT#from_embed?campaign=VigLink&ad_group=xxc1xx&source=hp_affiliate&medium=affiliate
Unless the false murder charge against the police officer is withdrawn, do not expect police protection from black and Antifa violence.
The fact of the matter is that the United States, its history, and all of its meritorious values have been denounced by white liberal elites as racist and evil. The charge is no longer limited to the South. It goes far beyond to the Founding Fathers, to the United States Constitution, to the national anthem, to mathematics, to science and the Englsh language, all of which, along with the concept of truth itself, has been defined as racist America.
The United States has lost its youth. Indoctrinated by their education to see white people as the source of abuse and oppression of other races, young whites have been deracinated. They view their history and culture as shameful.  The Pew Research Center found that only 17% of the Black Lives Matter protesters were black, whereas 46% of the protesters were white, largely Democrats under 30 years of age. https://www.pewresearch.org/fact-tank/2020/06/24/recent-protest-attendees-are-more-racially-and-ethnically-diverse-younger-than-americans-overall/
Once the bedrock of a country is discredited among the young generation, the country collapses. It is too late to do anything about it. The question is: who will survive it?
**************************************************************************
Egypt calls for U.N. intervention in talks on Ethiopia's Grand Renaissance Dam
Reporting by Omar Fahmy; Writing by Nadine Awadalla
CAIRO (Reuters) – Egypt called on the United Nations Security Council to intervene to restart talks on the $4 billion hydroelectric dam being built by Ethiopia on the Blue Nile near the border with Sudan. Talks over the Grand Ethiopian Renaissance Dam were halted once again this week, this time only about a fortnight before its expected start-up.
"The Arab Republic of Egypt took this decision in light of the stalled negotiations that took place recently on the Renaissance Dam as a result of Ethiopian stances that are not positive," the foreign ministry said in a statement.
The latest round of talks, which had started on June 9 over video conference, followed a previous round of negotiations in Washington, which ended without agreement in February.
Egypt, which is almost entirely dependent on the Nile for its fresh water supplies, sees it as a potentially existential threat. It is anxious to secure a legally binding deal that would guarantee minimum flows and a mechanism for resolving disputes before the dam starts operating. The dam is the centrepiece in Ethiopia's bid to become Africa's biggest power exporter.
*********************************************************************************
Egypt's el-Sisi orders army to be ready for missions abroad
Egyptian President Abdel Fattah el-Sisi has ordered his army to be ready to carry out any mission inside or outside the country to protect its national security amid tensions over Turkey's intervention in neighbouring Libya.
He also warned forces loyal to the internationally recognised Government of National Accord (GNA) in Tripoli not to cross the current front line with renegade military commander Khalifa Haftar's eastern-based self-styled Libyan National Army (LNA).
Turkey supports the GNA, which, with Turkish support, has reversed a 14-month assault on the capital by the LNA.
The LNA is backed by Russia, the United Arab Emirates and Egypt.
El-Sisi  toured an airbase near Egypt's 1,200km-long (746 miles) western border with Libya, where state television showed him watching fighter jets and helicopters taking off.
"Be prepared to carry out any mission, here inside our borders – or if necessary, outside our borders," he told air force pilots and special forces personnel at the base. He said the Egyptian army was "one of the strongest in the region", adding: "It is a rational army; an army that protects and does not threaten … this is our strategy, our beliefs and our principles that we will never change."
********************************************************
Turkey urges Haftar withdrawal
Ibrahim Kalin, the presidential spokesman, told the AFP news agency that Sirte and Al-Jufra should be evacuated by Haftar's forces for a "sustainable ceasefire".
Kalin said a ceasefire in Libya would be possible if everybody went back to their positions in 2015, referring to an agreement reached that year. He warned against a rushed truce, saying: "A rushed, premature ceasefire will not lead to what we want to achieve for all Libyans there."
Earlier this month, Egypt called for a ceasefire in Libya as part of an initiative which also proposed an elected leadership council for the country. The United States, Russia and the UAE welcomed the plan. Germany said United Nations-backed talks were key to the peace process. However, Turkey dismissed the proposal as an attempt to save Haftar following a string of losses on the battlefield. Libya has been mired in chaos since a NATO-backed 2011 uprising toppled longtime leader Muammar Gaddafi only to leave rival militias fighting for control of the country's oil wealth and drawing in international powers as the conflict has ebbed and flowed.              (SOURCE: NEWS AGENCIES)
******************************************************
Turkish naval strength in Eastern Mediterranean shifts balance of power
Ankara's long-term plans to strengthen its naval forces are paying off in the Eastern Mediterranean.
While Turkey has been part of NATO for more than six decades, under the leadership of President Recep Tayyip Erdogan, Ankara has managed to develop its military capacity indigenously. Recent events in the Eastern Mediterranean show the improvement of Turkey's naval fleet that have managed to deter regional powers from Greece to the Greek Cypriot Administration, Egypt and other powers.
The Turkish Navy has become one of the world's ten sea powers, designing and building its own frigates among 20 other powers, according to prominent experts and former admirals.
"The Turkish Navy does not sail with tugboats like Russia does," said Cem Gurdeniz, a retired Turkish rear admiral, in an interview last year.
Turkey has also been in stiff competition with powers like Russia, France, Egypt and Greece in Libya's civil war. Ankara supports the war-torn country's internationally-recognised UN-backed Government of National Accord (GNA) based in Tripoli against the warlord Khalifa Haftar, whose militias are based in Benghazi.
Ankara has changed the course of the civil war by deploying its naval forces across the Eastern Mediterranean and providing its newly-developed drone technology to the service of the Tripoli government.
The country has managed to match other naval forces including France, Russia, Egypt and Greece, all of whom support Haftar, outplaying them in the region as the GNA forces march towards Sirte, a strategic coastal city, where the country's former dictator Muammar Gaddafi was born.
With its navy's support, Ankara has also protected its maritime rights across the region, continuing to explore and drill gas reserves in the Eastern Mediterranean.