Brief News International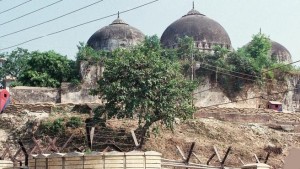 Indian court acquits all 32 accused in demolition of Babri Mosque
The demolition of 16th century Babri Mosque sparked Hindu-Muslim violence that left some 2,000 people dead in 1992.
An Indian court has acquitted all 32 people who had been accused of crimes in a 1992 attack and demolition of a 16th century mosque that sparked Hindu-Muslim violence leaving some 2,000 people dead. All India Muslim Personal Law Board says it's not satisfied with the verdict and will approach High Court.
Four senior leaders of the ruling Hindu nationalist Bharatiya Janata Party had been among the accused at the trial that languished in India's sluggish legal system for almost 28 years.
The four party leaders were accused of making inflammatory speeches that incited followers ahead of the attack. The four have said that the 460-year-old mosque's demolition was spontaneous.
The verdict Wednesday follows a ruling by India's Supreme Court last year favouring the building of a Hindu temple on a disputed site in Ayodhya. India's top court handed a huge victory to Prime Minister Narendra Modi's Hindu right-wing party in November 2019 by awarding Hindus control of the holy site that once was home to the Babri Moqsue. The Supreme Court had ruled that the site in Ayodhya in northern India must be managed by a trust to oversee the construction of a Hindu temple.
A separate piece of land in Ayodhya was given over to a Muslim group to build a "prominent" new mosque, the court had ruled in its hotly awaited 1,045-page verdict.
*******************************************************************
China 'doesn't recognise' Ladakh status, India's border activities
"China does not recognise the so-called Ladakh central government region illegally established by India," says Foreign Ministry spokesperson Wang Wenbin as border standoff between both sides continues.
India's designation of the region along its disputed border with China as a federal territory is an "illegal move," Beijing has said, voicing new objections to construction in the Ladakh region there that seems to strengthen New Delhi's position.
Foreign Ministry spokesperson Wang Wenbin said on Tuesday that reports of new Chinese military bases and other facilities being built on its side were "totally untrue and have ulterior motives".
"China does not recognise the so-called Ladakh central government region illegally established by India," Wang told reporters at a daily briefing, saying any new construction violates a pledge by the leaders of both sides.
"We are also opposed to infrastructure construction aimed at military acquisition and control in the disputed border areas."
Senior commanders agreed earlier this month not to add more troops along their fast-militarising disputed border in the mountainous Ladakh region but appear to have made no progress in disengaging their forces from the ongoing standoff as they had earlier pledged to do.
It is unclear why China rejected India's move last year to reconstitute Ladakh as a federal territory, separate from India-administered Kashmir, or why it considered that illegal.
It was likely due to the ongoing conflict over the Line of Actual Control or LAC that runs through part of the high desert territory.
'Refrain from unilateral LAC interpretation'
Wang said China's border defence forces operate on their side of the LAC, and "strictly abide by the relevant agreements."
China "is committed to maintaining peace and stability in the border areas between China and India, and firmly upholds national territorial sovereignty and security", he said.
Wang did not address reports that China is increasing the building of roads and other infrastructure along its side of the border.
In New Delhi, the Ministry of External Affairs said in a statement that it hopes that China will "sincerely and faithfully" abide by all agreements between the two countries and "refrain from advancing an untenable unilateral interpretation of the LAC".
TRT WORLD News
*******************************************************************
India arrests journalist for 'passing secrets' to China
Police say local journalist Rajeev Sharma received more than $40,000 for "conveying information to Chinese intelligence" related to India-China boundary issues and other matters.
(20-9-2020) Police in India's capital city have arrested a local freelance journalist on allegations he was passing "sensitive information" to Chinese intelligence officers.
In a statement on Saturday, the Delhi Police said 61-year-old Rajeev Sharma was arrested earlier this week and officers had seized some confidential documents related to the Indian defence department from the journalist's residence.
One Chinese woman and her Nepalese partner were also arrested for allegedly supplying Sharma with "huge amounts of money" for "conveying information to Chinese intelligence."
The Chinese Foreign Ministry did not immediately respond to a request for comment outside regular business hours.
Reuters could not immediately reach any of the three individuals, who are under arrest, or their lawyers.
"On interrogation, Rajeev Sharma has disclosed his involvement in the procurement of secret/sensitive information and further conveying the same to his Chinese handlers," Delhi's Deputy Commissioner of Police Sanjeev Kumar Yadav said in the statement.
China-India tensions
The arrest comes amid heightened tensions between India and China at their border in the Himalayan region of Ladakh.
The relationship between the neighbours has worsened since August 2019, when India revoked the limited autonomy of disputed Kashmir and separated Ladakh region from it. Both areas are under federal rule now.
It followed a vow by Indian Home Minister Amit Shah to take control of Aksai Chin, part of divided Kashmir, administered by China.
In June this year, tensions between armies of both sides resulted in a border clash in which India says 20 of its troops were killed. It's not clear if the Chinese also suffered losses.
Journalist received over $40,000 for 'spying'
The police said Sharma was tasked with providing information on India-China boundary issues and other matters in recent years.
It added that between January 2019 and September 2020, Sharma received more than three million Indian rupees ($40,799) from one of his handlers.
India has in recent months banned several Chinese apps and made it tougher for Chinese companies to make investments.
(Source: Reuters)
*******************************************************************
Beijing releases 5 'abducted' Indians
By Shuriah Niazi / 12.09.2020
NEW DELHI: China returned five Indian nationals,  10 days after their alleged abduction, according to the Indian army.
Allegedly seized from a northern Indian village, they were accused by Beijing of being members of the Indian intelligence agency, according to a Chinese state-run media outlet. The Indians were abducted by the Chinese military from a village in the northern Indian state of Arunachal Pradesh earlier this month. "Indian Army took over all five individuals missing from Arunachal Pradesh at Kibitu today after completing all formalities," the Indian army said in a statement.
The move comes after a five-point agreement to ease tensions at disputed borders between New Delhi and Beijing during a Wednesday meeting of the two countries' foreign ministers in Moscow.
"Individuals will now be quarantined for 14 days as per COVID-19 protocol and will thereafter be handed over to their family members," said a military spokesperson in a statement. Though an official statement has yet to come from the Chinese military, the state-run Global Times newspaper said the individuals were "India's intelligence staff who had disguised themselves as hunters," citing an anonymous source.
The report also claimed the Indians had trespassed the border and entered the Shannan prefecture of Tibet, as the "Indian side often sends staff via this means to gather intelligence of China."
Beijing detained, warned and "educated" theive people, the report cited the source as saying.
The Asian heavyweights have been locked in a military stand-off amid border disputes in the Ladakh area of the contentious Jammu and Kashmir region since May.
They have been in conflict over numerous regions as China claims sovereignty over the Arunachal Pradesh state which is under the effective control of India.
* Sorvar Alam from Ankara, Turkey contributed to this story.      'Source: TRT WORLD NEWS'
*******************************************************************
Punjab CM says his govt will move SC over farm laws, warns against ISI threat to "entire nation"
( Adds quotes from Chandigarh press conference)
Chandigarh/Khatkar Kalan, Sep 28 (PTI) Punjab Chief Minister Amarinder Singh said his government would approach the Supreme Court against the new farm laws and warned that Pakistan"s ISI could exploit farmers" anger in the "entire nation".
The CM said he did not want Punjab's farmers and the youth to take up arms but the laws will endanger the border state's security as the Pakistani agency is always on the lookout for such opportunities.
In an apparent reference to the Khalistani terrorism during the 1980s and early 90s, Singh said Punjab has lost 35,000 lives in senseless violence in the past and with the unrest among the farmers spreading to other states, the "entire nation" would be exposed to the ISI threat.
Singh led a dharna against the recently passed agri-marketing bills at SBS Nagar district's Khatkar Kalan, the ancestral village of Bhagat Singh.
The chief minister, All India Congress Committee (AICC) general secretary Harish Rawat and Punjab Congress chief Sunil Jakhar paid tributes there to the freedom fighter on his 113th birth anniversary.
"I have said we will take this matter forward. The President has passed these bills and now we will take this matter to the Supreme Court," Singh told the gathering at the village.
He said he will consult lawyers to work out the course of action for challenging the "unconstitutional laws" in the Supreme Court.
The matter will be discussed with two advocates who are coming from Delhi on Tuesday, he said.
Meeting reporters in Khatkar Kalan and Chandigarh, the CM said Pakistan"s Inter- Services Intelligence could use the farmers" unrest over the new laws to foment trouble in the state.
"The ISI always looks to whom and where it can give guns, bombs and grenades. During the last three and half years of our term, we have arrested around 150 terrorists and seized about 700 weapons," he said in Bhagat Singh's village.
"There has been peace in Punjab but when you try to take away someone"s food, won"t he be angry? He becomes a target of the ISI. That is why I am saying whatever they have done is anti-national," he said, referring to the BJP-led government at the Centre.
In Chandigarh, he told reporters that the "entire nation" could be exposed to the ISI threat. He added that he will not let anyone disturb the state"s peaceful atmosphere, which the new legislation had the potential to do.
Farmers in Punjab have been protesting against the new laws meant to deregulate the sale of their crops, with their unions saying that they will actually lead to the dismantling of the minimum support price (MSP) system.
At Khatkar Kalan, the CM also accused the central government of snatching the rights of the states.
He expressed hope that Congress leader Rahul Gandhi would join protests against the new laws.
President Ram Nath Kovind on Sunday gave assent to the three contentious bills — the Farmers" Produce Trade and Commerce (Promotion and Facilitation) Bill, 2020, the Farmers (Empowerment and Protection) Agreement of Price Assurance and Farm Services Bill, 2020 and the Essential Commodities (Amendment) Bill, 2020.
This was former Uttarakhand chief minister Harish Rawat's first visit to Punjab after being given the charge of the state at the AICC. PTI CHS VSD SNE ASH ASH
*******************************************************************
Brahmos, Akash and Nirbhay: India rolls out its missiles to counter Chinese threat
(Source: Time of India)
The 500 km-range Brahmos cruise missile, 800 km-range Nirbhay cruise missiles along with Akash surface-to-air missile (SAM) with a capability to target aerial threats 40 km away are at the core of India's stand-off weapon deterrence to People's Liberation Army (PLA) missile deployment in Xinjiang and Tibet regions.
While the PLA's western theatre command has deployed stand-off weapons up to 2,000 km range and long-range SAMs in Tibet and Xinjiang after the Ladakh stand-off started, people familiar with the matter told Hindustan Times that the supersonic Brahmos, subsonic Nirbhay as well as Akash have been deployed to counter them by India in the worst-case scenario. The Chinese deployment is not limited to occupied Aksai Chin but is located in depth positions from Kashgar, Hotan, Lhasa and Nyingchi along the 3,488 km Line of Actual Control (LAC).
India's main stay in the stand-off weapons is the Brahmos air-to-air and air-to-surface cruise missile with its 300 kilogramme warhead which can take care of airstrips in Tibet and Xinjiang, or a warship in Indian Ocean.
The Brahmos missile has been deployed in sufficient numbers in the Ladakh sector with the option to deliver the stand-off weapon from a Su-30 MKI fighter. Besides, the Brahmos can be used to create choke points in the Indian Ocean using the Car Nicobar air base in India's island territories. The IAF's Car Nicobar air base is the advanced landing ground for SU-30 MKI's which can use air-to-air refuellers to protect against any PLA warship threat coming from the Strait of Malacca to Sunda Strait across Indonesia, a senior government official said.
While a limited number of Nirbhay subsonic missiles have been produced and deployed, the stand-off weapon system has a range that can reach up to 1,000 km, and has both sea skimming and loitering capability. This means that the missile is capable of flying between 100 metres to four km from ground and pick up the target before engaging it. The Nirbhay missile has only a surface-to-surface version.
The third stand-off weapon used by Indian military is the Akash SAM, which has also been deployed in sufficient numbers to counter any PLA aircraft intrusion across the LAC in Ladakh sector. The PLA Air Force fighter activity in occupied Aksai Chin continues albeit at a reduced level. However, there is concern over PLA air activity across the Daulet Beg Oldi sector near Karakoram pass.
The Akash missile with its three-dimensional Rajendra, a passive electronically scanned array radar that has the capacity to track 64 targets at a time and simultaneously engage 12 of them. The missile has the capacity to engage all aerial targets including fighter planes, cruise missiles and ballistic missiles.
*******************************************************************
Amnesty to halt work in India after its bank account 'frozen'
Rights body says it shut its operations due to a continuing gov't crackdown over the last two years.
Amnesty International says it is halting work in India due to a "continuing crackdown" and "harassment" by the government of Prime Minister Narendra Modi.
The human rights watchdog said the bank account of its India branch has been frozen by the right-wing government, forcing it to lay off staff and stop campaign and research work in the South Asian nation.
It also accused the government of running an "incessant witch hunt" campaign against human rights organisations over "unfounded and motivated" allegations.
The group said it has been facing a crackdown over the past two years over allegations of financial wrongdoing that it said were baseless. Its bank accounts were frozen on September 10, the group said.
"The continuing crackdown on Amnesty International India over the last two years and the complete freezing of bank accounts is not accidental," said Avinash Kumar, Executive Director of Amnesty International India, in a statement on Tuesday.
Amnesty said the federal financial crimes investigation agency, the Enforcement Directorate, had targeted it.
"The constant harassment by government agencies including the Enforcement Directorate is a result of our unequivocal calls for transparency in the government, more recently for accountability of the Delhi police and the Government of India regarding the grave human rights violations in Delhi riots and Jammu & Kashmir.
"For a movement that has done nothing but raise its voices against injustice, this latest attack is akin to freezing dissent."
Amnesty and other groups have accused police of complicity in the riots in Delhi in which at least 50 people were killed, most of them Muslims.Police have denied the allegation.
The Indian government has so far not commented on Amnesty's allegations.
Al Jazeera tried to contact several spokespeople from the governing Bharatiya Janata Party (BJP) but did not receive a response by time of publication.
'I think this raises a big question which the world needs to wake up and recognise that India is no longer a functioning democracy.'
Bilal Kuchay contributed to this report  (Source: Al Jazeera News)
*******************************************************************
China's growing military capable of threatening America, head of US nuclear forces warns
'It's not where they are, it's where they're going,' Adm. Chas Richard said
By Lucas Tomlinson, Stephen Sorace
The substantial growth of China's military is an indication of how quickly the Asian country can build up its nuclear arsenal to a capability that can directly threaten the United States, the head of the U.S. nuclear forces warned on Monday. Adm. Chas Richard, commander of U.S. Strategic Command, told reporters at a Pentagon press briefing that Beijing's building of hundreds of ships since 2013 is just one example of how quickly the country can work to achieve its military ambitions.
Branstad, US ambassador to China, to step down, jump on campaign trail
"Don't shoot behind the duck, right? It's not where they are, it's where they're going," Richard said. "When China sets its mind to something, they are very impressive in their ability to go accomplish it." In seven years, Beijing has built 255 ships for China's new Coast Guard "on top of all the other ships they're building," he said.
"I get apprehensive that we are not fully conscious as a nation of the threats that we face," Richard said. "China now has the capability, and we can get into the specifics, to directly threaten our homeland from a ballistic-missile submarine. That's a pretty watershed moment." His comments come weeks after the Pentagon issued its annual report to Congress about China's military capabilities.
Chinese military calls us 'destroyer of world peace' following critical DOD report
The report found that China "has the largest navy in the world," overtaking the U.S. Navy. China now has approximately 350 ships and submarines, compared to about 293 for the U.S. It also said China has built a considerable arsenal of land-based ballistic and cruise missiles and has one of the world's largest forces of advanced long-range surface-to-air systems. Last year, the report said China had the largest military in Asia. Its 2 million-member People's Liberation Army is now the world's largest standing military.
Pompeo declares China to be greatest foreign power threat to us: 'it's not, frankly, a close call'
Richard warned China's nuclear stockpile is "next on their to-do list." The 2020 report said China would double its nuclear stockpile from the "low-200s" over the next decade. In comparison, the U.S. military currently maintains 3,800 nuclear warheads. China on Sunday responded to the 2020 Pentagon report, calling it a "wanton distortion" and saying that it is the U.S. instead that poses the greatest threat to world peace.
*******************************************************************
Azerbaijan, Armenia clash
Azerbaijan, Armenia reject talks as Karabakh conflict widens
Azerbaijan has vowed to pursue military action against Armenian troops in occupied Karabakh until a full Armenian withdrawal from the territory.
Fighting between Azerbaijan and Armenia continues in the biggest eruption of the decades-old conflict since a 1994 ceasefire.
Nagorno-Karabakh is a disputed region inside Azerbaijan and controlled by ethnic Armenians. It broke away from Azerbaijan in a war in the 1990s but is not recognised by any country as an independent republic.
The fighting has spread beyond the borders of the disputed region, threatening to spill into all-out war between the former Soviet republics.
Dozens of people have been reported killed and hundreds wounded since the new wave of fighting broke out.
Meanwhile, diplomatic efforts are under way to stop the fighting, with the United Nations calling for an immediate halt to clashes.
Armenia and Azerbaijan accused one another of firing directly into each other's territory and rejected pressure to hold peace talks as their conflict over the enclave of Nagorno-Karabakh threatened to descend into all-out war.
Both countries reported firing from the other side across their shared border, well to the west of the breakaway Nagorno-Karabakh region over which fierce fighting broke out between Azeri and ethnic Armenian forces .
The incidents signalled a further escalation of the conflict despite urgent appeals from Russia, the United States and others to halt the fighting.
The conflict has reignited concerns about stability in the South Caucasus region, and threatens to drag in Turkey and Russia.
UN concern
After a closed-door discussion on Tuesday 29 Sep. the 15-member United Nations Security Council "expressed concern" about the clashes, condemned the use of force and backed a call by UN Secretary-General Antonio Guterres for an immediate halt to fighting.
Further stoking tensions between the two former Soviet republics, Armenia said a Turkish F-16 fighter jet had shot down one of its warplanes over Armenian airspace, killing the pilot.
It provided no evidence of the incident. Turkey has denied the claim.
"Armenia should withdraw from the territories under its occupation instead of resorting to cheap propaganda tricks," Turkish President Recep Tayyip Erdogan's top press aide Fahrettin Altun said.
Earlier this week, Armenia accused Turkey of sending mercenaries to back Azerbaijani forces in the ethnically Armenian region.
Putin appeal
Any descent into all-out war could threaten to drag in not only Turkey, but Russia. Moscow has a defence alliance with Armenia, but also enjoys close relations with Azerbaijan.
The Kremlin said President Vladimir Putin spoke by phone to Pashinyan for the second time since the start of the crisis and said all sides should take measures to de-escalate. It has not made public any contacts between Putin and Aliyev.
'Source: Al Jazeera News Agency '
*******************************************************************
Freed Taliban Fighters Returning To Battlefield, Top Afghan Negotiator Says
A number of Taliban prisoners who were released by the Afghan government as a condition for peace talks have returned to the battlefield, lead Kabul negotiator Abdullah Abdullah has said.
Abdullah, the head of Afghanistan's High Council for National Reconciliation, said negotiations with the Taliban in Qatar have been positive since they opened in Doha on September 12, although the two sides reportedly remain far from agreement on virtually every issue.
But Abdullah said that some — though not the majority — of the 5,000 Taliban prisoners released by the Afghan authorities as a condition for talks had resumed the fight against the government.
"I do know that some have returned to the battlefield, which is a violation of the agreement that they had made," Abdullah told an online conference with the U.S. Council on Foreign Relations on September 22.
Despite the ongoing negotiations, the level of violence inside Afghanistan has not fallen, and Abdullah called on Washington, which launched the peace process as part of a February deal with the Taliban, and Pakistan, which allegedly maintains ties to the militants, to pressure them to agree to a cease-fire.
"Unfortunately, so far, the level of violence is very high and to a level that is not acceptable for the people," Abdullah said. "I repeat my call to the Taliban themselves and also to all partners who have any leverage over the Taliban to press on that point."
Abdullah said he planned to travel to Pakistan soon for the first time since 2008.
The persistent violence, and the Taliban's failure to completely cut relations with the Islamic State and Al-Qaeda, was singled out as a barrier to success by U.S. officials testifying in Congress on September 22.
U.S. chief negotiator Zalmay Khalilzad warned that violence remains unacceptably high and Washington expects more setbacks in ongoing peace talks between Taliban militants and the Afghan government.
"By any measure, current levels of violence are too high," Khalilzad said. "We know that reductions are possible."
"While we have reasons to be hopeful, we are under no illusions about the challenges ahead…. We expect that there will be setbacks and obstacles," Khalilzad said.
He added that Washington and its allies were looking at an agreement between Afghanistan and Pakistan so that neither side's territory would be used to attack the other.
"We're hoping that by the time that these other negotiations are over, we could also achieve success in that regard," said Khalilzad, who recently returned from Doha.
With reporting by AFP, AP, and Reuters
*******************************************************************
Palestinians hit with severe decline in funding from Arab states
(24-9-2020) The Palestinian Authority suffered a 50 percent loss in foreign aid compared to 2019 and 70 percent shortfall in revenues in 2020.
Palestinian officials believe that recent normalisation deals between the Gulf monarchies and Israel have led to a sharp decline in financial support from Arab states to Palestine.
According to The New Arab and data from the Palestinian finance ministry, Ramallah has received no funds from Arab countries since March.
This is in addition to a 50 percent decrease in foreign aid and a 70 percent drop in annual revenues for Ramallah.
The governing Palestinian Authority (PA) received around $255 million in foreign aid for the first seven months of this year  a decrease of roughly $500 million in the corresponding period of 2019.
Arab aid during the same period dropped by 85 percent, from $267 million in 2019 to $38 million in 2020.
This financial deterioration occurred only amid the Covid-19 pandemic, but during a time when the Gulf-Israeli normalisation agreements  strongly opposed by the PA  were being drawn up and negotiated.
Palestinian Foreign Minister Riyad Al Maliki assessed the reasons behind the sudden funding in a recent press conference.
"Most of the Arab countries did not abide by the decisions of the Arab summits to provide a financial safety net of $100 million for Palestine in the face of US and Israeli sanctions," he said.
"We do not know if this was the result of the financial repercussions of the coronavirus pandemic, or at the request of the United States, as President Trump said."
According to Al Araby Al Jadeed, The New Arab's Arabic language service, US President Donald Trump told Israeli Prime Minister Benjamin Netanyahu that he had "asked the rich Arab countries not to pay the Palestinians."
The financial crisis and the drop in Arab and foreign aid has forced the PA to seek new revenue sources to cope with severe economic challenges. With deep reductions in international aid and an almost complete cut in US funding since 2018, the West Bank economy has been in a free fall.
As a result of the pandemic, the Palestinian Central Bureau of Statistics estimates that from March to May 2020 the PA lost $2.5 billion with a GDP contraction of 14 percent and suffered a budget deficit of $1.4 billion.
Financial support from the Gulf Arab states, particularly from Saudi Arabia and Qatar, has been a lifeline to the occupied Palestinian territories.
Riyadh is the PA's largest funder, providing $20 million per month since 2013. Before the pandemic hit, Saudi budgetary support to the PA was keeping public sector employees paid.
After the US withdrawal of funding that impacted a third of the UN Relief and Works Agency's (UNRWA) operational budget, Saudi Arabia became the third-largest donor to the UN body  which provides essential services to Palestinian refugees in the region  providing $160 million in 2018.
Qatar's support is primarily directed at Hamas-controlled Gaza, which is responsible for housing construction, infrastructure and daily subsistence. In March, Doha announced it would deliver $150 million over six months.
The UAE does not provide direct financial assistance to the PA, as relations have soured over a number of years.
A recent UAE transport of medical supplies for the PA to combat the pandemic  not coordinated with the PA and which landed in Tel Aviv  was rejected by the Palestinian leader Mahmoud Abbas because it was viewed as an underhand attempt at normalising ties with Israel.
According to the PA's Ministry of Finance, the government received approximately $4.5 billion in aid between 2012 and 2016  39 percent from Arab and 61 percent from non-Arab donors.
The four biggest donors to the PA were the EU ($981 million), Saudi Arabia ($908 million), funds channeled through the World Bank ($872 million), and the US ($477 million).
Source: TRT World News
*******************************************************************
Savvy player': Kuwait's emir Sheikh Sabah praised after death at 91
29 Sep. 2020: Known as a peacemaker, Kuwait's 91-year-old ruler Sheikh Sabah al-Ahmad al-Jaber al-Sabah has died.
Known as the "Wise Man of the Region", Kuwait's 91-year-old Emir Sabah al-Ahmad al-Jaber al-Sabah died on Tuesday after decades as a leading figure in the oil-rich Gulf nation. Sheikh Sabah was the 15th leader in a Kuwaiti family that has ruled for more than 250 years.
Kuwait's new ruler, Sheikh Nawaf al Ahmad al Sabah, took the oath of office in parliament, pledging to work for the Gulf Arab state's prosperity and stability, a day after his predecessor Sheikh Sabah al Ahmad al Sabah died.
*******************************************************************
claims Indian cities Dehradun, Nainital under its 'Greater Nepal' campaign: Reports
According to the report, Prime Minister of Nepal KP Oli has also been accused of taking huge bribes from China to push the anti-India agenda. The Chinese government is reportedly giving several million dollars to Nepal Prime Minister KP Sharma Oli.
17 September, 2020
OpIndia Staff
The tension between Indian and its Himalayan neighbour Nepal is likely to mount again as Nepal continues to provoke India.
According to latest reports, the ruling dispensation of Nepal  Nepal Communist Party, joining hands with Unified Nepal National Front has launched a new campaign for 'Greater Nepal' that includes a claim for Indian cities such as Dehradun and Nainital.
The Communists of Nepal, addition to illegally claiming Indian cities in its 'Greater Nepal' campaign, has also laid claims to parts of Uttarakhand, Himachal, Uttar Pradesh, Bihar and Sikkim.
Citing the Treaty of Sugauli Nepal signed in 1816 between the East India Company and the then ruling establishment of Nepal, the current Nepalese establishment has been claiming Indian territories and has already launched a social media campaign.
Several Nepalese have taken to social media platforms and created a Facebook page called Greater Nepal that demands merger of Indian territories into Nepal.
The demand for Greater Nepal picked up ever since KP Oli came to power in Nepal. Earlier, Nepal had also raised the issue in the United Nations on 8 April 2019.
The brazen move to claim Indian territories by Nepal comes just months after it had brazenly included Indian areas of Limpiyadhura, Lipulekh, and Kalapani in its new political map causing huge uproar in India.
China influencing Nepal to carry out anti-India agenda
According to the report, Prime Minister of Nepal KP Oli has also been accused of taking huge bribes from China to push the anti-India agenda. The Chinese government is reportedly giving several million dollars to Nepal Prime Minister KP Sharma Oli.
There are allegations in Nepal that Oli has deposited Rs 41.34 crore in a Geneva bank account recently.
Acting on the behest of China, the Nepal parliament in June had passed an amendment to update the country's map including Indian areas of Limpiyadhura, Lipulekh, and Kalapani in the constitution of the country.
India had urged Kathmandu to refrain from such an "unjustified cartographic assertion" and respect India's sovereignty and territorial integrity. However, the Communists in Nepal had acted belligerently to alter the existing border between two countries by including Indian territories.
*******************************************************************
Hundreds of prisoners escape Uganda prison
(17-9-2020) A total of 219 inmates have escaped from a jail in Karamoja, a remote, semi-arid northeastern region, some with weapons and ammunition, said a military spokeswoman. Some of them escaped with at least 15 guns, but two were killed after security forces launched an operation to recapture them, a military spokeswoman said.
The inmates escaped late on Wednesday from a jail in Karamoja, a remote, semi-arid northeastern region, said the spokeswoman, Brigadier Flavia Byekwaso. Before fleeing, they broke into the prison armoury and stole 15 AK-47 rifles, 20 magazines and other ammunition.
"It's a mass escape … these were hard-core criminals," she said, adding they included murderers, robbers and rapists.
A big security operation was underway to recapture them and two of the inmates had been killed in the pursuit while two were re-arrested, she said.                         (Source:  TRT World NEWS)
*******************************************************************
Petrol tanker explosion in Nigeria kills scores
(24-9-2020) The incident took place on the Lokoja-Abuja highway when a petrol tanker loaded with premium motor spirit lost control and rammed into five cars, three tricycles and two motorbikes. At least 28 people were killed after a fuel tanker crashed in Nigeria's central state of Kogi, local media reported. The incident took place on the Lokoja-Abuja highway after a petrol tanker loaded with premium motor spirit lost control and rammed into five cars, three tricycles and two motorbikes.
*******************************************************************
Two dozen refugees, migrants presumed dead as boat capsizes off Libya coast
(16-9-2020) Libyan coast guard retrieves two bodies after a boat carrying migrants bound for Europe capsizes in the Mediterranean Sea. A boat carrying refugees and migrants bound for Europe has capsized in the Mediterranean Sea off Libya, leaving at least two dozen people drowned or missing and presumed dead. All migrants were men, with a majority from Egypt and Morocco, according to Msehli. "This new tragedy signals yet again the need for increased search and rescue capacity in the Mediterranean. Instead, we are seeing restrictions on NGOs and long, unnecessary stand-offs," Msehli said.
The shipwreck was the latest maritime disaster involving migrants seeking a better life in Europe. (Source: TRT WORLD News)
*******************************************************************
There's a second wave of Covid-19 coming, and it could be rough
With global deaths approaching 1 million, the approaching flu season leaves many believing the only solution may be to wait for a vaccine. The coronavirus worldwide death toll is expected to reach one million in a few days, based on figures from Johns Hopkins University which has collected global Covid-19 figures since the beginning of the outbreak.
With total cases over 33,138,000 and rising, the pandemic has devastated the global economy, increased poverty and unemployment, and sparked geopolitical tensions as it continues to spread unhindered in countries like India, Brazil, and the US.
The real numbers, however, are likely much higher, and will likely continue to grow for some time ahead of a looming second wave of infections.
But what is a second wave, and what's driving it?
With relaxed lockdown rules, warnings of a resurgence of cases are growing, drawing on historical pandemics. It's also speculated, if still unproven, that the virus may survive longer in winter months.  "While some studies do show that the virus can stay alive in the air anywhere between 4 to 16 hours, what they don't tell you is that sunlight usually kills the virus within 7 minutes of exposure. The risk is indoors," says Dr. Khalid Desin, a virologist with the University of Saskatchewan, who spoke to TRT World.
The biggest risk comes from people spending more time together at home, an enclosed space.
Influenza season
Another major factor behind the predicted second wave? The seasonal flu, which usually starts in October and ends in May. This raises fears that taxed health care systems and crowded hospitals could be overburdened, reducing effective treatment and quality of care to patients with Covid-19 or any other illness.
Scientists recently said that while the Covid-19 death toll may be high, death tolls due to other undiagnosed illnesses are likely to be higher as people avoid hospitals. While it may be too soon to say, experts predict a rise in cancer and cardiac deaths.
The effects of Covid-19 on someone who has already caught the common cold or seasonal flu have yet to be studied as well, but likely doesn't bode well for the body's struggling immune system.
2 million deaths possible
The death toll from the coronavirus could easily double to 2 million before a successful vaccine becomes widespread, and could be even higher without collective action to fight the pandemic, an official at the World Health Organization (WHO) said on Friday.
"Unless we take action, the numbers you speak about are not only imaginable but sadly very likely," said Mike Ryan, head of the WHO emergencies program.
(Source: TRT WORLD NEWS)
*******************************************************************
Botswana: Bacteria poisoning killed more than 300 elephants
(21-9-2020) Wildlife authorities say around 330 tuskers have died and that a species of cyanobacteria that produces neurotoxins was the cause.
Toxins in water produced by cyanobacteria have killed more than 300 elephants in Botswana this year, officials have said, announcing the result of an investigation into the deaths which had baffled and alarmed conservationists. Cyril Taolo, deputy director of the Department of Wildlife and National Parks, told a news conference the number of elephant carcasses found since deaths were first reported around early May had risen to 330, from 281 in July 2020.
"What we just know at this point is that it's a toxin caused by cyanobacteria," said Taolo, adding the specific type of neurotoxin had yet to be established. Authorities will monitor the situation during the next rainy season, and Taolo said for now there was no evidence to suggest that Botswana's wildlife was still under threat as officials were no longer seeing deaths.
Only elephants affected
The department's principal veterinary officer Mmadi Reuben told the same news conference that questions remained as to why only elephants had been affected.
*******************************************************************
ODI batting pioneer ,Dean Jones, , dies aged 59
Born: March 24, 1961, Coburg, Australia
Died: September 24, 2020, Mumbai, India
Dean Jones, who pioneered an energetic style of ODI batting, and the hero of Australia's tied Test against India in Chennai, died on Thursday after a heart attack in Mumbai. He was 59.
Jones, who was in India as a commentator for the IPL, is understood to have suffered a massive heart attack around noon IST. It is understood that Jones, who was part of the commentary panel for Wednesday's match, had breakfast this morning and attended a pre-match debriefing with his colleagues. He is believed to have returned to his room and taken ill there.
Remembered for his double-century in the famous tied Test between India and Australia in Chennai, Jones played 52 Tests and 164 ODIs. He was also part of Australia's 1987 World Cup-winning team. He carved a career in coaching and cricket commentary after his retirement from all forms of cricket in 1997-98.
A precocious talent for Victoria, gruffly mentored by his father and Carlton Cricket Club legend Barney, Jones was introduced to the Australian side in the aftermath of Greg Chappell and Dennis Lillee's retirements at the tail end of the 1983-84 summer, and made a meritorious 48 opposite Allan Border on debut against the fiery West Indies in Trinidad.
He was head coach of Pakistan Super League franchise Islamabad United from 2015 to 2019. He also served as interim head coach of the Afghanistan national team briefly in 2017.
In a statement Earl Eddings, the Cricket Australia chairman, said: "Dean Jones was a hero to a generation of cricketers and will forever be remembered as a legend of this great game. Anyone who watched cricket in the 1980s and 1990s will fondly recall his cavalier approach at the crease and the incredible energy and passion he brought to every game he played.
"Although many remember him for his brilliance in the 50-over game, arguably Jones' finest moment in the national team came in scorching conditions in Chennai in 1986, where his selfless and courageous innings of 210 helped Australia to a famous tie against India.
"Jones remained an immensely popular figure in Australian and Victorian cricket throughout his life and was a much-loved columnist and commentator in every corner of the cricketing world.
(Courtesy ESPN Sports)