Brief News International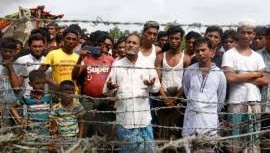 Myanmar's Rohingya crisis exposes ASEAN weaknesses: Report
UN refugee agency's Rohingya fund half a billion dollars short
The Association of Southeast Asian Nations (ASEAN) has failed to respond effectively to the Rohingya crisis in Myanmar thanks to a lack of leadership and the 10-member organisation's inability to grasp the scale of the human rights abuses, a report from a group of regional lawmakers said.
ASEAN Parliamentarians for Human Rights said ASEAN had been hampered by its own institutional structure, which allowed member state Myanmar the space to "set the parameters of ASEAN's engagement".
It noted a lack of leadership within the ASEAN Secretariat in Jakarta, and among member states themselves.
"Caught between respect for its key principles of consensus and non-interference on the one hand, and (an) international and domestic outcry on the other, the regional bloc has struggled to respond to the crisis and articulate a clear vision and strategy that would help end the cycle of violence and displacement," the group said in the report, which examined the reasons for ASEAN's weak response to the crisis.
Critical issues ignored
Myanmar does not recognise the Rohingya as citizens, even though the minority group has lived in the country for generations.
"ASEAN has chosen to look at it from a humanitarian point of view, which is Myanmar's approach," Charles Santiago, a Malaysian MP who chairs the APHR board, told a press conference to release the report, noting that the organisation had not addressed key concerns including citizenship, religious rights and land issues. "ASEAN literally got cornered. The critical issues were ignored."
The report noted that while ASEAN's approach had enabled it to maintain a dialogue with the Myanmar authorities, it had failed to acknowledge the gravity and scale of the human rights crisis in the western state and the Myanmar authorities' role in creating it. The situation there has deteriorated since the Rohingya exodus, with more people forced from their homes as a result of the escalating conflict between the Myanmar military and the Arakan Army, an ethnic Rakhine armed group.
Regional issue
ASEAN delegations visited the Bangladesh refugee camps in 2019, where they promoted the controversial National Verification Card (NVC) that Rohingya people see as a tool of persecution. The organization and its member states are also providing financial aid and assistance in Rakhine for infrastructure projects, including schools and hospitals.
"Until ASEAN and other international actors acknowledge the situation that led the Rohingya to flee in the first place, there's no hope of peace for any of the people who call Rakhine State home," said Laetitia van den Assum, a former member of the Advisory Commission on Rakhine State.                SOURCE : AL JAZEERA
******************************************************************************
Kashmir: Informal Debate of the Third Committee with Youth Delegates
Kashmiri youth Delegate statement: By : Ali Ziyad
(21 October 2020) At the outset, I would like to thank the organizers for giving me the opportunity to address the Third Committee as a youth delegate. Young people are the guardians and caretakers of the future as such we not only want to positively contribute to our own societies but also aspire for a peaceful world envisioned in the 2030 Agenda for Sustainable Development.
Realizing our aspirations depends on realizing our rights. A world in which the human rights of every young person are realized; that ensures every young person is empowered to achieve his full potential.
Despite our potential, 25% of young people today continue to be directly or indirectly affected by violence.
As a youth delegate from Indian Occupied Jammu and Kashmir, my own region has been suffering from illegal Indian occupation for the last seven decades.
By obfuscation and deceit, India has denied the right of self-determination to the people of Jammu and Kashmir. Succeeding generations of Kashmiri youth and children have suffered at the hands of Indian brutality.
In the wake of India's illegal and unilateral actions of 05 August last year, these atrocities have redoubled.  During the last fourteen months, India has illegally detained 13000 Kashmiri youth, tortured many of them, summarily executed young boys, put down protests violently, including the use of pellet guns against peaceful protestors and imposed collective punishment by demolishing homes and burning entire neighborhood and villages.
Even recently, the brutality of Indian occupation was on full display when in a fake encounter it killed 3 young people, one of whom was only18 years old. The Indian army had initially termed the three individuals as "terrorists" but later reluctantly, and for the first time in 33 years, acknowledged the occurrence of a fake encounter.
This was only possible due to increased scrutiny from international media and civil society. However, not a single Indian soldier has been prosecuted for these crimes.
Nor as any Indian official been prosecuted for their war crimes against the Kashmiri people in the last seven decades.
As the voice and representative of Kashmiri youth, I implore the international community to come forward and play its effective role.
The first and foremost goal for all Kashmiris, including its youth, is the peaceful resolution of Kashmir dispute in accordance with relevant resolutions of the Security Council which have promised the people of Jammu and Kashmir their right of self-determination.
I would ask all the honourable people here today to consider what you decide for young people in Kashmir to grow up in a world where culture and heritage has slowly been erased. I would ask everyone to consider what its like for what it must be like for Kashmiri in the future. In the meantime, mechanisms must be put in place to check the impunity of the Indian government and stop the settler colonial policies which are creating further political, economic and territorial marginalization of the Kashmiris and it's youth especially on top of the COVID-19 pandemic , Kashmiri youth and Kashmiris in general do not have access to fast internet which is severely harming their education.
******************************************************************************
Three from India's governing BJP party killed in Kashmir attack
(30 Oct 2020) Suspected separatist rebels have shot dead three members of India's governing Hindu nationalist party in Indian-administered Kashmir, two days after New Delhi enacted new land laws which the residents decried as a "land grab".
The attackers on Thursday 29 Oct. 2020, fired at a car the three Bharatiya Janata Party (BJP) members were using in the southern Kashmir Valley's Kulgam district.
The three were taken to a hospital, where they died, police said, calling it a "terror attack".
The BJP says they were members of the party's youth wing and one was the general secretary of the wing's Kulgam unit.
Government forces launched a search for the gunmen, police said. Officials did not immediately reveal other details and no rebel group has claimed responsibility for the attack.
Rebels have been fighting against Indian rule since 1989. Most Kashmiri Muslims want the territory to be united either under Pakistani rule or as an independent country.
(Source: Al Jazeera News Agency)
******************************************************************************
Dozens of Afghan security personnel killed in ambush blamed on Taliban
(22-10-2020) At least 25 personnel have been killed, according to the Takhar governor's spokesperson, but some accounts put the death toll as high as 50.
The ambush came despite Taliban assurances to Washington last week that they would reduce bloodshed.
Security forces were attacked overnight on Tuesday 20 Oct.  in Takhar province and fighting was ongoing, said Jawad Hejri, a spokesperson for the governor, who put the death toll so far at 25.
"The Taliban had taken positions in the houses around the area. They ambushed our forces who were there for an operation against the enemy," he said.
Takhar provincial health director Abdul Qayoum said 34 security personnel had been killed  including the deputy police chief of the province. Kabul-based journalist Bilal Sarwary, quoting officials, said at least 50 security personnel have died.
The Taliban said their fighters had "engaged the enemy" in Takhar to retaliate against security operations carried out against them. Despite joining peace talks with the Afghan government in Qatar last month, the Taliban have only increased violence in Afghanistan in a bid to wield leverage in the negotiations.     (Source: TRTWorld and agencies)
******************************************************************************
Big suicide bombing in Kabul kills 18 at education center
KABUL, Afghanistan (AP)  The death toll from the suicide attack Saturday in Afghanistan's capital has risen to at least 18 killed and 57 people wounded, including students, the interior ministry said. The explosion struck outside an education center in a heavily Shiite neighborhood of western Kabul, Dasht-e-Barchi.
Interior Ministry spokesman Tariq Arian says that the attacker was trying to enter the center when he was stopped by security guards.
Hundreds of Sikhs and Hindus in Afghanistan fled the country in September after a gunman loyal to the militant group killed 25 members of the shrinking community in an attack on their share a place of worship in Kabul.
No one immediately claimed responsibility for the attacks. The provincial police spokesman claimed the Taliban had placed the bomb.  (Source: AP News)
******************************************************************************
US, helping Taliban secretly against ISIS, bomb in Afghanistan
(Kabul) The US military is assisting the Taliban in a covert operation in Afghanistan. American drones are carrying out air strikes in areas where neither the US Army nor Afghanistan Force has anything to do. The Washington Post has claimed in a report that the US military is carrying out these attacks to help the Taliban against ISIS.
Secretly helping the Taliban
"We are helping the Taliban move with attacks against ISIS," a senior official of the Joint Special Operations Command Counter Terrorism posted at Afghanistan's Bagram airbase said in its report. During this time only ISIS targets are being targeted. This help is being done in a clandestine manner, so it cannot be officially accepted.
Help in Afghanistan and hostility in America
On the one hand, the US military in Afghanistan is helping the Taliban by carrying out air strikes. On the other hand, senior officials of the Trump administration in Washington were heard saying that this time we have hurt the Taliban as much as never before. Let us tell you that a few months ago, a peace agreement was reached between the Taliban and the US in Doha, the capital of Qatar. President Donald Trump himself had a secret meeting with Taliban leaders at the US military base Camp David.
America cannot see the Taliban getting weak : Two other members of the Joint Special Operation Command Counter Terrorism also confirmed the ongoing war in Afghanistan's Konar province in an interview to a book. Konar is considered a stronghold of ISIS. In such a situation, the US does not want ISIS to replace the Taliban. If ISIS is strong in Afghanistan, the Taliban is bound to be weak. In such a situation, America may again be in trouble seeing the dream of evacuating soldiers from here.
This is how attack planning
An American official said Taliban fighters hide behind hills in a Konar operation against ISIS. They share the location of the attack with the walkie-talkie to the US Army. As soon as the fighters hear the sound of the Hellfire missile, they attack ISIS targets.
Why is Taliban worried about Donald Trump's health? Praying for victory in presidential election
There are so many American soldiers in Afghanistan
Following an agreement with the Taliban on 29 February, the US has reduced its military strength in Afghanistan and now has just 8,600 troops stationed there. He has handed over five military bases to his Afghan partners. The withdrawal of troops from Afghanistan is also a major issue in the US election.
Why is China worried about the withdrawal of American troops from Afghanistan? This appeal to the Trump administration
Trump had announced the return of soldiers : A few days ago, US President Donald Trump announced that he would withdraw his army from Afghanistan. He also said that in the future the US military will not take part in war with any other country. Trump said in a conversation with Fox News that 19 years in Afghanistan is sufficient. We want the few courageous women and men soldiers still present in Afghanistan to return home by Christmas. The US military is working there as policemen. They are not acting like the army.                   (Source: Washington Post)
******************************************************************************
Senior Al Qaeda leader al Masri killed in Afghanistan  security officials
(25-10-2020) Abu Muhsin al Masri was on FBI's Most Wanted list and the announcement of his killing came hours after a suicide bombing at an education centre in Kabul killed at least 18 people and wounded dozens more. Afghan security forces have killed Abu Muhsin al Masri, a senior al Qaeda leader who was on the Federal Bureau of Investigation's Most Wanted Terrorists list, officials said.
Al Masri has been charged in the United States with having provided material support and resources to a foreign terrorist organisation, and conspiracy to kill US nationals.
The announcement came on the same day a suicide bombing at an education centre in Kabul has killed at least 18 people and wounded dozens.                                   (Source: TRT NEWS Agency)
******************************************************************************
Stampede kills several Afghans trying to secure Pakistan visa
(20-10-2020) At least 15 Afghans have been killed and more than a dozen injured in a stampede in eastern Afghanistan. Officials said the stampede in an open ground where thousands of Afghans had gathered to secure visas from the Pakistan consulate.
Sohrab Qaderi, a provincial council member in eastern Jalalabad city, where the incident occurred, said of the 15 people dead, 11 were women. Several senior citizens have been injured. Two other provincial officials said over 3,000 Afghans had congregated to collect tokens needed to apply for a visa to travel to Pakistan.  Eleven of the 15 victims were women, a provincial council member said. (Source: TRT World and Agencies)
******************************************************************************
Deadly attack on Kabul University campus : At least 22 killed
ISIL claim responsibility for attack on Afghanistan's biggest university; President Ghani announces day of mourning.
(2 Nov. 2020) At least 22 people were killed and 22 other wounded when gunmen stormed Kabul University in a brutal, hours-long assault that saw students left in pools of blood in their classrooms.
The attack in Afghanistan's capital on Monday 2 Nov., claimed by the the Islamic State of Iraq and Levant (ISIL, ISIS) group, came as violence surged across the country.
It was also the second time in less than two weeks that an educational institution was targeted in the capital.
Survivors described horrific scenes following the incident that unfolded around 11am (0530 GMT) when a suicide bomber blew himself up inside the campus. Two gunmen then started shooting, officials said, sending hundreds of students fleeing and scrambling over perimeter walls.
Fraidoon Ahmadi, a 23-year-old student, told AFP news agency he was in class when gunfire broke out.
Hamid Obaidi, spokesman for the Ministry of Higher Education, told AFP the attack started when government officials were arriving for the opening of an Iranian book fair organised on campus.
President Ashraf Ghani called the attack "despicable act of terror" and announced a national day of mourning to honour the victims.
"Three attackers were involved. One of them blew up his explosives at the beginning, two were brought down by the security forces." Interior Ministry spokesperson Tariq Arian told AFP.
Afghan media reported the book exhibition was being attended by several dignitaries at the time of the shooting.
Iran's semi-official ISNA news agency reported on Sunday that Iranian Ambassador Bahador Aminian and cultural attache Mojtaba Noroozi were scheduled to inaugurate the fair, which was to host some 40 Iranian publishers.
Speaking from Kabul, Al Jazeera's Filio Kontrafouri said that the operation to secure the university took several hours.
******************************************************************************
Afghanistan: Vice President Threatens Those Reporting Civilian Deaths
Investigate Airstrike on Mosque School that Killed at Least 12 Children
(New York)  Afghan Vice President Amrullah Saleh has ordered the arrest of the individual who reported civilian casualties from an Afghan government airstrike on October 22, 2020, Human Rights Watch said today. The Afghan air force struck a mosque school in Takhar province, killing at least 12 children and wounding 18 other civilians, news agencies reported.
Afghan government forces were apparently targeting Taliban fighters when they hit the school at the mosque in Baharak district, Takhar. In response to early reports of the incident, Saleh denied on Twitter that any civilians had been killed, and said that "the person responsible for spread of this venomous & fake news was arrested immediately." The identity of the person and whether that person was arrested is unclear. On Facebook he threatened legal action against those "who make false allegations."
The Afghan government ordered an investigation into the incident. However, findings from investigations into other incidents of civilian casualties have not been made public and no one has been held accountable. "Vice President Amrullah Saleh is trying to silence those who reported a potentially unlawful airstrike that killed civilians, including many children," said Patricia Gossman, associate Asia director. "The government should immediately release anyone detained under Saleh's order and carry out a thorough and impartial investigation of the airstrike."
The United Nations Assistance Mission in Afghanistan (UNAMA) has reported that women and children comprised 65 percent of the civilian casualties from airstrikes by the Afghan air force for the first half of 2020. The Afghan government has a poor record of investigating such incidents. "The Afghan government is obligated to investigate possible laws-of-war violations by their forces," Gossman said. "The free expression rights of those reporting on alleged violations should be respected."
Region / Country/Asia/Afghanistan         'Courtesy Human Right Watch'
******************************************************************************
Armenia, Azerbaijan vow to avoid targeting residential areas
Armenia and Azerbaijan did not commit to a fresh ceasefire in the Nagorno-Karabakh conflict during talks in Geneva, but did agree to measures to defuse tensions, including vowing not to target civilians, mediators have said.
Armenian Foreign Minister Zohrab Mnatsakanyan and his Azerbaijani counterpart Jeyhun Bayramov met in the Swiss city for talks aimed at reining in more than a month of clashes in the disputed region that have killed more than a thousand people.
Mediators from France, Russia and the US, known as the "Minsk Group," said in a statement they had urged the sides to fully implement a previously agreed ceasefire.
Both sides, the statement said, had "engaged in an open and substantive exchange of views aimed at clarifying their negotiating positions" on sticking points in the ceasefire agreement reached in Moscow on October 10, and subsequently reaffirmed in Paris and Washington.  They had meanwhile "agreed to take a number of steps on an urgent basis," the statement said.
Both sides had committed to "not deliberately target civilian populations or non-military objects in accordance with international humanitarian law," it said.
They had also agreed to "actively engage in the implementation of the recovery and exchange of remains on the battlefield."
Both sides also said that within a week they would deliver lists of currently detained war prisoners to the Red Cross "for the purposes of providing access and eventual exchange."
And finally they committed to provide written comments and questions related to discussions around introducing mechanisms to verify if a ceasefire was being upheld. "The co-chairs will continue working with the sides intensively to find a peaceful settlement of the conflict," Friday's statement said.(Source: TRT World News Agency)
Azerbaijan retakes 13 more villages in region under Armenian occupation nearly 30 years
"During the day on October 23 and on the night of October 24, the combat operations continued with varying intensity in the Aghdara, Khojavend, Fuzuli, Hadrut and Gubadli directions," Azerbaijan's Defence Ministry said in a statement on Saturday.
Units of its military continue to carry out operations in certain directions of the front, it added.
"Armenian armed forces units, which could not resist in the Khojavend, Fuzuli, and Gubadli directions of the front, have been inflicted by the fire strike," the army said. During operations, Azerbaijan said it disabled Armenian weapons, ammunition and fuel depots, some occupying forces retreated from their positions. 'Source TRT WORLD NEWS'
******************************************************************************
Strong Aegean Sea earthquake strikes Turkey's Izmir Killed 43
(Last Update 4th Nov.2020)
(30 Oct.  2020) The 6.6-magnitude earthquake has destroyed many buildings in western Izmir, At least 100 people have been killed and  900 injured, 218 people were still undergoing treatment, 11 of whom are in serious condition, and 103 have been rescued so far following Friday's devastating earthquake.
Search and rescue continue after strong quake rattles Turkey, Greece
At least 341 aftershocks, with 31 of them more powerful than magnitude 4.0, were recorded after the quake, according to the Disaster and Emergency Management Authority (AFAD).
Search and rescue operations have been completed in eight buildings in Izmir while work continues in nine others, according to Environment and Urbanisation Minister Murat Kurum, who said damage assessment work has begun in public buildings.
More than 475 vehicles and nearly 4,000 rescue workers, along with 20 sniffer dogs, were dispatched to the scene.
AFAD said the quake struck on Friday at 1151 GMT (2:51 pm local time) at a depth of 16.54 km (around 10 miles). Local media showed wreckage of a multiple-story building in central Izmir, with people climbing it to reach rescuers. Plumes of dust were filmed in several spots in central Izmir. The 6.6-magnitude earthquake has destroyed many buildings in western Izmir, raising fears of casualties. The temblor was also felt in Greek island of Samos where a church has suffered damages.
A four-year-old girl named Ayda Gezgin was pulled out from a heap of cement slabs and iron rebars. Onlookers and rescue workers burst into spontaneous applause. With a smile on her face, Ayda asked for water and Ayran, a Turkish yoghurt drink. She had spent 91 hours under the rubble. (Source: TRT World News)
******************************************************************************
Eyeing China, Australia joins 'Quad' drill with US, Japan, India
Military exercises set to take place in Bay of Bengal and Arabian Sea are likely to upset China.
(20 Oct 2020) Australia will take part in large-scale military exercises off the coast of India next month that will bring together a quartet of countries concerned by rising Chinese influence.
India, Japan, the United States and  for the first time since 2007  Australia will take part in this November's Malabar naval exercise, a move that is likely to lead to protests from China.  Australian Defence Minister Linda Reynolds said late on Monday that the drills were about "demonstrating our collective resolve to support an open and prosperous Indo-Pacific"  a allusion to countering China's power.
India's Ministry of Defence said the naval drill would take place in the Arabian Sea and the Bay of Bengal, which has been a hotspot for Indo-Chinese strategic competition. Over the last few decades, China has tried to significantly increase influence in Myanmar, Sri Lanka, Pakistan and Bangladesh, prompting acute concern in New Delhi.
The drill comes at a time of diplomatic tensions between China and Australia, economic tensions between China and the US and military tensions between China and India.  India and China have poured tens of thousands of troops into a remote Himalayan border zone since fighting a pitched battle in June in which 20 Indian troops and an unknown number of Chinese soldiers were killed.
The so-called "Quad" has been touted as a means of countering Chinese influence  including a decades-long investment in modernising its army.
But the grouping has often faltered amid disagreements about how much to confront, contain or engage Beijing.
A renewed push to develop the Quad into a formal counterbalance to China included talks between foreign ministers in Tokyo earlier this month. At that meeting, US Secretary of State Mike Pompeo called on Asian allies to unite against China's "exploitation, corruption and coercion" in the region.'SOURCE : AFP Report'
******************************************************************************
Xi invokes Chinese military might with US in mind
(Jinping speaks during a ceremony marking the 70th anniversary of China's entry into the Korean War, in Beijing's Great Hall of the People on October 23, 2020)
President Xi Jinping on Friday warned of China's military resolve to defeat "invaders", speaking on the 70th anniversary of the Korean War, the only time Chinese forces have fought the United States. In a long speech, heavy on patriotism and flecked by anecdotes of heroism by Chinese forces, Xi said victory in the 1950-53 conflict was a reminder that his nation stood ready to fight anyone "creating trouble… on China's doorstep".
Beijing frequently uses war anniversaries to fire thinly covered warnings to the US of the military strength of the "new China".
The Korean War is a key foundation story for the ruling Communist Party.
Friday's anniversary comes as the party is called out by US President Donald Trump, in a bitter row spanning trade, tech, human rights and the status of Taiwan, which China says is an inviolable part of the mainland.
Without explicitly naming the US, Xi loaded up with the historical precedent of the Korean war and took swings at modern day "unilateralism, protectionism and extreme egoism".
"Chinese people don't create troubles, nor are we afraid of them," Xi said to applause. "We will never sit back and watch any damage to our national sovereignty… and we will never allow any force to invade or divide the sacred territory of the motherland."
The Pentagon announced it had agreed to sell over one billion dollars' worth of missiles to self-governing Taiwan, the sharpest potential flashpoint with US forces.
'Sacrifice'
The Korean War was the first and so far only time Chinese and US forces have engaged in large-scale direct combat.
According to the Chinese government, more than 197,000 Chinese soldiers died during the three-year war, which saw the US-led United Nations coalition pushed back to the 38th parallel bisecting the Korean Peninsula, after China weighed in on the side of North Korea's communist army. The war, essentially fought to a bloody stalemate, is hailed in China as a victory and an example of resilience and spirit against a more advanced foe.
"When China was very poor, it didn't surrender to US pressure," an editorial in the nationalist Global Times said this week.
"Today, China has grown to be a strong country, so there is no reason for China to fear the US threats and suppression." (Source: Asia Times)
******************************************************************************
US approves $2.37B Harpoon missile sale to Taiwan
(27-10-2020) The US State Department has approved the potential sale of 100 Boeing-made Harpoon Coastal Defense Systems to Taiwan in a deal that has a potential value of up to $2.37 billion.  The proposed sale of the Harpoon systems "will help improve the security of the recipient and assist in maintaining political stability, military balance, economic and progress in the region," the State Department said in a statement.
The move comes days after the State Department approved the potential sale of three other weapons systems to Taiwan, including sensors, missiles and artillery that could have a total value of $1.8 billion which prompted a sanctions threat from China.
Pressure on China ahead of US election
Earlier , A Chinese Foreign Ministry spokesman told reporters China will impose sanctions on Lockheed Martin, Boeing Defense, Raytheon and other US companies it says are involved in Washington's arms sales to Taiwan. The US decision comes as the Trump administration ramps up pressure on China ahead of November 3 presidential election and US concerns rise about Beijing's intentions toward Taiwan.  Beijing sees Taiwan as a renegade province that it has vowed to reunite with the mainland, by force if necessary. (Source: TRTWORLD NEWS)
******************************************************************************
France: Teacher decapitated, suspect shot dead by police
(16 Oct 2020) A French teacher, who had recently shown students cartoons of the Prophet Muhammed, was beheaded outside his school on Friday. The man suspected of the beheading was an 18-year-old born in Moscow and originating from Russia's southern region of Chechnya, a judicial source said. Five more people have been detained over the murder on Friday outside Paris, including the parents of a child at the school where the teacher was working, bringing to nine the total number currently under arrest, said the source, who asked not to be named.
According to the source, the two detained parents had signalled their disagreement with the teacher's decision to show the cartoons.(Source: Al Jazeera News Agency)
******************************************************************************
France Knife stabbings: Three people have died in a knife attack at a church in Nice
(Thursday 29 Oct. 2020) A male suspect was shot and detained.  Anti-terror prosecutors have opened an investigation into the attack and France has raised its national security alert to its highest level. French anti-terrorist prosecutor Jean-François Ricard later said the attacker was seriously wounded by police.
Mr Ricard said the suspect was a 21-year-old Tunisian national who had arrived in France earlier this month. He had a document issued by the Italian Red Cross.
Two other attacks took place, one in France and one in Saudi Arabia.
A man was shot dead in Montfavet near the southern French city of Avignon after threatening police with a handgun. A guard was attacked outside the French consulate in Jeddah in Saudi Arabia. A suspect was arrested and the guard taken to hospital.
******************************************************************************
Turkey launches first training warship for Qatar
On Thursday – October 8 2020, Turkey's Anadolu Shipyard launched one of two cadet training warships for the Qatari Naval Forces under the agreement that was signed in 2018 at the Doha International Maritime Defense Exhibition and Conference (DIMDEX 2018.)
The vessel was manufactured and designed in Turkey and has added some "special features" on the demand of the Qatari Emiri Navy. The ship has the capacity to train 72 naval cadets. It was launched on Thursday in Istanbul Tuzla shipyard with the attendance of Turkish Defence Minister Hulusi Akar, his Qatari counterpart Halid Bin Muhammed Al Attiyah, along with other defence and military officials.
"I wish our training ships to be auspicious for the friendly and brotherly Qatar Armed Forces and strengthen our brotherhood," Akar said in his opening ceremony speech. "Our relations with Qatar are at an excellent and exemplary level in every field, and both countries act as one heart, one fist in close cooperation and coordination on regional issues," Akar added.
The ship is 90-metres-long and has 1,950 tons of full-load capacity. It can be used in weapon training and has a helipad for medium-size helicopters on the stern.   (Source: TRT World News)
******************************************************************************
Iran short of 'significant quantity' of potential bomb material – IAEA boss
By Reuters Staff
ZURICH (Reuters) – Iran does not at this stage have enough enriched uranium to make one nuclear bomb under the U.N. atomic watchdog's official definition, the agency's head told an Austrian paper.
"The Iranians continue to enrich uranium, and to a much higher degree than they have committed themselves to. And this amount is growing by the month," International Atomic Energy Agency (IAEA) head Rafael Grossi told Die Presse in an interview published on its website.
Asked about how long Iran would need to build a nuclear weapon — the so-called "breakout time", he said:
"In the IAEA we do not talk about breakout time. We look at the significant quantity, the minimum amount of enriched uranium or plutonium needed to make an atomic bomb. Iran does not have this significant quantity at the moment."
Iran denies ever having had a nuclear weapons programme, saying its nuclear programme is purely for energy purposes.
The IAEA defines "significant quantity" as the approximate amount of nuclear material for which the possibility of manufacturing a nuclear explosive device cannot be excluded. The most recent quarterly IAEA report on Iran last month said it had 2,105.4 kg of enriched uranium, far above the 202.8 kg limit in a 2015 deal with big powers but a fraction of the enriched uranium it had before the accord. It is also enriching to up to 4.5% purity, far below the 20% it achieved before the deal and the 90% that is considered weapons-grade.'Courtesy Reporting by Michael Shields'
******************************************************************************
US-developed hypersonic missile hit within 6 inches of target, says Army secretary
By: Jen Judson |  October 13
WASHINGTON  U.S. Army Secretary Ryan McCarthy reported in his speech at the Association of the U.S. Army conference that the Pentagon's hypersonic missile hit within 6 inches of its target.
"Hypersonic missiles are hitting their targets with a variance of only a mere 6 inches," he said during his speech at the virtual opening ceremony Oct. 13.
McCarthy was referring to the Army and Navy's successful hypersonic glide body flight test this year, which launched from the Pacific Missile Range Facility in Kauai, Hawaii, on March 19, an Army spokesperson confirmed.
The Common-Hypersonic Glide Body, or C-HGB, launched and flew at hypersonic speed to "a designated impact point," according to a statement issued the day of the test.
Hypersonic weapons are capable of flying faster than Mach 5  much faster than the speed of sound  and can maneuver between varying altitudes and azimuths, making it harder to detect.
The C-HGB  made up of the weapon's warhead, guidance system, cabling and thermal protection shield  will serve as the base of the Pentagon's offensive hypersonic missile. Each of the services are developing appropriate launching systems.
The Army is developing a ground-launched capability and plans to field a battery-sized hypersonic weapon to soldiers by 2023.
Lockheed Martin is serving as the lead weapons integrator for the system onto a mobile truck, and Dynetics Technical Solutions is the first to learn how to build the glide body for production.
The Army is gearing up for another flight test in the third quarter of fiscal 2021 followed by a second flight test in the first quarter of fiscal 2022, Lt. Gen. L. Neil Thurgood told Defense News in an interview ahead of the AUSA conference. Then there will be two more flight tests in the third quarter of FY22, Thurgood added.
"So we'll start the sequence now where we really accelerate our flight testing," he said.
The Army plans to deliver a hypersonic missile and launcher to a unit in the fourth quarter of FY21.
Six days ago, Russia reported a successful test launch of its Zircon hypersonic missile, saying it hit a target in the Barents Sea, according to The Associated Press. Both China and Russia are actively developing and testing their respective hypersonic missile capabilities.  'Source: Defense news '
******************************************************************************
Boeing and General Atomics join forces on new laser weapon
By: Valerie Insinna and Jen Judson
WASHINGTON  General Atomics and Boeing are teaming up to build a new high-energy laser for air and missile defense, the companies announced Oct. 13. 2020,
Under the agreement, the companies will create a 100 kilowatt laser that will be scalable to 250 kilowatts, the companies stated in a news release. The weapon will be able to be employed as a standalone system or integrated onboard ground vehicles, ships and aircraft.
General Atomics Electromagnetic Systems will be responsible for the laser, batteries and thermal management system, while Boeing will create the beam director and software necessary for precision tracking and pointing the laser.
Although the companies did not specify whether the system is being built with a particular acquisition program in mind, the power levels that General Atomics and Boeing hope to achieve with their laser coincides with what the Army is aiming for in its High Energy Laser Tactical Vehicle Demonstrator program.
The service has already tapped Dynetics and Lockheed Martin to build the initial HEL TVD demonstrator  a 100-kilowatt-class laser that will be integrated with a Family of Medium Tactical Vehicles platform  but the service ultimately hopes to develop 250- to 300-kilowatt-class directed-energy weapons for future requirements.
The HEL TVD demonstrator is a pathway to fielding a directed energy weapon as part of the Indirect Fires Protection Capability (IFPC) Increment 2. The Army is in the process of putting laser fiber modules that buildup the components that get a laser up to 300 kilowatts, Lt. Gen. L. Neil Thurgood, the Army's Rapid Capabilities and Critical Technologies Office (RCCTO) director told Defense News in a recent interview ahead of of the Association of the U.S. Army's annual conference.
The Army will demonstrate the capability in fiscal 2022 on a truck.
Part of a broader Pentagon program, the HEL-TVD is the Army's contribution a competitive demonstration between the services. The Navy and the Air Force are also developing laser demonstrators at the same power level. At the end of FY22, the services and the defense department will decide which of those three are best-in-breed, Thurgood said. The Army will then build four vehicle prototypes to be delivered in FY24.
GA-EMS and Boeing provided scant details about the proposed weapon system, such as how long it will take to develop. However, they emphasized the laser's "compact" size and small logistics footprint.
"GA-EMS has made significant advancements in developing and demonstrating highly scalable laser technologies to facilitate high output power in smaller, lighter weight packages," said Scott Forney, president of GA-EMS. "We look forward to working with Boeing to deliver a laser weapon system with capabilities designed to meet current operational requirements, while providing the flexibility and adaptability to suit emerging platform requirements supporting missions across a multi-domain battlespace."
Norm Tew, vice president and general manager of Boeing Missile and Weapon Systems, added that the partnership "will deliver an innovative [high-energy laser] force protection capability to the warfighter that is capable of supporting future needs and modernization objectives."
The laser teaming partnership comes just weeks after the two companies announced a separate agreement to compete together for the Missile Defense Agency's Next Generation Interceptor program. Boeing and General Atomics will face off against Lockheed Martin and a Northrop Grumman-Raytheon Technologies team in the competition to build a new ballistic missile interceptor.
******************************************************************************
Top U.S. general casts doubt on Trump's Christmas troop withdrawal timeline for Afghanistan
OCTOBER 13, 2020 / CBS/AFP
Washington  The U.S. withdrawal of more troops from Afghanistan will depend on a reduction in violence and other conditions agreed in February with the Taliban, the Pentagon's top general said in an interview broadcast Monday. Five days after President Donald Trump said all U.S. forces "should" be home by Christmas, Joint Chiefs Chairman General Mark Milley stressed to NPR radio that pulling out the final 4,500 troops depends on the Taliban reducing attacks and advancing peace talks with the Kabul government.
President Trump speaks during a briefing from senior military leaders regarding Syria, in the Cabinet Room, on April 9, 2018 in Washington, DC. Also pictured is Chief of Staff of the U.S. Army Mark Milley (L), Vice President Mike Pence, (2nd-L), and then-National Security Advisor John Bolton (R).MARK WILSON/GETTY
"The whole agreement and all of the drawdown plans are conditions-based," Milley told NPR. "The key here is that we're trying to end a war responsibly, deliberately, and to do it on terms that guarantee the safety of the U.S. vital national security interests that are at stake in Afghanistan."
Milley noted that U.S. troop levels had already dropped from 12,000 in the wake of the February pact, which required negotiations between the Taliban and Kabul and a sharp cut in violence.
******************************************************************************
Pentagon estimates cost of new nuclear missiles at $95.8B
By ROBERT BURNSOctober 20, 2020
WASHINGTON (AP)  The Pentagon has raised to $95.8 billion the estimated cost of fielding a new fleet of land-based nuclear missiles to replace the Minuteman 3 arsenal that has operated continuously for 50 years, officials said .
The estimate is up about $10 billion from four years ago.
The weapons, known as intercontinental ballistic missiles, or ICBMs, are intended as part of a near-total replacement of the American nuclear force over the next few decades at a total cost of more than $1.2 trillion.
Some, including former Defense Secretary William J. Perry, argue that U.S. national security can be ensured without ICBMs, but the Pentagon says they are vital to deterring war. The Trump administration affirmed its commitment to fielding a new generation of ICBMs in a 2018 review of nuclear policy.
The U.S. also is building a new fleet of ballistic missile submarines to replace the current Ohio-class strategic subs; a new long-range nuclear-capable bomber to replace the B-2 stealth aircraft; a next-generation air-launched nuclear cruise missile; and a new nuclear command and communications system. It also is working on updated warheads, including an ICBM warhead replacement for an estimated $14.8 billion.
The nuclear modernization program was launched by the Obama administration and has been continued by President Donald Trump. Democrat Joe Biden has said that if elected in November he would consider finding ways to scale back the program.
Last month the Air Force awarded Northrop Grumman a $13.3 billion contract for engineering and manufacturing development of the new missiles. The total "lifecycle" cost, including operating and sustaining the missiles over their expected lifetime into the 2070s, is set at $263.9 billion.(Source : Associated Press 'AP')
******************************************************************************
World War 3 fears EXPLODE as India and US sign landmark alliance against China
(By JAMES BICKERTON) |  Wed, Oct 28, 2020
Under the deal the two powers have agreed to share military intelligence and increase cooperation in the Asia-Pacific region. Relations between Beijing and both Washington and New Delhi have deteriorated sharply over the past few years.
As a result India, which traditionally avoided regional alliances, has been moving closer to the US.
In June 20 Indian soldiers were killed in a clash with Chinese troops across the two countries contested border.
The deal was agreed by US Secretary of State Mike Pompeo who has been touring the region together with Defence Secretary Mark Esper.
In total the two men will visit four countries in what Mr Pompeo said was a mission focused on the "threats" from China.
In response to the deal Mr Pompeo said: "Our leaders and our citizens see with increasing clarity that the CCP is no friend to democracy, the rule of law, transparency, nor to freedom of navigation, the foundation of a free and open and prosperous Indo-Pacific."
The CCP refers to the Chinese Communist Party which has ruled China as a dictatorship since winning a civil war in 1949.
Subrahmanyam Jaishankar, the Indian foreign minister, described its warming relationship with the United States as "exceptionally positive".
The agreement was also welcomed by Mr Esper who made clear it is aimed at containing China. He said: "We stand shoulder to shoulder in support of a free and open Indo-Pacific for all, particularly in light of increasing aggression and destabilizing activities by China."
However, Beijing reacted angrily to the new accord accusing the US of dividing the region.
Speaking of Mike Pompeo, Wang Wenbin, a spokesman for the Chinese Foreign Ministry, commented: "We urge him to abandon the Cold War and the zero-sum game mentality and stop sowing discord between China and regional countries as well as undermining the regional peace and stability."
The deal signed  had been under negotiation between the US and India for just under a decade.
However New Delhi had previously been reluctant to sign for fear of antagonizing China. Harsh Pant, director of studies at the New Delhi Observer Research Foundation, said India is looking to build alliances in response to growing Chinese assertiveness.
Speaking to Voice of America he said: "India has been very cautious in the past, but it is now taking a more categorical position.
"Basically, as China challenges India on its borders, New Delhi is now out in the open about aligning its priorities with the US and like-minded countries in the Indo-Pacific."Source:Daily Express|UK)
******************************************************************************
India's Nirbhay cruise missile test fails
BY: Vivek Raghuvanshi | Mon, October 12, 2020
NEW DELHI  The flight test of India's homemade 1000-kilometer-range cruise missile failed Monday following technical problems. Nirbhay  an intermediate-range subsonic land-attack cruise missile with terrain hugging  is an Indian version of the American Tomahawk and the Russian Club SS-N-27 cruise missiles. Defense scientists in India said the test failed within 8 minutes of the launch due to technical issues in the engine. They gave no further details. The Nirbhay missile is currently powered by the Russian Saturn 50MT turbofan engine. Its local development began in 2007 with the Defence Research and Development Organisation.
A senior DRDO scientist said Nirbhay is a stealthy missile capable of delivering different warheads and is capable of loitering and attacking multiple targets. Weighing 1,500 kilograms with a height of 6 meters and a speed of Mach 0.7 Mach, the missile can carry up to 300 kilograms of conventional and nuclear warheads.
At least 20 more tests will occur before the missiles are inducted, another DRDO scientist said, which could take three to five years. The weapon is manufactured by the state-owned firm Bharat Dynamics Limited, and each Nirbhay missile system will cost about $1.5 million.
******************************************************************************
US-India to sign BECA, doors open for high-tech arms transfers
By Ajai Shukla | Business Standard, 27th Oct 20
Defence Minister Rajnath Singh and his US counterpart, Secretary for Defense Mark Esper, met in New Delhi on Monday. This was in the lead-up to the "US-India 2+2 Ministerial Dialogue", in which they will be joined by their colleagues, Foreign Minister S Jaishankar and Secretary of State Mike Pompeo.
"The two ministers reviewed bilateral defence cooperation spanning military to military cooperation, secure communication systems and information sharing, defence trade and industrial issues," announced the Ministry of Defence (MoD).  The MoD also confirmed the conclusion of the last remaining "defence foundational agreement"  the so-called Basic Exchange and Cooperation Agreement (BECA) for Geospatial Intelligence.
"The two ministers expressed satisfaction that agreement of BECA will be signed during the visit," said the MoD.
In explaining the benefits of this agreement for India, the bland rationale that is publicly offered is that BECA would allow India's military to access a range of US topographical, nautical, and aeronautical data, including the US National Geospatial-Intelligence Agency's (NGA's) "geospatial information bank."
Less publicly acknowledged is the fact that becoming a BECA signatory will take India into a select group of long-range missile powers, which can strike targets thousands of kilometres away with an accuracy of 100 metres or less. Most long-range missiles are guided by "inertial navigation systems" (INS) over the course of their flight. As an INS-guided missile travels towards its target, however, small navigational errors build up. These errors are best corrected through signals received from highly accurate navigation satellite networks, such as the Global Positioning System (GPS) run by the US Department of Defense.
The classified military signal of GPS is reputed to have an accuracy of one metre. If, over a segment of its flight, the INS of a long-range missile builds up an error, the GPS military signal can be referenced to correct it. However, accessing the GPS military signal requires a country to sign BECA.
Signing BECA would also allow India to receive advanced navigational aids and flight management systems for several types of aircraft procured from the US: including the C-17 Globemaster III, C-130J Super Hercules, and P8-I Poseidon.  BECA would also allow India to exchange mapping data with the US to support a particular defence system or weapon, to produce aeronautical and nautical charts, or to conduct joint hydrographic surveys in uncharted areas.   Signing BECA does not bind India to cooperate with the US in a geo-spatial project that New Delhi might be uncomfortable with. The agreement allows both signatories to decide on projects based on the benefits they perceive.
As on 2017, Washington had signed BECA, or similar geospatial or mapping data-sharing agreements, with 57 countries.
When the two countries sign BECA on Tuesday, it will have taken New Delhi over three decades to negotiate and sign four "foundational agreements" that the US demands as a precursor for deep defence cooperation.
on September 6, 2018. COMCASA lets India procure secure and protected equipment that enables encrypted communications for American-origin aircraft and platforms like the C-17, C-130 and P-8Is. These aircraft were initially delivered to India with commercial communication systems since high-tech US systems could only be transferred to countries that had signed COMCASA-equivalent agreements. While signing COMCASA has allowed high-tech equipment transfers of various types, the absence of BECA remained a hurdle.   With BECA now out of the way, India would be allowed the full range of equipment it is entitled to as a designated "major defence partner" of the US.
******************************************************************************
Funding shortage cuts aid to four million in Yemen  UN
(16-10-2020)  Mark Lowcock  told the UN Security Council that aid agencies are only reaching 9 million people a month, down from more than 13 million at the beginning of the year.  "What is to be the fate of the 4 million we no longer have the money to help?" he asked.
Dwindling humanitarian aid
On September 15, Lowcock for the first time singled out Saudi Arabia, the United Arab Emirates, and Kuwait for giving nothing to this year's $3.4 billion humanitarian appeals for Yemen, the Arab world's poorest country which has been engulfed in conflict since 2015.
Days later, Kuwait announced a $20 million donation and Saudi Arabia publicly committed to providing $204 million to UN aid agencies, part of its $500 million pledged in June. That pledge was half of its 2019 commitment. The UAE, which had been a top donor, did not announce any funding for this year.
Key programs at risk of shutting down
Lowcock said new funding increased donations to the UN appeal from 30 percent last month to 42 percent this month which is welcome, but last year at this time it was 65 percent funded, and the shortage "still means that more key programs are at risk of shutting down."
Lowcock told the Security Council that famine was averted two years ago when the action was taken on five priority issues: protecting civilians, access for humanitarian workers, funding, the economy, and progress toward peace.
In the last month, he said, the conflict has escalated, and "there are now 47 active front lines across Yemen, the most ever recorded."
Civilian casualties reached their highest level this year in September, with the heaviest clashes in Hodeida, Marib, and Al Jawf, causing tens of thousands of people to flee their homes. "In recent days, hostilities have subsided somewhat, but it is not enough," he said, warning that a major confrontation in Marib city "could be disastrous," and anything jeopardizing the smooth operation of the country's major port at Hodeida, which is a lifeline for aid deliveries, "would put millions of lives at risk."
As for delivering aid, Lowcock said front-line humanitarian staff face challenges in the government-controlled south "due to insecurity, including harassment by armed groups." In the Houthi-controlled north, he said, "agencies are grappling with more severe access challenges, mainly the result of challenges" imposed by the rebel group.
'Keep your promises'
With the window to prevent famine closing, he urged countries that made pledges to the UN humanitarian appeal to deliver the money and to increase their support. Lowcock said Yemen's economy needs regular foreign exchange injections to subsidize commercial imports, pay salaries and help stabilize the local currency, the rial, which traded at an all-time low of 850 rials to the dollar in the south in September. "This worked in the past and it can work again," he said. "The economic support we saw in 2018 was critical to the famine prevention effort."
'Political solution'
While food imports have remained stable, Lowcock said, the cost of food and other basic goods is out of reach for millions of families and there are major fuel shortages in the north. He said the government is blocking the entry of 20 commercial ships with fuel waiting to enter the port of Hodeida due to an ongoing dispute with the Houthis over management of import revenues, clearing only several this month on an exceptional basis.
"I am not convinced that humanitarian agencies, even were they to have more funding, can prevent famine if there is no accompanying support for the economy," Lowcock said.
"The crisis in Yemen urgently needs a political solution. That would help move the country back from the edge of famine."
Source: AP
******************************************************************************
Greece and Turkey agree to cancel war games: NATO chief
(23 Oct 2020) NATO Secretary-General Jens Stoltenberg said Greece and Turkey have agreed to cancel war games scheduled for next week on each other's national holidays, in a further sign of easing tensions between the two NATO allies and historic rivals.
"Both Greece and Turkey have decided to cancel military exercises which were planned for next week," Stoltenberg told reporters after chairing a virtual meeting of NATO defence ministers, where the two countries made the announcement.
"These are steps in the right direction, they help to reduce the risks of incidents and accidents."
Earlier this month, Turkey's foreign ministry accused Greece of planning military manoeuvres in the Aegean Sea to coincide with Turkey's October 29 national day celebrations. Turkey retaliated by declaring exercises on October 28  a Greek national holiday.
The two neighbours have been locked in an escalating dispute over conflicting claims to hydrocarbon resources in the eastern Mediterranean and overlapping views on the extent of their continental shelves.
Ankara had withdrawn Oruc Reis last month to "allow for diplomacy" before an EU summit, at which Cyprus sought sanctions against Turkey, but sent it back this month, prompting an angry rebuke from Greece, France and Germany.
French Defence Minister Florence Parly also hailed the decisions to cancel the military drills, stressing the need to "respect international law and restore stability in the region".
Stoltenberg also welcomed Germany's diplomatic mediation in the dispute.    ( SOURCE : AL JAZEERA / NEWS AGENCIES )
******************************************************************************
North Korea unveils 'monster' new ICBM at parade
(11 Oct., 2020) Pyongyang displays previously unseen intercontinental ballistic missiles at an unprecedented pre-dawn military parade to mark 75th anniversary of ruling Workers' Party. North Korea has displayed a gigantic new Intercontinental Ballistic Missile (ICBM) that analysts described as the biggest of its kind in the world, as the nuclear-armed country defied the coronavirus threat with thousands of maskless troops taking part in a military parade. The ICBM, carried on a transporter-erector-launcher with no fewer than 11 axles, rolled through Kim il-Sung square as leader Kim Jong-un watched from a rostrum, footage from state broadcaster KCTV showed.
"This missile is a monster," said Melissa Hanham, deputy director of the Open Nuclear Network.
Several analysts described it as the largest road-mobile liquid-fuelled missile anywhere, with Harry Kazianis of the Center for the National Interest saying it was "much bigger and clearly more powerful than anything in the DPRK's arsenal."
******************************************************************************
Nigeria says 51 civilians, 18 security forces killed in unrest
(23 Oct 2020) Nigeria's president announced 51 civilians were killed in unrest following days of peaceful protests over police abuses and blamed "hooliganism" for the violence while asserting security forces used "extreme restraint".
President Muhammadu Buhari's comments in a statement released expected to further inflame tensions after Amnesty International reported soldiers shot and killed at least 12 demonstrators as a large crowd sang the national anthem.
"Many lives have been lost" in Nigeria's unrest, the president's office announced Friday, as the government said days of peaceful protests over police abuses had been hijacked by thugs.'Al Jazeera News Agency'
******************************************************************************
Robert Fisk, veteran Middle East correspondent, dies aged 74
The Independent newspaper confirms its acclaimed and  controversial journalist died following a short illness
Veteran journalist Robert Fisk, who for decades covered events in the Middle East and elsewhere as a foreign correspondent for the British newspaper The Independent, has died after suffering a suspected stroke at his Dublin home.
Fisk became unwell on Friday 30th Oct., and was admitted to St Vincent's hospital where he died a short time later.
"Fearless, uncompromising, determined and utterly committed to uncovering the truth and reality at all costs, Robert Fisk was the greatest journalist of his generation," said Christian Boughton, editor of the Independent until last week and now managing director.
Fisk joined The Independent in 1989, after falling out with the Rupert Murdoch-owned newspaper The Times, which he had initially joined as Northern Ireland correspondent in 1972. During his decades-long career, he covered key international events including the Lebanese civil war, the Soviet invasion of Afghanistan, the Iranian revolution, Saddam Hussein's invasion of Kuwait, conflicts in the Balkans and the Arab Spring.
The Irish Times said he was planning a return to the Middle East shortly before his death. Fisk was particularly renowned for his war reporting.
He won the Orwell Prize for Journalism, as well as receiving the British Press Awards International Journalist of the Year and Foreign Reporter of the Year on several occasions.
Fisk was one of the few western reporters to interview al-Qaeda leader Osama bin Laden.
His books included The Point of No Return: The Strike Which Broke the British in Ulster; Pity the Nation: Lebanon at War; and The Great War for Civilisation  The Conquest of the Middle East.
Journalists and columnists in the Middle East and around the world paid tribute to Fisk on Twitter, calling him "fearless", a "giant in journalism" and one of the "few honest Western chroniclers of the war & intrigues imposed on the Middle East".