Foreign policy lessons from ZAB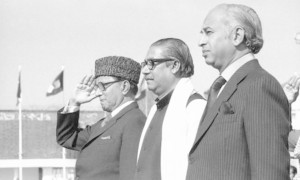 With PTI steering the foreign policy wheel, little has been achieved but more has been lost at international forums
By Eric Shahzar
With the new United States administration coming into power, many foreign policy experts have started to lay out various scenarios of America's new South Asian policy as President Biden bids to reverse much of Trump's foreign policy adventurism and revive the very stalled international liberal order once again. At home, with the PTI government steering Pakistan's foreign policy trembling wheel since 2018, little has been achieved but more has been lost at international forums.
To name a few, in 2019, our Kashmiri narrative became less convincing as India's draconian military lockdown in the Illegally Indian Occupied Jammu and Kashmir (IIOJK) remains till today and the international community is mostly taciturn. Recently, Foreign Minister Shah Mahmood Qureshi, in a Senate session on foreign policy, questioned what the opposition has done about the Kashmiri cause instead of highlighting the incumbent government's track record, which matters in today's strategic political scenario.
Second, the PM, at the eleventh hour, backed out from the historic Kuala Lumpur Summit. This was seen as a major foreign policy blow for the country.
Third, despite bulldozing the FATF bills in the parliament without even consulting the opposition, Pakistan still remains in the task force's grey list with uncertainty looming large as India's malicious attempts to undermine Pakistan at global forums remain manifest. Instead of promoting a soft image inside the country, many national security analysts now argue that Pakistan might become a police state with relentless powers given to law enforcement authorities without any checks and balances.
Most importantly, Pakistan, as the only Muslim nuclear-armed country in the world, has lost its leadership role in the Muslim world which was once our pride back in the day. With all of this, what really is the urgent need of the hour is looking back at the real foundations of Pakistan's foreign policy, which were set by Shaheed Zulfikar Ali Bhutto. Not only did we have a robust and resilient leadership role in the Muslim world but we also stood firm with our stance among the major powers in times of crisis.
Today, illiberal values and undemocratic practices are rampant in the country with political victimisation of political opponents, relentless media censorship, persecution of minorities and demoralising of the parliament's spirit. Bhutto was a firm advocate of the notion that foreign policy begins at home.
Despite the Fall of Dhaka in 1971 which was indeed a dark chapter in the history of Pakistan Bhutto strived for civilian supremacy and the revival of the Constitution of Pakistan. It was he who gave us the 1973 Constitution and restored democracy when authoritarianism was looming large in the country. He advocated forming a 'perfect union' where all provinces were on the same page, regardless of political differences.
The Constitution's Article 153 gave us the Council of Common Interests (CCI), where the PM sits down with the chief ministers of all provinces every 90 days to discuss matters for the greater good of the country. Bhutto understood that for a constructive and sound foreign policy narrative in a fast-changing world, internal domestic stability was crucial.
Despite intense political pressure from the US and other major powers to halt Pakistan's nuclear programme, Bhutto remained resilient. He argued: "If India makes an atomic bomb, then we will also do so, even if we have to eat grass, an atom bomb can only be answered by an atom bomb." The US went to great lengths to halt Pakistan's nuclear weapons programme, but Bhutto was clearly not having it.
In his 1969 book, The Myth of Independence, he wrote that it was "vital for Pakistan to give the greatest possible attention to nuclear technology, rather than allow itself to be deceived by an international treaty limiting this deterrent to the present nuclear powers".
Today, when Yemen is on fire, instability looms large in the Middle East, and where the Kashmir issue at the backburner, we need a charismatic leader like Bhutto to unite the Muslim world, and one who had also played a pioneering role in the creation of the Organisation of Islamic Cooperation (OIC).
We need someone like Bhutto who understood the complexity of the fast-changing international political arena and steered the wheel of Pakistan's foreign policy with unparallel command, especially in the Muslim world. In his book, The Third World, The Imperative of Unity, Bhutto clearly argued that the Muslim world must unite as a galvanising force in order to survive in the international political arena. Without a doubt, Bhutto pulled the country back from imminent anarchy and collapse and infused more dynamism into Pakistani society.
Former US secretary of state Henry Kissinger in his memoir, Years of Upheaval, described Bhutto as a man of extraordinary abilities, capable of drawing close to any country that served Pakistan's national interests. His foreign policy anchored resilience, promoted multilateralism, had a commanding seat at every global forum and ensured Pakistan came first something which is clearly an urgent need in today's time.