India exposed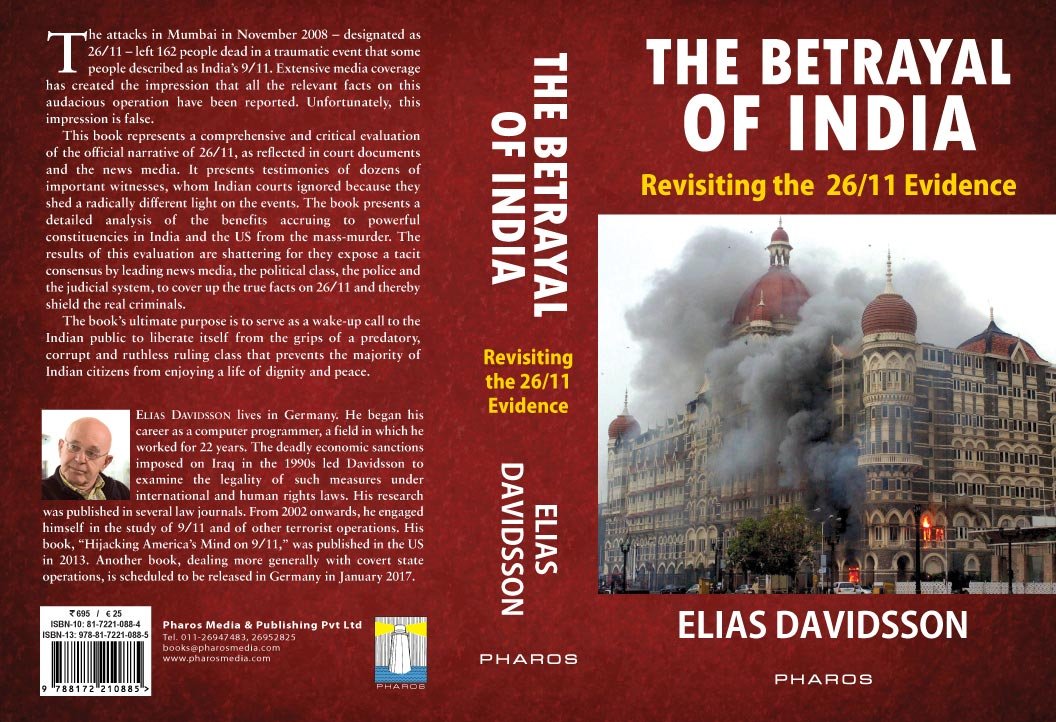 This wicked game of malice, hate and never-ending tensions from India aims at maligning Pakistan
By Iftikhar Ahmad
Elias Davidson's book, The Betrayal of India: Revisiting the 26/11 is a must-read for authorities in Pakistan to discuss and take adequate action on world forums to expose Indian falsehood, treachery and state terrorism. India exports terrorism to destabilise its neighbours, especially Pakistan. But it has always blamed Pakistan simply because of malice and hate. Unfortunately, Indian ill will against Pakistan seems to be eternal, since the creation of Pakistan. 26/11 (the so-called Mumbai attacks) was another concocted story 'drama engineered to show to the world that India was a victim of terrorism by Pakistan'.
This wicked game of malice, hate and never-ending tensions aims at maligning Pakistan. Such an attitude is not helpful in achieving the objective of establishing regional and world peace. Pakistan and India need to work together for the welfare of the people.
The internet has to create and generate space for facts-based reality. Journalists must act with sincerity and responsibility. The audience should not be indifferent. They should know if the journalists are falsifying facts. Concocted cases, like 'the 26/11', should be discussed in the United Nations and the International Court of Justice.  Our media (some channels that projected Indian point of view), must apologise to the people of Pakistan. Nothing is more precious for us in Pakistan than friendship, for individuals, groups and nations. We pray for cordiality and tasteful behaviours, which are possible only with positive attitudes and strategy for cooperation to make peace and socio-economic development possible.
Pakistan's national interests must be the top priority while dealing with India. What is good for Pakistan is good for regional and international peace and prosperity. Let us work for democracy and diversity. That is the best and only way forward.  We are aware that essential tasks before us as a nation are: defending the ideological and geographical frontiers; timely justice and welfare of the people, creating equality of opportunities; and making parliament and other pillars of the state stronger and functional to ensure good governance and democratic way of life. We have to be reminded, never to forget our motto: unity, faith and discipline. In what we plan and implement, we have to keep in view national and public interests.
Internal unity, friendship and cooperation with the international community is of vital importance to Pakistan. It is linked to peace and stability for which Pakistan has offered tremendous sacrifices in the war against terrorism. Our war on terror continues till such time that terrorism and extremism are entirely rooted out. Pakistan desires that India and Pakistan work together for the welfare of the two countries. The blame game is a foolish waste of time and other national resources. One most important thing in this world is hope. The state and society need to work together to rid the country of multiple challenges, which grow more threatening with the passage of time. State institutions must be respected and empowered, raising their capacity to deliver. Adjudicating on the conduct of the corrupt mafias is of vital significance.
Along with efforts to go ahead smoothly as per goals and objectives, there is a need to develop strategies to deal with elements that work as resistance to change. Our mission as a nation is to create an enabling culture for a healthy positive change. All our dreams have to be based on hope, the initial starting point.
We have to understand that mafias are formed due to a lack of proper governance. Overpopulation, inadequate resources and the power of the establishment and vested interests are some of the other factors indicated in a research exercise. The important thing is to have a mission and objectives to be achieved.
New problems require more organisational structures in which creativity, flexibility and efficiency are underlined, and the 'client' necessarily constitutes one of the final orientations. The quality of public administration, moreover, remains to a great extent dependent on those who provide services.For strong bridges of songs and happy mutual bonds, it is of vital significance to celebrate the joys of today, the memories of yesterday, and hopes and aspirations of brilliant. The writer is a former Director of the National Institute of Public Administration (NIPA), Government of Pakistan, a political analyst, a public policy expert and an author. His book Post 9/11 Pakistan was published in the United States.
'Courtesy Daily Times'.