My views on reviews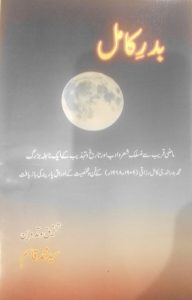 By Shafique Ahmed Shafique
Name of book: Badr-e-Kamil
Author:Syed Muhammed Qasim
Pages:120
Price:Rs.300/-
Publishers:Tazkara Publications, Tazkara House, 136-A, Sector -11-B,
North Karachi.
The book
under review "Badr-e-Kamil" is a research book on Muhammed Badrudduja Kamil
Razzaqi: a senior and prominent poet, writer and scholar, edited and researched
by Syed Muhammed Qasim. He has earned very reliable fame regarding biographical
notes of poets specially, of those poets who create Na'ats along with other genres.
Mr. Qasim,
right from the beginning is paramour of "Tazkara Negari" and he has
done a lot of valuable and precious works in this department of literature. He
is a true paramour of Tazkara Negari. In the other words it may be opined that
he has fell in the love of the genres Tazkara Negari and Na'at.
His all
works are the witnesses of this fact. Not only this but another prove in this
connection is that when started to publish his monthly magazine, he gave its
name "Tazkara". His first book related to Tazkara Negari is
"Pakistan Kay Na'at Go Sho'ra" (Na'at writer-poets of Pakistan) in
three volumes each volume consists of more than 800 Pages.
He has also
a complete book "Seerat-e-Imam Sereen" to his credit which was
written on Hazrat Imam Sereen throwing light on his scholarly life with his
services for Islam and Muslims. His 3rd important book published under the
title of "Khaak May Pinha Suratain", it is also a book of Tazkara on
those na'at writers of only Karachi who lived and passed away in Karachi.
His first
book of three volumes and "Khaak May Pinha Suratain" both are consist
of those poets who have their own collections of na'ats. "Badr-e-Kamil" is an
example of painstaking effort of research, editing as well as Tazkara Negari.
The book "Badr-e-Kamil" is divided into four parts having titles 1.
Harf-o-Hekayet.
It has three essays such as "Sar-e-Aaghaz: Sonahray Dour kay Sonahray Loag". It
has life sketch, assessments of literary and scholarly works of the late
Badruddoja Kamil Razzaqi. 2. Paish Lafz(Forewords):Safer Wasila-e-Zafer" 3.
Debacha (Preface) "Kamil Razzaqi."These three write-ups have been written by
Shabbir Ahmed Ansari, Syed Muhammed Qasim and Prof Haroonur Rashid
respectively.
The second
part consists of three essays written by Akhter Lakhnavi, Dr MuhammedAt'har
Sher and Afser Mahpuri on the life, personality and services of Badruddoja
Kamil Razzaqi which he rendered for literature.
There is also a poetic eulogy of Anwer Javaid Hashmi in this part of
book. Syed Muhammed Qasim has intended to this book as an act of homage,
respect as well as recognition of the late Kamil Razzaqi's abilities and
capacious creative efforts.
There are
some of Kamil Razzaqi's gazals, poems, rubais and write-ups in the third part
which were necessary and unavoidable. The editor and compiler of the book under
discussion is restlessly working in the field of biographical notes and
compilation of books on poets and
writers.
Like his
all previous works, this book on Kamil Razzaqi is also valuable and praiseworthy.
I hope that the book "Badr-e-Kamil" will be heralded with warmth of
zeal and affection. May it shine like the real Badr-e-Kamil on the horizon of
literature?