News In Brief International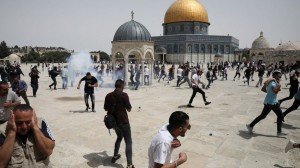 Palestinians see victory in Gaza ceasefire as Egypt delegation meets Hamas
Rallies held in besieged Gaza and occupied West bank to celebrate ceasefire with many Palestinians seeing rockets that brought life to a standstill in much of Israel as a bold response to Israeli abuses against Palestinians.
Palestinians have rallied by the thousands after a ceasefire took effect in the latest Gaza war, with many viewing it as a costly but clear victory for the Hamas resistance and Gaza's governors.
The 11-day war left nearly 250 dead  the vast majority Palestinians  and brought widespread devastation to the already impoverished Hamas-governed Gaza.
But the rocket barrages that brought life to a standstill in much of Israel and its occupied areas were seen by many Palestinians as a bold response to Israeli abuses in occupied Jerusalem, the emotional heart of the conflict.
On Friday, Israeli Prime Minister Benjamin Netanyahu warned against further attacks, saying, "If Hamas thinks we will tolerate a drizzle of rockets, it is wrong." He vowed to respond with "a new level of force" against aggression anywhere in Israel.
Hamas is now being seen as the actual leader of the Palestinians, which is likely to have a huge impact on the future of peace talks with Israel, Azzam Tamimi, a Palestinian academic and activist told TRT World.
Israeli forces storm Al Aqsa
Friday's ceasefire faced an early test when Israeli forces stormed Al Aqsa Mosque compound again and engaged in pitched battles with the Palestinian protesters. Police fired stun grenades and tear gas, and Palestinians hurled rocks in response after hundreds took part in a celebratory demonstration in which they waved Palestinian and Hamas flags and cheered the resistance group.  Protesters also clashed with Israeli troops in parts of the occupied West Bank, which has seen violent demonstrations in recent days linked to occupied Jerusalem and blockaded Gaza.
Celebrations also broke out overnight in occupied East Jerusalem and across the occupied West Bank. Israel captured all three territories in the 1967 war and the Palestinians want them for their future state.
'It will not be the last war'
An open-air market in Gaza City that was closed throughout the war reopened and shoppers could be seen stocking up on fresh tomatoes, cabbage and watermelons.
Workers in orange traffic vests swept up rubble from surrounding roads.
"Life will return, because this is not the first war, and it will not be the last war," said shop owner Ashraf Abu Mohammad.
"The heart is in pain, there have been disasters, families wiped from the civil registry, and this saddens us. But this is our fate in this land, to remain patient."
There was little to celebrate in the hard-hit northern town of Beit Hanoun, where residents, many of whom had lost loved ones, surveyed wrecked homes.
"We see such huge destruction here, it's the first time in history we've seen this," said Azhar Nsair. "The ceasefire is for people who didn't suffer, who didn't lose their loved ones, whose homes were not bombed."
Israel was unable to halt rockets
Like the three previous wars, the latest round of fighting ended inconclusively. Israel claimed it inflicted heavy damage on Hamas with hundreds of bruising air strikes but once again was unable to halt the rockets. Hamas also claimed victory but faces the daunting challenge of rebuilding in a territory already suffering from high unemployment and a coronavirus outbreak.
Days of unrest at Al Aqsa during Islam's holy fasting month of Ramadan forced Hamas to demand Israeli forces vacate the compound by 6:00 pm (1500 GMT) on May 10 and stop expulsion of Palestinians from their homes in occupied East Jerusalem.
Source: AP
Palestine FM: Ceasefire 'not enough', Jerusalem occupation core issue
As Israel's bombardment of Gaza hits pause, Palestinian FM Riyad al Maliki says the ceasefire is good but it does not address "the core issue" in the region.
The Palestinians' top diplomat said a cease-fire in Gaza will enable 2 million Palestinians to sleep  night but it's "not enough at all" and the world must now tackle the difficult issues of Jerusalem's future and achieving an independent Palestinian state.
Riad Al-Malki told reporters on the sidelines of an emergency meeting of the U.N. General Assembly on the conflict between Israel and Gaza's militant Hamas rulers that while an Israeli cease-fire is good it doesn't address "the core issue" that started the violence.
He said that is Jerusalem, citing the "desecration" by Israeli soldiers and settlers of the Al-Aqsa mosque, Islam's third holiest site, and the Israeli policy of evicting Palestinians from their homes in the city's different neighborhoods including Sheikh Jarra.
Israel captured east Jerusalem, along with the West Bank and Gaza — territories the Palestinians want for their future state — in the 1967 Mideast war. Israel annexed east Jerusalem in a move not recognized internationally, and views the entire city as its capital. The Palestinians view east Jerusalem — which includes major holy sites for Jews, Christians and Muslims — as their capital, and its fate lies at the heart of the Israeli-Palestinian conflict and has triggered serious violence in the past.
Al-Malki accused Israel of intending to erase the multi-cultural, multi-religious character of the city of Jerusalem saying: "We are opposed to that, we reject that, and we'll keep working to prevent that from happening."  (Source: TRT World and agencies)
*************************************************************************
Israel strikes on Gaza may constitute war crime, says UN rights chief
Israel Won't Open Case Against Soldiers Who Kicked Out Arab Family From West Bank Picnic Ground
Opening a special session of the UN Human Rights Council, called at the request of Muslim states, Michelle Bachelet questioned Israeli claims that they were solely hitting military targets, saying that she had seen no evidence that civilian buildings in Gaza hit by Israeli strikes were being used by for military purposes.
"If found disproportionate, such attacks might constitute war crimes," she told the 47-member Geneva forum. She also urged Hamas militants in Gaza to refrain from firing indiscriminate rockets on Israel. Ms Bachelet said it was the "most significant escalation of hostilities since 2014" that left devastation and death in the Gaza Strip before a ceasefire.
The 11-day war killed at least 248 in Gaza, including 66 children. In Israel, 12 people also died, including two children.
"Airstrikes in such densely populated areas resulted in a high level of civilian fatalities and injuries, as well as the widespread destruction of civilian infrastructure," Bachelet said.
"Such attacks may constitute war crimes," she added, if deemed to be indiscriminate and disproportionate in their impact on civilians.
Lynn Hastings, the UN humanitarian coordinator in Gaza, urged donors to contribute generously at a virtual news conference launching the appeal, which she said will target one million people for assistance."I'm calling for humanitarian assistance right now to meet the immediate needs," she said.
Hastings said the conflict left 800,000 people without regular access to piped water. Untreated sewage water was being discharged into the sea and 58 education facilities were damaged, including 285 buildings with over 1,000 housing and commercial units destroyed. Six hospitals and 11 health care centers were also damaged, and electricity was down to four to six hours a day.
Meanwhile, the Irish parliament has declared the building of Israeli settlements in the occupied Palestinian territories as a de facto annexation, making Ireland the first EU member state to do so.
Israel's foreign ministry said it "outright rejects" the action, calling it an "outrageous and baseless" motion that "constitutes a victory for extremist Palestinian factions".
'No evidence' Gaza buildings hosted armed groups
Michelle Bachelet said her office had verified the deaths of 270 Palestinians in Gaza, the West Bank and East Jerusalem, including 68 children, during violence this month. Most were killed in Hamas-controlled Gaza, where Israel fought militants for 11 days. Hamas rockets killed 12 people in Israel.(The Independent / Haaretz)
*************************************************************************
European powers urge Israel to abandon settlement expansion plans
France, Germany, Italy, Spain, and the UK call on Israel to stop settlement expansion policy across occupied Palestinian lands.
The governments of France, Germany, Italy, Spain, and the UK have urged Israel to reverse its decision to advance settlement construction in the Har Homa E area. The joint statement issued called on the Israeli government "to reverse its decision to advance the construction of 540 settlement units in the Har Homa E area of the occupied West Bank, and to cease its policy of settlement expansion across the Occupied Palestinian Territories."
"Settlements are illegal under international law, and threaten prospects for a peaceful resolution to the Israeli-Palestinian conflict," it read.
If implemented, the statement said, "the decision to advance settlements in Har Homa, between East Jerusalem and Bethlehem, will cause further damage to the prospects for a viable Palestinian State, with Jerusalem as the capital of both Israel and a Palestinian State."
"This move, alongside settlement advancement in Givat HaMatos and continued evictions in East Jerusalem, including in Sheikh Jarrah, also undermines efforts to rebuild trust between the parties, following the positive resumption of Israeli-Palestinian cooperation.
"We call on both sides to refrain from any unilateral action and resume a credible and meaningful dialogue, to advance efforts for the two-state solution and an end to the conflict," it also said.(Source: AA)
*************************************************************************
Death toll rises to 85 in Afghanistan girls' school bomb attack
By Jennifer Deaton and Sheena McKenzie, CNN
(May 10, 2021) Another 147 people were wounded in the attack in front of the Sayed Al-Shuhada school, said Danish Hedayat, head of media for the second vice president of Afghanistan. A car bomb was detonated in the neighborhood of Dasht-e-Barchi, and two more bombs exploded when students rushed out in panic.
There has been no official claim of responsibility yet. The Taliban has denied being behind Saturday evening's blasts.
Some of the girls 'could not be found'
The area where the blasts happened is home to a large community of Shiites from the Hazara ethnic minority, which has been targeted in the past by Islamic State, a Sunni militant group. Officials said most of those killed were schoolgirls. Some families were still searching hospitals for their children.               (Source: Reuters)
*************************************************************************
Russia warns Taliban against monopolizing power in Afghanistan
MOSCOW, May 24. /TASS/. Moscow has warned the Taliban movement (outlawed in Russia) against monopolizing power in Afghanistan, Russian Foreign Minister Sergey Lavrov said in an interview with the Argumenty i Fakty newspaper.
"We have made it clear to the members of the Taliban that we oppose their attempts to monopolize power," he emphasized.
According to Lavrov, concerns about the possibility of the Taliban seizing power come, first and foremost, from Western observers. "However, first, the Taliban themselves have denied such intentions and second, there are Afghan political forces that clearly will not support the Taliban's forceful takeover of power," the Russian top diplomat emphasized.
On April 14, US President Joe Biden announced plans to start the withdrawal of US troops from Afghanistan in May and complete the process by September 11, yet the former Trump administration had signed an agreement with the Taliban in Doha in February 2020, which said that US and allied troops were to leave the country by May 1, 2021. The Taliban strongly condemned this departure from the agreement, actually making it clear that they considered themselves no longer bound by the obligations under the Doha deal.
******************************************************************
A Wave of Afghan Surrenders to the Taliban Picks Up Speed
By David Zucchino and Najim Rahim | May 27, 2021
MEHTARLAM, Afghanistan  Ammunition was depleted inside the bedraggled outposts in Laghman Province. Food was scarce. Some police officers hadn't been paid in five months.
Then, just as American troops began leaving the country in early May, Taliban fighters besieged seven rural Afghan military outposts across the wheat fields and onion patches of the province, in eastern Afghanistan. The insurgents enlisted village elders to visit the outposts bearing a message: Surrender or die.
By mid-month, security forces had surrendered all seven outposts after extended negotiations, according to village elders. At least 120 soldiers and police were given safe passage to the government-held provincial center in return for handing over weapons and equipment.
"We told them, 'Look, your situation is bad  reinforcements aren't coming,'" said Nabi Sarwar Khadim, 53, one of several elders who negotiated the surrenders.
Since May 1, at least 26 outposts and bases in just four provinces  Laghman, Baghlan, Wardak and Ghazni  have surrendered after such negotiations, according to village elders and government officials. With morale diving as American troops leave, and the Taliban seizing on each surrender as a propaganda victory, each collapse feeds the next in the Afghan countryside.
Among the negotiated surrenders were four district centers, which house local governors, police and intelligence chiefs  effectively handing the government facilities to Taliban control and scattering the officials there, at least temporarily.
The Taliban have negotiated Afghan troop surrenders in the past, but never at the scale and pace of the base collapses this month in the four provinces extending east, north and west of Kabul. The tactic has removed hundreds of government forces from the battlefield, secured strategic territory and reaped weapons, ammunition and vehicles for the Taliban  often without firing a shot.
The base collapses are one measure of the rapidly deteriorating government war effort as one outpost after another falls, sometimes after battles, but often after wholesale surrenders.
The surrenders are part of a broader Taliban playbook of seizing and holding territory as security force morale plummets with the exit of international troops. Buyoffs of local police and militia. Local cease-fires that allow the Taliban to consolidate gains. A sustained military offensive despite pleas for peace talks and a nationwide cease-fire.
"The government is not able to save the security forces," said Mohammed Jalal, a village elder in Baghlan Province. "If they fight, they will be killed, so they have to surrender."
The surrenders are the work of Taliban Invitation and Guidance Committees, which intervene after insurgents cut off roads and supplies to surrounded outposts. Committee leaders or Taliban military leaders phone base commanders  and sometimes their families  and offer to spare troops' lives if they surrender their outposts, weapons and ammunition. In several cases, the committees have given surrendering troops money  typically around $130  and civilian clothes and sent them home unharmed. But first they videotape the men as they promise not to rejoin the security forces. They log their phone numbers and the names of family members  and vow to kill the men if they rejoin the military.
"The Taliban commander and the Invitation and Guidance Committee called me more than 10 times and asked me to surrender," said Maj. Imam Shah Zafari, 34, a district police chief in Wardak Province who surrendered his command center and weapons on May 11 after negotiations mediated by local elders. After the Taliban provided a car ride home to Kabul, he said, a committee member phoned to assure him that the government would not imprison him for surrendering. "He said, 'We have so much power in the government and we can release you,'" Major Zafari said.        (Source: New York Times)
*************************************************************************
Iran unveils 'Gaza' drone as well as new radar and surface-to-air missile capability
(Fri. 21 May, 202) Iran has unveiled three new defense capabilities amid ongoing tensions with the US, including the 'Quds' radar system, a surface-to-air missile system dubbed '9-Day,' and a drone called 'Gaza' with a 2,000km operating range.
In a ceremony on Friday, the Islamic Revolutionary Guard Corps (IRGC), in the presence of Commander-in-Chief Major General Hossein Salami, unveiled three new pieces of defense hardware developed in Iran.
Among them is a new drone named 'Gaza', reportedly capable of various surveillance, combat, reconnaissance missions with a flight duration of 35 hours. The indigenously made UAV (Unmanned Aerial Vehicle) proudly displays its name along the fuselage.
Iranian media claims the drone can fly more than 2,000km, carrying 13 bombs, in combat missions, as well as 500kg of reconnaissance and communications equipment. The drone's range puts Israel's most populated city of Tel Aviv within operating range.
Iran also showed off its new, indigenously developed '9-Day' surface-to-air missile system, which is reportedly capable of intercepting close-range threats such as cruise missiles, aircraft bombs, and UAVs.
Salami was also present for the unveiling of the 'Quds' radar system, which has been produced for fast deployment and can be moved quickly.
Iran prides itself on its indigenously built defense capabilities and has publicly rolled out numerous new systems over the past year amid increasing tensions with the US and its allies. In February, Iran unveiled 340 new missile-firing speedboats shortly after the launch of the forward-base ship, 'Makran', a 228-meter converted oil tanker. (Source: RT NEWS)
********************************************************************
US seizes 'Russian and Chinese arms' from Arabian Sea dhow A dhow is a traditional sailing ship in the Middle East.
The US Navy's Fifth Fleet has seized a huge cache of "illicit" Russian and Chinese weapons from a stateless dhow sailing in international waters of the North Arabian Sea. The Fifth Fleet, which is based in Bahrain, said on Sunday the guided-missile cruiser USS Monterey intercepted the vessel and discovered the cargo during a routine boarding, in a two-day operation on May 6-7.
"The cache of weapons included dozens of advanced Russian-made anti-tank guided missiles, thousands of Chinese Type 56 assault rifles, and hundreds of PKM machine guns, sniper rifles and rocket-propelled grenades launchers," it said in a statement. The arms are in US custody and their source and intended destination is under investigation, it said.
Vessel released
The Fifth Fleet said the Monterey was in operation for 36 hours, providing security for boarding teams.
"After all illicit cargo was removed, the dhow was assessed for seaworthiness, and after questioning, its crew was provided food and water before being released."
The statement did not indicate where the vessel may have come from, but said the US Navy's regular patrols in the region "disrupt the transport of illicit cargo that often funds terrorism and unlawful activity".
Yemen arms supply
The assortment of arms aboard the dhow mirrored other shipments interdicted by the US and allied forces in the region that later were described to be heading to Yemen, where Iranian-backed Houthi rebels have been battling a Saudi-led military coalition for control of the country since 2015. Yemen is awash with small arms that have been smuggled into poorly controlled ports over years of conflict.   (Source: TRTWorld and agencies)
*************************************************************************
UK Defence Ministry spent £3.2 billion on tanks that can't shoot on the move – reports
The UK has spent a whopping £3.2 billion ($4.5 billion) on noisy tanks that can't shoot while moving, according to a Times report. The news comes after critics called on the government to upgrade its "deplorable" armoured fleet.
Developed by General Dynamics, the Ajax armoured fighting vehicle impressed then-Prime Minister David Cameron so much that he ordered 589 of them in 2014, after receiving the Army's go-ahead four years earlier. Delivery dates have since been missed, and the Army is still waiting to roll out the vehicles, but a Times report revealed that technical experts have encountered numerous "safety issues," including excessive noise inside the vehicles, and cannons that can't fire while on the move due to vibration.
Armed with 40mm cannons and light machine guns, the Ajax vehicles are lighter and more maneuverable than Britain's aging main battle tank, the Challenger 2. As such, an inability to fire while moving renders the vehicles useless to the reconnaissance units that would eventually use them in the field.
Nevertheless, the British government has handed over more than £3.2 billion for the vehicles, out of a total programme cost of £5.5 billion, according to Ministry of Defence documents seen by the Times. The most recent round of payments, adding up to nearly £600 million, were made this year.
Government spending watchdogs are apparently unhappy, and one of the Times' sources suggested that payments are not linked to the delivery of working vehicles. If so, General Dynamics has thus far earned a sizeable chunk of change from the UK's defence coffers without delivering a working product.
The Ajax was conceived to replace the obsolete 1970s-era Scimitar light tanks currently used by armoured reconnaissance units, yet the future of such vehicles was uncertain even before the latest issues with the Ajax emerged. When Prime Minister Boris Johnson unveiled a massive hike in defence expenditure last year, he said that the government's spending would "be focused on the technologies that will revolutionize warfare," including a heavy investment in artificial intelligence and the creation of an RAF Space Command, capable of launching a rocket from Scotland in 2022.
More recently, the ministry has been slammed for spending so much money on its two new 'Queen Elizabeth' class aircraft carriers that it couldn't afford the planes and support vessels needed to deploy them for a year, and couldn't modify the ships to perform amphibious landings  one of their selling points.
Furthermore, the American F-35 fighter jets that these carriers would launch have been plagued by delays, design flaws and cost overruns, to the point where the ministry has refused to say whether it will buy its original order of 138 F-35s, and declined to offer a cost estimate for the programme as a whole. The 48 jets already ordered are estimated to run up a bill of £9.1 billion by 2025, and the government has not commented on whether upgrade costs will drive that figure up further.
*************************************************************************
Labour's Sadiq Khan wins second term as London mayor
(8-5-2021) Labour politician Sadiq Khan has won re-election as London mayor in a narrower than expected victory over Conservative rival Shaun Bailey. Khan became the first Muslim mayor of a Western capital when first elected in 2016.
He won a second term with just over 1.2 million votes, edging over Bailey who gained 977,601 votes in Thursday's poll. Turnout was lower than at the previous election, at 42 percent.
The 50-year-old politician's victory was one of the bright spots for the main opposition Labour party after a largely desultory showing in local elections.
In his victory speech Khan said that during his second term he would be focusing on "building bridges between the different communities" and between city hall and the government.
He said he wanted "to ensure London can play its part in a national recovery" and to "build a brighter greener and more equal future" for the capital. Khan campaigned on a promise of "jobs, jobs, jobs", bidding to keep London on its perch as a top world city while tackling the crisis and the fallout from Brexit, which could threaten the capital's vital financial sector.
(Source: AFP)
*************************************************************************
Indian states sound Covid 'black fungus' alarm as cases surge
Mucormycosis, a rare fungal disease, usually infects people whose immune system has been compromised.
States across India have ordered emergency measures to counter a surge in the rare deadly "black fungus" infection among coronavirus sufferers.
Two new states declared epidemics of Mucormycosis while New Delhi and other major cities have opened special wards to treat thousands of cases of the infection commonly known as black fungus.
India normally deals with less than 20 cases a year, but the infection has become a new threat from the coronavirus wave that has killed 120,000 people in six weeks.
The infection, which some doctors have blamed on the high use of steroids to combat Covid-19, kills more than 50 percent of sufferers within days. In some cases, eyes and upper jaws are removed by surgeons to save lives.
Authorities have not said how many people have died from black fungus.
But a government alert to state authorities on Thursday said teams of reconstruction and general surgeons as well as ear, nose and throat specialists had to be readied to treat the growing number of sufferers.
Gujarat and Telangana states became the latest to declare black fungus epidemics, a day after Rajasthan.
(Source: TRTWorld News Agencies)
******************************************************************
Bodies of scores of suspected Covid victims 'dumped' in Indian river
More than 150 bodies reportedly found near the banks of Ganga river in northern Bihar state, with officials saying they were bloated and decomposed, as if they had been in the river for at least five to seven days. The bodies, found by horrified residents, were floating in the river and some dumped on the banks in northern Bihar state, Times of India news website reported.
"Locals fear that these covid bodies will be washed down further and can be eaten by stray dogs which will further spread coronavirus," it reported.  Locals told AFP that they believed the bodies had been dumped in the river because cremation sites were overwhelmed or because relatives could not afford wood for funeral pyres.
"It is really shocking for us," local resident Kameshwar Pandey told AFP.
*************************************************************************
1,621 gov't staff on poll duty die of COVID in India state: Union
By Bilal Kuchay | 21 May 2021
Aniket Kumar lost both his parents  who worked as principals in government-run schools  to COVID-19 within 10 days.
In early April, his father Lallan Ram, 59, and mother Meena Kumari, 55, attended a camp held in Uttar Pradesh's Siddharthnagar district to train government staff for the panchayat (village council) elections in the state.
The large northern state, roughly the size of the United Kingdom, is India's most populous with nearly 220 million residents.
Despite a ferocious second wave of the coronavirus engulfing the country, the mammoth village council elections were held in four phases in April in which nearly 1.3 million candidates aspired for 800,000 posts.               SOURCE:AL JAZEERA
*****************************************************************
New Delhi asks social media firms to remove mentions of Covid-19 'Indian variant' as harmful to India's image  reports
The Indian government has reportedly called on social media platforms to scrub all posts that refer to the "Indian variant" of the coronavirus, after the country's Health Ministry argued the term is misleading and "without basis."
New Delhi's information technology ministry wrote to social media companies to urge them to remove any content that uses the phrase, insisting there is no scientific reason to link the viral mutation to India, according to a letter obtained by Reuters and local media.
"It has come to our knowledge that a false statement is being circulated online which implies that an 'Indian variant' of coronavirus is spreading across the countries. This is completely FALSE," the letter said, referring to a variant identified by the World Health Organization as B.1.617, which was first reported in India.
WHO has not associated the term 'Indian variant' with the B.1.617 variant of the coronavirus in any of its reports. A government source told Reuters on condition of anonymity that the missive was sent to make it "loud and clear" that that the term is harmful to India's image and gives a false impression that the mutation is specific to the country.  'Source:  RT News)
*****************************************************************
Future virus 'more deadly' than Covid-19 will spark new pandemic, WHO chief warns
(24 May, 2021) A virus even more transmissible and fatal than Covid-19 will lead the world into the next pandemic, the director-general of the World Health Organization (WHO) has said, noting the "evolutionary certainty" of such an occurrence.
"Make no mistake, this will not be the last time the world faces the threat of pandemic," Tedros Adhanom Ghebreyesus told the UN agency's annual assembly of health ministers from its 194 member states on Monday. "It's an evolutionary certainty that there will be another virus with the potential to be more transmittable and more deadly than this one."
On a more positive note, Ghebreyesus said the global number of Covid-19 cases and deaths reported has been decreasing for three consecutive weeks. But the WHO chief stressed that the world remains "in a fragile situation" and cautioned against any nation assuming it is "out of the woods, no matter its [Covid] vaccination rate."
He also reiterated his previous calls for governments to donate Covid-19 inoculation doses to the COVAX vaccine-sharing facility backed by the WHO and the Gavi vaccine alliance.
*****************************************************************
Nearly 100 Asian cities rank highest for environmental risk, disaster
A risk assessment report finds that Asia is most at risk for environmental hazards caused by pollution, rising sea levels and global warming. Of the 100 cities worldwide most vulnerable to environmental hazards all but one are in Asia, and four-fifths are in India or China, according to a risk assessment. Across the globe, more than 400 large cities with a total population of 1.5 billion are at "high" or "extreme" risk due to some mixture of life-shortening pollution, dwindling water supplies, deadly heat waves, natural disasters and climate change, the report found.
The sinking megacity of Jakarta  plagued by pollution, flooding and heat waves, with worse to come  topped the ranking.
But India, home to 13 of the world's 20 most risk-laden cities, may face the most daunting future of any country in the world.
Delhi ranks second on the global index of 576 cities compiled by business risk analysts Verisk Maplecroft, followed within India by Chennai (3rd), Agra (6th), Kanpur (10th), Jaipur (22nd) and Lucknow (24th).
Mumbai and its 12.5 million souls is 27th. The air pollution assessment was weighted towards the impact of microscopic, health-wrecking particles known as PM2.5, cast off in large measure by the burning of coal and other fossil fuels.     (Source: AFP)
*****************************************************************
More than 150 dead and dozens still missing after boat sinks in northwest Nigeria
(Wed. 26-5-2021 Nigerian rescue workers have pulled more than three dozen bodies from the water after an overcrowded river boat sank leaving more than 150 people missing and feared drowned. River boat tragedies are common on Nigerian waterways mostly due to overcrowding, weather and lack of maintenance.
Overloaded boat:  Local district administrator Abdullahi Buhari Wara said the boat was also loaded with bags of sand from a gold mine. NIWA has banned night-time sailing on the rivers to stop accidents and says overloading ships is a criminal offense, but skippers and crews often ignore the regulations. The boat carrying 100 local traders also split into two after hitting a trunk during a storm as they were returning from a local market. The Niger, West Africa's main river travelling through Guinea to Nigeria's Niger Delta, is a key local trade route for some of the countries.   (Source: AFP)
*****************************************************************
Environmentalists sue Sri Lanka over 'worst marine disaster'
Environmentalists are suing the Sri Lankan government and operators of a container ship loaded with chemicals and plastic that burned offshore for almost two weeks, as international experts prepared to deal with a possible oil spill.
The private Centre for Environment Justice (CEJ) petitioned the Supreme Court, alleging that local authorities should have been able to prevent what they called the "worst marine disaster" in Sri Lanka's history.
The Singapore-registered MV X-Press Pearl has been slowly sinking into the Indian Ocean since Wednesday after a fire that raged for 13 days within sight of the coast.
Tonnes of micro-plastic granules from the ship have swamped an 80-kilometre stretch of beach which has been declared off limits for residents. Fishing in the area was also banned.
The CEJ said government inaction was "against the concepts and principles of environmental law". A hearing is yet to be fixed.
It said the crew knew of an acid leak on May 11, long before entering Sri Lankan waters, and local authorities should not have allowed the vessel in.
Oil spill looms
The legal challenge seeking unspecified damages came as foreign experts were deployed to help Sri Lanka contain a potential oil leak from the burnt-out wreckage. Representatives from the International Tankers Owners Pollution Federation (ITOPF) and Oil Spill Response (OSR) were onshore monitoring the ship, the operators of the vessel, X-Press Feeders, said.
"They continue to coordinate with MEPA (the Marine Environment Protection Authority) and the Sri Lankan navy on an established plan to deal with any possible spill of oil and other pollutants," the Singaporean company said.
Its chief executive, Shmuel Yoskovitz, apologised to Sri Lanka for the disaster.