Pakistan's F-16s – Finding a fair price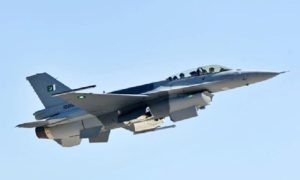 By Michael Krepon
A message to Congress, Sell F-16s to Pakistan at a steep cost.
Pakistan relations are never stress-free. At issue now is whether the U.S. Congress will allow the sale of F-16 aircraft to Pakistan at subsidized rates, if at all. The issue came to the fore when U.S. Secretary of State John Kerry testified before the Senate Foreign Relations Committee on Feb. 23. In a letter to Kerry on Feb. 9, Senator Bob Corker, chairman of the committee, raised strong, initial objections to F-16 sale.
He argued that Pakistan has failed to take sufficient action against groups that carry out violent acts outside its borders. By blocking the F-16 sale, the United States sends the wrong signal about Pakistan's counter-terrorism campaign. But by allowing the sale, the United States may appear complicit in Islamabad's relationship with militant organizations linked to terror attacks in India and Afghanistan. The situation is fluid, with Pakistan sending mixed messages about cross-border terrorism. Mixed messages are also in order about the F-16 sale, which deserves to go through, but at full price.
This isn't the first time the sale of F-16s to Pakistan, a dual-capable aircraft suitable for conventional and nuclear missions, has been a point of contention. In 1995, Congress considered the release of F-16s whose delivery was stopped because Pakistan had crossed the Reagan administration's red lines against enriching fissile material for nuclear weapons.
The central argument against the transfer was that delivery of these planes would defeat the purpose of sanctions and help Pakistan's nuclear program. The arguments in favor of releasing the planes were that they had already been paid for, they would not upset the military balance with India, and that releasing them would remove a significant irritant to improved U.S.-Pakistan relations. I testified before the Senate Foreign Relations Committee in September 1995 in support of the transfer.
More than a decade later, much has changed, but the transfer of F-16s is still controversial. Pakistan has finally waged a military campaign against domestic groups that have turned against the state.
The F-16 has become an essential instrument in this campaign. But Pakistan seems unable to extricate itself from extremist groups that take aim at India groups that can spark a crisis with spectacular acts of violence. To deter Indian retaliation for terror attacks, Pakistan strenuously competes with Indian on nuclear capabilities, even though it has about one-ninth of India's purchasing power.
Sen. Corker's argument focuses primarily on the Haqqani network and its activities in Afghanistan, a group that Pakistani authorities say they can influence, but not control because of their autonomy and the relocation of its operational commanders across the Durand Line. Corker's critique of a Pakistan-based militant organization carrying out attacks in foreign countries also applies to two anti-India extremist groups, Jaish-e-Mohammed (JeM) and Lashkar-e-Taiba (LeT).
The most recent attack by JeM cadres on Jan. 2 was directed against an Indian Air Force Base at Pathankot. The attack sought to short-circuit improved relations sparked by a surprise Christmas day visit by Indian Prime Minister Narendra Modi to Pakistan.
Pakistan's civilian and military leaders pledged to get to the bottom of this attack and hold the perpetrators accountable. Pakistan's security forces closed JeM's offices and placed its leader, Maulana Masood Azhar, in custody. This is standard operating procedure. After every high profile attack on India by jihadi groups based in Pakistan, the usual suspects are rounded up and extremist groups are banned. Azhar himself was arrested after a brazen attack in 2001 on the Indian Parliament, which nearly led to war. LeT's operational commander, Zaki ur Rehman Lakhvi, was placed in custody after the 2008 Mumbai attacks against luxury hotels, the central train station, and a Jewish center.
There are mixed signs that Pakistan's intelligence services, which have a well-deserved reputation for tracking down perceived enemies of the state, are committed to connecting the dots between cadres who carry out cross-border attacks and those who send them on their way. One recent report indicates that Pakistan is sharing useful intelligence about cross-border movement. But there are still ample grounds for skepticism. Successful prosecutions are difficult to carry out in Pakistan.
They invite explosions in city centers; witnesses refuse to testify; and evidence that is compelling, such as intercepted phone calls collected by foreign intelligence agencies, is deemed inadmissible in Pakistani courts. Lakhvi, the ringleader of the 2008 Mumbai attacks, was released after six years in custody. Azhar was released from custody one year after the 2001 Parliament attack.
Not a day goes by without affirmations by Pakistani leaders about taking on the scourge of terrorism. These words ring true with respect to North and South Waziristan, where Pakistan's Army and Air Force have turned the tide against the Pakistan Taliban, thanks in large part to the effectiveness of Pakistan's F-16s.
According to Sartaj Aziz, the Pakistani prime minister's adviser on foreign affairs, the fleet of F-16s used in the fight against terror groups has been successful but needs supplementation. Aziz said, "Right now the specialized need is the counterterrorism operation, for which we are heavily dependent on (the) F-16(s)." There are, however, no strong indications as yet that Pakistan's definition of engaging in counterterrorism operations extends to extremists who target India.
Pakistan is on trial in the court of international opinion, even if the leadership of JeM isn't. An ineffectual response to the Pathankot attack will set back Pakistan's efforts to turn the page after its ruinous support for the Taliban and extremist groups promoting the liberation of Kashmir. Its significant efforts to fight domestic extremists will be discounted, and its quest for U.S. military assistance, including the F-16s, will face more intense congressional.
Pakistan's military and security agencies deserve kudos for continuing to make inroads against extremist groups that have turned against the state. Now the question is whether Pakistan will extend its campaign against extremism to groups that engage in cross-border violence in Afghanistan and India.
If so, Pakistan will demonstrate that it deserves to be viewed in a new light, and that its requests for military assistance are worthy of strong support. If not, Pakistan's future will remain tied to its past mistakes supporting violent extremist groups, and the U.S. Congress will continue to criticize and downsize Pakistan's requests for military assistance.
Pakistan's leaders justifiably argue that they do not have the capacity to take on all extremist groups at once. They allege that the Haqqani network's operatives are now beyond their grasp in Afghanistan. However, the groups carrying out attacks against India are headquartered on Pakistani soil. Pakistan's military and intelligence services most certainly have the capacity to know who ordered the Pathankot attack.
Pakistan's choice is unavoidable: If extremist groups succeed in blocking improved relations with India, Pakistan loses domestically, internationally, and on Capitol Hill. Denying Pakistan the F-16s would send the wrong message now that it is fighting to reclaim sovereign territory from the Pakistani Taliban in the country's northwest frontier.
But by subsidizing the F-16s and offering Pakistan large sums for coalition support and military assistance, Washington also sends the wrong message about Pakistan's failure to clamp down on groups that attack its neighbors, while spending freely for nuclear arms. Sometimes splitting a decision down the middle isn't just compromise it's common sense. Congress would do well to allow the F-16 sale to go forward, while demanding full price.
'Courtesy Foreign Policy'.