Summarized News & Articles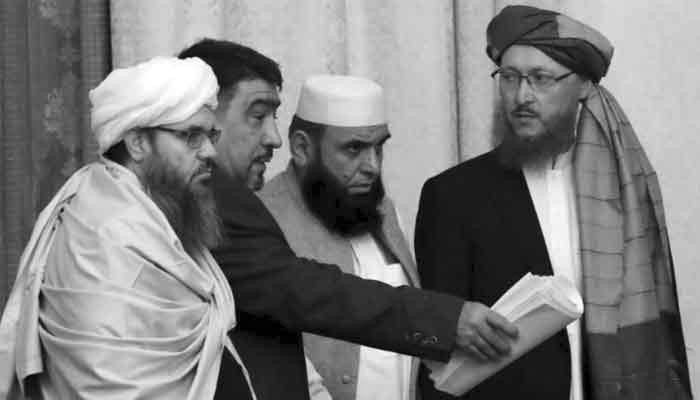 US envoy hails 'Significant progress on vital issues' in talks with Taliban
Saturday 26 Jan. 2019: The longest, deadliest, and costliest war in the American history might be coming to an end as the Taliban and the US negotiators appear to be edging towards a peace deal. In a rare development on Saturday 26 Jan., the two sides admitted "progress on vital issues" in their talks, albeit the insurgents said there was no agreement on ceasefire or talks with the Afghan government, which they deride as American puppet. US chief negotiator Zalmay Khalilzad held negotiations with Taliban representatives at their political office in the Persian Gulf state of Qatar for six days, much longer than planned and longer than any previous attempt to end the bloody conflict.
Subsequently, Khalilzad left the Qatari capital of Doha for consultations in Kabul. "This round of negotiations revolving around the withdrawal of foreign troops from Afghanistan and other vital issues saw progress," Taliban spokesperson Zabihullah Mujahid said in a statement. "But since issues of critical nature need comprehensive discussions; therefore, it was decided that talks about unsolved matters will resume in similar future meetings," Mujahid further said in the statement. He reiterated that the "Islamic Emirate" stance during the talks was very clear: progress on other issues is impossible until the issue of withdrawal of foreign forces from Afghanistan is agreed upon.
However, he dismissed some media reports that the Taliban negotiators have agreed on a cease fire and will hold talks with the Kabul administration. The Taliban spokesperson also thanked Qatar for its 'facilitation role'.
The US representative was also satisfied with the progress in the talks. "Meetings here [in Doha] were more productive than they have been in the past. We made significant progress on vital issues," Zalmay Khalilzad said in a series of tweets on microblogging site Twitter.
Foreign troops to quit Afghanistan in 18 months under draft deal
KABUL/PESHAWAR, Pakistan (Reuters) – Taliban officials said U.S. negotiators on Saturday agreed on a draft peace pact setting out the withdrawal of foreign troops from Afghanistan within 18 months, potentially ending the United States' longest war.
The details of the draft were given to Reuters by Taliban sources at the end of six days of talks with U.S. special peace envoy Zalmay Khalilzad in Qatar aimed at ending the war, more than 17 years since American-led forces invaded Afghanistan. It stipulates that troops would leave within 18 months of the agreement being signed.
While no joint statement was issued, Khalilzad tweeted later that the talks had made "significant progress" and would resume shortly, adding that he planned to travel to Afghanistan to meet government officials.
"Meetings here (in Qatar) were more productive than they have been in the past. We have made significant progress on vital issues," he wrote, adding that numerous issues still needed work. "Nothing is agreed until everything is agreed and everything must include an intra-Afghan dialogue and comprehensive ceasefire," he wrote in the tweets.
U.S. Secretary of State Mike Pompeo on Saturday wrote on Twitter that he had received "encouraging news" from Khalilzad about the talks. "The U.S. is serious about pursuing peace, preventing #Afghanistan from continuing to be a space for international terrorism & bringing forces home," Pompeo tweeted. He did not give a timetable for the potential withdrawal of U.S. Forces.
A Taliban statement issued later also noted progress on troop withdrawal and other issues but said more negotiations and internal consultations were required. "The policy of the Islamic Emirate during talks was very clear until the issue of withdrawal of foreign forces from Afghanistan is agreed upon, progress in other issues is impossible," said Taliban spokesman Zabihullah Mujahid, using another name the group calls itself. It was not clear whether the draft described by the Taliban sources was acceptable to both sides or when it could be completed and signed.

Pakistan has done its job of bringing Taliban to table ISPR
ISLAMABAD: (Sat. 26 Jan. 2019) Director General Inter-Services Public Relations (ISPR) Major General Asif Ghafoor said Pakistan had done its job of bringing the Afghan Taliban to the negotiating table. In an interview with Arab News, the military spokesman asserted that the Afghan Taliban were not excluding Pakistan from the US-led talks being held in Doha.
"The Taliban are not excluding Pakistan from the peace process," Asif Ghafoor said, adding: "We are a facilitator. We have done our job of bringing them to the negotiating table. What is discussed and how the process moves forward will depend on progress during every meeting."
When asked if the Taliban had refused to meet Khalilzad in Islamabad, Asif Ghafoor said: "There are so many factions and stakeholders involved in the process. Coordination takes time. One faction or party gets out of coordination, (which) can result in changes in schedule or place." He said Pakistan had pushed for the dialogue to restart but had "no preference for time or place."
The DG ISPR said there was as yet no certainty on whether the insurgents could be persuaded to engage with the Afghan government but added that progress from the meetings would determine all outcomes. He also spoke about abiding fears about how Afghan government forces would withstand the Taliban threat without US military support if US President Donald Trump acted on his desire to bring home half of the 14,000 US troops deployed in Afghanistan. "Afghanistan should not go into turmoil" when US forces leave, the military spokesman said: "The US should leave Afghanistan as friends of the region, with a commitment to assist Afghanistan in becoming self-sustaining and help in socio-economic development."
Islamabad also fears that increased turmoil in Afghanistan would mean more sanctuaries there for Pakistani Taliban (TTP) militants who have lost control of all territory in Pakistan since a major counter-terrorism operation was launched after a 2014 attack on the Army Public School. Asif Ghafoor said the Afghan government did not currently have the capacity to eliminate all sanctuaries given that it was embroiled in fighting an insurgency, but once the Taliban entered the political mainstream, Kabul would be in a better position to tackle groups like the Pakistani Taliban and the Middle Eastern Daesh.
"If there is peace in Afghanistan and greater control of the area by Afghan forces, it will be difficult for TTP to continue their sanctuaries there," the military spokesman said.
He dismissed fears that the US would lose interest in Pakistan once it exited Afghanistan, or be free to take harsh actions when it no longer needed Islamabad's help to end the conflict. "Pakistan has always remained relevant and will continue to be relevant," Asif Ghafoor said. "And when the US leave Afghanistan, it will leave acknowledging Pakistan's role in ending the conflict. Our relationship shall further strengthen."
Pakistan successfully conducted training launch of ballistic Missile 'Nasr'
Thursday 24th Jan. 2019: Pakistan successfully conducted the training launch of short range surface to surface ballistic missile 'Nasr' to enhance the operational efficiency of Army Strategic Forces Command besides re-validating the desired technical parameters, Inter-Services Public Relations (ISPR) said in a press release. According to the ISPR, Nasr is a high precision, shoot and scoot Weapon System with the ability of in-flight manoeuvrability. The weapon system has augmented Full Spectrum Deterrence posture remaining within the precincts of the policy of Credible Minimum Deterrence, against prevailing and evolving threat spectrum more effectively including enemy's ballistic missile defence and other Air Defence Systems.
The launch was witnessed by General Zubair Mahmood Hayat, Chairman Joint Chiefs of Staff Committee, Director General Strategic Plans Division, Commander Army Strategic Forces Command, Chairman NESCOM, senior officers from the Army Strategic Forces Command, scientists and engineers of strategic organizations.
JCS committee chairman appreciated the standard of training and operational preparedness of Army Strategic Forces Command. He also congratulated the scientists and engineers on developing this sophisticated Weapon System to enhance Pakistan's deterrence capability. He expressed his complete confidence in effective command, control and security of all strategic assets and measures being taken to augment these aspects. (ISPR PRESS RELEASE 32/2019)
China building 'most advanced' naval frigates for Pakistan
China is building the first of four 'most advanced' naval frigates for Pakistan as part of a major bilateral arms deal to ensure 'balance of power' in the Indian ocean, China daily reported. The vessels, a version of China's guided missile frigates, are equipped with state of the art sensors and weapons system. The publication quoted defence contractor China State Shipbuilding Corporation (CSSC) as saying. The shipbuilder added that the ships would have anti-ship, anti-submarine and anti-air armament.
The ships are of the Type 054AP class, meaning that it is based on the Type 054A of the People's Liberation Army Navy (PLAN), the report quoted the Pakistani Navy as saying. The vessels are currently under construction at the Hudong-Zhonghua Shipyard in Shanghai. Once constructed, the warship "will be one of the largest and most technologically advanced platforms of the Pakistani Navy and strengthen the country's capability to respond to future challenges, maintain peace and stability and the balance of power in the Indian Ocean region," the report said.
The report added that the Type 054A is the best frigate in service with the PLAN. Military sources also said the ship has a fully loaded displacement of about 4,000 metric tonnes and is equipped with advanced radars and missiles. About 30 Type 054As are in service with PLAN. An insider in China's shipbuilding sector with knowledge of the Type 054AP programme told the Daily that the ship is the largest and most powerful combat vessel China has ever exported.
"The service of Type 054APs will double the combat power of Pakistan Navy's surface fleet," he said.
Commenting on the ship's construction, Cao Weidong, a senior researcher at the PLA's Naval Military Studies Research Institute, said in the past, the Pakistani Navy would ask its Chinese contractors to use Western radars or weapons on ships constructed by the Chinese shipbuilders because it believed Western naval technologies were better than Chinese ones.
"But it seems that all weapons and radars on the new ship will be Chinese products, which reflects our progress in the industry and the Pakistani Navy's confidence in our technology and capability," he said. Pakistan and China cooperate closely in defence affairs. The two countries jointly developed the JF-17 Thunder fighter aircraft, which has become a mainstay of the Pakistan Air Force (PAF). 'Courtesy the China Daily'
Pakistan's conventional military deterrence is more robust than commonly assumed
By: AMRITA NAYAK DUTTA | New Delhi: Pakistan is no slouch when it comes to conventional military deterrence. In fact, it is equipping its military with a dual-track modernization programme, which can combat India's denial strategies and limited war aims, according to an article posted by South Asian Voices. Strengthening its conventional military deterrence will provide the Pakistani military a range of response options and increase the nuclear threshold, "since it will not be forced to retaliate with nuclear weapons as an initial response to a limited conventional incursion", the article said. South Asian Voices is an online policy platform for strategic analysis on the region, hosted by the Stimson Center in Washington. The article is part of a series on 'Post 26/11: Strategic direction or drift?' which aims to re-evaluate military doctrines, postures and strategies in south Asia.
Details of Pakistan's strategy
Pakistan has introduced a low-yield, short-range ballistic missile system HATF-IX/Nasr which it intends to use as a last resort against Indian forces in case of the failure of conventional defences. It claimed that Pakistan has adopted a cost-effective solution to India's proactive war strategies, and was improving its existing platforms to deter them. The article also pointed out that India is pursuing new conventional weapon technologies to form the basis of its counterforce capabilities, including precision-guided munitions, missile defences, stand-off weapons and cyber operations.
"Pakistan is also updating its conventional strategies, conducting military exercises, improving its weapons systems, and seeking new defence partnerships," it said. The article cited the example of Pakistan developing an offensive-defence 'Riposte' strategy after 1989, which calls for a Pakistan Army strike corps to launch an offensive in an event of war, aiming to occupy Indian territory near the border while holding back the initial hostile advances. It said Pakistan had reorganised its strategic reserves, the Army Reserve North and Army Reserve South, and that its six defensive corps are situated in close proximity to Indian territory.
Conventional military exercises such as Azm-e-Nau, New Concept of War Fighting, High Mark, Strike of Thunder and Sea Spark are positioned for better synergy of Pakistan's three military services and combat readiness along the eastern border. Pakistan is also engaged in negotiations and contracts for upgrades and procurement of conventional armaments from various suppliers, and it's taking various initiatives in the sphere of additions to or modernisation of its cruise missile programme, air defences, unmanned aerial vehicles, and surface and sub-surface fleet to equip its military.
The article said improvements in air defence would enable Pakistani ground forces to conduct defensive and counter-offensive operations against Indian integrated battle groups (IBGs) or strike corps. While China had assisted Pakistan in a multi-dimensional strategic partnership comprising civilian nuclear energy, conventional arms sales and military exercises, the country has now included Turkey, Italy and Russia in its list of partners for conventional weapons. However, in the global firepower ranking list of 2018 released last year, India's military had retained the fourth position on a global index of 136 countries, while Pakistan military was 17th, down four ranks from the previous year.
RAW paid $1m to Harbiyar for hit on Chinese Consulate
LAHORE – Overseas Pakistani Baloch Unity chief Dr Jumma Khan Marri claimed that BLA leader Harbiyar Marri was paid one million dollars by RAW to attack the Chinese Consulate in Karachi. In an earlier post on the social media, Dr Marri had claimed that Aslam Baloch alias Achchu had executed the attack on Chinese consulate.
In his latest post on his facebook account, Dr Jumma asked the family of deceased Aslam Achchu as to how much money they had received out of the one million dollars paid to Harbiyar Marri. Dr Jumma had also revealed last month that following series of attacks on Chinese Consulate in Karachi and Chabahar, Iran, India had reportedly shifted commander BLA Aslam alias Achchu to Kandahar, Afghanistan. He had then termed this development as an attempt by India to cover up its covert support to the BLA since it had also cancelled the so-called human rights conference planned to be held in New Delhi.
He later reported that mastermind of BLA attack on Chinese Consulate in Karachi along with his six companions had been killed in Kandahar. The BLA militants had on November 23 attacked the Chinese Consulate in Clifton, Karachi, killing four people in an hour-long shootout. The victims included two policemen and two Pakistani civilians. No Chinese nationals were hurt in the attack though. The three attackers were also killed. The BLA later claimed responsibility for the attack in a tweet that included a photo of three attackers identified as Azal Khan Baloch, Razik Baloch and Rais Baloch. Previously a Baloch nationalist leader, Jumma Khan Marri had announced his dissociation from the Baloch separatists in February this year. He had then also launched an organisation, 'Overseas Pakistani Baloch Community' for the Baloch living abroad.
In a reiteration, Dr Jumma in his Friday post urged the Balochi people to wake up before it was too late. He also told them that India would soon dump all the Balochis now working for it. It may be recalled here that Dr Jumma had an important meeting with Balochistan Chief Minister Jam Kamal Khan last month in Moscow when the latter was on official visit to Russia.
Dr Marri had then also suggested that Pakistan government should make a formal demand with United Kingdom to stop providing safe haven to BLA's commander Harbiyar Marri. While pledging to voice his concerns on this issue in the European Parliament as he had done earlier, Dr Marri had also asked the Pakistan government to raise this issue at the United Nations.
Dr Marri believes that some prominent Baloch leaders would soon be joining the mainstream Pakistani politics by declaring disassociation with anti-Pakistani forces. He also says that his new organisation would confront and expose the evil designs of disgruntled Baloch leaders such as Brahamdagh Bugti, Mehran Marri and Harbiyar Marri who, according to him, are on the Indian payroll. 'Courtesy The Nation'
Road accident kills 35 in Hub/Balochistan
HUB/BALOCHISTAN(19 Jan. 2019) : A collision between two passenger buses and a petrol tanker killed 35 people in southwest Pakistan, with many of the victims being burned to death. The accident took place as a bus travelling to Karachi collided with the tanker in the early hours of this morning in Gadani in Hub district on the coast of Balochistan province. "The bus and the tanker had a head-on collision and the oil tanker turned over, but the situation got worse when a second passenger bus coming from behind rammed into the first bus as it skidded on the oil spilled on the road," Haripal said.
The first bus then caught fire, he said, adding that 35 people were killed, most of them burning to death while trapped inside the bus, and 30 were injured. Most of the victims, including women and children, were severely burned and were transported to Karachi. "These passenger buses travelling between Balochistan and Karachi have automatic hydraulic doors and their windows are sealed because the buses are air conditioned, so most of the passengers were trapped inside," he said.
———————————————————————————————————————-
Pakistan Television legend Roohi Bano passes away
LAHORE : 25 Jan. 2018:
Television legend and veteran actor Roohi Bano passed away due to kidney failure in a hospital in Istanbul, Turkey on Friday. She was was on the ventilator at the time of her passing. Bano, a resident of Lahore, had also been suffering from schizophrenia since the death of her son. She was staying at Fountain House, a facility for people who are living with serious mental illnesses. "Bano was also suffering from diabetes and in very bad condition for the last two months," a family member said. "She had been in the hospital for three weeks and her health was just not improving anymore."
Once upon a star
Roohi Bano, a versatile actress, had joined the TV fraternity when she was doing her MSc in psychology from the Government College, Lahore. During her career, Bano appeared in many films and also worked with PTV for a long time. During her career, Bano appeared in many films and also worked with PTV for a long time. Some of her most famous plays include Zarda Gulab, Qila Kahani, Hairatkada, Darwaza, Kiran Kahani, among others.