Summarized News & Articles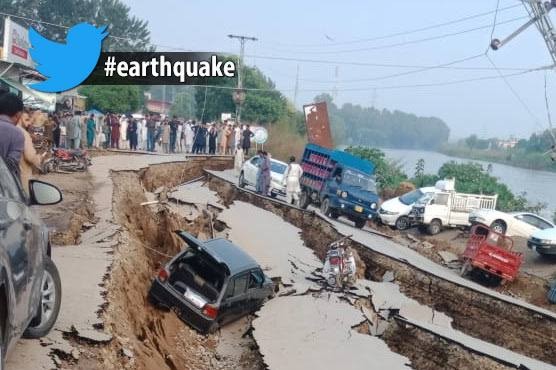 26 dead, over 300 injured as strong earthquake rattles Azad Kashmir, other parts of Pakistan
(Tuesday 24 -09-2019) At least 19 persons were killed and more than three hundred injured as 5.8 magnitude earthquake rattled Azad Kashmir and other parts of Pakistan. The death toll was confirmed by Deputy Inspector General (DIG) of Azad Kashmir Sardar Gulfaraz.
Several houses, shops and buildings collapsed in different parts of Azad Kashmir, whereas, images obtained from the affected areas show massive cracks on roads. Rescue teams have rushed to the spot and emergency has been declared at all the hospitals. Meanwhile, mobile service has also been affected in the area. Meteorological Department said that according to its preliminary assessment, the epicentre of the 5.8-magnitude quake was located near the mountainous city of Jehlum in the Punjab province.
"The quake was 10 kilometres deep and was felt in most of Punjab province, some parts of Khyber Pakhtunkhwa. The worst hit was Mirpur, Azad Kashmir," Chief meteorologist Muhammad Riaz told.
In other parts of the country, tremors were felt in Sheikhupura, Hafizabad, Chiniot, Jalalpur, Bajaur, Mirpur, Zafarwal, Skardu, Manga Mandi, Kohat, Charsadda,Kamoke, Kasur, Faisalabad, Rawalpindi, Daska, Gujrat, Sialkot, Abbottabad, Mansehra, Chitral, Malakand, Multan, Shangla, Okara, Nowshera, Attock, Jhang and adjoining areas.
The tremors were also felt Daska, Faisalabad, Chiniot, Mansehra, Batagram, Torghar, Mirpur (Azad Kashmir) Bhimber, Jhelum, and Mandi Bahauddin.
——————————————————–
Pakistan Navy is conducting Operational Exercise RIBAT-2019
Pakistan Navy Conducts Live Missile Firings In North Arabian Sea to review operational preparedness
Islamabad (27th September, 2019) Pakistan Navy is conducting Operational Exercise RIBAT-2019 to review operational preparedness of Pakistan Navy. To consolidate Fleet Fire Power, successful live missile firings were also held from surface and air platforms during the exercise, affirming the impressive war fighting capabilities of Pakistan Navy.
The exercise is aimed at validating various operational concepts and tactical war fighting procedures including joint operations involving all Pakistan Navy's Field Commands as well as Pakistan Air Force. During the Exercise RIBAT, Pakistan Navy and Pakistan Air Force units are participating in maritime operations in various domains under complex grey hybrid warfare environment.
Concurrently, Pakistan Marines and Special Operation Forces (SOFs) are also rehearsing special operations including Coastal Defence, Air Defence andMaritime Interdiction Operations etc.
The exercise displays Pakistan Navy's intent to maintain highest state of readiness and combat potential to ensure seaward defence and protection of maritime interests of Pakistan during peace and war.
Chief of the Naval Staff, Admiral Zafar Mahmood Abbasi witnessed the missiles firings and expressed his utmost satisfaction on the operational readiness of Pakistan Navy.
He also reaffirmed the resolve that Pakistan Navy is ready to defend its sea frontiers and would give a befitting response to any misadventure by the adversary.
——————————————————–
Veteran Pakistani actor Abid Ali passes away
KARACHI: Veteran Pakistani television actor, director and producer, Abid Ali passed away on Thursday 5th Sep. 2019. He was 67. Abid Ali had been ailing from a liver disease for a long time, and was being treated at a private hospital in Karachi.
Born Abid Sher Ali in 1952 in Quetta, he worked as an actor, director, and producer, acting in several TV and film productions.
After working at Radio Pakistan, Abid Ali launched a successful career as an actor with the PTV drama Jhok Sial in 1973. But he was perhaps best known for his role as Dilawar Khan in Waris, the classic 1979 PTV drama serial.
He was the director and producer of Dasht, a 1993 hit drama in which he also played the role of Shams Shah.
Abid Ali is the recipient of the prestigious Pride of Performance. He has three daughters, including renowned model and actress Iman Aly and singer Rahma Ali.
His daughter, Rahma, also later confirmed her father's death in a message posted on her Instagram account.
Several people from all walks of life paid their respects to the legendary actor on social media.
——————————————————–
Former cricketer Abdul Qadir passes away at 63
LAHORE (Friday 6th Sep. 2019) Former leg-spinner Abdul Qadir passed away at age of 63 after suffering a cardiac arrest in Lahore. According to family sources, Abdul Qadir was taken to hospital immediately after suffering a heart attack where doctors declared him dead and informed that he left this world even before reaching the hospital. "My father never had a heart problem so it was sudden and shocking that he suffered a severe attack and could not survive," Salman Qadir expressed.
Abdul Qadir has served in several positions including chief selector at the Pakistan Cricket Board (PCB) as well as a commentator. He played 67 Tests taking 236 wickets and 104 One Day Internationals (ODIs) where he bagged 132 wickets representing the national team. He started his career with a Test match against England in Lahore on December 14, 1977, and played his last Test against West Indies in Lahore on December 6, 1990. He played the first ODI against New Zealand in Birmingham on June 11, 1983 while playing his last ODI against Sri Lanka in Sharjah on November 2, 1993.
Qadir's unique dancing action was as attractive as it was destructive, spinning the ball prodigiously and had a lethal googly and a flipper.
Former Pakistan captains Wasim Akram, Moin Khan, Rashid Latif and Waqar Younis led the condolence messages, saying Qadir's death was "a great loss of Pakistan cricket".
Many important figures expressed grief on the death of one of the greatest player ever to play the game.
——————————————————–
Salahuddin Ayubi: Murder by the State?
SEPTEMBER 17, 2019 | Source : SUNDAY
It's been one year since we are in the declared 'Naya Pakistan', and so I ask, where are the promises of a changed Punjab police? Have they all gone down the drain? This responsibility is solely under the Chief Minister of Punjab, Usman Buzdar Khan. As there is no Home Minister in Punjab, all the power, therein, lies with him.
What we saw on 4th Sep 2019, should be deemed a failure of our society. The way the Punjab police brutally tortured and eventually murdered alleged ATM robber, Salahuddin Ayubi, is a sheer violation of human rights. The mute suspect was reprimanded in Rahim Yar Khan after authorities recognised him from a video that went viral of him sticking his tongue out in front of CCTV security cameras in an ATM vestibule. In similar fashion, a video of the suspect being tortured and being forced to take his tongue out on camera while he is being mercilessly beaten up took the internet by storm. Merely a day after his arrest, the news of his death went public sparking a series of investigations of the police force. If this was Britain, we would have seen the streets of London full of protesters because they have humanity embedded in their values and norms. Salahuddin's murder is a display of how cruel and unjust we are as a society. We don't have efficient regulations or records of people with learning disabilities, nor do we have the expertise in the police force who could have judged, by his behavior, that his actions were not intentional. We need to be on one page and we need to discipline ourselves to accept this change alongside establishing merit recruitment. Only then will our police force be like the modern economies.
The idea of a regulatory society should be promoted, which simply means regulation as 'decentred from the state' diffused through society. Uncertainties arise from unpredictability, structural uncertainty and value uncertainty. We need to provide a considerable degree of freedom for experts and policy makers as well as introduce the concept of diaogue between them only then can human rights violations can be avoided.
It's never too late with sheer determination and purpose, the change we need in our police force is possible. Passion strives excellence and success, and that is the only hope left if this land of the pure. UNHCR's Article 1 states: "All human beings are born free and equal in dignity and rights." And so, I would appeal to the honourable Chief Justice of Pakistan to take suo moto action on this case, so that those responsible shall be tried according to the law. ( Written by Ibrahim Tariq Shafi)