Summarized News & Articles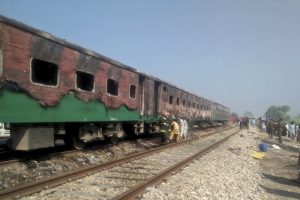 Tezgam Express Train Inferno: Death toll climbed 74
(Thursday – October
31, 2019) Horrifying: 74 killed, about 40 people, including women and children,
were injured after gas cooking stoves exploded and set fire to a crowded Tezgam
Express. An official of Rahim Yar Khan district administration said that, three
coaches of the train caught fire by burst of two gas cylinders when passengers
were preparing breakfast this morning. The train was passing through the Rahim
Yar Khan.
Officials said the fire engulfed
two economy class bogies and most of the passengers got up from
Hyderabad.
The fire tenders and
other emergency teams immediately rushed to the site and carried out the rescue
operation. Bodies and injured were shifted to the District Headquarters
Hospital (DHQ).
The firefighters
were deployed to extinguish the fire. Pakistan Army contingents were also
dispatched to the area to take part in rescue and relief activities. An Army
Aviation Helicopter was airlifting the
injured from the site of the incident.
Divisional
Commercial Officer, Pakistan Railway Multan Division Nabila Aslam told that the
rescue and relief operation has been completed.
She told that total two hundred and seven passengers on board in the
three economy coaches of Tezgam which caught fire during the incident. She said
now railway track is clear and train traffic has been restored on Up and Down
track.
Medics say
identification of the deceased would be carried out through DNA testing.
PM directs to
provide all possible assistance to bereaved families. Prime Minister telephoned
Railway Minister Sheikh Rashid Ahmed and expressed deep grief over the loss of
precious lives in the train incident.
Sheikh Rashid has
announced Rs. 15 million as compensation for each passenger killed in the
incident while Rs. 500,000 for the injured.
Railways Minister
Sheikh Rasheed Ahmed announced a compensation package of Rs. 15 million rupees
for the heirs of each died passenger while Rs. 5000.000 rupees for each injured
passenger.
He said he would
himself monitor the relief activities. The minster said Tableeghi Jamaat
Ameer identified as Hussain, who had
booked the two ill-fated coaches, remained safe in the incident.
He said Hussain has
names of those who lost their lives in the incident. The minister conceded that
it was "our negligence" that the passengers managed to carry the gas
cylinder into the train.
——————————————————————————————————————–
China displays rock-solid support for Pakistan's "core
issue" of Kashmir
The visit by
Pakistan PM Imran Khan to Beijing on October 8-9 has been a runaway success
from Islamabad's perspective. It revved up the dynamics of the China-Pakistan
Economic Cooperation projects, will most certainly intensify China-Pakistan
defence cooperation and, importantly, reaffirmed the whole-hearted Chinese
support on Kashmir at the highest level of leadership in Beijing. Although
billed as "working visit", Imran Khan was accorded a ceremonial welcome by his
host Premier Li Keqiang and was received by President Xi Jinping. Xi broke
protocol to host a banquet lunch for Khan.
The timing of Khan's
visit, his third visit to China in 13 months, is highly significant just before Xi's overnight trip to India for
an informal meeting with PM Modi on October 11 en route to Nepal for a state
visit. According to Pakistani Foreign Minister Shah Mahmood Qureshi, "It was
his (Xi's) desire and ours (Pakistan's) to take each other into confidence
(before the informal meeting with Modi.) The nature of our relations is such
that we take each other into confidence at every step."
Kashmir issue
figured prominently in Khan's discussions in Beijing. Notably, Xi referred to
the J&K situation. The Xinhua news agency reported:
"Khan briefed Xi on
Pakistan's views on the Kashmir situation, hoping to avoid deterioration of the
situation, saying that Pakistan values and appreciates China's objective and
unbiased position."
"Xi told Khan that
China is paying close attention to the Kashmir situation and the facts are
clear."
"China supports
Pakistan to safeguard its own legitimate rights and hopes that the relevant
parties can solve their disputes through peaceful dialogue," Xi said."
The portions
regarding the situation in J&K in the joint press release issued after
Khan's visit are verbatim culled out from the joint press release issued after
the visit by Chinese State Councilor and Foreign Minister Wang Yi to Islamabad
a month ago on September 7-8. Suffice to say, Beijing has rejected Delhi's
sharp reaction to the Pakistan-China joint press release of September 8. It is
a snub to Delhi.
——————————————————————————————————————–
Indian diplomats don't have moral courage to see truth
on the ground: DG ISPR
ISLAMABAD.( 21 Oct.
2019) Diplomatic corps reached the Line
of Control (LoC) to visit the sectors hit by the Indian troops firing on
Saturday 19th Oct. and Sunday 20th Oct.
Foreign Office
Spokesperson Dr Mohammad Faisal is also accompanying the diplomatic corps. The
diplomatic corps will visit Jura, Shahkot and Nousheri's sectors along the LoC
and observes the ground situation. The invitation to the diplomatic corps was
extended on emergency basis to heads of missions of all embassies in Islamabad.
India Charge de Affairs was also invited to prove the claim of his army chief
before the foreign diplomats.
Director-General ISPR
Major General Ghafoor who was accompanying the diplomatic corps said foreign
diplomats visited Jora Bazaar and met with the people and shopkeepers there.
During this, the diplomats also inspected the loss to houses and shops from
Indian shelling.
About the Indian
breach of the LoC, the military's media spokesperson said India violated the
2018 agreements for the 3,038th time, while in 2019, India has violated the
agreement 2,608 times so far.
He added, in 2018,
58 civilians were martyred and 319 injured, while in 2019 there have been 44
civilians shaheed and 230 injured. He
added a group of foreign diplomats and media is on the way to LoC to see the
truth on ground. At least five civilians and one soldier were martyred on
Sunday in cross-border firing. The Indian Defence Attache told The News on
Monday evening that he was not going to the LoC while the Indian Charge'd
Affaires said New Delhi had not granted him permission to visit to the LOC.
DG ISPR had said Pakistan would take diplomats and
media on the given locations where India claimed it destroyed three alleged
militant camps in Pakistan, to present the actual facts on ground.
"Indians have no grounds to support false claim made by their COAS. If
they don't want to go they have the option to share claimed targeted locations
with our foreign office. We will take foreign diplomats & media tomorrow on
those given locations. Let all see facts on ground," he tweeted.
——————————————————————————————————————
Master diplomat Munir Akram back to UN
ISLAMABAD:
Pakistan's newly appointed Permanent Ambassador to the United Nations (UN)
Munir Akram, 74, is known among the diplomatic circles as a master diplomat
towards India specialised in multilateral diplomacy.
He has to his credit
of having worked at the United Nations chapters in New York and Geneva. He is a
recipient of 'Hilal-e-Quaid-e-Azam.' The 'smooth-as-silk' tribute to Munir
Akram for his diplomatic skills and finesse was paid by John Bolton, former US
chief delegate and estranged close aide to President Trump, in his book,
"Surrender Is Not an Option: Defending America at the United Nations and
Abroad."
An expert at
multilateral diplomacy, Munir Akram was appointed as Pakistan's chief delegate
at the UN in 2002 after serving as ambassador to the world body's European
offices in Geneva for seven years. He was entangled in a domestic dispute but
survived due to diplomatic immunity in New York back in early 2003. The administration
in Pakistan termed the episode an intrigue to come in his way who was following
an aggressive diplomacy then. He opted to stay in New York after giving up the
diplomatic assignment.
Munir
Akram served for seven years in Geneva as Pakistan's permanent representative
to the UN before taking on the assignment in New York in May 2002. According to
the Indian media, Munir Akram is said to be a master of UN diplomacy. In the
Indian diplomatic circles, Akram Brothers
Munir and Zamir (who had been Pak HC in New Delhi) are known for their harsh stand against
India.