SUMMARIZED NEWS & ARTICLES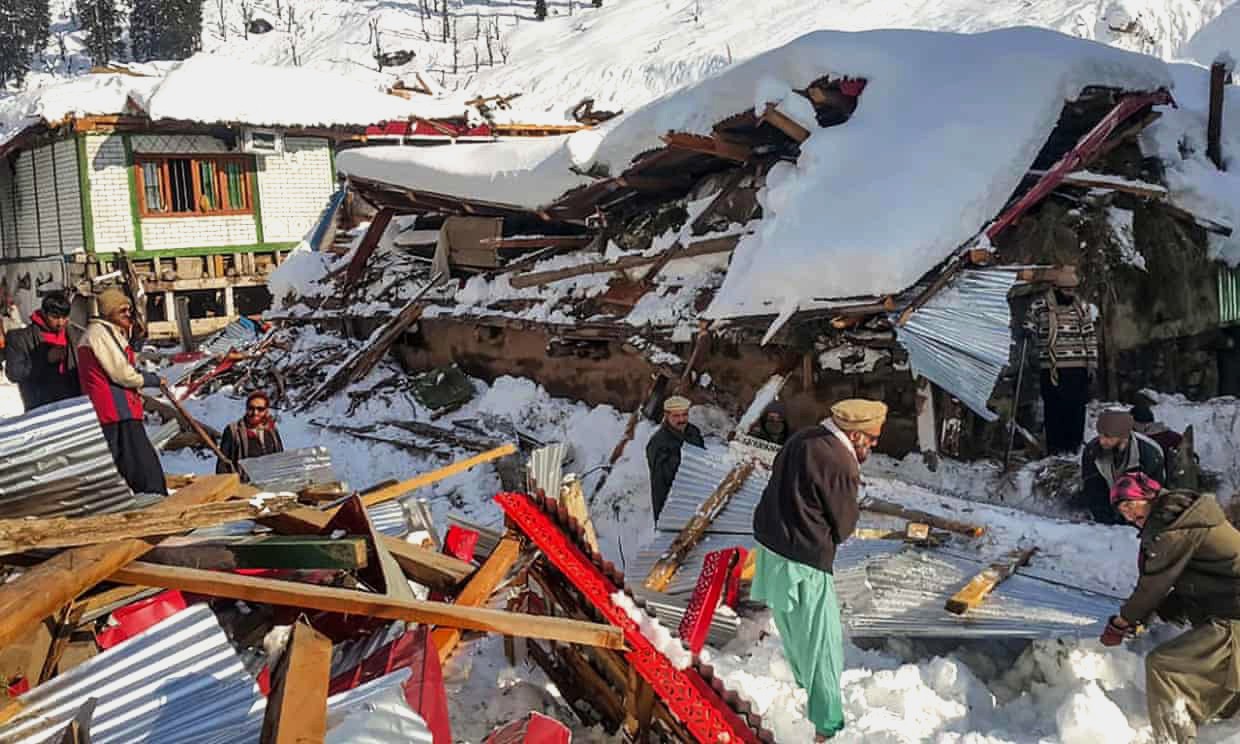 More than 130 dead as avalanches and floods hit Pakistan and Afghanistan
Pakistan, Azad Kashmir hardest hit as winter storms sweep through region, Death toll rises to 100
Wed. 15 Jan 2020 Last Updated
=At least 100 people died and 76 were injured across Pakistan in recent days  with several still missing  while a further 39 were killed in Afghanistan, officials in both countries said.
In Kashmir's picturesque but conflict-riven Neelum Valley, heavy snowfall triggered several avalanches, including one that hit a village and killed at least 19 people. "Ten people are still missing," the disaster authority said. Frequent avalanches and landslides occur in Kashmir during winter, often blocking roads and leaving communities isolated.
Authorities have shuttered schools, while several highways and roads were closed across the country's mountainous northern areas.
Frequent avalanches and landslides occur in Kashmir during the winter, often blocking roads and leaving communities isolated. Authorities have shuttered schools, while several highways and roads were closed across the country's northern mountainous areas, according to officials.
To the south-west, in Balochistan province, at least 31 people have been killed in separate weather-related incidents. "Most of those who died were women and children," said Mohammad Younus, an official with the provincial disaster management authority, adding that hundreds remained stranded.
Levies officials said more than 500 passengers were stranded in Kan Mehtarzai area of Killa Saifullah district, where temperatures dipped to as low as -14°C while heavy snowfall and strong winds almost buried cars on the main National Highway. PDMA Balochistan and the district government had provided cooked food to around 2,500 people along with 800-900 blankets and warms clothes to the people stranded on different highways in the province. Emergency has been declared in seven badly affected districts.
In Gilgit-Baltistan, heavy snowfall has broken 50-year record. An emergency had been declared in Hunza and Nagar after continuing rain and snowfall for the past 36 hours paralysed life in the northern region.
Afghanistan : Across the border in Afghanistan, more than 300 houses were either destroyed or partially damaged throughout the country, said Ahmad Tamim Azimi, a spokesman for the natural disaster management authority. Most casualties were caused after roofs collapsed under thick snow, he added. Hardest hit were southern Kandahar, Helmand, Zabul and western Herat provinces. In Herat, seven people all members of the same family and including children died when their roof caved in, Azimi said.
************************************************************************
Imam, Senior police official among 14 martyred in Quetta mosque blast
By Mohammad Zafar | Friday January 10, 2020
QUETTA: At least 14 worshippers including Pesh I mam., deputy superintendent of police martyred while 21 others sustained injuries in a powerful blast in a mosque-cum-seminary in the Ghosabad area of Satellite Town, Quetta on Friday evening. The blast targeted the worshippers at Madrassa Darul Uloom Al Sharia while they were offering Maghrib prayers. The explosion also ripped the doors off and shattered the windows of the seminary. The DSP was identified as Haji Amanullah, who was posted at the police training centre, while the pesh imam as Hafiz Hamdullah.
A heavy contingent of law enforcement agencies (LEAs) and rescue workers rushed to the spot and transported the bodies and injured to Civil Hospital, Quetta while the Balochistan government has declared emergency at all hospitals in Quetta.
"We were offering prayers when a powerful explosion occurred that knocked me down. I quickly got up and ran out of the mosque," said one of the injured persons, Azmatullah. "Not even the worship places are safe."
Last month, the martyred DSP's son was also killed in a targeted attack on Quetta's Sariyab Road.
No group has claimed responsibility for the attack so far while this is the second blast in the first 10 days of 2020.
On Tuesday 7th January, an IED attached to a motorcycle parked near a Frontier Corps (FC) vehicle on McCaughey Road in Quetta exploded, killing two men and injuring over a dozen including FC personnel.
Patrol aircraft, latest drones added to Pakistan Navy fleet
(January 5, 2020) Maritime patrol aircraft and unmanned aerial systems which would enhance the operational capability of the air arm of the Pakistan Navy were inducted into the force, said a statement on Saturday.
The spokesman for the navy said that the induction ceremony of the state-of-the-art maritime patrol aircraft and tactical unmanned aerial vehicles (UAVs) in the Pakistan Navy Fleet was held at Karachi. Chief of the Naval Staff Admiral Zafar Mahmood Abbasi graced the occasion as chief guest.
Speaking on the occasion, the naval chief highlighted the role of the Pakistan Navy in safeguarding the maritime frontiers and ensuring the safety of sea lines of communication.
He said the induction of marinized ATR aircraft with weapons and sensors would substantially enhance the operational capabilities of the navy's fleet air arm. Moreover, the induction of another ATR in the cargo/ para-drop role would provide added flexibility to the special forces' operations.
The chief guest further added that the induction of LUNA NG unmanned aerial vehicles in the fleet's air arm would further augment the navy's intelligence, surveillance and reconnaissance (ISR) capabilities in the maritime domain, especially in the Creeks areas and along the coastal belt.
Admiral Abbasi urged the crew of the newly inducted ATRs & unmanned aerial vehicles to make optimum utilisation of these platforms in order to contribute effectively towards the combat potential of the Pakistan Navy Fleet.
Appreciating the detection of an Indian submarine by Pakistan Navy aircraft in the post-Pulwama standoff, the naval chief said that "I am glad that PN Aviation Fleet proved its mastery and made the whole nation proud".
He advised the aviators to keep the same spirit and be prepared for any eventuality that might rise anytime. He also highlighted that the Pakistan Navy's developmental plans included acquisition of unmanned combat aerial vehicles in support of maritime operations, too.
The ceremony was attended by high-ranking officials, serving and retired aviators of the Pakistan Navy and sister services and representatives of the relevant government departments.
************************************************************************
EXERCISE SEA GUARDIANS-2020 (6 to14 January 2020)
PAK-CHINA JOINT NAVAL EXERCISE SEA GUARDIANS-2020 SUCCESSFULLY CULMINATES AT KARACHI Karachi, 14 Jan 20: Closing Ceremony of sixth bilateral exercise Sea Guardians 2020 between Pakistan Navy and PLA (Navy), was held at Pakistan Navy Dockyard, Karachi.
Deputy Commander of Southern Theatre Command PLA, Vice Admiral Dong Jun graced the occasion as Chief Guest. Commander Pakistan Fleet, Vice Admiral Asif Khaliq was also present on the occasion. While addressing the ceremony, Vice Admiral Asif Khaliq expressed his gratitude to Southern Theatre Command for their engagement and joint collaboration in exercise Sea Guardians-2020.
While alluding to warm and cordial relations between the two countries, the Admiral expressed satisfaction over mutually benefiting and professionally rewarding conduct of the exercise. Commander Pakistan Fleet, also emphasized that such interactions will further improve exchange of professional experience in maritime threats, developing a synergistic approach in naval domains and stepping up the capabilities to ensure safe & sustainable maritime environment in the region.
Earlier, Deputy Commander of Southern Theatre Command PLA, Vice Admiral Dong Jun thanked Pakistan Navy for extending warm hospitality to visiting naval platforms/ assets of PLA (Navy). He hoped that this exercise will further enhance bilateral relationships and cooperation between the two countries in general and navies in particular. The Admiral also formally declared culmination of the exercise.
During the exercise, Pakistan Navy and PLA (Navy) Flotilla comprising naval platforms/ assets along with Marines Corps Detachments carried out advance level joint drills and naval maneuvers in North Arabian Sea. The harbour and sea activities of the exercise were also witnessed by senior officials from both navies. Exercise Sea Guardians-2020 spanning over nine days was designed to share professional experiences on contemporary and non-traditional threats as well as to enhance bilateral cooperation and interoperability between the two navies. The closing ceremony was attended by a large number of military officials from both the navies.
(Director General Public Relations (Pakistan – Navy)
************************************************************************
'Queen of Battle': Indian aircraft carrier deployed to closely watch over
Pakistan-China 'Sea Guardian 2020' naval drill
(11 Jan, 2020) The Indian Navy has deployed its sole aircraft carrier to the Arabian Sea to keep an eye on a joint military drill between China and regional rival Pakistan. The INS Vikramaditya, with a fleet of MiG-29K fighter jets on board, has arrived to monitor large nine-day naval exercise 'Sea Guardians 2020,' which was kicked off by Beijing and Islamabad in the northern part of the Arabian Sea.
The Navy spokesperson praised the "high levels of motivation & #willtowin, that were evident onboard the 'Queen of the Battle,'" as the flagship carrier is often called in India. Military sources told PTI that the top officials from the Navy HQ were present on board. They also said that the ship was sent on a voyage with "a strategic objective," but did not disclose further details.
The carrier was reportedly testing out new hardware as well. A prototype of the HAL Tejas light combat aircraft (LCA) has successfully taken off from the ship's flight deck and landed on it on Saturday, military sources told NDTV and Hindustan Times. By doing so, the Tejas has become the first Indian-built jet to land on an aircraft carrier.
China brought five big warships for its drill with Pakistan, including the guided-missile destroyer Yinchuan and the guided-missile frigate Yuncheng, while Islamabad sent two Zulfiquar-class frigates, among other vessels. Pakistan's Chief of the Naval Staff Admiral Zafar Mahmood Abbasi said that the joint maneuvers highlight "the long-term relationship and mutual trust" between the nations.
New Delhi has been tracking the increased activity of Chinese ships in the Indian Ocean. Last month, the Indian Navy reported that it had chased away a Chinese surveillance vessel after it had supposedly entered the country's exclusive economic zone (EEZ) near the Andaman and Nicobar Islands in September.
************************************************************************
Pakistan conducts training launch of Ghaznavi missile
RAWALPINDI: Pakistan on Thursday 23 jan. 2020, conducted successful training launch of surface-to-surface Short Range Ballistic Missile (SRBM) Ghaznavi, capable of delivering multiple types of warheads upto a range of 290 kilometers, the ISPR said.
The training launch carried at an undisclosed location was part of field training exercise of the Army Strategic Forces Command (ASFC) aimed at rehearsing operational readiness procedures during day and night. The training launch was witness by Lt. General Nadeem Zaki Manj, Director General Strategic Plans Division (SPD), Lt. General Qazi Muhammad Ikram Ahmad, Commander ASFC, Dr Nabeel Hayat Malik, Chairman NESCOM, senior officers from SPD and ASFC, scientists and engineers of the strategic organisations. Director General SPD appreciated the operational preparedness of the Army Strategic Forces Command for displaying a very high standard of proficiency in handling and operating the weapon system. He also expressed full confidence in the robust Strategic Command and Control System and the capability of strategic forces.
President Dr Arif Alvi, Prime Minister Imran Khan, Chairman Joint Chiefs of Staff Committee (CJCSC) and services chiefs have congratulated the nation on the landmark achievement. The SRBM Ghaznavi has been in service in Pakistan Army since successful test fire of its first version in 2004. It is named after Muslim emperor of 11th Century Mahmud Ghaznavi.
************************************************************************
China-Built Pakistani Port Begins Handling Afghan Transit Trade
By Ayaz Gul | Source: South & Central Asia | January 14, 2020
ISLAMABAD – Pakistan's newly opened southwestern Gwadar seaport has begun handling transit cargo headed to and from landlocked Afghanistan, marking a significant outcome of Islamabad's multi-billion-dollar collaboration with China.
Officials said the first ship full of Afghan cargo containers reached Gwadar on Tuesday 14 Janu 2020. The containers will be loaded onto trucks for transport to Afghanistan through the Pakistani border town of Chaman.
Kabul traditionally has relied on Pakistani overland routes and the two main southern seaports of Karachi and Port Qasim for international trade under a bilateral deal with Islamabad, known as the Afghan Transit Trade Agreement (ATTA).
The recent Chinese financial and construction efforts, though, have activated the strategically located Arabian Sea deep-water port of Gwadar, which offers a much shorter overland link, particularly to southern regions of Afghan, for the rapid delivery of goods.
The port is at the center of the China-Pakistan Economic Corridor (CPEC), which is building Pakistani roads, power plants, economic zones and a major airport in Gwadar to improve connectivity between the two allied nations and the region in general. CPEC and the Belt and Road Initiative are promoting regional economic ties," said the Chinese Embassy in Islamabad while announcing the arrival of the first Afghan cargo containers at Gwadar. Officials in Islamabad say Pakistan constitutes roughly 47 percent of total Afghan exports, while some 60 percent of Afghan transit trade goes through the northwestern Pakistan border crossing of Torkham. The Gwadar Port, they say, will increase the transit trade activity between the two countries.
China and Pakistan say they also plan to link CPEC to Afghanistan once the security situation improves in the war-torn neighbor. Beijing recently announced it would fund and install modern reception centers, drinking water and cold storage facilities at Chaman and Torkham to better serve the daily movement of thousands of people as well as trade convoys moving in both directions. China also has initiated a trilateral dialogue to help ease tensions between Kabul and Islamabad to encourage political, security and economic cooperation in the region.
Critics say Chinese infrastructure investments, however, are burdening economically struggling and debt-ridden economies, like Pakistan, with expensive loans that ultimately would turn into a "debt trap" for these nations. Islamabad and Beijing reject those concerns as misplaced.
************************************************************************
FATF satisfied with Pakistan's report
By : Mehtab Haider | The News International
ISLAMABAD: Pakistan's team led by Minister for Economic Affairs Hammad Azhar on Wednesday 22 Jan. 2019 defended country's compliance report during the joint group of Financial Action Task Force (FATF) meeting held at Beijing, China as the watchdog showed satisfaction over Pakistan's report of compliance.
Now Pakistan requires mustering up diplomatic support for its efforts to come out from grey list and land into the white as Islamabad needs 12 votes out of total 39 in the plenary meeting of the FATF scheduled to be held in Paris on February 16, 2020. Only the Indian side raised tough but mostly irrelevant questions during the joint group meeting held at China, however, contrary to the past, the US and European countries did not extend their support to New Delhi in its efforts to defame Pakistan.
The ongoing meeting went very well. This time the attitude of US plus European Union countries remained supportive and except India no other country raised questions on Pakistan's compliance. "The Pakistani team will remain standby to further defend its report if required to do so today (Thursday). If the joint group of FATF demanded any further documents or annexures of any point, the Pakistani side would be ready to reply to them. The official sources said that Pakistan would now focus on mustering up more diplomatic support of voting members of FATF's plenary meeting. In order to avoid the blacklist, Pakistan requires the support of three countries. For coming out of grey and landing into the white list, Islamabad needs 12 votes out of a total of 39. There is a possibility of the third scenario that Pakistan might continue into the grey list for another 3 to 6 month period. After getting the support of the US, now the chances have emerged that Pakistan might be excluded from the grey list and placed into the safest white list.
The ongoing face-to-face meetings continued for three days (January 21 to 23) in which Pakistan's 17 member delegation participated. Out of total 27 actions, Pakistan was found fully compliant on five points in the last plenary meeting and now Pakistan was making efforts to comply with remaining on 22 major points. Pakistani side is expecting that the FATF may clear it on 8 to 10 more points but with US and EU support things are moving in the right direction.
The FATF's upcoming plenary meeting is scheduled to be held next month in Paris where Pakistan's fate will be decided either exclusion from the grey list and placement on the white, or the grey-list status quo for up to June or September 2020, or blacklisting in the worst-case scenario. It is highly undesirable to see the country landing on the blacklist because of its far-reaching negative impacts on foreign inflows. The State Bank of Pakistan (SBP) imposed penalties on defaulting banks and statutory sanctions regime was implemented. The mandatory currency declaration scheme was also implemented at all airports of the country," the FATF was informed.
The global terror-financing watchdog was also informed that under the new reforms madrassas were granted the status of schools, where students would now be awarded matriculation and intermediate education certificates. "The dispensaries running by banned outfits were taken over by the Health Departments," the FATF was informed. The country had dispatched its 120-page detailed reply along with a 500-page annexure to the Joint Group of FATF for sharing progress on 22 points.
Pakistan has so far successfully managed to avoid the blacklist due to diplomatic support from China, Turkey, Malaysia, Saudi Arabia and the Middle East countries. India had failed to convince the world powers that Pakistan was not cooperating with the watchdog.
(Source: The News International)
Canadian solo traveler Rosie Gabrielle converts to Islam after spending time in Pakistan
(IMAGES STAFF) "The universe brought me to Pakistan to show me the way," she wrote on Instagram.
Canadian solo traveller Rosie Gabrielle, who spent a notable amount of time in Pakistan last year has announced that she has converted to Islam. Taking to Instagram, Gabrielle shared what led her to this big decision.
"This last year was one of the hardest in my life, and all life's challenges have led me to this point here and now. From a young child, I've always had a unique connection with creation and special relationship to God. My path was far from easy and I carried a lot of anger in my heart from a lifetime of pain, always begging God, why me? Until ultimately coming to the conclusion that all is meant to be, and even my suffering is a gift," she wrote.
"Never resonating with what I was brought up with, I denounced my religion 4 years ago, going down a deep path of spiritual discovery. Exploration of self, and the great Divine.
I never let go the sight of the Creator, in fact, my curiosity and connection only grew stronger. Now no longer dictated by fear, I was able to fully explore this righteous path."
As time passed, she said she didn't want to be consumed by anger and hurt.
The travel blogger also shared how traveling through Muslim countries for the last decade has shown her how Islam is a religion of peace. However she feels like it is one of the most misinterpreted in the world.
She concluded, "Like all religions, there are many interpretations. But, the core of it, the true meaning of Islam, is PEACE, LOVE and ONENESS. It's not a religion, but a way of life. The life of humanity, humility and Love. For me, I was already technically a "Muslim". My shahada was basically a re-dedication of my life to the path of Oneness, connection and Peace through the devotion of God."
In an earlier interview with Images, Rosie had mentioned doing her part in changing the stereotypes attached to the Muslim world. "After my series in Oman went viral, I saw what a difference my videos could make especially for the Muslim community on an international level. This really inspired me to want to come to Pakistan because I knew what a negative view the media has on the country, and I wanted to change that."