SUMMARIZED NEWS & ARTICLES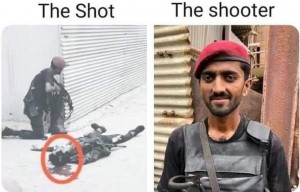 Security forces foil attack on Pakistan Stock Exchange, all four terrorists killed
KARACHI  Security forces on Monday 29 June, have foiled an attack on Pakistan Stock Exchange (PSX) in Karachi and killed all four terrorists. One sub inspector and three security guards have also embraced martyrdom in the incident.
According to details, four terrorists hurled hand grenade at the PSX building and opened indiscriminate fire with automatic guns, martyring four people and injuring seven including three security personnel.
Receiving information about the mishap, contingents of Rangers and police arrived at the scene and killed all four terrorists in retaliation.
Three attackers identified
Three of the four attackers were identified through their fingers prints as Salman, Tasleem Baloch and Siraj, all of whom belonged to Balochistan's Kech area, senior CTD official Raja Umar Khattab said in the evening.
Counter-Terrorism Department's (CTD) Additional Inspector General Dr Jameel said that the terrorists, ranging in ages between 25 and 35, entered the PSX premises from parking area.
He told that fake number plate car, advanced weapons and hand grenades have also been recovered from the assailants, identified as Tasleem Baloch, Shahzad Baloch, Salman and Siraj.
Rizwan Ahmed, a police official at the scene, said that while opening fire, the gunmen entered the stock exchange grounds. He said that after the attack was over, food supplies were found on the bodies of the gunmen, indicating they may have planned a long siege, which police quickly thwarted.
One sub-inspector and three security guards martyred
According to a police statement, one sub-inspector and three security guards were martyred in the attack. Seven people, including three police officials, have been injured, the statement said.
The attackers, armed with grenades and automatic rifles, launched the attack and attempted to enter the PSX compound, which is in a high-security zone that also houses the head offices of several banks.
*****************************************************************************
India expels dozens of Pakistan diplomatic staff
ISLAMABAD: The Indo-Pak relations took another dip when both countries decided to slash their staff by 50 percent at their missions in Islamabad and New Delhi.
India says it has expelled two Pakistani officials in New Delhi for "espionage activities". Islamabad rejects allegation, saying its High Commission staffers in New Delhi were detained and tortured by Indian authorities.
Pakistan's foreign ministry in a statement condemned what it called the detention and torture of two diplomatic officials by Indian authorities. Pakistan's Charge D' Affaires Haider Shah was summoned and informed that India had repeatedly expressed concern about the activities of Pakistan High Commission officials.
"Pakistan completely dismisses allegations of any violation of the Vienna Convention on Diplomatic Relations by the officials of the High Commission for Pakistan in New Delhi and reiterates that they always function within the parameters of international law and diplomatic norms", the Foreign Office maintained. It also rejected the insinuations of intimidation of Indian High Commission officials in Islamabad.
"Indian attempts to escalate the tensions will not succeed in diverting attention either from the ongoing internal and external issues faced by the BJP government or from the worsening situation and gross human rights violations being perpetrated by the Indian occupation forces in Indian occupied Jammu and Kashmir," the statement said.
*********************************************************************************************************
PIA plane crash in Karachi was due to human error, report says
Both the speed and the altitude of the aircraft was more than the recommended parameters
(June 23, 2020) The report says that the crash was due to the negligence of both the cockpit crew as well as the Air Traffic Control (ATC). There was apparently no technical fault in the aircraft, said the preliminary investigation report that was submitted to the Aviation Division in a high-level meeting. PIA Flight PK8303, carrying 99 people, including eight crew members, crashed in a densely-populated residential area near Karachi's Jinnah International Airport on May 22, while it was making its second attempt to land. Two people survived the crash, while 97 were killed.
Final report
However, a senior aviation official told Gulf News from Karachi that the provisional report has many loopholes in it and that the facts would be clearer only after a detailed report is released following decoding of black box data. The black boxes (cockpit data recorder and cockpit voice recorder) of the ill-fated aircraft have already been taken to France by the French Investigation Team. It may take months to compile the final report.
SOPs Violated
Initial investigation has revealed that multiple standard operating procedures (SOPs) were violated by both, the cockpit crew of the ill-fated Airbus A320 as well as the ATC. Apparently, warning signals and alarms in the cockpit of the plane were ignored, which eventually led to the disaster. The aircraft was flying way beyond the standard safe landing speed and altitude, while it was as close as just four nautical miles from the landing strip at Karachi Airport and the ATC failed to check and raise an alarm over the non-deployment of the landing gear, which led to a near-disastrous first attempt to land, experts said. As a result, both the engines of the plane scraped the surface of the runway thrice, which led to the failure of both the engines and consequently the crash.
Speed and altitude
The provisional report said both the speed and the altitude of the aircraft was more than the recommended parameters when the pilot made the first attempt to land. On its first attempt at landing, the aircraft touched the ground at the middle of the 9,000 metre-long runway. The ATC had cleared the plane for landing in spite of its above-normal speed and altitude.
The pilot, in his part, did not inform the ATC about the jamming of the landing gears. Moreover, it was also a wrong decision on the part of the pilot to attempt a second landing. The plane stayed in air for 17 minutes after the first failed landing attempt — a crucial time during which both the engines of the aircraft had stopped functioning.
*********************************************************************************************************
US blocks Pakistan, China bid to designate Indian suspect as terrorist at UNSC
The United States has vetoed a joint move by Pakistan and China to designate an Afghanistan-based Indian national as a global terrorist under the 1267 Sanctions List of the United Nations Security Council (UNSC), reports said on Wednesday.
In September last year, Islamabad and Beijing had moved a joint proposal, seeking to declare Venumadhav Dongara, a Kabul-based Indian engineer, as an internationally wanted terrorist for supplying weapons, ammunition and explosives to a terrorist group which allegedly attacked the Camp Badaber, an airbase of Pakistan Air Force in Peshawar, in 2015. The move was, however, put on technical hold by Washington, citing 'lack of evidence', who, subsequently, vetoed the proposal.
Venumadhav Dongara was one of four Indian nationals that Pakistan had, in 2019, proposed to designate under the United Nations 1267 Sanctions List. The other three were identified as Ajoy Mistry, Gobinda Patnaik and Angara Appaji.
Islamabad expressed disappointment over the US move. "These Indian nationals were financing, sponsoring and organising terrorism inside Pakistan by providing financial, technical and material support to terrorist groups including Tehrik-i-Taliban Pakistan (TTP), Jamaatul Ahrar (JuA) and others," a statement issued by the Foreign Office maintained. It expressed disappointment that Dongara's name was objected to, but voiced hope that the request regarding the other three Indian nationals will be considered by the UNSC 1267 Sanctions Committee in an objective and transparent manner.
"Taking advantage of the prolonged conflict in our neighbourhood, India has fomented terrorism inside Pakistan by providing training, financial and material support to terrorist groups to kill innocent people in Pakistan," the Foreign Office said. "These Indian nationals are now residing in India with impunity which vindicates Pakistan's position that India is a state-sponsor of terrorism," it said, and urged the Sanctions Committee of the United Nations Security Council to list three Indian nationals objectively and transparently as terrorists after having been designated by Pakistan for their involvement in financing, sponsoring and organizing terrorism in the country.
Pakistan accused old foe India of funding militant groups, a day after the nuclear-armed neighbours said they would expel half the other's embassy staff for the first time in nearly two decades. Tuesday's announcement of planned expulsions followed weeks of accusations and counter-accusations including espionage and the harassment of rival diplomats as relations plummet.
In August 2019, Pakistan suspended almost all trade and transport ties with India after New Delhi revoked autonomy and statehood for the Indian-held Kashmir. With the latest expulsions, relations are now at an all-time low, outside of the three major wars the two countries have fought since independence from colonial power Britain in 1947, said Asif Yasin Malik, a retired general and former defence secretary. "They are as bad as they can be," he said. "It is possible we will break diplomatic relations altogether," he added.
Separately, Pakistan strongly condemned multiple missiles and drone attacks towards Riyadh, Najran and Jazan by the Houthi militia. The Foreign Office in a statement said that Pakistan appreciates the successful interception of the missiles and drones, which prevented the loss of innocent lives. "We call for an immediate cessation of these attacks," the statement said, adding that Pakistan reiterates its full support and solidarity with Saudi Arabia against any threats to its security and territorial integrity.
*********************************************************************************************************
Former Jamaat-e-Islami Ameer Syed Munawwar Hassan passes away
( Friday 26 June, 2020)  Hassan was the fourth Ameer of Jamaat-e-Islami Pakistan. He was born in August 1941 in Delhi. After the partition in 1947, he and his family migrated to Pakistan. Munawwar Hasan served the student wing as its president for Karachi University in 1962 and Karachi president in 1963. He also served the student organization as its central president for three consecutive terms starting from 1964.
He rose to several positions in the student organisation and was eventually elected its Nazim-i-Aala (Pakistan chief) for three consecutive terms.
Munawwar Hassan remained Ameer of Jamaat-e-Islami Pakistan from 2009 to 2014. He represented the Jamaat-e-Islami and Pakistan in several international conferences and seminars in the US, Canada and other countries.
He served as the party's Karachi chief and its secretary general before reaching the top. In 2009, he was elected as its fourth chief after Qazi Hussain Ahmed stepped down.
Munawar Hasan supervised the publication of over 70 books and research papers while serving as director of the Islamic Research Academy, a testament to his academic inclinations in the midst of a hectic political life.
*********************************************************************************************************
Legendary actor Sabiha Khanum passes away at 84
( June 13, 2020)  Veteran actor Sabiha Khanum passed away in her Virginia 'USA' at home on night of June 13, 2020.
In a heartfelt post on Facebook, Sarish Khan 'granddaughter' wrote "It is with great sadness that we share the news of the demise of our beautiful and beloved Sabiha Raza (Sabiha Khanum) who passed away today, June 13, 2020."
Sabiha Khanum was reportedly suffering from renal disease.
Sabiha Khanum was known as the First Lady of Pakistan's silver screen, with some of her best films being Ayaz (1960), Saath Laakh (1957), Kaneez (1965), Anjuman (1970), Tehzeeb (1971). She was also conferred with the Pride of Performance in 1986 for her contribution to Pakistan's film industry.
Khanum, born Mukhtar Begum in 1935, was a star of 1950s and 1960s Pakistani cinema, and appeared on screens right up until the early 1990s. She was also known for her roles in various award-winning television dramas. She was one half of a beloved power couple, mostly working opposite her husband Santosh Kumar, who died in 1982.
In the 1990s, Khanum retired and went to live closer to her children in the US, where she had a home in Virginia.
*********************************************************************************************************
Legendary TV 'Neelam Ghar'  host Tariq Aziz passes away
Tariq Aziz passed away in Lahore on Wednesday 17 June, his family confirmed. He was 84. Tariq Aziz was born in Jalandhar. After partition, his family migrated to Pakistan and settled in Sahiwal, where he received his primary education. He started his career with Radio Pakistan in the 1960s and later went on to become Pakistan's first television host. His programme Neelam Ghar  later named Tariq Aziz Show  started in 1974 on Pakistan Television and continued for four decades.
He was also a poet and an actor and performed in several radio and television programmes as well as in films. His first film, Insaniyat, was released in 1967.
Other notable titles he acted in include Salgirah, Qasam Us Waqt Ki, Katari and Har Gaya Insan. For his services to the entertainment industry, he was awarded the prestigious Pride of Performance Award by the government in 1992. Aziz dabbled in politics as well and was a member of the National Assembly from 1997-99.