SUMMARIZED NEWS & ARTICLES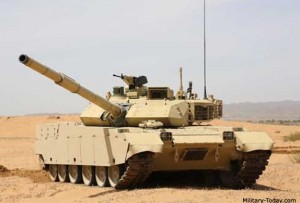 COAS witnesses demo of third generation battle tank
VT-4 is compatible with any modern tank in the world integrating advanced armour protection, maneuverability
September 22, 2020 : Express Tribune
Chief of Army Staff (COAS) General Qamar Javed Bajwa witnessed demonstration of the state-of-the-art Chinese-origin third generation main battle tank VT-4 at the field firing ranges near Jhelum on Tuesday 22 Sep, 2020.
This potent war fighting machine will be employed in offensive role by strike formations after induction, the military's media wing, the ISPR, said in a statement.
It added that VT-4 is compatible with any modern tank in the world integrating advanced armour protection, maneuverability, fire power capabilities and state of the art technology.
Interacting with the officers and men, General Qamar expressed satisfaction over demonstrated performance of VT-4 tank, another addition to inventory of the Armoured Corps after recent induction of indigenously produced Al-Khalid-1 tank. It has further strengthened Pakistan's overall defence capability to thwart enemy designs.
The army chief said Pakistan Army is alive to emerging challenges and regional threats. "We are completely focused towards internal and external challenges to defence of the country and prepared with a matching response against all threats to sovereignty, security and territorial integrity of Pakistan," he added.
General Qamar lauded troops for professionalism, operational readiness and highest training standards to meet challenges of modern day battlefield requirements.
Earlier, Corps Commander Mangla, Lieutenant General Shaheen Mazher Mehmood received the COAS at Tilla field firing ranges.
*******************************************************************
Afghan official Abdullah on key Pakistan trip in bid for peace
Islamabad, Pakistan  Pakistan and Afghanistan have reaffirmed their commitment to closer ties and the Afghan peace process, as the chairman of Afghanistan's High Council for National Reconciliation, Abdullah Abdullah, continues his tour of his country's eastern neighbour.
Speaking at an event in the capital, Islamabad, on Tuesday 27 Sep. 2020, Abdullah struck a markedly conciliatory tone, emphasising his country's appreciation of Pakistan's help in the peace process and the need for a new era of bilateral relations, which have often gone through periods of deep mistrust.
"After many troubling years, we now need to go beyond the usual stale rhetoric and shadowy conspiracy theories that have held us back," said Abdullah.
"We cannot afford to pursue business as usual. We need fresh approaches and our people demand it of us."
Afghanistan and Pakistan have routinely accused each other of allowing safe havens for armed groups that target each other's territory, mainly the Afghan Taliban and the Tehreek-e-Taliban Pakistan (TTP).
Cross-border attacks continue to occur on both sides, often targeting Pakistani security posts on the border which Pakistan treats as an international boundary but which Afghanistan has disputed.
Abdullah, who served until March as chief executive in the National Unity Government led by President Ashraf Ghani, has often accused Pakistan of supporting the Taliban and its allies.
Pakistani Foreign Minister Shah Mahmood Qureshi echoed Abdullah's sentiments in a statement at the same event.
"[We need to have] recognition of the mistakes of the past," said Qureshi. "Unless we recognise that, how do we move forward? Let's not shy away from reality. Let's accept reality and add a new chapter to our bilateral relations and build a common future for ourselves."
A key player
Abdullah said that process was continuing to move forward, after facing several hurdles at the outset.
"A new future, a peaceful future, is on the horizon," he said. "As we are speaking here, delegations from both sides in Doha, they are sitting around a table, discussing the ways and means of ending decades of conflict through a political settlement in Afghanistan."
In a statement, the prime minister's office said it hoped the meeting would usher in "a new chapter" in relations between the South Asian neighbours.
"The prime minister reiterated his longstanding position that there is no military solution to the conflict in Afghanistan and that a political solution is the only way forward," it said. "The US-Taliban peace agreement was a major step forward in these endeavours."                        SOURCE : AL JAZEERA
*******************************************************************
17 killed as van overturns, catches fire on Super Highway near Karachi
The speeding van was coming from Hyderabad to Karachi when its tie rod broke as a result of which the van overturned and then caught fire.
According to the Motorway Police, the accident took place near Nooriabad. There were around 25 people on board, out of which 17 were reported dead. Motorway Police said a one-year-old girl miraculously survived the crash, and the van driver is also safe. The driver of the van, in a statement to Motorway Police, said that the bonnet of an oncoming vehicle came out and hit the windscreen of the van. "After the bonnet hit the windscreen, I could not control the car," he said.
"There's a lot of difficulty in retrieving the bodies [from the police]," he said, adding that authorities had refused to hand over the bodies without a DNA report.