SUMMARIZED NEWS & ARTICLES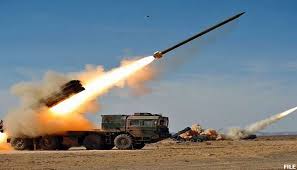 Pakistan successfully conducts test flight of 'Fatah-1′ rocket system
(07 Jan. 2021) RAWALPINDI: Pakistan conducted a successful test flight of indigenously-developed Fatah-1 (Guided Multi Launch Rocket System), capable of delivering a conventional warhead up to a range of 140 kilometers. The new weapon system will give Pak Army capability of precision target engagement deep in enemy territory, the ISPR said.
President Arif Alvi, Prime Minister Imran Khan, Chairman Joint Chiefs of Staff Committee General Nadeem Raza and Chief of Army Staff General Qamar Javed Bajwa congratulated the participating troops and scientists on successful conduct of flight test.
The Pakistan Army currently possesses a wide range of Short Range Ballistic Missiles (SRBM), Medium Range Ballistic Missiles ((MRBM), Battlefield Ballistic Missiles (BBM), Surface to Surface Cruise Missiles (SSCM) and Rocket Artillery.
***************************************************************
Pakistan Navy successfully test-fires anti-ship missiles, torpedoes
(January 13, 2021) ISLAMABAD: Chief of the Naval Staff Admiral Muhammad Amjad Khan Niazi reassured the nation that Pakistan Navy is fully prepared and ready to thwart any aggression against Pakistan's maritime frontiers.
He expressed these views during an impressive fire power display in which Pakistan Navy (PN) Fleet units demonstrated combat readiness and war fighting potential through live weapons firing at North Arabian Sea. He also underscored that Pakistan Navy will continue to play its part in making defence of the country impregnable.
Chief of the Naval Staff Admiral Muhammad Amjad Khan Niazi also witnessed the event along with other senior naval officers. Pakistan Navy submarines successfully engaged their intended targets with Anti-Ship Missiles and Torpedoes. The successful firings have re-affirmed Pakistan Navy's offensive capability and operational readiness.
Chief of the Naval Staff expressed his complete satisfaction on the combat readiness of PN Fleet and commended officers and men for their commitment and professionalism.
************************************************************
Pakistan tests nuclear-capable Shaheen-III ballistic missile
(Wed. January 20, 2021) Islamabad: Pakistan has successfully conducted a flight test of Shaheen-III surface-to-surface ballistic missile capable of carrying nuclear and conventional warheads up to 2,750 kilometers. The test flight was aimed at "re-validating various design and technical parameters of the weapon system", Pakistan armed forces spokesperson Major General Babar Iftikhar said in a tweet.
The successful flight test, with its impact point in the Arabian Sea, was witnessed by Chairman Joint Chiefs of Staff Committee (CJCSC) General Nadeem Raza, Director General Strategic Plans Division, Commander Army Strategic Forces Command, Chairman NESCOM and the scientists and engineers. Pakistan's President Dr Arif Alvi, Prime Minister of Pakistan Imran Khan, CJCSC and three service chiefs have congratulated the scientists and engineers on the successful missile test.
Experts believe that the "Shaheen-III missile, once inducted will provide Pakistan with the full spectrum deterrence against the adversary" and will further enhance strategic stability in the South Asian region.
***************************************************************************
Pakistan Army surpasses Israel, Canada to become 10th most powerful in world
Pakistan is the only country in top 15 which has improved its ranking on Global Firepower index
Pakistan Army has been ranked the 10th most powerful in the world out of 133 countries on the Global Firepower index 2021, according to data released by the group on its official website.
The list by Global Firepower (GFP) relies on more than 50 factors to determine a nation's Power Index ('PwrIndx') score with categories ranging from military might and financials to logistical capability and geography.
In the annual GFP review of 2021, Pakistan Armed Forces scored 0.2083 with 0.000 being the perfect score in the list. With a huge jump of five places leaving behind Israel, Canada, Iran and Indonesia in the process, Pakistan is the only country in the top 15 which improved its ranking.
Currently, the country dedicates $7 billion from its annual budget for defence purposes.
The United States military was ranked the most powerful armed force in the world, closely followed by Russia and China. India retained the fourth slot while Angola, Bulgaria and Syria declined in the ranking.
Turkey, Italy, Egypt, Germany, Saudi Arabia, Spain and Australia were also among prominent militaries which were beaten by Pakistan military in the rankings.
*************************************************************************
Pakistan's got a weird and power ful anti-ship weapon Can it sink India's Aircraft Carrier?Pakistan's newest fighter jet could launch a powerful, but strange, new anti-ship missile
(By David Axe)
Pakistan's newest fighter jet could launch a powerful, but strange, new anti-ship missile. To help the single-engine JF-17s target enemy warships such as India's growing fleet of aircraft carriers, Islamabad's air arm in 2017 and 2018 bought 60 CM-400AKG anti-ship missiles. The CM-400AKG, a product of the Aviation Industry Corporation of China, is an unusual weapon. Unlike many other anti-ship missiles, it follows a high ballistic flight path.
The supersonic standoff missile first appeared in public at an air show in Zhuhai, China in 2012. The missile appeared in a display with the JF-17, a highly-evolved derivative of the MiG-21 that China has sold to Pakistan, Myanmar and Nigeria at a cost of around $30 million per plane. Six years later, the Pakistani defense ministry revealed that it purchased 60 CM-400AKGs at a total cost of $100 million.
The acquisition transformed the country's JF-17s into potent ship-killers. In 2018 photos circulated apparently depicting a JF-17 firing a CM-400AKG in a test that perhaps took place a few years earlier. The CM-400AKG reportedly weighs around 2,000 pounds and carries either a 300-pound fragmentation warhead or a 400-pound penetrating warhead. It reportedly can fly as far as 150 miles.
The missile boasts an internal navigation system that guides it near its target, at which point a combination infrared- and radar-seeker takes over. Sources claim the weapon's circular-error probability is as small as 15 feet, meaning it has a 50-50 chance of striking within 15 feet of its aimpoint.
The CM-400AKG reportedly can maneuver in its final seconds of flight, helping it to dodge enemy defenses. It tops out at five times the speed of sound, sources claim. Some observers have pointed to the CM-400AKG's high speed in order to draw comparisons with the Indian armed forces' own Brahmos cruise missile.
Itself a derivative of the Soviet Oniks cruise missile, the air-, sea-, undersea- and land-launched Brahmos can fly as fast as Mach three and strike targets as far away as 370 miles. The CM-400AKG's size, range and accuracy are consistent with the capabilities of other anti-ship weapons. What's odd is the weapon's flight profile. Most anti-ship missiles launch from low altitude in order to avoid detection.
The CM-400AKG, by contrast, is designed to launch from high altitude. According to the manufacturers' figures, a fighter such as a JF-17 would launch the CM-400AKG at an altitude between 26,200 and 39,400 feet while traveling as fast as Mach .9. The weapon's apparent origin as a development of the SY-400 short-range ballistic missile could explain this odd profile. The CM-400AKG like other high-flying ballistic missiles consumes solid fuel and does not require an air inlet. Lower-flying weapons often combine liquid fuel and an air-breathing motor.
David Axe is defense editor of The National Interest. He is the author of the graphic novels War Fix,War Is Boring and Machete Squad.
******************************************************************
PAKISTAN NAVY SHIP SAILED FOR HUMANITARIAN ASSISTANCE & DISASTER RELIEF MISSION IN AFRICAN COUNTRIES
Islamabad, 17 Jan 21: Pakistan Navy Ship NASR has sailed on Humanitarian Assistance and Disaster Relief (HADR) mission to African countries. The mission is tailored to assist vulnerable population affected by natural disasters. The Ship is carrying food aid for flood-stricken and drought ridden African countries. During the deployment, PNS NASR will provide assistance at Djibouti, Sudan and Niger. The ship will also undertake goodwill visit to Mombasa, Kenya. The deployment of PNS NASR is undertaken in close coordination with the Ministry of Foreign Affairs & in line with Government's Engage Africa policy that seeks to enhance bilateral relations and to explore new avenues of cooperation with African countries.
*****************************************************************
Nepali Climbers make history with first winter summit of K2
Nepali climbers who made history at the weekend by becoming the first to summit the world's second-highest mountain in winter have told how they battled hurricane-force winds and freezing temperatures to achieve the record.
The triumphant 10-man team was plucked from Base Camp on the 8,611-metre K2  known as the "savage mountain"  by a Pakistan Army helicopter and flown to the Shigar Valley, a gateway to the mighty Karakoram range.
Wearing traditional woollen hats and festooned with garlands, the climbers were received as heroes on the first leg of their journey back home.
"This winter we came here with the hope that we were going to make this happen," said Nirmal Purja, one of the leading members of the team and a former Gurkha and British special forces soldier.
"The weather conditions were really, really horrendous, the temperature was up to minus 65 degrees Celsius (minus 85 degrees Fahrenheit)  there were hurricane (strength winds) but 10 climbers from Nepal managed to make it happen."
One of the climbers told AFP how he almost missed out on making history, briefly giving up in the tough conditions.
"At camp four I had actually quit, but when I made the radio call… he didn't answer," Mingma Gyalje, known as Mingma G, who had attempted the record last year, told AFP. "I couldn't leave my team alone like that so when he didn't answer, I decided to try again.
"Normally when someone doesn't answer a call you feel offended, but in this case I am thankful."
*************************************************************