SUMMARIZED NEWS & ARTICLES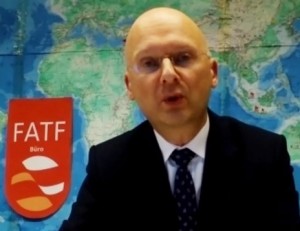 Pakistan remains on Financial Action Task Force grey list despite 'Significant Progress'
(June 25, 2021) Islamabad: The Financial Action Task Force (FATF) has decided to keep Pakistan on its 'grey list' until October 2021 despite complying with 26 out of 27 action plans.
"Pakistan has made significant progress" and has "largely addressed 26 of the 27 action items" since 2018 but the country remains on the grey list, announced FATF President Marcus Pleyer in a press briefing held after FATF's virtual five-day (June 21-25) plenary session in Paris.
Pakistan was urged to address the one remaining action item related to investigations and prosecutions of "senior leaders and commanders of UN designated terrorist groups", he said.
The global anti-money laundering watchdog recognised Pakistan's efforts to address the AML/CFT deficiencies. FATF president also thanked Pakistan government for their "continued commitment to address the concerns" and make the necessary changes since 2018 when the country made a high-level political commitment to work with the FATF and APG to strengthen its anti-money laundering and combating financing terror (AML/CFT) regime.
Disappointed outcome
Most Pakistanis, who were disappointed by the outcome, claimed that FATF decision to keep Pakistan on the grey list is more of a political issue than financial, saying that FATF is a "politically driven forum to exert pressure on Pakistan" to achieve desired objectives. However, FATF has said that "all countries are treated equally".
(Source: Gulf News)
*************************************************************************
Pakistan Stream gas pipeline construction to finalize in 2025, says Russian minister
PETESRBURG, June 4. /TASS/. Completion of the Pakistan Stream gas pipeline construction is expected in 2025 in case of stable financing of the project, Energy Minister Nikolai Shulginov said on the sidelines of the St. Petersburg International Economic Forum on Friday 4th June 2021.
"In case of stable financing we expect the project to be fully implemented in 2025," he said, adding that the Russian side will be responsible for construction of the gas pipeline, while the Pakistani side – for gas sources and construction of the regasification terminal.
The intergovernmental agreement on construction of the 1,100-km-long North-South (changed its name to Pakistan Stream) gas pipeline with the capacity of 12.4 bln cubic meters of gas per year was signed by Russia and Pakistan in October 2015. The sides were to sign commercial agreements in 2016, whereas it was planned to deliver the project by 2018, though the project's implementation has been rescheduled several times. Nikolai Shulginov and Pakistani Ambassador to Russia Shafqat Ali Khan signed a document enabling to start practical implementation of the Pakistan Stream gas pipeline construction project on May 28, 2021.
The St. Petersburg International Economic Forum, organized by the Roscongress Foundation, is taking place on June 2-5. The topic of this year's forum is "Together Again – Economy of New Reality". TASS is the information partner and the official photo hosting agency of SPIEF.(Russian News Agency Tass)
*************************************************************************
At least 3 Dead, 21 Injured in Blast rocks Lahore's Johar Town
(23 June 2021)The explosion took place around 11am in a residential area near the town's Allah Hu boulevard, police said. Television footage showed visible damage to nearby houses whose walls had collapsed and window panes shattered.
Foreign national arrested from Lahore Airport
In a major breakthrough in the ongoing investigation into Johar Town blast, law enforcement agencies have arrested owner of the vehicle used in the explosion. According to details, the owner is foreign national named Peterson David and was offload from a Karachi-bound flight at Lahore's Allama Iqbal International Airport.
He has been shifted to an undisclosed location for interrogation.
Earlier, it was revealed that the car which was allegedly used in Johar Town blast entered Lahore from Babu Sabu interchange around 9:40am on Wednesday 21 June, and went through checking by police personnel at the interchange.
A case of Johar Town bomb blast has also been registered in CTD Lahore police station on the complaint of SHO Abid Baig. Three unidentified terrorists have also been named in the FIR. The text of the FIR states that the terrorists used a vehicle and a motorcycle for the operation. The blast killed three people and injured 21.