SUMMARIZED NEWS & ARTICLES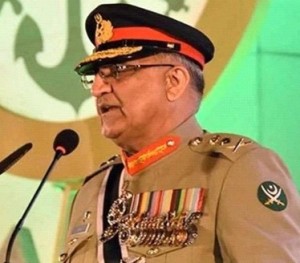 Gen Bajwa: No one can blackmail state in the name of regionalism or religion
Gen Bajwa, Pakistan's Army Chief, speaking on 56th Defence Day asserted that no external and internal groups will be allowed to blackmail Pakistan in the name of regionalism or religion. He pointed that country now faces fifth generation warfare and instead of large-scale war, enemies use modern technology to weaken a nation's unity and ideological boundaries.
(By News Desk | 7 September 2021)
Gen Bajwa, Pakistan's Army Chief made a categorical statement on Defence Day that no person or group will be allowed "to blackmail the state on the basis of regionalism, linguistics, ideology or religion."
In honor of September 6 Defence Day, COAS Bajwa was addressing a function at the General Head Quarters (GHQ). President Alvi attended as the chief guest with all the three service chiefs and cabinet members. It was a very impressively organized event, with speeches and inspiring national songs, that was shown live on national tv channels till almost 11 pm.
Gen Bajwa, COAS, paid a tribute to the country's martyrs and said Pakistan will never forget their sacrifices. The Pakistani forces proved that they know how to defend the country under any situation.
Gen Bajwa mentions fifth generation warfare against Pakistan
Gen Bajwa, Army Chief, in an interesting comment, pointed to the changing nature of warfare. He argued that today instead of large-scale war, enemies use modern technology to weaken a nation's unity and ideological boundaries. He was clearly referring to the concept of 5th Generation warfare that employs propaganda and media disinformation to produce chaos.
"Our enemies are also using non-traditional means including propaganda and disinformation to achieve their nefarious objectives," COAS Bajwa said.
COAS Bajwa also noted how Pakistan is aware of external threats. However, the forces will have to strictly deal with internal terror elements as well.
"It is a moment of reflection for all of us that anti-state elements are using some people. This is a hybrid or fifth-generation war. Its purpose is to damage the country's unity. InshAllah, we will never let these negative objectives succeed," COAS further expressed.
Gen Bajwa also stressed that Pakistan will never allow any individual or group aside from the armed forces and law-enforcement agencies to display weapons or use them. This was an important statement from Army Chief, he was clearly asserting that only the state and its institutions have the right to use force and violence to achieve state ends.
Pakistan has faced huge criticism since the early 1990s for allowing various armed groups to operate against its territory. In recent years civil-military administrations are increasingly sending the message that this will not be tolerated anymore. This message becomes all the more important in view of Taliban's victory in neighboring Afghanistan that has created fears in many minds that Islamist groups in Pakistan will try asserting themselves in the name of religion or 'sharia'.
***********************************************************************
4 martyred, 20 injured in suicide attack targeting FC checkpost on Quetta's Mastung Road
(Sunday, 5 Sep 2021)
QUETTA, Pakistan (AP)  A suicide bomber detonated his explosives Sunday 5 September, near a security checkpoint in restive southwestern Pakistan, killing at least Four paramilitary troops and wounding 20 others, police said. The attacker walked towards the checkpoint manned by the paramilitary Frontier Corps on Quetta-Mastung Road, 25km (15 miles) south of Quetta, capital of Balochistan province, senior police officer Azhar Akram said.
A suicide bomber on a motorcycle packed with 6kg of explosives rammed one of the vehicles in a convoy, Akram said. He said some of the wounded were in critical condition and the death toll could rise, adding body parts were found at a distance from the security post after the bombing. (Source: Associated Press News)
***********************************************************************
At least 16 dead in fire at chemical factory in Karachi's Mehran Town
(Friday, August 24, 2021)
KARACHI: Sixteen factory workers were suffocated to death  after a fire, apparently caused by a short circuit, filled an industrial unit in the city with smoke, according to officials and witnesses.
It was at around 10am when the fire erupted under the stairs of the ground-plus-two-storey factory, situated in Mehran Town of Korangi Industrial Area, and spread rapidly to other places due to some 'adhesive chemicals' kept there, with the result that labourers on the first floor got trapped, the officials and witnesses said.
Initial investigation identified short circuit as the cause of fire, while a post-mortem examination revealed cardio-respiratory failure, secondary to asphyxia, caused by inhalation of smoke and soot from the fire led to suffocation and subsequent death. Five members of an extended family, including three brothers, were among the victims.
***********************************************************************
Dr Seemin Jamali's services eulogised on her retirement
(August 19, 2021)   The Newspaper's Staff Reporter
KARACHI: Dr Seemin Jamali  the Executive Director of the Jinnah Postgraduate Medical Centre (JPMC)  retires on Thursday (today) after 33 years of service.
According to a notification, the health department has allowed Dr Tariq Mahmood, professor of radiology at JPMC, to hold the charge of hospital's executive director "as a stop gap arrangement after Dr Seemin Jamali's retirement with effect from Aug 19 till the posting of regular executive director."
A thorough professional who set a standard in emergency healthcare, Dr Jamali is known for her diligence, discipline and devotion.
According to her colleagues and friends, she always led from the front whether it was managing victims of bomb blasts, targeted killings or looking after patients of pandemic.
"The city of Karachi once badly affected by violence owes a lot to Dr Seemin who saved countless lives in the JPMC's emergency department by relentlessly working in those testing times," recalled Dr Mirza Ali Azhar, president of the Pakistan Medical Association-Sindh, adding that she was a 'trendsetter' in the public-sector healthcare.
Her personal involvement in each patient, continued struggle for improvement and easy accessibility, he pointed out, was what made her a successful administrator.
"I think most of us would agree that we don't need to find her. She is there taking calls immediately, monitoring her staff, engaging with patients as well as for the media, providing journalists required information. Her innings is spread over three decades but she successfully managed to sustain her good performance till the end."
Dr Jamali joined JPMC as a medical officer in 1988 after completing her medical education in Nawabshah and house job at Civil Hospital Karachi.
In 1993, she acquired an advanced degree in public health management (MPHM) from Thailand and was appointed as the in-charge of JPMC's emergency department in 1995.
Later, she was awarded a scholarship for post-doctoral fellowship in public health policy and injury prevention at the Johns Hopkins School of Public Health, Baltimore, USA.
Dr Jamali became the hospital's joint executive director in 2010 and then executive director after six years. Her achievements included several initiatives launched for the first time in the public sector in Sindh; launch of an emergency care training programme at JPMC, establishment of a morgue and dog-bite treatment centre.
She was on duty the day a bomb blast occurred at the doors of the hospital in 2010, injuring many, including her.
This devastation motivated her to transform the emergency department into a state-of-the-art unit with the help of public-private assistance.
During her service, she received numerous national and international tributes and awards, including Tamgha-e-Imtiaz and Women Achievement Awards. Asked about her professional challenges, Dr Jamali said: "It was very difficult to prove one's self in the men's world. In fact, I will say male hatred has been my biggest obstacle, though there were many who appreciated me. I achieved what I dreamed of because I looked at my job as a labour of love and passion." (Courtesy Dawn News)