The big Russia picture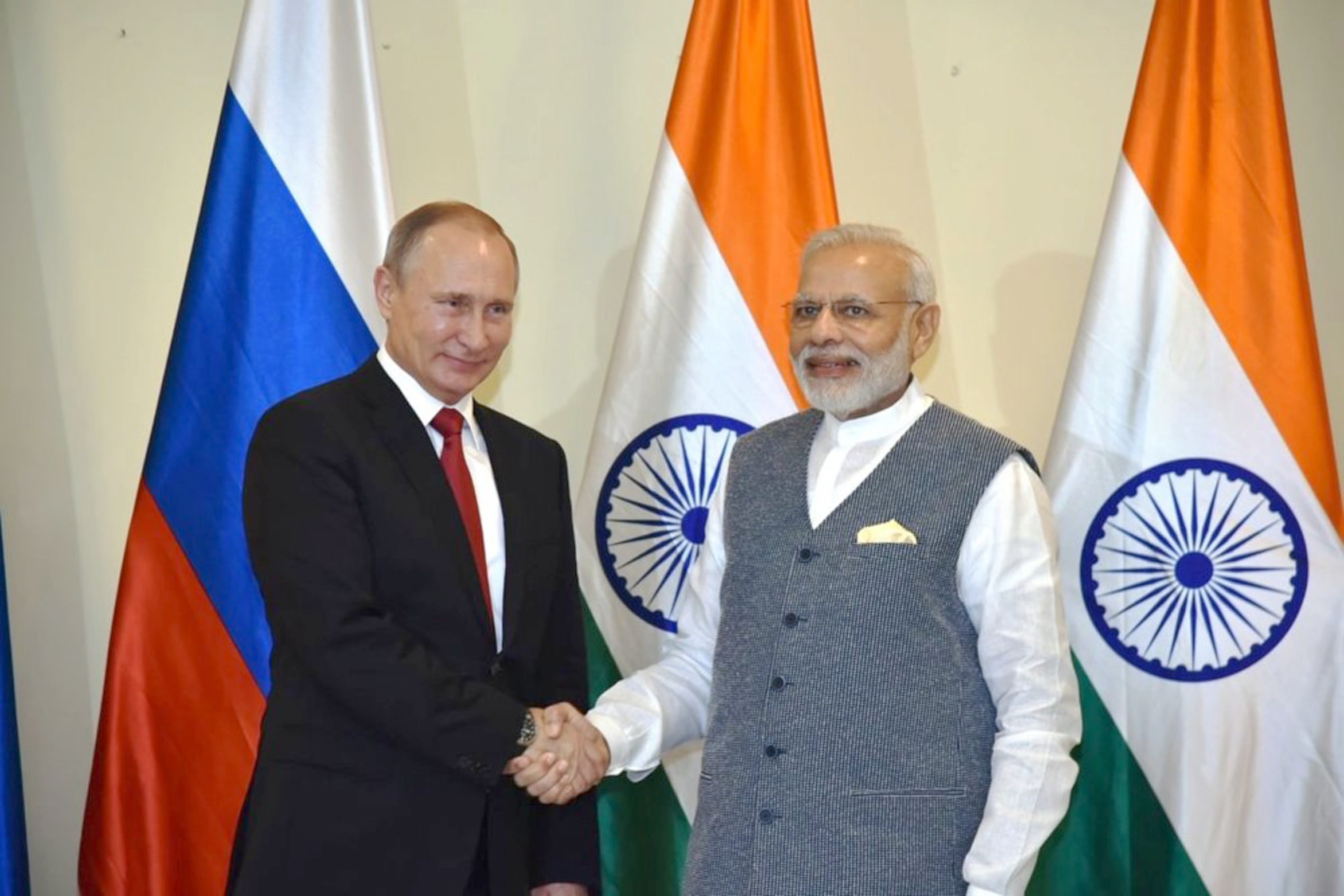 India has done well to resist US pressure and keep its old ally in its corner
Albert Einstein once said, 'In the middle of difficulty lies opportunity.' The difficulties that have been piled on India in the recent past, for no real fault of its own, by the US are turning out to be a wake-up call  especially the arrogant, intolerable American demands that Delhi must curb its friendly ties with Russia and Iran.
The grit to push ahead with the S-400 ABM deal with Russia became a celebrated case. India made its payments in roubles and sidestepped the dollar system, calling the American bluff. Meanwhile, new thinking appeared to revive the old rupee-rouble clearing system in economic transactions, characteristic of the Soviet era. Exploratory talks have begun. The two countries are rich with experience as regards the charms and inadequacies of barter trade. Accumulation of currencies was an embarrassing feature.
But then, conditions are vastly different today. Russia's 'Czarist instincts' have reappeared with a vengeance and the great Russian barons of the 19th century are once again on the move, wading into the world market, scouting for business in far-flung regions  Germany, the Netherlands, Italy, China, Turkey, South Korea, Poland, Japan, Kazakhstan, Belarus, South Korea, US, etc.
Washington felt the pressure to sanction Russia's United Company RUSAL, the world's largest aluminium company by primary production output. With foreign currency reserves of $460 billion, Russian business also has investible surplus in expanding operations in the world market. (Russia manages a budget surplus if oil price is in $50-$55 bpd range, whereas, the current price is around $75 a barrel Brent.)
India, on the other hand, is in a period of high growth. The economy is luring foreign investment and is slated to be a big guzzler of energy. A case in point is the acquisition of Essar Oil by the Russian consortium led by oil major Rosneft in a deal worth $12.9 billion last year.
According to reports, Essar is now considering approaching the Russian state-controlled Inter RAO, a diversified energy major with operations in generation, transmission and power trade, to become an investor in its 2×600 MW Mahan thermal power project in Madhya Pradesh. Similarly, the Russian financial group VTB is intent on investing in Essar Steel, the fourth largest steel producer in India and undergoing bankruptcy proceedings.
These are only tell-tale signs of a long-awaited breakthrough in India-Russia economic relations sailing into view, finally. Suffice to say, with the backlog of the experience and lessons out of the Soviet era, India and Russia will be wise to highlight investments in any rupee-rouble framework they may negotiate to counter the 'weaponisation' of dollar by Washington as a geopolitical tool. Arguably, the future of Indian-Russian economic relations lies in investments where there is tremendous complementarity. Such a panorama never really existed in the Soviet era.
Take, for example, the energy sector. Apart from the upstream investments India is making in the Russian oilfields, there is vast scope for Russian investments in the downstream sector in India. Thus, Essar Oil owned a retail network of Essar-branded fuel stations, which were steadily increasing their share on the growing Indian market. Now, in the 12 months since Rosneft's takeover in March last year, the number of Essar fuel stations expanded by 20 per cent to reach 4,200. Rosneft's short-term plan is to expand Essar's fuel-station network to 6,000.
Again, the Nayara Energy Refinery in Vadinar, Gujarat (Essar's oil company which is now owned and operated by Rosneft), has docking facilities, including an SBM capable of handling vessels up to 3,50,000 DWT with a capacity of 25mtpa (million tons per annum), tankages with interconnecting pipelines of 20mtpa capacity, marine product dispatch capacity of 12mtpa and rail-car and truck-loading facilities.
Trust Rosneft to multiply its investments in Essar. Rosneft's plans stem from the 'big picture'  far-sighted visions of the immense potentials of the Indian energy market. Rosneft and the National Iranian Oil Company have signed a road map on the implementation of 'strategic' projects in Iran with total investments worth $30 billion. In the Soviet era, we had a USSR-Iraq-India triangle operating in the ambit of the rupee-rouble trading system, which proved beneficial. Can we now create a Russia-Iran-India triangle with a similar 'win-win' potential? To be sure, the government has thoughtfully timed the trilateral meeting on the India-Iran-Russia International North South Transport Corridor (INSTC) on November 23 in Delhi.
Commerce and Industry Minister Suresh Prabhu has been quoted as saying to a visiting Russian delegation for stepping up investments and business between the two countries that 'all issues (relating to INSTC) may be resolved in order to operationalise the route as early as possible'. Prabhu pointedly stressed that the corridor is an important Indian-Russian-Iranian initiative.
INSTC is the shortest multimodal transportation route linking the Indian Ocean and Persian Gulf via Iran to Russia and North Europe. The estimated capacity of the corridor is 20 to 30 million ton goods per year and will reduce time and cost by 30 to 40 per cent. Analysts are calling it the Suez Canal of the 21st century.
Free market theories disfavour the barter system, but these are extraordinary times, when a new payment system is necessary, not only to boost mutual trade and investments, but also to avoid being entrapped by self-serving US policies. Russia matters because it is a sheet anchor for India's foreign policy. Equally, it is a balancer augmenting India's strategic autonomy.
Above all, it is intrinsically an economic partner with seamless potential. Smart geopolitics devolves upon geo-economics  or else, it becomes an esoteric affair bypassing India's present stage of development. Giving primacy to job creation in the millions, in particular, ought to be the focus of our foreign policy.