Three Years Ago on this day……..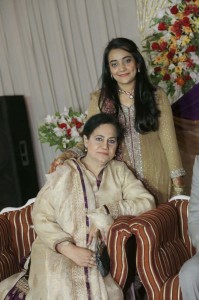 Bismah Mirza
Three years ago on this day, I was preparing for my rukhsati, August 29, 2019, from my family home. On August 31st, it was my Nikkah and our home was bustling with activities. My mom was sitting on bed cum sofa in our lounge. I do not remember what I was doing exactly at that time, but I think I was leaving for my bridal services and my sister and I were discussing that day menu. Mom that day had an expression, which is difficult to describe it is like, pushing lower lip upwards while pressing both lips together so the chin is prominent. We are very used to this expression and it means mom is thinking something which we all would say no to. Today after three years I would do anything to fulfill her that wish. Three years later on this day; August 29, 2021, I am writing my reflection with a difference that mom is not with me.
Change is inevitable, it can be through marriage a new beginning, birth; a new life, Death; a new world, it will come and it will change.
Marriage changes many things, marriage itself is a change and being married in a different city is quite a change itself. Like any mother daughter, we fought a lot on many things during my wedding planning. There was a lot happening and every time my mom wants to have a celebration according to the tradition, I would freak out as I want this ordeal to be over quickly and smoothly. But you know what, the more activity and celebrations, she wanted in life, her departure to the hereafter was far simpler. She passed away very peacefully and during her lifetime she gave instructions that there 'should be haste in my burial'. When you see me in pain, instead of whining, start reciting kalma. I was away, when she passed away, and none of us could fathom that this time when she has fainted, it would be her last. I received the first call from my father on 7th Ramadan around fajr, your mom has fainted and you should come. When I received the news, I was calm; I did not panic, as I was sure like anything that she would be alright. It was then, a thought came in my heart instead of further contemplating, I should offer my prayers. I did. The next thought came was pray (offer Dua-pray) for your mom and you know what, I shrugged it with this thought, 'Oh its nothing serious and mom would be fine!' Uff. Around 5.35 a.m. my brother called saying, mum has been pronounced dead. My husband reached out to me to console. I looked at him in sheer surprise as to what is he doing, is this that simple. I pushed him away and asked, 'Did I do something wrong that God did not give me a last chance to see her in person?' He was quiet.
I took deep breadths with my hands on my either side, palm facing the bed. I slightly rocked to and fro to numb the storm inside, but instead of storm there was calmness. And instantly I realized, Oh this why I felt anxious for the past whole month. Even with the start of Ramadan I was anxious, I could not feel Allah's blessings and mercy. Oh, so that's why! I realized this is the 2nd time I could not understand this feeling. The first time this weird, hollow feeling came to me was when my 25 days old nephew passed away. Second time my grandmother a year before my mother. Now this feeling has been there for around one month and I could not comprehend it. I thought maybe because, dad was not well and we all were praying for him? But I remembered another weird thought came to me out of nowhere three days ago before my mother's death, it was my mom has not made any preparations, she has been asking me to distribute her belongings and I kept telling her to wear them rather than distribute them. That day when this thought came, I thought I will help her this time and also, I thought what kind of a daughter I am thinking about my mother's death. We were leaving for Karachi for my mum's burial, a very difficult journey, and I don't have the courage to express that in words but there are 2 lessons which I will share.
Please always, always always pray for your parents, especially the one who is healthy also because the burden of not praying for anyone of your parents loved one is unimaginable, the guilt is for forever. Secondly and lastly, please make celebrations simple. Both bride and groom side should make things easier for each other and themselves because you don't know how to fulfill your desires, who is compromising on whose wishes.
(Please pray for your parents and loved ones )
Stay Healthy and Happy.  Plz do Recite Fatiha (Pray) for My Mother