Time has come for Muslim countries to take the lead on the Rohingya crisis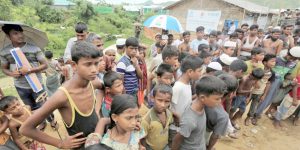 By CJ Werleman
Member
states of the Organization of Islamic Cooperation (OIC), which bills itself as
"the collective voice of the Muslim world," have a rare opportunity
to fulfill its promise by choosing to take the lead in bringing peace and
security to Rohingya Muslims.
When the
United Nations highest court the
International Court of Justice (ICJ)
handed down a landmark ruling on January 23 ordering Myanmar to protect
its predominantly Muslim Rohingya minority, and imposing emergency "provisional
measures," Rohingya activists around the world were given an all too rare
moment to feel hopeful about their future.
"This is
why the ruling means so much to us. I was in the court at The Hague when the
verdict was delivered. I had to try really hard not to cry. As I witnessed an
official body openly condemn Myanmar for what it did to us, I thought of my
friends, family and acquaintances who suffered so much. I thought of the scores
of people who shared with me the pain of losing loved ones to the violence of
the state. That verdict convinced me that my decades of campaigning for the
Rohingya finally achieved something," wrote Tum Khin, a Rohingya who fled
Myanmar in the 1990s after being denied access to a tertiary education by
government authorities.
A full
three weeks have passed since the ICJ's ruling, however, and for the Rohingya,
that unfamiliar feeling of optimism has again been replaced with the all too
familiar sense of anxiety and dread, given the failure of the international
community to follow up with action, and given Myanmar has shown no sign it will
abide or even acknowledge the judgment of the court.
On the day
of the ruling, Myanmar leader Aung San Suu Kyi continued her stubbornly defiant
stance in denying the genocide and accusing human rights organizations of
manufacturing a "distorted picture." Two days later, her country's military
shelled the Rohingya village of Kin Taung, killing two women, one of whom was
pregnant, and injuring seven others.
"There was
no fighting, they just shot artillery to a village without a battle," Maung
Kyaw Zan, a national member of parliament for Buthidaung township in northern
Rakhine state told Reuters by phone. On February 5, the military shelled a
village in the Buthidaung district, seriously injuring a Rohingya man. On
February 7, four Rohingya women from a village in Kyaut Taw were injured from
artillery fire, and then on February 12 shelling from a naval vessel killed two
children and injured ten others, according to Narinjara, a Rakhine State based
media.
Myanmar's
unrelenting violence against the Rohingya and its ongoing military campaign
against the separatist Arakan Army has caused yet another wave of internally
displaced people, with more than 1,500 villagers from roughly 20 villages in
Buthidaung fleeing for the relative safety of neighboring villages in a 48-hour
period spanning February 7 to 9.
"The
primary reason for their departure is the incidents of gun-fighting in their
villages. Many houses were already burned down. So, they came to take shelter
in our village," the Thekan Kuason village administrator told Narinjara. Also
concerning is the fact the Myanmar government has shut down the Internet in
Rakhine State in what is presumably an effort to suppress evidence of its human
rights abuses reaching a global audience. On its own, the communications
blackout violates the ICJ's order.
Ro Nay San
Lwin, a Rohingya genocide survivor and activist, told Radio Free Asia that were
it not for Internet access, the world wouldn't have known the truth about the
military's shelling of the Rohingya village on January 23, and as such, the
current blackout will allow the government to "fabricate stories."
When I
spoke with Lwin, he told me Myanmar's ongoing violence should only be
interpreted as a "clear signal that it will continue committing genocidal
acts," adding, "The court and international community need to move a step
forward to take serious action against Myanmar."
Ultimately,
it'll take a powerful country or a group of countries to put in place a plan
that guarantees the "world's most persecuted minority" welfare, security,
repatriation, citizenship, and reparations before Myanmar ends its genocidal
campaign against the Rohingya.
Regional
security partnerships, specifically The Association of Southeast Asian Nations
(ASEAN), could and should take the lead, while a multinational repatriation
deal could be enforced by a triumvirate of relatively powerful nations in the
region, including Australia, Singapore, and Malaysia. There really is an
unlimited availability of workable options. It just takes a relatively small
amount of moral energy and impetus.
To that
end, the Organization of Islamic Cooperation (OIC), which bills itself as "the
collective voice of the Muslim world," should view the crisis as
once-in-a-generation opportunity to demonstrate it is willing to match
rhetorical expression of support towards repressed Muslim minorities with
actual deeds, especially given it expressed regret in 2018 for not "responding
immediately" to the Rohingya crisis, and vowed to assume a "strong" role in the
future.
Given
Bangladesh, an OIC member, has carried much of the economic and political cost
of providing sanctuary and welfare to roughly 1.2 million Rohingya refugees,
then one would assume the OIC has had extra incentive to resolve the refugee
crisis.
"If it
[OIC] continues to ignore this crisis which is debilitating one of its fellow
members and humiliating and destroying the lives of Muslims, how can it
continue to have any relevance as an organization that claims to safeguard
dignity and rights of the Ummah and strengthen solidarity and cooperation
amongst peoples of the Muslim world?" asks Bangladesh's Daily Star.
What then
explains the OIC's indifferent response?
No doubt
international oil and gas deals play a central role. For instance, Saudi Arabia
ruthlessly and jealously protects its status as China's top supplier of crude
oil, and the Myanmar-China Oil and Gas Pipelines carry oil from the Arab Gulf
to China's landlocked Yunnan Province through Myanmar.
"One could
argue that Saudi Arabia is less likely to be outspoken on this (Rohingya) issue
because it actually relies on the Burmese government to protect the physical
security of the pipeline," Bo Kong, a senior associate at the Center for
Strategic and International Studies who has written about China's global
petroleum policy, told the Associated Press.
That said
individual OIC members have provided comfort to the Rohingya on a unilateral
basis, with Turkey providing 50 tons of humanitarian aid; Azerbaijan 100 tons;
Iran 40 tons, and Saudi Arabia $10 million worth of assistance in 2019,
respectively.
But
Myanmar's defiance of the ICJ's ruling and continued violence has made it clear
the Rohingya need more than care packages from individual donors. They need
collective action, the kind only a multilateral partnership, such as the OIC,
can provide.
'Courtesy Insider Arabia'.