Top Saudi intelligence official 'chased' to Canada by MBS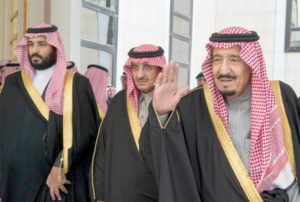 Even after he reached Canada, source says Saad al-Jabri was harassed by crown prince and may have been the target of a rendition attempt
The
Canadian government gave refuge to a powerful former Saudi intelligence
official deemed a threat to Crown Prince Mohammed bin Salman's rule, three
sources familiar with the matter have told Middle East Eye. Saad al-Jabri, once
a trusted top adviser to the crown prince's rival Mohammed bin Nayef, the
former interior minister with deep ties to western intelligence agencies, is
described by some observers as the most wanted Saudi outside the kingdom.
Jabri fled
the kingdom in 2017 just before bin Nayef was put under house arrest and
replaced as crown prince by his 31-year-old cousin. His refuge in Canada raises
new questions about an unprecedented diplomatic row between Ottawa and Riyadh
in the summer of 2018. On Friday, bin Nayef was among several royal family
members and officials arrested by the crown prince in what is believed to be
his latest bid to consolidate power. The Saudi government has yet to make an
official statement on the arrests.
Three years
earlier, it was his loyalty to bin Nayef, his decades-spanning knowledge of the
inner workings of the kingdom's powerful interior ministry and his substantial
personal wealth which made Jabri a target of the young crown prince and sent
him running. "Let's assume that there might be a coup in Saudi," said a source
familiar with the situation who spoke, as did all those briefed on the events,
on condition of anonymity. "He's the biggest threat. He would have the money
and power to do something."
A second
source says even in Canada, the former official continued to be pursued,
receiving intimidating messages from Mohammed bin Salman. There was also
concern that there was a rendition attempt on Canadian soil to bring Jabri back
to the kingdom, the source said. MEE has been unable to independently verify
this source's account. Canadian Security Intelligence Services declined to
comment.
A Royal
Canadian Mounted Police (RCMP) spokesperson told MEE: "Generally, only in the
event that aninvestigation results in the laying of criminal charges would the
RCMP confirm its investigation, the nature of any charges laid and the identity
of the individual(s) involved." MEE sought comment from Jabri and his family
through several channels, but did not receive a response by the time of
publication. But sources briefed on what happened say they believe it is
important that details of his ordeal come out because they further reveal the
lengths to which the crown prince will go to pursue his perceived rivals.
Power
struggle
During his
time in the kingdom's interior ministry, Jabri was closely involved in counter
terrorism activity and served, in particular, as a conduit between bin Nayef
and Saudi religious leaders. With the beginning of Mohammed bin Salman's rise
to power in January 2015 following the death of King Abdullah and the accession
of King Salman, a power struggle brewed inside the ministry between Jabri and
another high-ranking ministry official, General Abdulaziz al-Huwairini, two
sources told MEE.
Both Jabri
and Huwairini are understood to have had close ties with US intelligence
services under the leadership of bin Nayef who had established himself as a key
interlocutor even before the 9/11 attacks for the Americans. But the tensions
came over their loyalties, said the sources. Jabri supported bin Nayef, who was
then the crown prince, while Huwairini favoured Mohammed bin Salman, setting
the stage, as the young prince grew increasingly powerful, for both Jabri and
bin Nayef to eventually be pushed out.
In
September 2015, Jabri reportedly met with then-CIA Director John Brennan during
a trip to Washington that Mohammed bin Salman had not been made aware of. When
Jabri returned home, he was fired by royal decree. Washington Post columnist
David Ignatius would later write that Jabri's dismissal should have been an early
warning sign that Mohammed bin Salman could "jump-start the kingdom – or drive
it off a cliff".
By June
2017, it was bin Nayef's turn. That month, he was deposed, ousted from his
roles as both crown prince – and heir apparent – and interior minister, and placed
under house arrest in a palace. After bin Nayef's ordeal, Huwairini, too, was
reportedly removed from his position and confined to his home briefly. US
officials told the New York Times at the time that the loss of both bin Nayef
and Huwarini could impair intelligence sharing with the kingdom.
But within a month, Huwairini was promoted to lead the newly created
State Security Directorate which is in charge of national security and
reportedly took domestic intelligence, special operation forces and counter-terrorism
activities off the interior ministry's hands. By then, Jabri was already weeks
into his escape