About General Rahimuddin Khan Ex-Governor Baluchistan and Sindh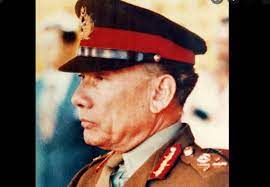 By: Nusrat Mirza
He was a great person. I had the opportunity to work with him in 1988 as per agreement with General Ziaul Haq and Mohajir Rabita Counsel. When he became Governor as per agreement with General Zia I attached with him as a Provincial Minister (to be notified at later stage). So I started working with him. He started meetings with different delegations in Karachi, Hyderabad and Nawabshah and I had to be present in some of those meetings. He was very good administrator and had been assigned to clean up the mess in Sindh. He was state forward man and used to talk to the point. I remember a meeting with the Vaderas (Land Lords) of Nawabshah district when he ordered the district administration that each and every vadera must be present at Nawabshah Airport Lounge, I had to reach there by car. He came by air and said two sentences to the elites of Nawabshah "Well gentlemen there should no theft and no crime in your area of influence here after. I shall not run after shadows and shall held responsible to Vadera, (the Elites) of that area. Thank you" He left the room after saying these words and left Nawabshah by air.
He was thorough gentleman and man of action. He meant business to maintain Law and Order..
I met him on the funnel of General Ziaul Haq. He was sad and silent. After my insistence he said "nothing left." Understanding his intension to resign, I ask him to wait couple of days till I talk to COAS then General Mirza Aslam Beg. He remained silent. I met General Mirza Aslam beg on 24 and 25 August 1988 and requested him to let General Rahimuddin to continue as governor Sindh. General  beg replied how far I have to go on pursuing him. That meant that he has already asked general Rahimuddin to continue as Governor but he declined. Thus he resigned. He was very good general and person and rendered great service as Governor Baluchistan. He also helped in building tunnel in Chagi which was used for detonation of Atomic Bomb in 1998, as per unconfirmed sources.
His sad demise has filled many including me with grief and we pray that his soul rest in Heaven. And to his friends and relatives may Allah give them Saber Jamil. (Amen.)